YouTube is the second-most-visited site in the world. And YouTube mobile ads are 84% more likely to hold attention than TV ads. If you're not running YouTube Ads campaigns, you're missing out on key advertising opportunities.
Although YouTube Ads campaigns run via Google Ads, YouTube advertising is different from other online ad options. The platform relies solely on video (of course), but it also includes unique ad options and specifications.
This post shows you:
How to set up your YouTube account and Ads campaign;
How to identify your target audience for YouTube Ads;
Keys to successful YouTube Ads campaigns;
Measurement and attribution for YouTube Ads.
How to set up YouTube Ads
The first step to set up YouTube Ads is to create a YouTube channel. From there, you'll be able to publish your video ads. Sign in to YouTube with your Google Account, then click on "My channel."

If you don't already have a channel, you'll be prompted to create one.
You can either use your Google account name or, if you have a brand account, choose another name, such as that of your business.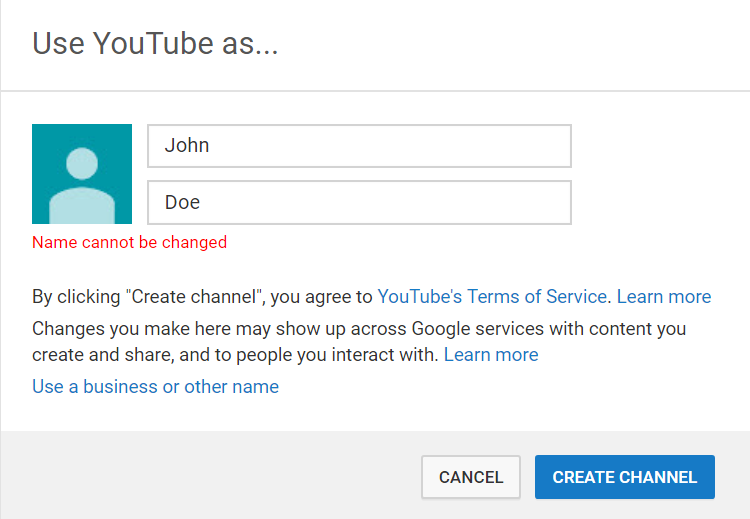 Once you click "Create Channel," you can start uploading your video ads. YouTube videos can be published as any of four different types:
Public videos can be viewed by anyone.
Unlisted videos don't show up on your channel or in search results but can be viewed by someone with the direct link.
Private videos can be viewed only by people who were invited to see it.
Scheduled videos allow you to select the date and time they become public.
Upload it as "Public" or "Unlisted" for use in YouTube Ads campaigns.
You should also customize your channel to showcase your brand to visitors and subscribers. The simplest way to add quick branding is to upload a profile picture and create a YouTube banner.
If you don't have an in-house graphic designer, there are plenty of free, easy-to-use templates:
Now that your channel is set up and your videos are uploaded, it's time to create a campaign.
Creating a YouTube Ads campaign
YouTube Ads campaigns are set up through your Google Ads account. Once you log in, select the "Video" campaign type.
Then, select your marketing objective, or opt for a campaign without a goal. By choosing no goal, you have more flexibility to craft the campaign the way you want it.
However, if you don't have a lot of experience with Google Ads, a guided approach can simplify the process. There are four objectives to choose from:
Brand awareness and reach;
Product and brand consideration;
Website traffic;
Leads.
You can also select from six campaign subtypes:
Custom.This option gives you the freedom to customize every aspect of your ad to suit your goals. If you have Google Ads experience, you may prefer this over the next five guided-build options.
Non-skippable in-stream. This selection helps you create non-skippable ads, which are discussed further below.
Outstream. This guides you through the creation of outstream video ads, also discussed later on.
Drive conversions. With this choice, Google Ads guides you through the creation of ads that encourage interactions.
Ad sequence. If you have a series of ad videos that build upon each other, select this option.
Shopping. Select this option to promote your products or services to ready-to-buy viewers.
As with any Google Ads campaign, the next step is to name your campaign, enter your budget, and select your start and end dates.

Under the custom campaign type, you can choose from two bid strategies:
Maximum Cost-per-view (CPV). Set the most money you're willing to pay each time your ad is viewed. Maximum CPV is used mostly for bottom-of-funnel ads and a narrowly defined target audience.
Target Cost-per-mille (CPM). Set the average amount you're willing to pay for every thousand times your ad is shown. Target CPM ads are generally chosen for awareness-building campaigns.
After selecting your language and location, you need to refine where your ads will appear. You can select whether your ads will appear within YouTube search results, in YouTube videos, and/or on a collection of other sites and apps that are part of the Google Display Network.
The next step is to choose the inventory of videos for which your ad may appear. Google recommends selecting the "Standard inventory" option. Think of this as the "PG" rating on movies.
"Expanded inventory" will show your ad on some videos that have sensitive content. It expands your potential reach but could result in your ad being associated with explicit content.
At the other end, "Limited inventory" shows your ads only on content that is the equivalent of a "G" rating. This selection limits your reach but makes sense for some brands.
You may also see an option to exclude sensitive content types, but Google is in the process of phasing this out.
Additional content exclusion options include certain content types and labels.
There are three advanced options you can alter to customize your campaign based on devices, frequency, and time of delivery:
Next, you need to name your ad group within the campaign, pick whom you're going to target, and where you want your ads to show up. (Audiences and ad targeting are detailed in the next section.)
Finally, select your bid amount and paste in the YouTube URL for your video ad.
Once Google Ads approves your ad, it will go live.
How much does it cost to advertise on YouTube?
YouTube advertising works the same way as other Google Ads campaigns—using an auction. You have complete control over how much you spend on your ads.
You can set a maximum amount for your overall campaign, as well as a target bid amount for each ad group you create.
Keep in mind that the greater your budget, the greater your reach. For instance, you can increase your bid by a fixed percentage for top content channels, sites, and apps. This increases your chances of having your ads show up on the most popular videos.
As you input different bids, Google Ads will show you the estimated reach. You can use that information to find the best balance between budget and reach for your campaign. Google Ads also provides an average estimated value for your campaign type and goals.
How does the cost of YouTube Ads compare to other platforms? Some companies have tried to quantify it in tables like this one:
But unfortunately, it's not that simple. Your advertising costs vary widely depending on many factors, including:
Whether you're targeting competitive keywords;
The Quality Score of your ads;
Where you've chosen to place your ads;
Which type of YouTube Ad you've selected;
Who's in your audience.
One way to estimate a reasonable budget is to see how much your competition spends. Tools like SEMRush offer advertiser research for YouTube Ads.
How to choose your YouTube Ads audience
Marketers know that personalization—when done right—has a positive impact. Almost 60% of shoppers believe it influences their purchasing decisions.
It's one reason why ad campaigns keep moving away from broad targeting and toward narrowly defined audiences. (There are even PPC strategies for account-based marketing.)
Without a defined audience, it's impossible to personalize your message. Plus, targeting a narrow segment can help you increase conversion rates and reduce your cost per click (CPC).
In one case study, the exact same ads had higher click-through rates (CTRs) and lower CPCs simply by using a defined audience (left) instead of a generic one (right):

Here are three segments to narrow your audience for better ad targeting:
1. Custom intent audiences
Custom intent audiences allow you to segment your ad groups by keywords and the landing pages that you want to target.
You can use Google's auto-created audience segments, or you can create custom intent audiences. To create your own, select "New Custom Intent Audience" in the audience section of your campaign setup.
Enter keywords, URLs, apps, or YouTube content related to your product or service to help you target only people who are likely to be interested in your ads.
For example, if you're a new travel blogger who's creating videos about new destinations, enter keywords related to those destinations or the URLs of top travel sites.
If you want to rely on Google to auto-create custom intent audiences, you need conversion tracking. This allows Google to understand what people were searching for or watching when they interacted with your ads. Google can then create and refresh audiences based on viewer and customer behavior.
Which should you use?
Creating a custom intent audience yourself works well if you already have a comprehensive list of keywords, URLs, and YouTube content to target. Aim for at least 10–15 items to help refine your audience.
Google-created custom intent audiences work well if Google has enough traffic and conversion information to analyze your target market.
Note: Google Ads used to have an ad group targeting audience keywords, but this was migrated into custom intent audiences in November 2018.
2. In-market audiences
In-market audiences allow you to target customers who are actively researching and considering buying a product or service like yours.
These audiences are designed for bottom-of-the-funnel conversion ads. Google has curated a list of in-market categories that you can select from for targeting YouTube Ads. New categories are continually beta tested and added to the list.
In-market audiences are a useful way to connect with consumers who are comparing products and services across Google Display Network sites and YouTube. You can also combine in-market audiences with remarketing audiences.
3. Remarketing audiences
Remarketing is a way to connect with people who have already interacted with your website, mobile app, or YouTube videos. Remarketing ads can increase brand visibility and nudge audiences toward completing a purchase they abandoned.
Google Ads offers four different types of Remarketing Audiences for YouTube Ads:
Standard remarketing. Standard remarketing enables you to show ads to your past website or app visitors.
Dynamic remarketing. Dynamic remarketing takes it a step further by allowing you to modify the ads shown based on the products or services that people previously viewed.
Video remarketing. Video remarketing shows ads to people who have already interacted with your videos or YouTube channel.
Customer list remarketing. Customer list remarketing allows you to upload lists of contact information that customers have given you. Then, you can target them with YouTube Ads (as long as they're signed in to the platform).
Google Ads creates custom remarketing lists for you automatically during campaigns. As long as you've linked your YouTube channel to your Google Ads account, it will automatically capture data on people who interacted with your videos to allow you to launch video remarketing.
The following video interactions are captured by Google:
Viewed any video from your channel;
Viewed certain videos;
Subscribed to your channel;
Visited your channel page;
Liked any video from your channel;
Added any video from your channel to a playlist;
Commented on any video from your channel;
Shared any video from your channel.
You can then use these lists in your targeting settings for YouTube Ad campaigns. You can view and manage your lists by selecting "Shared Library" then "Audience manager" within Google Ads.
Unlike in-market audiences—which limit your ads to people about to buy—remarketing audiences can keep you top of mind throughout a longer sales cycle. They also connect you with past purchasers who may buy again.
Once you have your account set up and your initial audience defined, you can identify the best way to reach them.
5 Keys to running successful YouTube Ads campaigns
There are five keys to running high-converting YouTube campaigns:
Align your ad content with the marketing funnel.
Monitor the right performance metrics.
Select the right video formats and ad placements for your audience.
Use a strong call to action.
Optimize your landing pages.
1. Align your ad content with the marketing funnel.
It's important to understand who your target audience is, including where they are within the marketing funnel. You can use YouTube marketing to promote anything from your product to your podcast.
In fact, it's ranked as one of the best platforms to do just that:
But you don't want to target an awareness campaign at an in-market audience. The ad content, campaign goals, and funnel all need to align.
Each of the three funnel stages should have a different ad group:
Awareness;
Consideration;
Purchase.
Awareness
YouTube is great for top-of-funnel awareness, as 80% of users can recall a video ad they viewed in the past 30 days.
You can reach your target audience in the awareness stage by identifying the content with which they're already engaging. For instance, BT Sport is a cricket broadcaster that discovered their fans often searched for football highlights and travel content.
By targeting people searching for football highlights, BT Sport experienced a positive uplift in view-through rates versus brand benchmarks, as well as significant increases in ad recall and purchase intent.

Consideration
In the consideration stage, your audience is looking for more information about a product or service. Some 80% of shoppers who watch YouTube videos just prior to a purchase also did so in an earlier research phase.
Explainer videos, tutorials, demonstrations, and walk-throughs are all great ways to showcase your product or service. Those formats work may well for YouTube videos but not short ads.
Instead, you can construct a sequence of complementary ads that build on each other. In the UK, 20th Century Fox created a series of YouTube Ads for the Greatest Showman that guided their audience through the consideration stage.
Users who engaged with a basic trailer were then shown a behind-the-scenes ad, followed by a different trailer with a strong call to action. The ad sequence significantly outperformed the stand-alone trailer ads, generating triple-digit uplifts in "consideration" and "organic title searches."

Purchase
In the purchase stage, you can combine effective YouTube Ad design with in-market and remarketing audiences to convert more visitors. Majestic Heli Ski gets nearly half of their new skiers from YouTube by targeting ads at people searching for skis and ski resorts.
The company boosted its customer base by more than 400% over the last five years and increased sales around 25% each year since starting with YouTube Ads.

2. Monitor the right performance metrics.
There are a lot of YouTube performance metrics that you can monitor, including view rate, average cost-per-view (CPV), earned views, conversion rate, cost per conversion, watch time, earned subscribers, and earned shares.
You can view these metrics by clicking on the "Videos" section within your Google Ads account.
If some metrics don't appear, you can add them by clicking on the "Columns" drop-down menu, finding the metric you're looking for, and clicking "Add."
A few metrics are essential to monitor baseline performance:
View rate;
Click-through rate (CTR);
Earnings per view.
View rate
View Rate lets you know how many people watched your video ad compared to how many people it was actually served to.
If you have a low view rate, it means too many people are skipping your ad. This can indicate that either your ad targeting is not effective, your ad content is not compelling, or your ad is too long.
Note: This metric is relevant only for skippable ads.
Click-through rate
Your CTR lets you know how many people clicked on your ad compared to how many people saw it.
If your CTR is high, you know that your ad targeting, content, and CTA are all generating interest and action. If your CTR is low, it could indicate an issue with any of these areas.
However, if your view rate is high but your CTR is low, it may indicate an issue with your call to action, which we'll discuss in a minute.
Earnings per view
This metric tracks how much money you earn per ad view, on average. A high CTR but low earnings could indicate a problem with the landing page for YouTube Ads traffic.
Bottom-line metrics like this are the best way to determine whether a campaign is generating ROI. That said, they may be less relevant for YouTube Ads campaigns that focus on awareness.
3. Select the right format and placement for your audience.
There are four main types of YouTube Ads:
TrueView ads;
Non-skippable ads;
Bumper ads;
Outstream ads.
TrueView ads
TrueView ads are also known as skippable ads. These ads don't force people to watch the full advertisement before proceeding to their chosen video.
One benefit of TrueView ads is that you don't pay for unwanted views. You pay only when a viewer interacts with your video or watches at least 30 seconds of it (or the full duration of your ad, if it's shorter than 30 seconds).
There are two types of TrueView ad formats:
In-stream ads. In-stream ads run before, during, or after videos and give viewers the option to skip the ad after five seconds.

Discovery ads. Discovery ads appear outside of videos, such as in YouTube search results, next to related videos, and on the YouTube mobile homepage.
Non-skippable ads
Non-skippable ads look exactly like in-stream TrueView ads except that they cannot be skipped. Non-skippable ads force people to watch the entire ad before going to their selected video.
You can use these ads only as in-stream ads. Since they can't be skipped, these ads are restricted to a maximum of 15–20 seconds in length.
There are two types of non-skippable ads:
Pre-roll ads that appear before a video plays;
Mid-roll ads that appear at the midpoint of 10+ minute videos.
Bumper ads
Bumper ads are also non-skippable but last only six seconds. Bumper ads play either directly before or after a viewer's chosen video. The short length makes them more cost-efficient than longer options.
They're also ideal for mobile, which is important as mobile usage on YouTube continues to grow. Consider combining bumper ads with one of the longer formats. Duracell created one of the top bumper ads by combining their six-second ad campaign with longer ad videos.
Outstream ads
Outstream ads are mobile-only video ads aimed at reaching your target market on partner sites. Outstream ads let users tap to play your video ad or scroll past it. The ads default to playing on mute, but viewers can unmute the ad with a tap.
Outstream ads are charged based on viewable cost-per-thousand impressions (vCPM), which means that you'll only pay if your ad is viewable.
As noted earlier, you can choose whether you want your video ads to show on video partners when you set up your YouTube Ads campaign.

4. Use a strong call to action.
If you have a strong view rate but a poor CTR, the problem may lie with your call to action (CTA). You can read more about calls to action here or here.
Ultimately, your CTA needs to match the intent and tone for your audience. You can experiment with different language to discover the phrase that works best for your market. A tool like Grammarly Goals can also help match your wording to your audience.

You set up your CTA by clicking the "Call-to-Action" checkbox during TrueView ad creation.
Within YouTube Ads, you have three ways to implement a CTA:
Standard. The standard CTA can appear as an additional click-target alongside your video ad, and it takes users to your chosen landing page. This CTA appears in your ad at certain points that you select, such as the beginning and end. During the rest of the ad, no CTA is visible.

TrueView for action. TrueView for action is a newer format that includes a tailored and enhanced CTA that constantly runs as an ad companion on mobile and desktop TrueView ads. Using this ad type enables you to show a CTA throughout the entire ad.

End screen. End screens show up at the end of your video ad and can include a CTA to go to your landing page as well as other video suggestions. However, your ad needs to be at least 25 seconds long to have an end screen.
If you opt for the Standard CTA rather than a TrueView one, make sure you include more than one of them in your video, unless it's a six-second bumper ad. Aim to have one around the 5-second mark, another after 30 seconds (or halfway through, depending on the ad length), and one at the end.
5. Optimize your landing pages.
If people are clicking through your ad but not converting, it may indicate a problem with your landing page. Whether your goal is to achieve newsletter signups or sales, your video ads and landing page must be cohesive.
This means that your video content and branding should match the look and feel of your landing page. There should be a strong message match, or scent.
That scent applies to more than just design. As with other ads, the landing page offer should align with where a user is in their journey. For example:
An awareness-stage video should lead to a landing page that urges the customer to learn more;
A purchase-stage video targeted at a remarketing audience should lead to a landing page where a customer can buy or start a trial.
Freshdesk matches its YouTube Ads to largely informational landing pages that still encourage users to sign-up for free:

Lyfe Marketing takes YouTube Ads viewers to a more bottom-of-funnel page, one that includes social proof and a single CTA to "Schedule Meeting":
Your landing page is just as important as the YouTube Ad itself, if not more important. Driving traffic with ads delivers real value only with a post-click experience that generates leads and sales.
Measurement and attribution for YouTube Ads
Understanding your ROI from YouTube Ads can be challenging. If you run a top- or middle-of-funnel campaign, you may not see a sale for some time.
A video view without a click can still lead to sales. If you credit interactions alone, you may fail to weigh the impact of video views or impressions.
For YouTube Ads, Google's default attribution settings are as follows:
Any interactions with your ads will be attributed to any conversions within a 30-day window.
Video views (without interactions) will be attributed to any conversion that happens within a three-day window, as long as the viewer watched at least 10 seconds of a TrueView ad.
You can customize these timeframes if you want a longer or shorter attribution window.
Within Google Ads, you can run predefined reports to show you conversions from YouTube Ads. Keep in mind that these reports track "Last click" attribution only.
Go to your "Reports" dashboard and click "View all."
Then, navigate to "Conversions," select "Conversion source," and you can filter for conversions attributed to your YouTube Ads.

You can also use YouTube Studio to see how all videos—not just ads—perform. By assessing which device types generate the most (or least) views, which have the top end screens, etc., you can refine your paid campaigns.
If you're working on a top-of-funnel ad campaign, you can also gauge how impressions affect interactions and watch time.
Conclusion
YouTube is the second-most-visited site and the second-biggest search engine after Google, making it an ideal platform to connect with your target your audience.
But, like every paid channel, it requires a solid strategy to generate leads and sales, not just views.
By tailoring your target audience, running the right ad formats, and taking users to persuasive, relevant landing pages, you can increase the chances that video impressions, views, and clicks turn into revenue.