CXL is the premium marketing education destination.
Become great at digital psychology
Get advanced level skills in digital psychology and persuasion.
This program is for people serious about building skills, and are ready to put in the effort it takes to complete a Minidegree.
Increase online sales by using behavioral psychology, persuasion and neuromarketing
Stay ahead of the curve with expert-curated lessons backed by research
Learn from the best: taught by hand-picked industry practitioners and academic scholars
We'll help you get a job once you graduate
Time to complete minidegree (approximation): 57h 54min
Stefania Mereu, PhD
Sr. Director User Experience @ HID Global
Start 7-day trial for $1 Buy just this program
Some of the companies that train their teams at CXL:










Program introduction
What is a Minidegree program?
Course is a puzzle piece. Minidegree is the whole puzzle. It's a complete training program that teaches you everything from A to Z and takes you on a path towards becoming the top 1% marketer.
All of our instructors are hand-picked and carefully vetted. Our approach is straightforward – every instructor needs to be the absolute best in the world at what they do.
Learn proven psychological frameworks that will help you understand user behavior, and influence purchase patterns.
Boost the persuasiveness of your copy and design
Learn to understand your customer's mindset and needs
Build habits, increase loyalty, and elicit emotional responses
Direct attention and catalyze action with cues and triggers
Integrate psychological tactics with your conversion optimization efforts
In this extensive certification program by CXL, you will learn the methodologies and processes required to better understand your users and be able to influence their actions.
Understand how your user's brain works
You will learn to direct attention with visual cues, understand the cognitive biases that guide our decision-making behavior, and increase non-conscious motivation to encourage desired behavior. You will learn persuasive processes that can be replicated across any web property.
Having latest human behavior research distilled into actionable takeaways and guidance relevant to today is a game changer when you're struggling to get users to take action.
CXL Digital Psychology and Persuasion Certification Training Program is for marketers and optimizers
This is a comprehensive training program that will give you the theoretical knowledge and empirical know-how to optimize your website and marketing strategy for persuasiveness and appeal.
Watch video lessons, read research studies, view conference lectures, and complete exercises to unlock the certification test. Pass the test and become a CXL Certified Digital Psychology Specialist.
What our graduates have to say

Jeff B.
The curriculum was extremely diverse and comprehensive. It covered all aspects of Conversion Optimization from analytics, to behavior research, psychology, test setup, statistics, etc.

You can dive deep into areas you are not expert in, and bolster other areas you are already strong in.

Chad Brocato
I watched the entire course 5 times! I was only getting limited credit for my work, as many visitors would bounce but return to company main site. I have now been able to extend my conversion tracking to the company site as well as cross-domain tracking and events.

Adam Karlsson
Andre's own growth model really sums up CRO. I haven't seen anything similar before.

Elveena Yessoo
The course was clear and concise. It's practical-focused rather than theoretical, so it was relatively easy to apply the different tactics to our clients' accounts.

Josh Kenneth Gunio
Andre really knows his topic on an intimate level. He delivered the course eloquently and made me understand it deeply.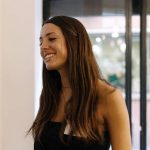 Giulia Bao
This course helped me realize how much important it is to prioritize hypothesis. It also taught me to be more analytical and to predict users' behavior in order to facilitate their journey and lead them to conversion.

Matt R.
Anyone would benefit from CXL, and that goes from interns up to CEOs. That's really been the case in our company.
After their training sessions you're fully equipped… you can go off and implement your learnings straight away.

Matthew Peet
It feels like a university course such is the depth of knowledge presented, and it goes far beyond just a "tactical" course.
I am able to use the detailed course notes to present the concepts/theories to the key stakeholders in our company, to increase support for the projects I am now planning for marketing.
3 cumulative tracks, total of 57h 54min of videos & study material – designed to make you more persuasive.
Minidegrees are essentially collections of individual courses, grouped together around a theme. It's designed to give you advanced level skills in digital psychology.
How can we capture and hold attention? How capable are we of making truly rational decisions? To what extent do first impressions, visuals, and emotions affect our ability to learn information?
Throughout Track One, we explore the psychological principles that drive human behavior and attempt to answer these questions.
Throughout track 2, neuromarketing, behavioral science and conversion experts will share the tools and frameworks necessary to evolve your marketing strategy. Roger Dooley will explain how the fast-growing discipline of Neuromarketing emphasizes how to appeal to the largely untapped, nonconscious brain. André Morys will show you how the human brain really works, and how you can leverage that knowledge to increase sales and conversions. Brian Cugelman and Michael Aagaard will teach you core lessons in digital psychology and show you how to apply them to your conversion funnel.
By marketing to your user's behavioral patterns in harmony with their conscious minds, you'll become dramatically more persuasive, motivational, and habit-forming.
Now that we have an understanding of these theories, let's put them into action.
How long will it take me to complete this Minidegree?
This is entirely up to you – it's how many hours per week you can put in. If you have 2-4 hrs / week available for learning, it might take you around 4 months. If you can do 10-15 hrs / week, you can knock it out in a month.
Complete all the courses, pass the final test and become certified
Certification will help you accelerate your marketing career and/or land better clients.
Show off your hard-earned skills and strengthen your profile.
LinkedIn found that people who add credentials to their profile receive 6x more profile views than those who don't.
Add your certificates to your profile, share your accomplishments with the world, and join our alumni network.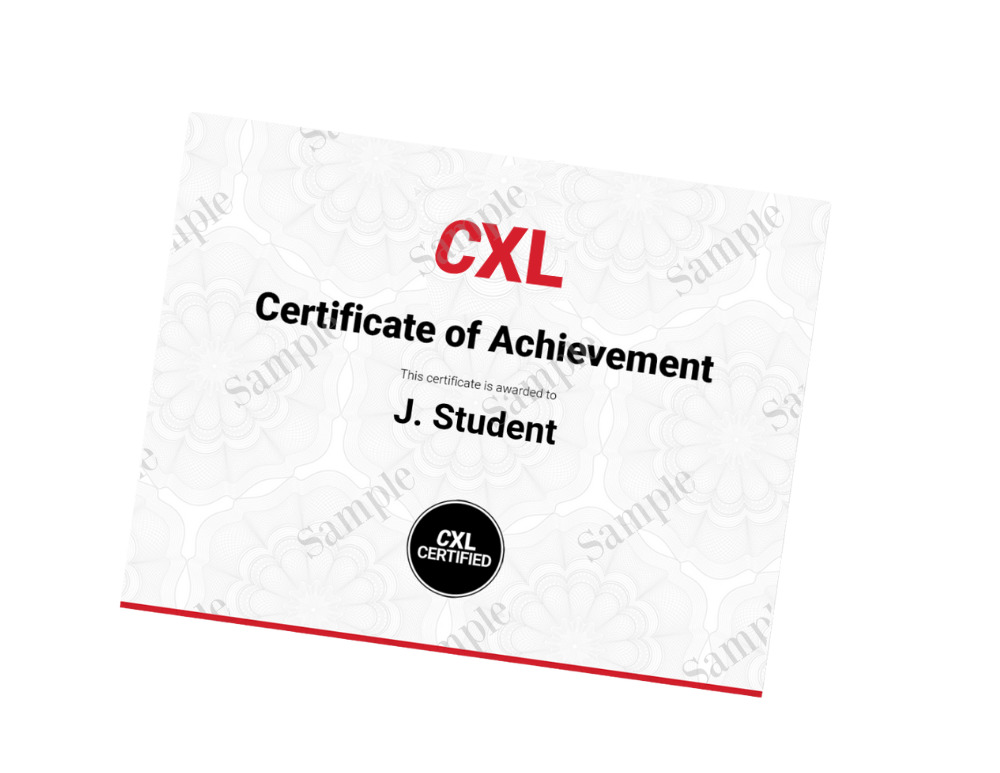 Learn marketing on the job.
Get better results with networking.
Our Marketing playbooks community gives you peer support for every marketing task you face.  90% of marketing tasks are not unique. Someone has already figured it out. Achieve more with less hassle.
Access our library of thousands of marketing playbooks, each showing you how to do a specific marketing task in 10 steps or less, with real-time peer support.
Join our community of marketing experts, ready to support you in getting that promotion or master new strategies, skills, and channels.
Network with some of the world's best marketers and companies and get noticed, hired, or endorsed.
Subscribe to CXL and get access
90+ courses (full list here) on all aspects of data-driven marketing (new courses added every month)
10 minidegrees that give you advanced level skills
Playbook community with 2500+ instructions and peer-support
Got a team, multiple users? Get our Teams All-Access plan instead.
The CXL guarantee
7-day no questions asked money back period
You can immediately apply learnings and improve your results.
Need help convincing your boss?
Click here for a pitch deck, swipe files and tips.
Subscribe to CXL
All plans come with a 7-day trial for $1.
Get access to this and 90+ other training programs.
See plans and pricing
or
Request demo (for teams 5+)