Become great at competitive intel & market research
Learn how to build a world-class competitive intelligence program – regardless of your company's size or resources.
Course length: 1h 24min
Start 7-day trial for $1
Andy McCotter-Bicknell
Senior Product Marketing Manager @ ZoomInfo
Some of the companies that train their teams at CXL:










Product Marketers have their hands full. Making sure that each responsibility is given the attention it deserves is no easy task. But all too often, we see competitive intelligence getting deprioritized when businesses can't afford it – because it's hard to see results.
When done correctly though, competitive intelligence can have an immense impact on a business. And it's not uncommon to see leaders of competitive programs celebrated by sales, product, marketing, and leadership teams alike.
After taking this course you'll…
Understand how to gather up-to-date information on your competitors.
How to conduct an effective win/loss program.
How to collaborate with marketing to establish proactive competitive displacement campaigns.
How to get a seat at the table for strategic company initiatives.
This course is essential for you if…
You work at a startup and are an underdog in your industry.
You want to increase your visibility within your organization.
You're a Product Marketer in pursuit of rounding out your expertise of the function.
This course is NOT for you if…
You are unorganized. Competitive intelligence requires you to evaluate dozens of vendors, and maintain multiple internal systems.
You don't work well under pressure. Competitive pressure can be very intense.
You already have an established and effective competitive intelligence program.
About
Andy McCotter-Bicknell
The creator and owner of ZoomInfo's competitive intelligence program. ZoomInfo is the world's leading go-to-market engine — ranking #1 in 27 G2 grids as of Summer '21.
Competitive intelligence has the power to influence every aspect of a company. His competitive intelligence program has contributed to six acquisitions and dozens of seven-figure deals.
Your course curriculum
Competitive intelligence and market research
Competitors are everywhere and there's a lot to learn from them. Let's start from the beginning and establish what we can learn, and how it can help our businesses (and our careers).
Topics covered:
Define what we mean by "Competitive Intelligence."
Establish how Competitive Intelligence can help your organization.
Learn how Competitive Intelligence can help you in your personal career.
You don't have to put down tens of thousands of dollars to start building a competitive intel function. Let's start small with a few recommended affordable and free tools.
Topics covered:
Learn how to dig through a competitor's website and identify who they target, how complete their offering is, as well as their strengths and weaknesses. All without breaking the bank.
Where to find candid user reviews of your competitor's products (the good AND the bad).
The power of community.
Your business is growing, and so is your list of competitors. Invest in these tools to stay on top.
Topics covered:
Learn how to automatically keep up to date on your competitors' web presence.
Track how often competitors are mentioned by prospects or customers during sales calls.
Identify the search keywords that your competitors are bidding on to attract buyers that are in market.
The art of cataloguing insights and thinking like a Content Marketer.
Topics covered:
Understand how to think about your audience in the same way that sales and marketing thinks about their prospects and customers.
Establish a simple methodology for consistently cataloguing your competitive insights.
Learn the three channels that you can start using today to deliver competitive insights to your colleagues.
Deliver what they need to confidently dismiss competitors.
Topics covered:
Understand the most important thing to include in your battlecards.
Learn the tools you can use to build battlecards on any budget.
Figure out where to put the battlecards or distribute them when they're done.
Publish newsletters that teams actually look forward to reading.
Topics covered:
The three main questions to ask yourself when you uncover an insight.
How to design your newsletter from top to bottom.
Recommended tools to help you write in a way that people like to read.
How and when to conduct quantitative research through Win/Loss surveys.
Topics covered:
Learn the "what" and "why" of quantitative research.
Recommended tools to help you create surveys.
How to write surveys properly and send invites that lead to high response rates.
How and when to conduct qualitative research through Win/Loss interviews.
Topics covered:
How to conduct a proper interview without annoying the other party.
Avoid commonly-made mistakes that delay program results.
How to report on Win / Loss program results (and how to get kudos from your leadership team)
Partner with Marketing & proactively displace competitors.
Topics covered:
Learn the first steps you need to take when starting an email campaign.
Recommended tools to make sure you get the right contact and account data.
Understand the questions you need to ask to get inside the head of your ideal customer.
How to put everything that you've learned in this course together and crush your competitors.
Topics covered:
Learn where to start after the conclusion of this course.
Understand what makes or breaks most competitive intelligence programs.
The key to paving a path to success.
Show off your hard-earned skills and strengthen your profile
LinkedIn found that people who add credentials to their profile receive 6x more profile views than those who don't.
Add your certificates to your profile, share your accomplishments with the world, and join our alumni network.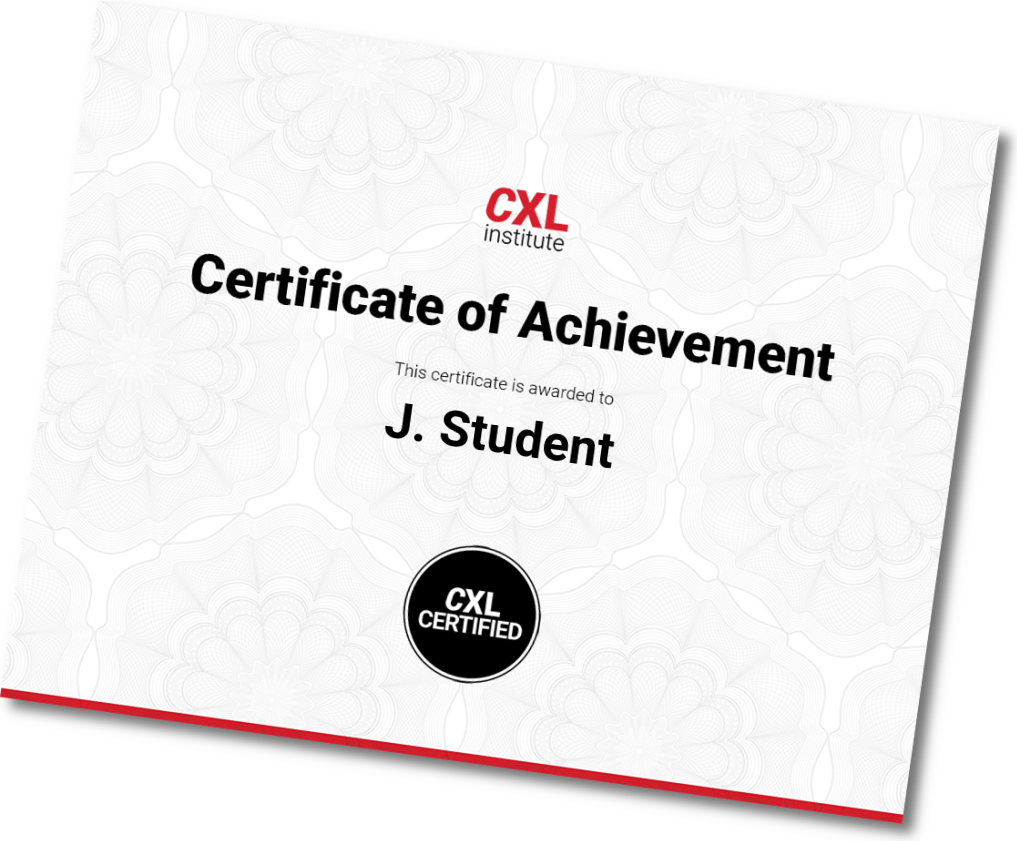 Get this course and 50+ others when you sign up for CXL
This course (and all others – full list here) are included with the CXL subscription.
At CXL, you can take online courses on growth, digital marketing, optimization, analytics, persuasion – all in a single subscription.
World's leading practitioners teaching you their best stuff.
50+ online courses on all things data-driven marketing
New courses added every single month
Subscribe to CXL and get access
90+ courses (full list here) on all aspects of data-driven marketing (new courses added every month)
9 minidegrees that give you advanced level skills
Playbook community with 2500+ instructions and peer-support
Got a team, multiple users? Get our Teams All-Access plan instead.
The CXL guarantee
7-day no questions asked money back period
You can immediately apply learnings and improve your results.
Need help convincing your boss?
Click here for a pitch deck, swipe files and tips.
Subscribe to CXL
All plans come with a 7-day trial for $1.
Get access to this and 90+ other training programs.
See plans and pricing
or
Request demo (for teams 5+)
---
This course is available in the following minidegrees: