Become great at Google Ads for ecommerce
Learn which Google features are excellent, what still requires a human touch, and how to become a superior marketer in this environment.
Using Google Ads for ecommerce has become increasingly powerful over the years – with increasing options for you to work less hard and reap more benefits.
With all the automation Google offers, it's more important than ever to know what your role as a manager for Ads is.
Course length: 48min
Start 7-day trial for $1
Susan Wenograd
VP of Demand Generation @ Marpipe
Some of the companies that train their teams at CXL:










Introduction video
Transcript viewer loading...
This course is essential for you if…
You are in ecomm, and feel stuck with a campaign structure that is simply Shopping and a bunch of manually-managed keywords.
You want to reach your ideal user, but know they may not be explicitly searching for your products or solutions.
You want to shift more marketing budget to Google, but are maxed out on search query coverage with no way to spend more.
Take this course and you will…
Spend less time managing details that Google is better at these days, so you can focus more on actual marketing.
Understand how keywords are falling to the wayside in favor of user-based behavior signals, and the best ways to use them with Google Ads.
Explore newer Campaign types and spread your marketing wings beyond search to reach customers in different ways.

Chris Out
For the hard skills, we use CXL to enable all our growth hackers and CRO people, who have different clients with different needs. Everybody can follow a tailored course for the stuff that they need to learn. The next thing we do, we create a learning plan per person, and we check in with people to see how fast are they learning. That learning plan is created based on their ambitions, what their clients need, and how they want to evolve.

Josh R.
CXL has lead to more professional growth than any other year of my life. The best educational investment I have ever made.

Victor A.
CXL gave me a big lift in my career.
Few months after my Growth Marketing Minidegree, I got a job.
Ever since then, the story has been different.

Tomek D.
Our Growth Marketing agency has completed 1298 lessons and 138 courses at the Institute so far. CXL helps us in a number of ways:
1. Provides an incredible source of content to train our staff.
2. Is a good tool in keeping our staff (they're growing and we aid in that).
3. Is an awesome source of new opinions/methods to try out on our clients.

Radvilas Š.
Anyone interested in genuinely understanding the math behind CRO and A/B testing absolutely has to use CXL.
My whole team has a great time discussing the material and aligning our views on processes we use, and to come up with ideas to implement in the future.

Ruben D.
The wide variety of courses taught by many different experts makes CXL highly recommended for every team who takes growth seriously.
New courses are regularly available, making it better and better. CXL is a great platform for learning and growing businesses.

Yasmine de Aranada, Growth Strategist @ Market 8
This course is packed with gold! Momoko is an awesome teacher – I took the course late so only got access to recordings, and even with that, I am able to use every bit of it in my deliverable.

Crystal Ignatowski, Marketing Content Developer @ Surety Solutions
I'll be honest, I didn't entirely understand what the CXL was at first. Then, I realized it was a gold mine. The Institute is jam-packed with courses, certificate programs, and recordings of past events/courses. The CXL was my guide book for many many months and because of that, I am leaps and bounds above the rest. Everything the Institute publishes is part of the top 5%. There is no fluff in the Institute; only real, actionable, and result-driven content. If you think you know stuff, give the CXL a try. You'll be shocked at how much you have to gain.
Your course curriculum
Google Ads Ecommerce
1
Using Auction Insights for Brand Intel
In this lesson, we will cover that the paid search auction isn't a black box if you use Auction Insights. We will discover trends and evolve your strategies to respond to them.
You will learn:
how to view Auction Insights and segment over longer periods of time for insights
how one brand spotted a competitor encroaching on them after receiving funding
how to use Auction Insights findings to drive the changes and strategies you adopt in your paid search campaigns
2
The Rise of Behavior vs. Keywords
In this lesson, we will cover what has been changing in Google Ads and its current state before you can fully take advantage of it.
You will learn:
how Google has shifted its focus from keyword to human behavior, and what that means for marketers
the ways Google is offering automation as a more efficient alternative to overly hands-on management.
the new Campaign types Google has introduced to try and take a piece of the paid social budget.
3
Using Experiments to Test Theories
In this lesson, we will cover how to use the Experiments feature in Google Ads to test theories and ideas, without giving up control and wrecking your account results.
You will learn:
the settings in Experiments and how to choose what's right for you
the most-recommended tests that are likely to impact how you decide Campaign Settings for your whole account
why the ad testing feature is a must-use, and what it gives you that Google's normal ad rotation options won't
4
Using Audiences and Broad Match to Your Advantage
In this lesson, we will cover how to use Audience Observation and Targeting modes to uncover cost reductions, better outcomes, and data to drive Audience targeting on other platforms.
You will learn:
where Audiences exist in Google Ads, and how to apply them to Campaigns
why you should add as many as you can think of for Observation
how you can use successful Audiences once you discover them
5
Using Dynamic Search Ads (DSAs) for insights and reach
In this lesson, we will cover Dynamic Search Ads (DSAs) that can yield new keyword insights, and streamline your search efforts, but not without some crucial controls. Here's how to use them, and maximize what they're good at.
You will learn:
what DSAs are and how they work
the options for running DSA ads, and ways to have more or less control.
how to analyze the data in a DSA.
to refine your DSA over time for maximum return.
Susan Wenograd
VP of Demand Generation @ Marpipe
Susan is VP of Demand Generation for Marpipe, the first multivariate creative testing platform for digital advertising. She has spent the last 20 years in marketing, specializing in paid search and social for brands and agencies. She has managed tens o …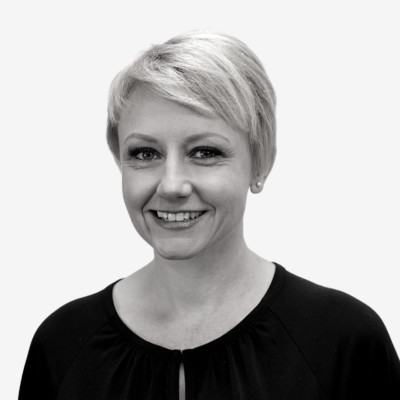 Susan is VP of Demand Generation for Marpipe, the first multivariate creative testing platform for digital advertising. She has spent the last 20 years in marketing, specializing in paid search and social for brands and agencies. She has managed tens of millions of ad dollars working with many household names, including General Motors, Instacart, and She's Birdie.
Show off your hard-earned skills and strengthen your profile.
LinkedIn found that people who add credentials to their profile receive 6x more profile views than those who don't.
Add your certificates to your profile, share your accomplishments with the world, and join our alumni network.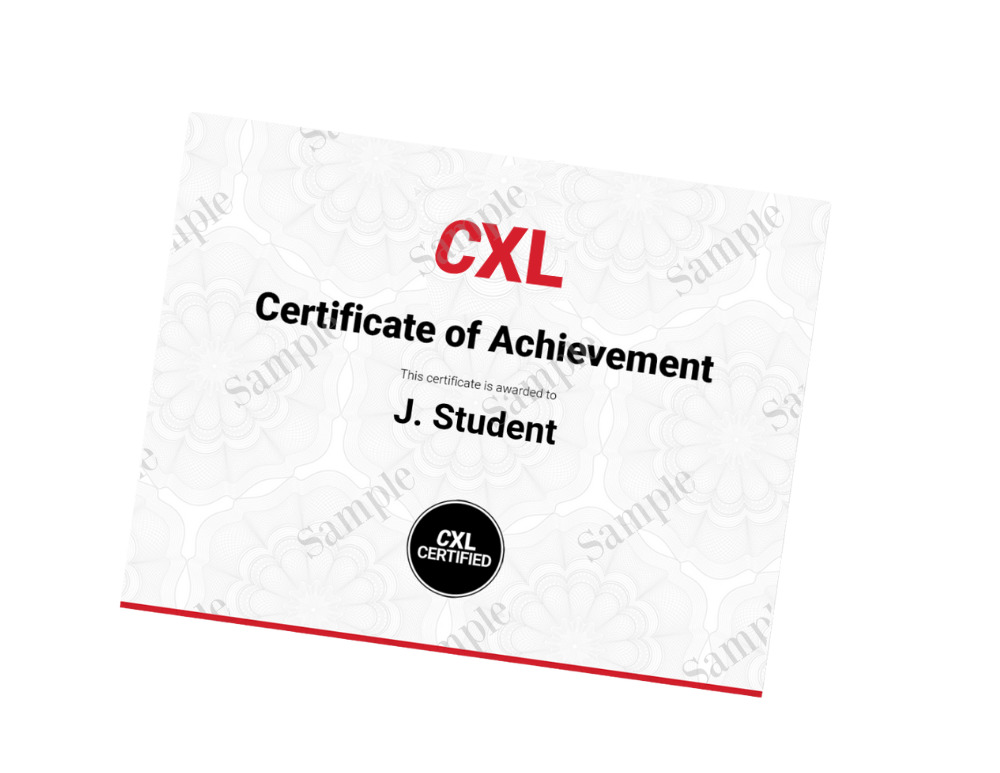 Learn marketing on the job.
Get better results with networking.
Our Marketing playbooks community gives you peer support for every marketing task you face.  90% of marketing tasks are not unique. Someone has already figured it out. Achieve more with less hassle.
Access our library of thousands of marketing playbooks, each showing you how to do a specific marketing task in 10 steps or less, with real-time peer support.
Join our community of marketing experts, ready to support you in getting that promotion or master new strategies, skills, and channels.
Network with some of the world's best marketers and companies and get noticed, hired, or endorsed.
Subscribe to CXL and get access
90+ courses (full list here) on all aspects of data-driven marketing (new courses added every month)
10 minidegrees that give you advanced level skills
Playbook community with 2500+ instructions and peer-support
Got a team, multiple users? Get our Teams All-Access plan instead.
The CXL guarantee
7-day no questions asked money back period
You can immediately apply learnings and improve your results.
Need help convincing your boss?
Click here for a pitch deck, swipe files and tips.
Subscribe to CXL
All plans come with a 7-day trial for $1.
Get access to this and 90+ other training programs.
See plans and pricing
or
Request demo (for teams 5+)
---
This course is available in the following minidegrees: