Become great at BigQuery
Learn to automate insightful reports with Google's lightning-fast analytics data warehouse.
Online course
By Khrystyna Grynko,
Cloud Customer Engineer/Data @ Google
Course length: 2h 09min
Start 7-day trial for $1
Some of the companies that train their teams at CXL:










In a world that increasingly rewards marketers who can turn data into insight…
…learning BigQuery opens a world of possibilities for you and your team.
Pouring hours into painstaking manual reports? Trying to analyze data that lives in different places?
After taking this course, you'll be able to automate your reports and reclaim hours of your time.
And since BigQuery makes it easy to get all your data in one place you'll be able to deliver fascinating insights and ideal solutions that will impress your stakeholders.
BigQuery is the ideal tool for non-technical and technical marketers alike.
We'll start with the very basics, so don't worry if you've never typed a line of SQL, the language you'll use with BigQuery.
By the end, you'll be able to connect and analyze huge datasets quickly. So you can produce valuable insights for your stakeholders on demand. Affordable, approachable and lightening-fast.
After taking this course, you'll…
Understand the possibilities and limitations of Google BigQuery — so you know the exact benefits you and your team should expect
Define and build your data structure schema and create your BigQuery datasets, tables, views and queries
Know the best ways to import your data into BigQuery for every situation
Uncover unique insights from Google Analytics by analyzing your data with BigQuery
Be able to build powerful dashboards in Google Data Studio and detailed reports in Google Sheets

Participants at any level of digital marketing expertise will get value out of this class.

Very insightful course. the classes are well explained with a lot of resources and useful examples.
Make your analysis easier, faster and more impactful
It's tough to analyze datasets that live in different places.
BigQuery helps you organize your marketing analytics by connecting all your data sources, such as your CRM, Google Analytics and spreadsheets. Which makes it dramatically easier to perform a comprehensive analysis.
Working with huge datasets?
Short on time?
No problem.
BigQuery works fast — even if you're working with terabytes of data and millions of rows. So you can work in nearly real time, get work done quicker and keep pace with your market.
In this course, you'll also learn how to build powerful dashboards that give you and your stakeholders valuable insights.
By the end of the course, you'll know exactly how to use BigQuery to make your work easier, faster and more impactful.
Develop your BigQuery skills in just 6 lessons
Get your data into BigQuery with the ideal import options for every situation
Work with your data in BigQuery and learn basic SQL language
Query and analyze your Google Analytics data with BigQuery
Build automated reports and dashboards using your BigQuery data
This course starts with the very basics: how to explore BigQuery without entering your credit card.
But by the end, you'll be ready to start your first BigQuery project — from importing data to building powerful automated reports and dashboards.
This course is essential for you if …
You want to analyze all your data in one place.
You're tired of spending time manually creating your marketing reports and would like to automate them.
You're a marketer or an analyst who wants to empower your company to make data-driven decisions.
This course is NOT for you if…
You don't have time to analyze your data. This course is not for you if you won't be able to use BigQuery to at least 50% of its possibilities.
You already have several data consolidation and visualisation tools at your company. Try to use what you already have to its full potential before trying new tools.
You don't have access to a developer to automate file-sending to Google Storage and a Data Protection Officer to accept to send and store the data in Google Cloud.
Skills you should have before taking this course
This course will teach the basics of the Google Cloud Platform and Google BigQuery, and prepare you to start your first project.
You don't need to know any SQL to take this course. If you want to go even further with BigQuery, you'll want to expand your SQL knowledge so you can retrieve very specific data through more advanced queries.
Khrystyna Grynko
Cloud Customer Engineer/Data @ Google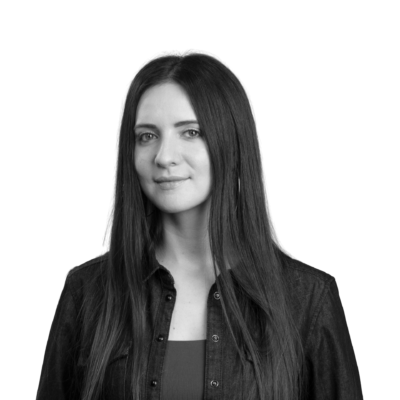 Khrystyna is a Cloud Customer Engineer/Data at Google. She has been helping clients to better use their digital data since 2015.
Khrystyna has spoken at numerous MeasureCamp 'unconferences'. She is a DataCamp Lyon and MeasureCamp Lyon organizer and also serves as vice president at AADF, a French-speaking Digital Analysts Association (aadf.fr).
Your full course curriculum
BigQuery
Start exploring Google BigQuery (without entering your credit card), using SandBox and public datasets. And learn how to build your data schema to prepare your own BigQuery data structure.
Topics covered:
Examine the free BigQuery trainings available through Google Cloud
Learn to use free BigQuery features for your SQL and data management skills
Build your own data structure for your future BigQuery data warehouse
Learn how to start working with your own data in BigQuery. Discover different data import options and supplementary Google Cloud tools like functions, dataflow, dataprep and data transfer.
Topics covered:
Learn your options for importing data into BigQuery
Choose the best data import option
Review data transfer, dataflow and dataprep tools
Discover how to work with your data in BigQuery. You'll learn to use SQL language to create, register and schedule your queries, views and new tables.
Topics covered:
Discover exactly how you can work with your data in BigQuery
Learn basic SQL language by creating and testing your queries
Prepare data for your reports and analysis using queries and views
Learn how to analyze your Google Analytics data in BigQuery and how to work with partitioned tables and nested fields.
Topics covered:
Learn how Google Analytics data is structured
See how to work with partitioned tables and nested fields
Practice querying your Google Analytics data
See how to create automated reports using BigQuery data with Google Sheets and Google Data Studio.
Topics covered:
Build your reports in Google Sheets
Build your reports in Google Data Studio
Connect BigQuery to non-Google data visualisation tools
Explore the possibilities BigQuery opens for your company. Discover use cases and best practices.
Topics covered:
Get inspired by BigQuery use cases
Discover BigQuery best practices
Improve your knowledge with useful resources
Show off your hard-earned skills and strengthen your profile.
LinkedIn found that people who add credentials to their profile receive 6x more profile views than those who don't.
Add your certificates to your profile, share your accomplishments with the world, and join our alumni network.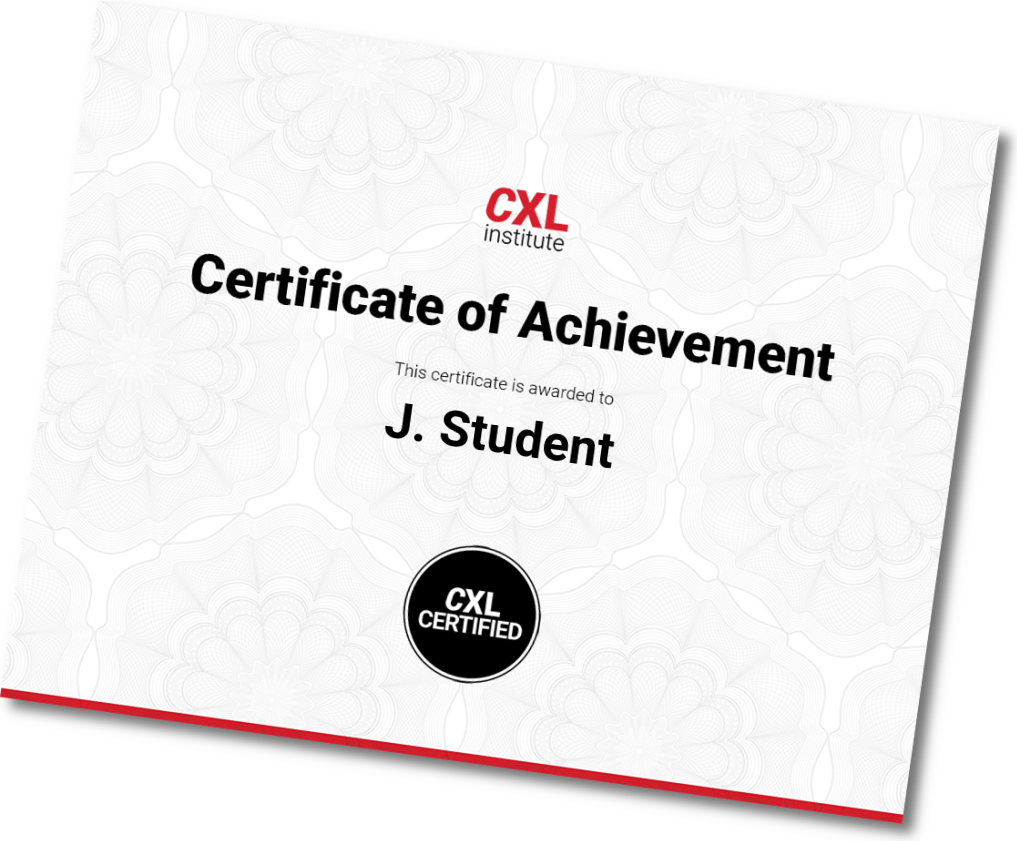 Learn marketing on the job.
Get better results with networking.
Playbook community gives you peer support for every marketing task you face. 90% of marketing tasks are not unique. Someone has already figured it out. Achieve more with less hassle.
Access our library of thousands of marketing playbooks, each showing you how to do a specific marketing task in 10 steps or less, with real-time peer support.
Join our community of marketing experts, ready to support you in getting that promotion or master new strategies, skills, and channels.
Network with some of the world's best marketers and companies and get noticed, hired, or endorsed.
Subscribe to CXL and get access
90+ courses (full list here) on all aspects of data-driven marketing (new courses added every month)
11 minidegrees that give you advanced level skills
Playbook community with 2500+ instructions and peer-support
Got a team, multiple users? Get our Teams All-Access plan instead.
The CXL guarantee
7-day no questions asked money back period
You can immediately apply learnings and improve your results.
Need help convincing your boss?
Click here for a pitch deck, swipe files and tips.
Subscribe to CXL
All plans come with a 7-day trial for $1.
Get access to this and 90+ other training programs.
See plans and pricing
or
Request demo (for teams 5+)
---
This course is available in the following minidegrees: