Help your team become great at marketing.
Great marketing is your team's last real competitive advantage.
Instead of hoping your team will sharpen their marketing skills on their own, you can give them direct access to the world's top 1% practitioners. With instructors from companies like Hubspot, Shopify, and Drift, you'll make everyone on your team an A-player.
Some of the companies that train their teams at CXL:










Product-based differentiation has gone away
In 2016, Drift's CEO, David Cancel, famously said that the era of product-based differentiation is going away. By now, we can conclude that it has already gone away.
The work your marketing department does has never been more critical. The way to win today is through brand, positioning, community, and understanding your customer better than any of your competitors do, in a word, marketing.
Learning doesn't happen on its own
Your team is too busy to find the time for marketing education. Even when they do, it's random, structureless, and sometimes not aligned to what is in your company's best interest.
Most content on the web is created by content writers, not subject matter experts.
At CXL, every course is taught by the top 1% of marketing practitioners from companies like Indeed, ProfitWell, and Privy.
Winning teams consist of T-shaped marketers
A T-shaped marketer is a person with a broad understanding of all marketing disciplines, and in-depth expertise in one or few areas.
The best marketers of today and tomorrow have deep knowledge across the full funnel—deeply versed in analytics, highly proficient in customer acquisition, well-versed in conversion optimization and A/B testing, all of it.
That's why the best marketing teams in the world today have T-shaped talent.
This is what we focus on at CXL – giving you both knowledge in a broad array of skills, and deep ability in a few.
Our courses are focused on improving performance on the job
CXL uses evidence-based training methods designed by Dr. Will Thalheimer, one of the leading learning researchers.
All of our training programs are strategically focused on improving your job performance.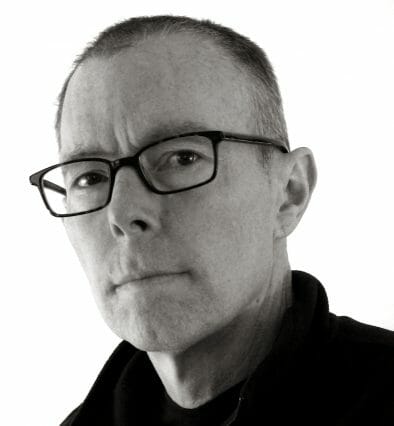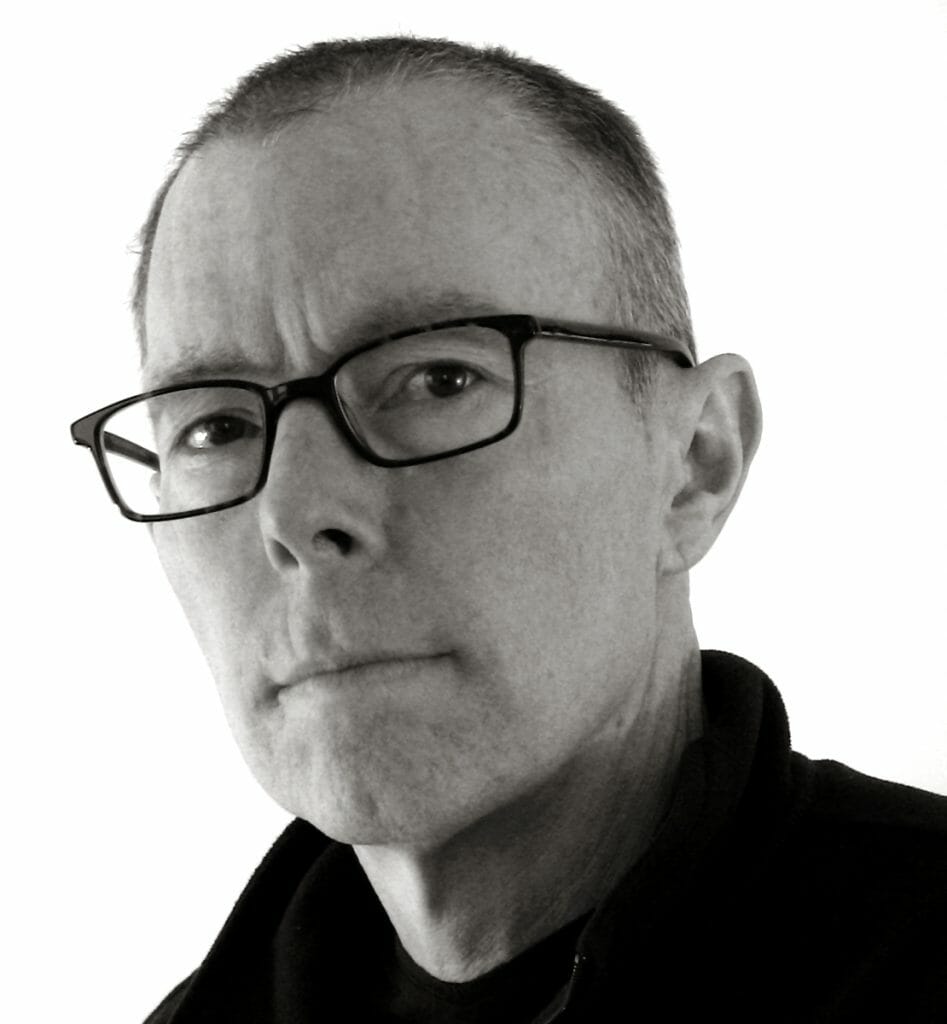 Experiences with CXL

Chris Out
For the hard skills, we use CXL to enable all our growth hackers and CRO people, who have different clients with different needs. Everybody can follow a tailored course for the stuff that they need to learn. The next thing we do, we create a learning plan per person, and we check in with people to see how fast are they learning. That learning plan is created based on their ambitions, what their clients need, and how they want to evolve.

Kurt S.
Having completed the Conversion Optimization mini degree, this has given me a perfect overall base for my current role in marketing where I'm trying to always improve the web experience.

CXL is constantly putting out new material and also updating existing material to be up to date with the current best practises.

Tomek D.
Our Growth Marketing agency has completed 1298 lessons and 138 courses at the Institute so far. CXL helps us in a number of ways:
1. Provides an incredible source of content to train our staff.
2. Is a good tool in keeping our staff (they're growing and we aid in that).
3. Is an awesome source of new opinions/methods to try out on our clients.

Brandon V.
CXL gave my team the tools to create and run a successful growth team. We were running tests without any thought behind them.
I now have the methodology to be more successful in my day-to-day tasks, and to further my career.

Radvilas Š.
Anyone interested in genuinely understanding the math behind CRO and A/B testing absolutely has to use CXL.
My whole team has a great time discussing the material and aligning our views on processes we use, and to come up with ideas to implement in the future.

Cheyenne F.
I love CXL institute! It is so comprehensive and there is a ton of variety based on where you are going in your marketing career.
I know it is loved company-wide, too, because management requires that we spend at least 2 hours a week on the Institute. Thanks for all you have taught me so far CXL!

Ruben D.
The wide variety of courses taught by many different experts makes CXL highly recommended for every team who takes growth seriously.
New courses are regularly available, making it better and better. CXL is a great platform for learning and growing businesses.
Give your team access to the best to become the best
Our approach is straightforward — every instructor needs to be the absolute best in the world at what they do.
All of our instructors are hand-picked, and carefully vetted. Often these are names the wider audience doesn't recognize, but are revered by the industry insiders.
We seek out the best practitioners — not academics — and get them to teach their craft.
Watch your team grow and improve in real time
As a manager, you can assign which course everyone on your team should take next. You can plan out their learning road map up to 12 months in advance.
The Team Stats Overview will allow you to get a quick glimpse at how your team is improving, so you can benchmark their progress.

Track everyone's progress in real-time
Accountability is a powerful method for getting things done.
Zoom into any team member's individual learning to see their completion and progress stats. See which courses your team is excelling in and where they need to invest additional effort.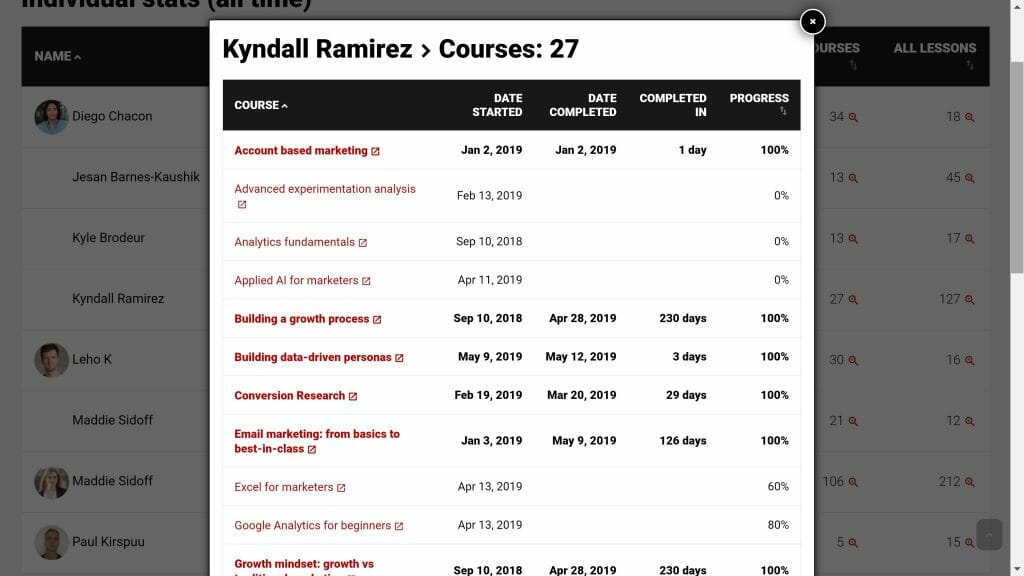 We recommend that team members complete at least a course per month, and ideally present what they've learned to the rest of the team, along with specific recommendations on how to use it at your company.
Learn marketing on the job.
Get better results with networking.
Our Marketing playbooks community gives you peer support for every marketing task you face.  90% of marketing tasks are not unique. Someone has already figured it out. Achieve more with less hassle.
Access our library of thousands of marketing playbooks, each showing you how to do a specific marketing task in 10 steps or less, with real-time peer support.
Join our community of marketing experts, ready to support you in getting that promotion or master new strategies, skills, and channels.
Network with some of the world's best marketers and companies and get noticed, hired, or endorsed.
Subscribe to CXL and get access
90+ courses (full list here) on all aspects of data-driven marketing (new courses added every month)
10 minidegrees that give you advanced level skills
The CXL guarantee
7-day no questions asked money back period
You can immediately apply learnings and improve your results.
Need help convincing your boss?
Click here for a pitch deck, swipe files and tips.
Subscribe to CXL
All plans come with a 7-day trial for $1.
Get access to this and 90+ other training programs.
See plans and pricing
or
Request demo (for teams 5+)