Elevate your skills with Advanced LinkedIn Ads
Discover LinkedIn Ads strategies that actually work.
LinkedIn Ads get you access to your absolute ideal target audience, but it comes at a steep cost. Every mistake you make automatically becomes an expensive one. Understand the pitfalls to avoid and the most effective strategies to get optimal performance at the best costs from your campaigns.
Course length: 1h 14min
Start 7-day trial for $1
AJ Wilcox
CEO @ B2Linked.com
Some of the companies that train their teams at CXL:










Introduction video
This course is essential for you if…
You work in B2B with average deal sizes of $15k or more
You're feeling pressure to generate higher quality leads than you can get from Facebook and Google
You're a technical marketer who is ready to use data to elevate yourself above your peers
Take this course and you will…
Master the bidding and budgeting strategies to get the lowest costs per click
Understand the calls to action (CTAs) that are effective vs the ones that aren't
Target exactly the right people in a systematic way that's repeatable every time
Know the benchmarks for when your campaigns are performing well or poorly
Know the best tracking and attribution strategies to ensure you can trace your efforts all the way down to the results

Chris Out
For the hard skills, we use CXL to enable all our growth hackers and CRO people, who have different clients with different needs. Everybody can follow a tailored course for the stuff that they need to learn. The next thing we do, we create a learning plan per person, and we check in with people to see how fast are they learning. That learning plan is created based on their ambitions, what their clients need, and how they want to evolve.

Josh R.
CXL has lead to more professional growth than any other year of my life. The best educational investment I have ever made.

Victor A.
CXL gave me a big lift in my career.
Few months after my Growth Marketing Minidegree, I got a job.
Ever since then, the story has been different.

Tomek D.
Our Growth Marketing agency has completed 1298 lessons and 138 courses at the Institute so far. CXL helps us in a number of ways:
1. Provides an incredible source of content to train our staff.
2. Is a good tool in keeping our staff (they're growing and we aid in that).
3. Is an awesome source of new opinions/methods to try out on our clients.

Radvilas Š.
Anyone interested in genuinely understanding the math behind CRO and A/B testing absolutely has to use CXL.
My whole team has a great time discussing the material and aligning our views on processes we use, and to come up with ideas to implement in the future.

Ruben D.
The wide variety of courses taught by many different experts makes CXL highly recommended for every team who takes growth seriously.
New courses are regularly available, making it better and better. CXL is a great platform for learning and growing businesses.

Yasmine de Aranada, Growth Strategist @ Market 8
This course is packed with gold! Momoko is an awesome teacher – I took the course late so only got access to recordings, and even with that, I am able to use every bit of it in my deliverable.

Crystal Ignatowski, Marketing Content Developer @ Surety Solutions
I'll be honest, I didn't entirely understand what the CXL was at first. Then, I realized it was a gold mine. The Institute is jam-packed with courses, certificate programs, and recordings of past events/courses. The CXL was my guide book for many many months and because of that, I am leaps and bounds above the rest. Everything the Institute publishes is part of the top 5%. There is no fluff in the Institute; only real, actionable, and result-driven content. If you think you know stuff, give the CXL a try. You'll be shocked at how much you have to gain.
Your course curriculum
Advanced LinkedIn Ads
1
Gauging Your LinkedIn Ads Performance: Benchmarks
Discover LinkedIn Ads strategies that actually work.
When advertising on a premium channel like LinkedIn, it's important to know how your performance is going and how it measures up.
2
Controlling Your Costs with Bidding and Budgeting
Discover LinkedIn Ads strategies that actually work.
One of the biggest mistakes that LinkedIn advertisers make is to pay too much for traffic due to not understanding LinkedIn's bidding and budgeting.
3
Advanced Targeting Strategy for LinkedIn Ads
Discover LinkedIn Ads strategies that actually work.
LinkedIn provides incredible targeting for B2B marketers, and that's the biggest reason we pay such a premium for advertising on the network.
4
Setting Up and Tuning Up Your LinkedIn Ads Campaigns
Discover LinkedIn Ads strategies that actually work.
Setting up your campaigns the right way is the best way to unlock better ad performance, easier reporting, and access to more scale.
5
LinkedIn Ads Objectives and How to Use Them For Better Pricing
Discover LinkedIn Ads strategies that actually work.
LinkedIn released objectives to match the capabilities of Facebook, but they don't work the same way. We'll dig deeper to make them work for us.
6
How to Build Funnels with LinkedIn Ads Using Retargeting
Discover LinkedIn Ads strategies that actually work.
Marketers know that warm, educated prospects convert better than cold prospects. It's important to understand the retargeting abilities on the platform to nurture prospects from cold to warm.
7
How to Select an Offer that Converts with LinkedIn Ads
Discover LinkedIn Ads strategies that actually work.
Learn the types of offers that convert both warm and cold audiences and reducing friction in your offers overall.
8
Traffic Patterns for Dayparting and Ad Scheduling on LinkedIn Ads
Discover LinkedIn Ads strategies that actually work.
Identify the traffic patterns of your audiences through careful calculation and analysis of your ad performance.
9
Optimizing and Troubleshooting your LinkedIn Ads Performance
Discover LinkedIn Ads strategies that actually work.
Put together a game plan to optimize and troubleshoot problem areas in your account.
10
How to Tag, Track, and Attribute your LinkedIn Ads Traffic to Assess your Return On Investment
Discover LinkedIn Ads strategies that actually work.
Understand how to track and tag LinkedIn ads for further insights.
AJ Wilcox
CEO @ B2Linked.com
AJ Wilcox is a LinkedIn Ads pro who founded B2Linked.com a LinkedIn Ads-specific ad agency, in 2014.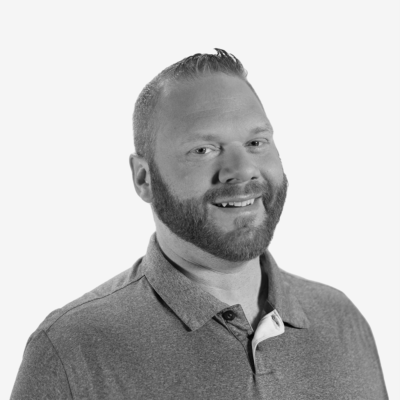 He's managed over $150M in spend on the platform, they are official LinkedIn partners. He's host of the LinkedIn Ads Show podcast, and has managed 5 of the world's top 10 LinkedIn Ads accounts. He's a ginger & triathlete. He lives in Utah, has 4 adorable kids, and his company car is a wicked-fast go kart.
Show off your hard-earned skills and strengthen your profile.
LinkedIn found that people who add credentials to their profile receive 6x more profile views than those who don't.
Add your certificates to your profile, share your accomplishments with the world, and join our alumni network.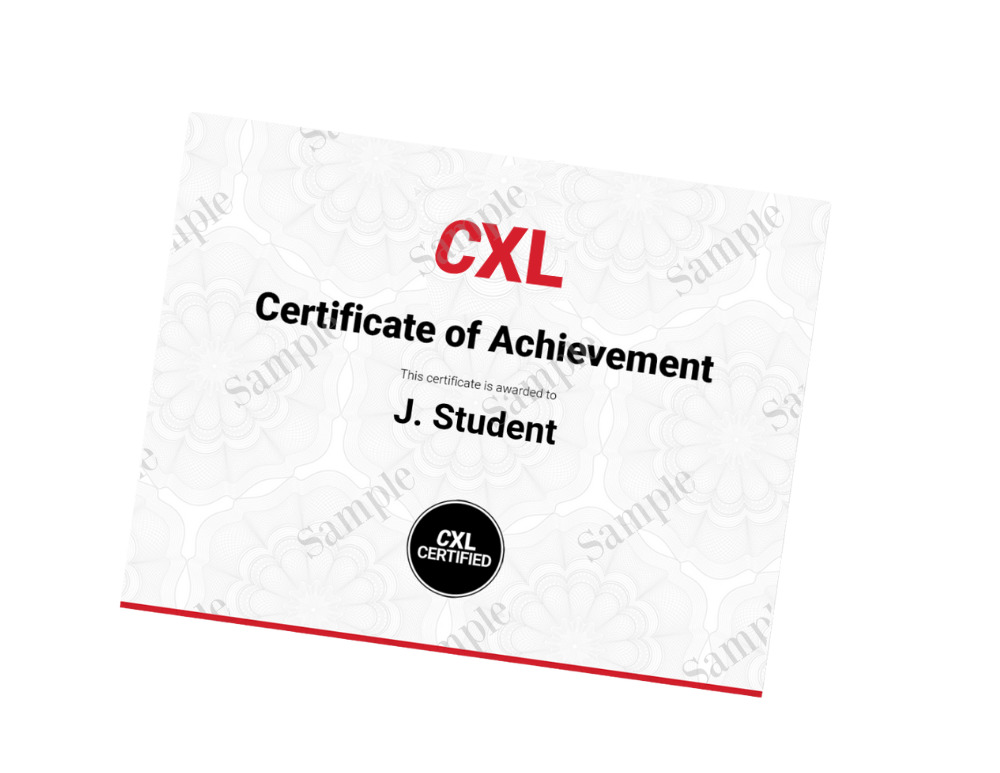 Learn marketing on the job.
Get better results with networking.
Our Marketing playbooks community gives you peer support for every marketing task you face.  90% of marketing tasks are not unique. Someone has already figured it out. Achieve more with less hassle.
Access our library of thousands of marketing playbooks, each showing you how to do a specific marketing task in 10 steps or less, with real-time peer support.
Join our community of marketing experts, ready to support you in getting that promotion or master new strategies, skills, and channels.
Network with some of the world's best marketers and companies and get noticed, hired, or endorsed.
Subscribe to CXL and get access
90+ courses (full list here) on all aspects of data-driven marketing (new courses added every month)
10 minidegrees that give you advanced level skills
Playbook community with 2500+ instructions and peer-support
Got a team, multiple users? Get our Teams All-Access plan instead.
The CXL guarantee
7-day no questions asked money back period
You can immediately apply learnings and improve your results.
Need help convincing your boss?
Click here for a pitch deck, swipe files and tips.
Subscribe to CXL
All plans come with a 7-day trial for $1.
Get access to this and 90+ other training programs.
See plans and pricing
or
Request demo (for teams 5+)