Become great at sales and customer success enablement
Drive repeatable results with sales and customer success enablement.
Course length: 1h 54min
Start 7-day trial for $1
Kyle Bastien
Director, Business Value @ Drift, Inc
Some of the companies that train their teams at CXL:










After taking this course you'll…
Understand what field enablement is, what it isn't, and why it is the foundational skill that separates the most successful product markers from their peers.
Develop a field enablement strategy that is anchored in the buyers journey, rapidly adopted by sales and customer success, and differentiated from the abandoned pitch decks and positioning statements of the past.
Plan the right delivery, certification, and measurement strategy to quantify the impact of your effort, and diagnose and repair breakdowns in the process.
This course is essential for you if…
You work in (or want to work in) a product marketing or enablement capacity at a B2B organization with average deal sizes of $10K or greater
You want to deliver measurable value to your organization and are sick and tired of feeling insanely busy yet have nothing to show for it in terms of results
You have a nagging feeling that you are leaving money on the table due to breakdowns in execution, and want a framework that unlocks your organizations natural desire to be the best that it can be.
This course is NOT for you if…
You operate in an eCommerce or transactional sales environment
You view field teams as rivals better suited for blame than world class enablement
You already have a well polished enablement motion with world class leadership, executive sponsorship, and predictable results. Much of this content will be advanced, however operators already excelling at global scale will find some content redundant.
Kyle Bastien
Director, Business Value @ Drift, Inc
Kyle leads the Business Value practice at Drift, the category leader in Conversational marketing and Sales. He's built and lead customer success teams at Intuit and Sales Enablement teams at Drift.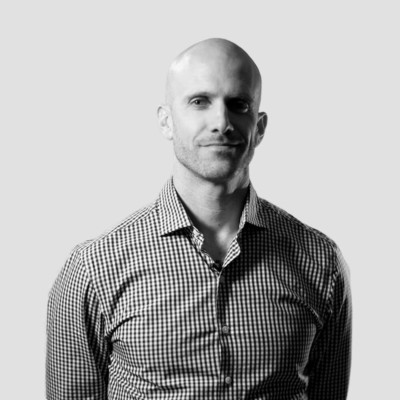 Kyle leads the Business Value practice at Drift, the category leader in Conversational marketing and Sales. He's built and lead customer success teams at Intuit and Sales Enablement teams at Drift.
Over the past year, Kyle has been focused on launching a revolutionary AI-based product, and in that time has worked closely with sales, product marketing and customer success to bring this solution to market.
Your course curriculum
Sales and customer success enablement
This lesson will cover the data and science that forms the foundation for field enablement, and outline the core activities of the discipline.
Topics covered:
Outline a modern sales and success motion that puts the buyer at the center
Be able to orchestrate a world class enablement services program for customers, field professionals, and leaders alike
Master the communication and measurement frameworks you'll need to ensure success and demonstrate value
2
Three Principles of Enablement
Every business is unique and the precise content and services you need to deliver will vary in accordance. This lesson will teach you the universal enablement principles that I use to scope and deliver the resources field teams need to be successful.
Topics covered:
Understand the key principles required to design and execute an enablement framework
Internalize the fundamental truth that the buyer is in control of the purchase process
Clearly understand what you own, and more importantly what you don't, when it comes to enablement
We've seen the framework as a whole, now let's break down the individual components and build them out for your org, starting with the top line of the Buyers Journey and the 3 Why's
Topics covered:
Understand the importance or organizing all enablement around your buyers, not your sellers and field teams
Learn an easy, three part system for organizing the top line of the buyers journey - the Three Why's
Be able to confidently establish the top line of your own enablement framework
We know the journey that our buyer's must take to do business with you - now our job is to align our selling motion to support that journey. This lesson will teach you how to build a buyer-centric sales process.
Topics covered:
Learn how to construct a sales and support process that supports the buyer's journey
Understand the key elements of a sales process
Be able to confidently establish the sales process within your own enablement framework
Now you have considered the buying journey and organized the sales process. This lesson will provide an overview of the services you need to consider and organize to enable your field teams.
Topics covered:
Define the key components of comprehensive Enablement Services
Organize your existing content and services into the Framework
Take an initial inventory of what you have, and what you need
6
Customer Facing Content
We'll take a deeper dive on customer-facing content. Specifically, you will learn how to think about and organize your customer facing content to align with stages in the buyer's journey.
Topics covered:
Understand how to orient your customer-facing content
Learn how to translate your customer-facing content into discrete parts
Be able to itemize the needed content for your customers at each phase of their journey
This lesson will help you distinguish between customer facing content and internal enablement content, and prepare a list of the current and necessary internal enablement content your field teams require.
Topics covered:
Understand the difference between customer content and enablement content
Define the key types of enablement content
Be able to complete your own internal enablement content list
8
Training Content for Customer Facing Professionals
This lesson will define and outline core training content for customer facing professionals, including how to use technology to deliver training at scale.
Topics covered:
Learn what kind of content is appropriate to equip the field teams
Understand best practices in using technology to train the team at scale
Be able to layer in required training content based on a gap analysis
The success of any enablement program will always hinge on the front line sales managers, so equipping them to reinforce the program must be a priority. This lesson will teach you how to prepare your management team for success.
Topics covered:
Understand why managers are so critical to successful enablement
Learn what kinds of content are required to enable front line managers
Be able to complete the manager content map for your organization
The conceptual work is done and now it is time to get to work. This lesson will review how to stand back and look at your framework holistically, identify the gaps in the program, and prioritize the work to be done.
Topics covered:
Learn how to assess gaps in the Enablement Framework
Be able to develop a comprehensive list of enablement content that needs to be created
Prioritize your enablement roadmap and get to work
11
Three Pillars of Enablement Technology
Certain technical capabilities will be required to execute a field enablement program at scale. This lesson will walk you through the three primary tools that comprise the modern enablement tech stack.
Topics covered:
Understand the three main technologies leveraged in a modern enablement tech stack
Describe how those technologies are used to enable the field teams
Identify the key capabilities unlocked by these technologies
12
Communicating to the Field
How NASA figured out how to coordinate a moon landing, translate dozens of system checks into clear pilot communication, and what all this can teach us about how to communicate to field professionals.
Topics covered:
Learn about the framework for effective field communication
Be able to assign roles and set expectations with partners in the business
Learn how NASA uses this framework for literal 'mission critical' communications
Building a robust enablement services framework is huge and worthwhile investment, however like any other investment, it comes with the expectation of measurable results. Our final lesson will discuss how to set up a measurement framework to track and communicate progress.
Topics covered:
Understand how to build a measurement funnel for enablement efforts
Be able to source the data you need from the systems you put in place
Leave with a framework to understand and communicate your impact
Show off your hard-earned skills and strengthen your profile.
LinkedIn found that people who add credentials to their profile receive 6x more profile views than those who don't.
Add your certificates to your profile, share your accomplishments with the world, and join our alumni network.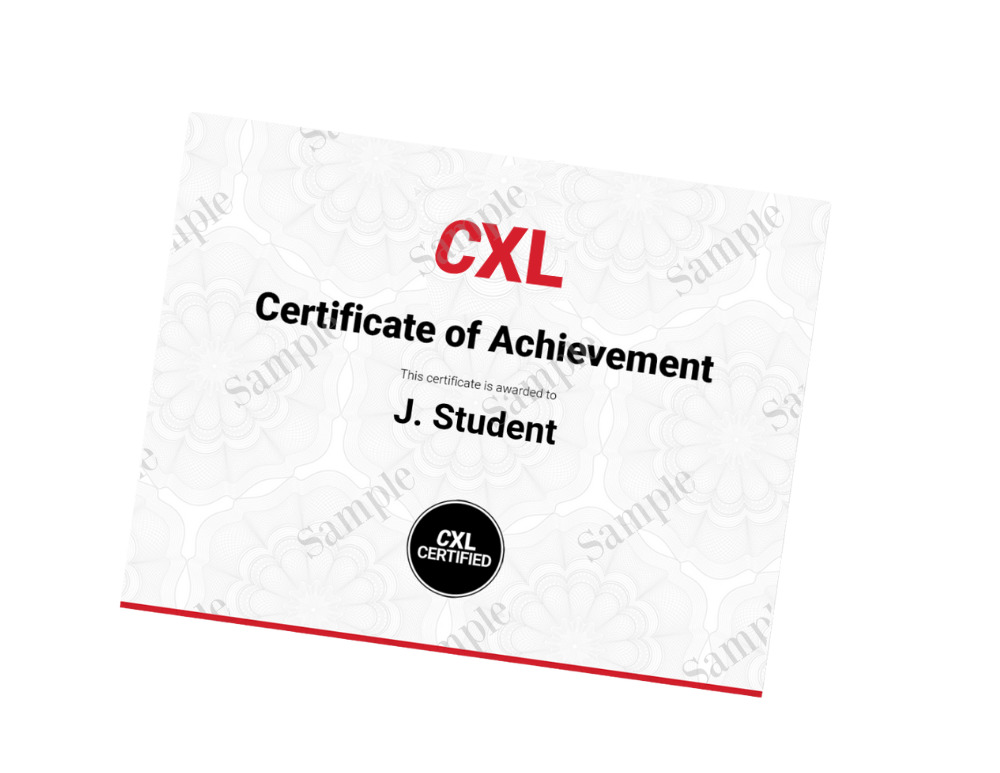 Learn marketing on the job.
Get better results with networking.
Our Marketing playbooks community gives you peer support for every marketing task you face.  90% of marketing tasks are not unique. Someone has already figured it out. Achieve more with less hassle.
Access our library of thousands of marketing playbooks, each showing you how to do a specific marketing task in 10 steps or less, with real-time peer support.
Join our community of marketing experts, ready to support you in getting that promotion or master new strategies, skills, and channels.
Network with some of the world's best marketers and companies and get noticed, hired, or endorsed.
Subscribe to CXL and get access
90+ courses (full list here) on all aspects of data-driven marketing (new courses added every month)
10 minidegrees that give you advanced level skills
Playbook community with 2500+ instructions and peer-support
Got a team, multiple users? Get our Teams All-Access plan instead.
The CXL guarantee
7-day no questions asked money back period
You can immediately apply learnings and improve your results.
Need help convincing your boss?
Click here for a pitch deck, swipe files and tips.
Subscribe to CXL
All plans come with a 7-day trial for $1.
Get access to this and 90+ other training programs.
See plans and pricing
or
Request demo (for teams 5+)