CXL is the premium marketing education destination.
Become great at digital analytics
Get advanced level skills in digital analytics.
This program is for people serious about building skills, and are ready to put in the effort it takes to complete a Minidegree.
Get strong skills in the Google's suite of analytics tools like Google Analytics, Tag Manager, and Data Studio.
Learn data storytelling, presenting insights, and changing minds.
Master the discipline of digital analytics.
We'll help you get a job once you graduate.
Time to complete minidegree (approximation): 0
Start 7-day trial for $1 Buy just this program
Michele Kiss
Senior Partner @ Analytics Demystified
Some of the companies that train their teams at CXL: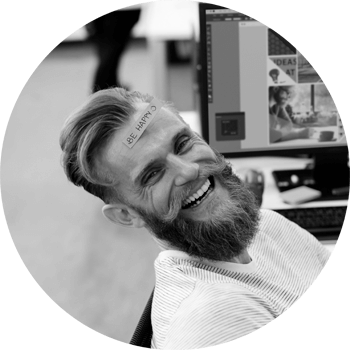 Become a pro at digital analytics
Professionals with deep knowledge in one area – like digital analytics – are in high demand. Whether you work in marketing, CRO, or UX – without data skills you'll become obsolete. This program will turn you into a data-driven specialist who can set up any needed tracking, and turn data into insights and money.
Digital analytics is the most sought after specialization in this era of data-driven marketing.
What is a Minidegree program?
Course is a puzzle piece. Minidegree is the whole puzzle. It's a complete training program that teaches you everything from A to Z and takes you on a path towards becoming the top 1% marketer.
All of our instructors are hand-picked and carefully vetted. Our approach is straightforward – every instructor needs to be the absolute best in the world at what they do.
In this online training program…
…you will learn digital analytics using the Google's suite of tools, from Google Analytics to Tag Manager to Data Studio. In addition, you'll get skills like data storytelling, how to successfully communicate with stakeholders, working with Excel / Google Sheets, and more.

By the end of this program, you'll have the skills that the market wants – and you need – to accelerate your career – and a certificate you can rely on.

Marc Richard
Because I know Charles is an established Google Analytics thought leader, learning from him in this Google Analytics 4 course gave me confidence that I would learn all of the important GA4 concepts that I must understand to be successful with it. Also, he presents at a pace that helps increase my ability to absorb more of what he is teaching. I highly recommend this course.

Kyneret Azizo
Chris Mercer's chill, engaging way of teaching is amazing. You can really tell this is his jam and he loves what he does. I would absolutely do another course with him again.

Tomek D.
Our Growth Marketing agency has completed 1298 lessons and 138 courses at the Institute so far. CXL helps us in a number of ways:
1. Provides an incredible source of content to train our staff.
2. Is a good tool in keeping our staff (they're growing and we aid in that).
3. Is an awesome source of new opinions/methods to try out on our clients.

Anthony T.
Using the techniques and strategies in CXL, I now have a method and foundation to support my work.
It gives me the confidence to believe I am moving in the right direction, that I am investing my time effectively and efficiently (AKA not guessing anymore).

Philip C.
Instructors are top-notch and the learnings are actionable.
The best money I've ever spent, and the best choice I've ever made as far as improving my status in life.

Ruben D.
The wide variety of courses taught by many different experts makes CXL highly recommended for every team who takes growth seriously.
New courses are regularly available, making it better and better. CXL is a great platform for learning and growing businesses.

Bjørn S.
I thought I was quite proficient at analytics, but taking this course was a huge, well-deserved slice of humble pie.
It took me from the top of mount stupid, down into the valley of despair, and across to the foothills of the slope of enlightenment. Worth the time.

Sebastian Grünwaldt
Overall top notch content, reaching pro/guru level towards the end… a very ambitious degree to reach!

Crystal Ignatowski, Marketing Content Developer @ Surety Solutions
I'll be honest, I didn't entirely understand what the CXL was at first. Then, I realized it was a gold mine. The Institute is jam-packed with courses, certificate programs, and recordings of past events/courses. The CXL was my guide book for many many months and because of that, I am leaps and bounds above the rest. Everything the Institute publishes is part of the top 5%. There is no fluff in the Institute; only real, actionable, and result-driven content. If you think you know stuff, give the CXL a try. You'll be shocked at how much you have to gain.

Andrew Guerrazzi
Definitely received gains from the minidegree.
What I learned in the Tag Management section, I've already been able to apply. Also, the information on Regex and the Excel for marketers section have made my work easier and really has saved me several hours so far.
I feel it was time well spent. I now have a good understanding of GA, Tag Management, and overall it gave me a pretty complete understanding of how web analytics works (something I did not have before taking this course).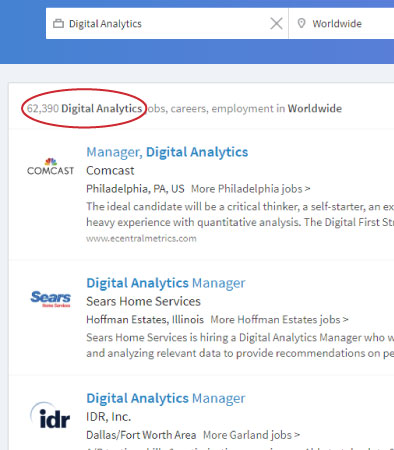 Massive demand for analytics talent
There's much more demand for digital analysts than there are qualified professionals. Laws of demand and supply result in high salaries. There's never been a better time to get into digital analytics than right now.
If you do a search on LinkedIn right now for jobs requiring Google Analytics and Tag Manager skills, it's in the multiple thousands.
What you'll learn and how
A practical, hands-on curriculum – built by leading practitioners – will teach you the right skills for the marketplace.
We've worked alongside industry experts to determine the most relevant topics. What's useful and in-demand has informed our curriculum more than anything else.
Classes are taught by various top practitioners, well-known names in the industry. Program content is a curation of self-paced video courses, so you can learn at a speed that suits your schedule.
Lessons include optional assignments to apply what you've learned.
4 cumulative tracks, 0 of videos & study material
Minidegrees are collections of individual courses, grouped together around a theme. Digital Analytics Minidegree is designed to give you advanced level skills in digital analytics.
All of our instructors are hand-picked, and carefully vetted. Our approach is straightforward – every instructor needs to be the absolute best in the world at what they do.
It's not about data, but insights. This track teaches you how to work with data, how to present insights from it and how to persuade minds with data.
Learn the ins and outs of Google Tag Manager. From deploying tools to advanced javascript.
Complete all required courses in the 4 tracks, then take this exam.
World class instructors
Chris Mercer
Charles Farina
Lea Pica
Jacob Shafer
Simo Ahava
Fred Pike
Ian Littlejohn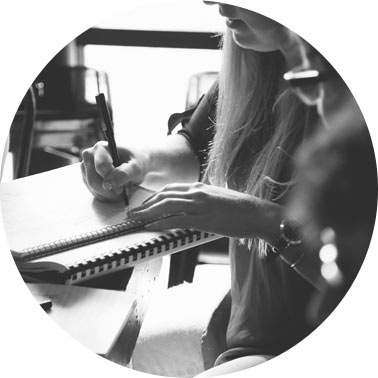 Is this program right for me?
It's ideal for
Full-stack marketers / marketing generalists who want to specialize
People who want to join growth teams
UX folks working with data and want to get better at it
Conversion optimization specialists who want to level up in analytics
The skills you gain are industry-agnostic: you can apply them equally well in ecommerce, SaaS or B2B enterprises.
This program is designed to take participants from novice to advanced level specialists. Being a naturally analytical person helps as do technical skills. Interest in analytics and curiosity in general is a must.
You don't need to be able to write javascript code, but tech skills will help you be a better analyst – so we do recommend you learn javascript down the line. Codeacademy has great free courses on it.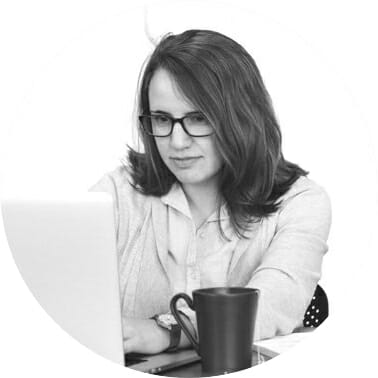 How long will it take me to complete this program?
This is entirely up to you – it's how many hours per week you can put in. If you have 2-4 hrs / week available for learning, it might take you around 8 months. If you can do 10-15 hrs / week, you can knock it out in 2 months.
Show off your hard-earned skills and strengthen your profile.
LinkedIn found that people who add credentials to their profile receive 6x more profile views than those who don't.
Add your certificates to your profile, share your accomplishments with the world, and join our alumni network.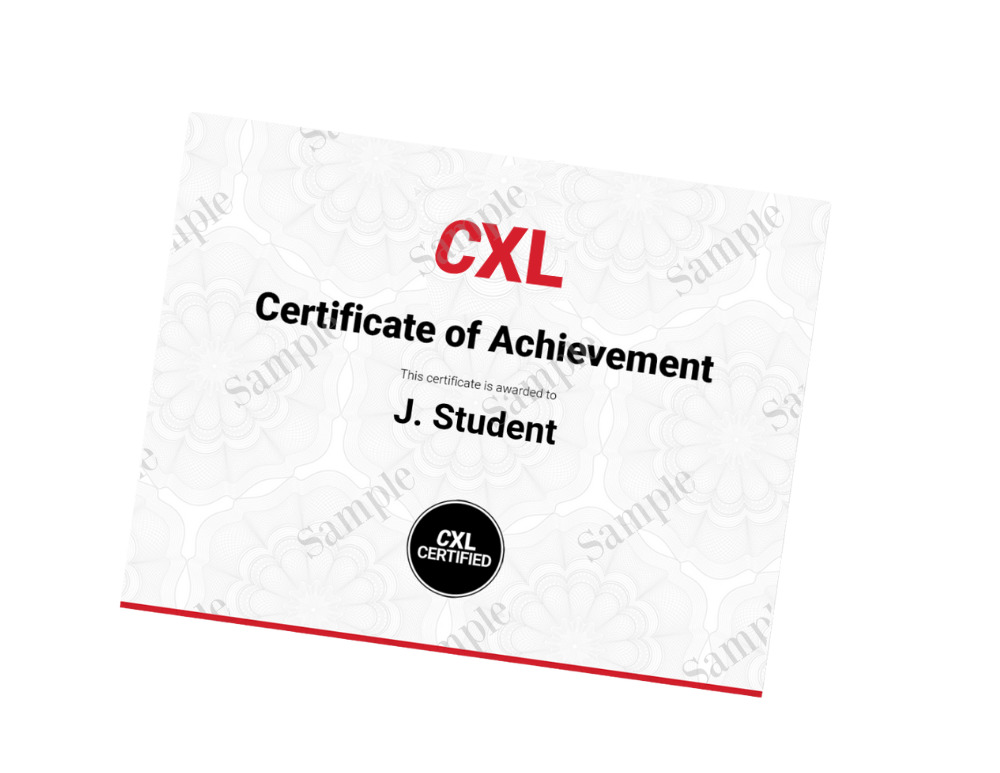 Learn marketing on the job.
Get better results with networking.
Our Marketing playbooks community gives you peer support for every marketing task you face.  90% of marketing tasks are not unique. Someone has already figured it out. Achieve more with less hassle.
Access our library of thousands of marketing playbooks, each showing you how to do a specific marketing task in 10 steps or less, with real-time peer support.
Join our community of marketing experts, ready to support you in getting that promotion or master new strategies, skills, and channels.
Network with some of the world's best marketers and companies and get noticed, hired, or endorsed.
Subscribe to CXL and get access
90+ courses (full list here) on all aspects of data-driven marketing (new courses added every month)
10 minidegrees that give you advanced level skills
Playbook community with 2500+ instructions and peer-support
Got a team, multiple users? Get our Teams All-Access plan instead.
The CXL guarantee
7-day no questions asked money back period
You can immediately apply learnings and improve your results.
Need help convincing your boss?
Click here for a pitch deck, swipe files and tips.
Subscribe to CXL
All plans come with a 7-day trial for $1.
Get access to this and 90+ other training programs.
See plans and pricing
or
Request demo (for teams 5+)