Become great at storytelling
Online course
By Miri Rodriguez,
Head of Global Internship Program @ Microsoft Corporation
Course length: 1h 16min
Start 7-day trial for $1
Some of the companies that train their teams at CXL:










A distinctive brand story helps define and successfully communicate unique personal and business attributes.
Storytelling has become a powerful business tool in today's digital age because it begins and ends with empathy, driving an immersive and emotional experience for stakeholders and audiences that inspires them to action.
In this insightful and heartfelt course, Miri leverages excerpts from her book Brand Storytelling to help you become a skilled storyteller so that you can successfully keep relevant in the marketplace, drive engaging relationships and win in business and in life.
Introduction video (1 minute)
Learn the five steps of design thinking as a model to plan, design and launch stories. In this tried and true method, students will be able to practically submit their brand stories through the empathize, identify, ideate, prototype and test phases, understanding each step for storytelling success.

Alex B.
CXL has helped me tremendously in my journey to become the best digital marketer I can be.
It has opened my eyes to the capabilities of tools like GTM and Google Sheets. You guys have humbled me by teaching me that there's so much more to learn!

Ap S.
CXL is just the best place to grow for a marketer. I learned more in a few months via CXL than what I learned in 8, 9 months on my own.
After taking this course you'll…
Learn what is brand storytelling…and what is not – Gain a clear definition of storytelling as a connection tool for user-centered experience
Understand Design Thinking – Learn about this powerful problem-solving framework that puts people at the center of design solutions
Craft your story with empathy and Design Thinking Principles – Take your story through the five steps of design thinking and learn to prototype stories
Understand the three levels of empathy for business results – Embracing empathy as a business innovation tool in today's digital market
Leverage visual elements in storytelling – the power of color, typography, photo, video and digital assets to take storytelling to the next level
About
Miri Rodriguez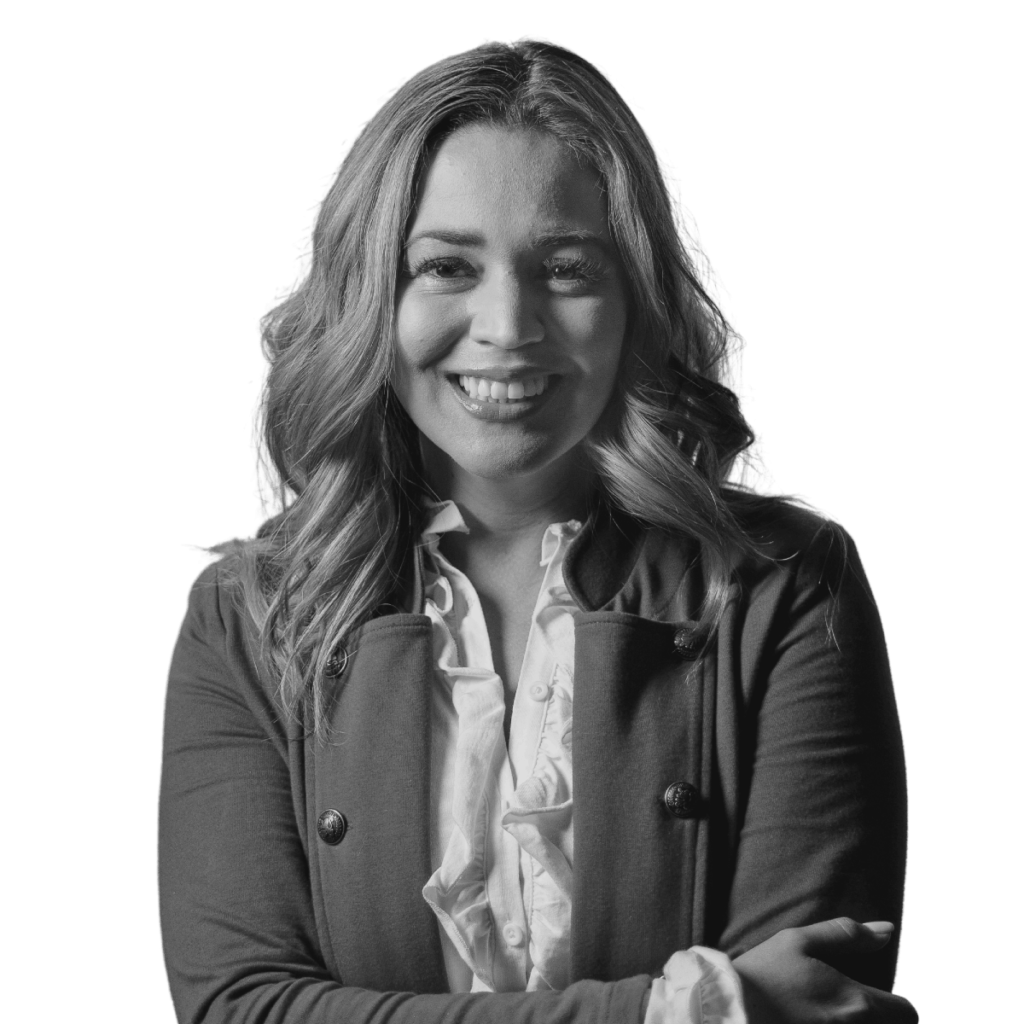 Miri Rodriguez is a globally recognized Storyteller, Head of Global Internship Program at Microsoft and author of Brand Storytelling. She is a creative journalist and content strategist, evangelizing brand narrative and showcasing how thought leaders can leverage storytelling techniques for culture activation and influence in the digital age.
Miri has earned several awards in digital marketing and customer experience and is ranked as top in-demand speaker at leading industry conferences around the world. Miri brings 15+ years of expertise, valuable industry and consulting insights matched with a lighthearted and connected delivery approach.
Your course curriculum
Storytelling
Understanding the power of story and dispelling ideas of what it is not
Topics covered:
Learn the elements, structure and attributes of story
Define the story arc (exposition, rising action, climax, falling action, resolution)
Understand the 8 basic structures of storytelling
Leveraging design thinking to prototype stories
Topics covered:
Understand the Design Thinking steps
Understand how to submit stories through the Design Thinking model
Begin to conceptualize empathize, define and ideate phases
Becoming an empath to tell effective stories
Topics covered:
Empathy is a skill set
Learn the 3 levels of empathy: cognitive, emotional, compassionate
Finding your story's universal truth
The importance of defining the story mission, character, plot and conclusion for a successful story
Topics covered:
Creating a story mission
Defining the story characters
Creating a story outline
Ideation is about taking your story arc and giving it intersectionality (several layers from several angles)
Topics covered:
Ideation as a great tool to tell stories
Brainstorming sessions and ideas
Using the SCAMPER brainstorming tool
Creating low cost, low effort story concepts
Topics covered:
Learning to create story concepts
Prototyping story lines
Identifying the best prototypes by using the Napkin Pitch model
Learn to benchmark your storytelling
Topics covered:
Success indicators in storytelling
How to fail with a story
Show off your hard-earned skills and strengthen your profile
LinkedIn found that people who add credentials to their profile receive 6x more profile views than those who don't.
Add your certificates to your profile, share your accomplishments with the world, and join our alumni network.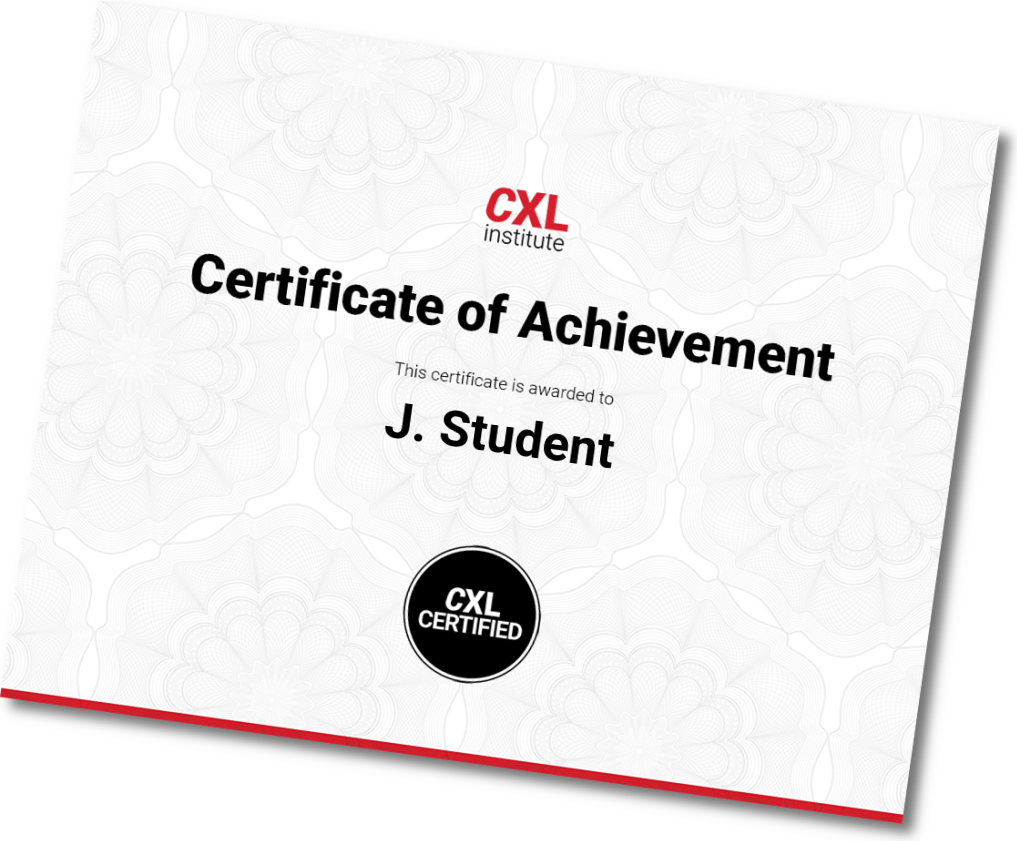 Get this course and 90+ others when you sign up for CXL
This course (and all others – full list here) are included with the CXL subscription.
At CXL, you can take online courses on growth, digital marketing, optimization, analytics, persuasion – all in a single subscription.
World's leading practitioners teaching you their best stuff.
90+ online courses on all things data-driven marketing
New courses added every single month
Sign up for CXL and get access
50+ courses (full list here) on all aspects of data-driven marketing (new courses added every month)
4 Minidegrees that give you advanced level skills
Got a team, multiple users? Get our Teams All-Access plan instead.
The CXL guarantee
7-day no questions asked money back period
You can immediately apply learnings and improve your results.
Get a subscription
See plans & pricing
All plans come with a 7-day trial for $1.
Get a minidegree
This course is available in the following minidegrees.