Become great at behavioral design
Understand what motivates your customers to convert
Online course:
Digital Psychology & Behavioral Design

By Brian Cugelman,
Senior Behaviral Scientist @ Alterspark
Course length: 3h 45min
Start 7-day trial for $1
Some of the companies that train their teams at CXL:










Learn the essence of behavioral design, while developing a broad perspective on the psychology of online behavior.
By better understanding the broad psychological principles that drive online engagement, this course will help you focus better, make better decisions, and build higher-converting products.
After taking this course, you'll…
Understand many of the key psychology principles used in CRO
Make better decisions based on human-insight
Build confidence in translating psychological theories into creative content
Understand several psychological strategies and design tactics
Have a better sense of the emotions that drive human behavior

Kyneret Azizo
Brian is relaxed, funny, super knowledgeable, and he knows how to get his message across. I love that he's so enthusiastic about the subject.

Josh Kenneth Gunio
This course had depth. I truly learned.

Thomas Shillingford
I got a deeper understanding on the 'why' humans have certain behaviours.
Here's what Brian will teach you…
Students will learn the essentials of behavioral design, and gain a broad perspective on the psychology that drives online behavior.
By better understanding the broad psychological principles that drive online engagement, participants will develop better judgement, make better decisions, and builder higher-converting products.
In just 11 sessions, you'll be able to…
This course takes students through the behavioral design process, covering Dr. Cugelman's various behavior change models that simplify the vast scientific literature into a few simple models.
Students will learn the core emotional drivers and cognitive processes that explain how users use technology. Students will learn the core psychological strategies, with examples of common design components, to help them connect theory to practice.
Learn how to use psychology and neuroscience to create better conversion experiences.
This course will help you develop your skills in behavioral design, and help develop your niche in applying behavioral design to the digital skills of your choosing.
Rather than following dogmatic industry conventions, this course will teach you the human factors that drive online behavior. You will be empowered to develop strategies and fresh thinking, inspired by a proper understanding of human behavior, rather than dogmatic conventions.
As an introductory course to applied psychology, the course focuses on broad strategies and tactical UI elements, which will help you learn quickly, and better take advantage of everyday psychology design opportunities.
The content is general enough that it applies to many areas of digital practice.
This course is essential for you if …
Want to learn the core psychology that is relevant to conversion-focused digital media professionals
You work hands-on, where deeper human insight will help you make better and faster decisions
You work in any organization where greater conversions will improve your bottom-line
This course is NOT for you if…
You are starting out in digital media, and are not yet familiar with the basics in your chosen practice area.
You expect to be spoon fed tactical psychology, such as dogmatic rules saying "psychological technique 847 always produces a 5% lift". This is a course on insight.
You are only interested in your specific area, such as only doing design, only doing copy, or only doing analytics. The content cuts across man practice areas.
Designed for anyone with basic knowledge of conversion optimization.
This course is perfect for anyone who has a basic understanding of conversion optimization, UX and design as well as an interest in psychology and neuroscience.
Students should have previously worked on a CRO project or campaign before taking this course.
Brian Cugelman
Senior Behaviral Scientist @ Alterspark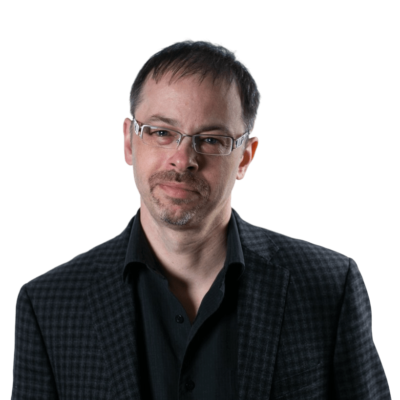 With an extensive career running online projects and studies for industry, non-profit organizations, governments, and the United Nations, Dr. Brian Cugelman has been working as an online behavior change specialist since 1997.
In 2006, Brian launched AlterSpark, with a focus on merging behavioral science with creative design and data science. Over the years, Brian has helped numerous companies and institutions measure and improve their online campaigns for greater understanding and measurable results.
Your full course curriculum
Digital Psychology & Behavioral Design Training
This lesson shows you what it means to apply psychology to technology.
Topics Covered:
Understand applied psychology in down-to-earth terms
Know the various ways you can apply psychology to tech
How to focus on the bigger-picture in applied psychology
You'll learn what makes this course unique, as a conversion focused approach to psychology-inspired design
Topics Covered:
Where the content comes from
Our approach to behavioral science
Overview of the course's key components
We'll cover what really matters in design for behavior change.
Topics Covered:
What to focus on in design for behavior change
How to contrast superficial versus real metrics
How to quickly measure outcomes
This lesson covers the emotions that drive shape user behavior, and covers a variety of emotional transition strategies, using the Cugelman Emotion Map.
Topics Covered:
Learn how emotions shape user behavior
Learn how to use the Cugelman Emotion Map, for broad emotional design strategies
How to link design patterns to emotional design strategies
This lesson walks through an example of how NetFlix users emotion design, in its registration process.
Topics Covered:
An example of an emotional design used in registration
How content is used to target emotional motivators
The link between theory and practice
This lesson explains how people conceptualize virtual space, and digital processes
Topics Covered:
How users comprehend virtual spaces
What language to use to make processes more intuitive
How to describe online processes, so that they are easy to follow
Based on your understanding of how users conceptualize virtual space, we'll discuss conventional navigation systems.
Topics Covered:
How to conceptual virtual spaces like real spaces
Metaphors for information hierarchy
Metaphors for on-page special relations
Now that we understand how people conceptualize and navigate in virtual spaces, we'll look at the psychology behind design components that help people navigate technology
Topics Covered:
New perspective on navigational systems and process control UI
Understand directional cues
Gain a behaviorist perspective on CTAs
In Behavioral UI series of lessons, we cover most of the psychological design strategies, with many examples.
Topics Covered:
Develop a new understanding of branding psychology, and why trust and integrity are at the core of digital influence
How users comprehends the world and what motivates people
Many other psychological design strategies, covering pressure tactics, social influence, decision making, trust, barrier reduction, and more
Learn about description components that help users to understand what they're dealing with.
Learn about different UI design patterns that are used for motivational processes.
Learn about pressure tactics and how to use them in UI.
Learn what is social influence in UI and how to utilize it.
Learn how to help your audiences to make up their mind.
Learn about trust - one of the core factors in behavior change.
Learn about elements that reinforce user behavior.
This lesson covers different stage-based approaches to influence, and recommends different approaches, depending on the nature of your work
Topics Covered:
Learn about different stage-based approaches to behavior change
Get a sense of when you should use each of the different approaches
See examples of the standard models and prototyping tools used for each approach
If you have not worked in applied psychology, this lesson will help you get comfortable translating abstract psychological theories into creative design concepts
Topics Covered:
Learn a down-to-earth approach to applying psychology, like improv
Understand how psychology is translated to creative concepts
See how psychology-inspired design applies to processes and pages
Show off your hard-earned skills and strengthen your profile.
LinkedIn found that people who add credentials to their profile receive 6x more profile views than those who don't.
Add your certificates to your profile, share your accomplishments with the world, and join our alumni network.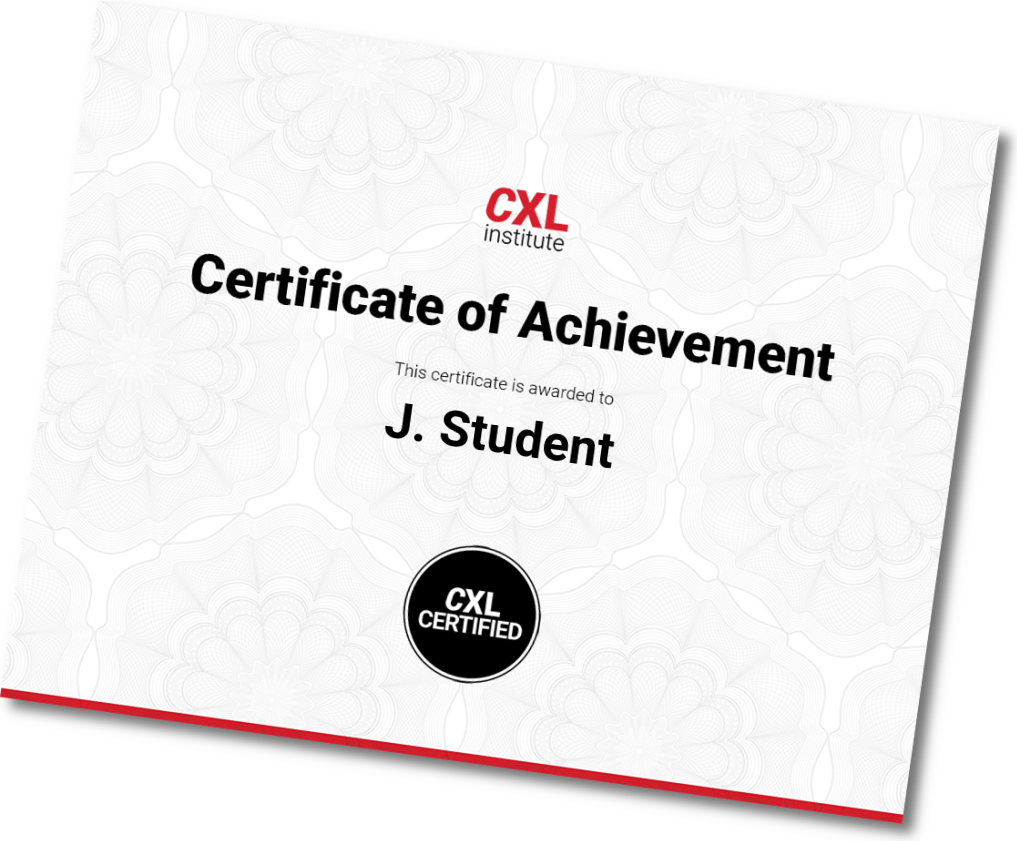 Learn marketing on the job.
Get better results with networking.
Playbook community gives you peer support for every marketing task you face. 90% of marketing tasks are not unique. Someone has already figured it out. Achieve more with less hassle.
Access our library of thousands of marketing playbooks, each showing you how to do a specific marketing task in 10 steps or less, with real-time peer support.
Join our community of marketing experts, ready to support you in getting that promotion or master new strategies, skills, and channels.
Network with some of the world's best marketers and companies and get noticed, hired, or endorsed.
Subscribe to CXL and get access
90+ courses (full list here) on all aspects of data-driven marketing (new courses added every month)
11 minidegrees that give you advanced level skills
Playbook community with 2500+ instructions and peer-support
Got a team, multiple users? Get our Teams All-Access plan instead.
The CXL guarantee
7-day no questions asked money back period
You can immediately apply learnings and improve your results.
Need help convincing your boss?
Click here for a pitch deck, swipe files and tips.
Subscribe to CXL
All plans come with a 7-day trial for $1.
Get access to this and 90+ other training programs.
See plans and pricing
or
Request demo (for teams 5+)
---
This course is available in the following minidegrees: