Become great at building a marketing agency
Online course:
Building a Marketing Agency
By Bob Ruffolo,
Founder & CEO @ IMPACT
Course length: 1h 21min
Start 7-day trial for $1
Your agency starts with your people
We grew IMPACT from a small web design firm to a 70-person marketing agency with $10 million in annual revenue. IMPACT has been recognized by HubSpot and DigitalMarketer as "Agency of the Year," and as a great place to work by Inc. and Comparably. The secrets to our success have been finding and developing the right people, defining our purpose, relentlessly pursuing feedback, and focusing on trust. However, our growth has not always been easy. In this course, we cover the mistakes we've made — and how we've grown from them, as we position ourselves as digital sales and marketing innovators.
After taking this course, you'll…
Know how to attract and retain great people, starting with the principles and techniques of a great hiring process, knowing how to spot A players with high potential, and how to create an environment in your agency to make them as successful (and fulfilled) as possible.
Set your agency up for sustainable growth through the use of visioning, agency strategy, objective tracking, financial management, and ultimately, creating the life you want as a business leader.
Attract more, and better, clients through proven marketing, sales, and client service systems that set agencies up for long term growth and success.
Grow as a leader by putting a disciplined approach of feedback and professional development into practice.
Here's what Bob will teach you…
Master the principles that will allow your agency to scale up and provide you, the agency owner, the life you always wanted.
In just 7 sessions, you'll be able to…
The sessions in this course are first-person, real-life challenges, presented by a leading CEO who had to change and adapt to grow his business. Students will see numerous examples, templates, and specific information that is directly connected to the lessons.

Andrei Stoica
This course had clear examples and practical experience from the trainer.
Sharp people learn from others mistakes
Growth is hard. When you start an agency, you're more or less required to take any business you can get. However, to truly differentiate yourself in your marketplace (and to truly deliver
exceptional work) you have to pare down your purpose and fine-tune your services. This means bringing on the right professionals, building relationships with the right clients, and learning how to say no to "bad fits."
In many cases, this is only learned by way of mistakes. In other cases, a few mistakes can be costly enough to close a business. This course seeks to help you avoid the missteps that hinder
your growth.
The intended results of this course are steady, smart growth that is purpose- and people-centered, allowing a business to become a trusted, respected industry leader.
This course is essential for you if …
Lead a small agency and want to see it grow into an industry leader.
Need actionable tips for building a company culture that attracts and retains great talent.
Want your sales process to be effective, well-defined, and standardized.
This course is NOT for you if…
Already lead a robust agency with millions in annual revenue.
Have trouble accepting the hard work necessary for growth.
Don't see the value of frequent feedback from clients, customers, employees, interns, and mentors.
Skills you should have before taking this course
This course is aimed to suit a professional who seeks to grow a marketing agency from its infancy to its financial and cultural maturity. The ideal student likely runs a very small business and had ambitions of growth.
Bob Ruffolo
Founder & CEO @ IMPACT
Bob Ruffolo is the founder and CEO of IMPACT, a 70-person agency in Nee Haven, CT doing over $9m in annual revenue. IMPACT is A two-time HubSpot partner of the year, DigitalMarketer's 2019 partner of the year, and has been recognized multiple times for …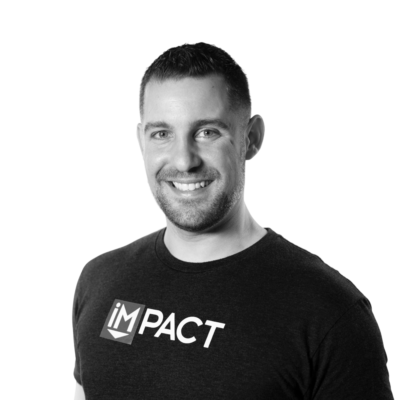 Bob Ruffolo is the founder and CEO of IMPACT, a 70-person agency in Nee Haven, CT doing over $9m in annual revenue. IMPACT is A two-time HubSpot partner of the year, DigitalMarketer's 2019 partner of the year, and has been recognized multiple times for being a great place to work. Bob was also recognized at one of Comparably's top CEOs in 2018.
But getting there WAS NOT EASY. Bob openly admits that he's made every mistake in the book and is radically open to sharing how his team has overcome issues with client churn, employee turnover, and cash flow.
Your full course curriculum
Building a marketing agency
Define your agency's vision, purpose, and goals so you can best identify and serve your clients.
Topics Covered:
Introduce you to the 5 most important strategic factors that you'll need to work through to have a strong foundation for your agency.
Help you build your 3-year vision used to set agency priorities and excite employees.
Put an operational system in place that helps you turn your vision into a reality.
There's nothing more important to your agency's success than having the right people in the right roles.
Topics Covered:
Know who and when to hire so you can staff your agency correctly and sustainably.
Understand how to hire and manage so you only bring the right people onto your team and set them up for success.
Avoid the all-too-common trap of wanting to hire someone that's similar to yourself (strengths, skills, personality).
How do you reach a state in which both your agency and your clients are profitable and happy?
Topics Covered:
Provide tips to help you meet clients' expectations so clients want to continue doing business with you and rave about you to their peers.
At the same time, counterbalancing that with delivering on clients' profitability to ensure you're not burning out your team or losing money.
How to seek and utilize client feedback to perfect your agency's services.
Learn to develop your sales strategy so that it is predictable, repeatable, and scalable.
Topics Covered:
How to build and scale your sales process so you can measure and manage its effectiveness.
Provide tips on how to acquire your first clients.
Agency sales process template can help you document and manage your process.
A company's health is all in the numbers. Learn what metrics you need to track in order to grow responsibly.
Topics Covered:
Help you understand the financial basics and principles of running a successful agency.
Provide you with financial management tools so you can manage a successful agency.
Learn common agency expenses, especially a requisite tech stack that streamlines communication within and outside the agency.
Conclusion and recap on building a marketing agency.
Topics Covered:
A review of key takeaways
What's next for your building a marketing agency
A farewell from Bob
Show off your hard-earned skills and strengthen your profile.
LinkedIn found that people who add credentials to their profile receive 6x more profile views than those who don't.
Add your certificates to your profile, share your accomplishments with the world, and join our alumni network.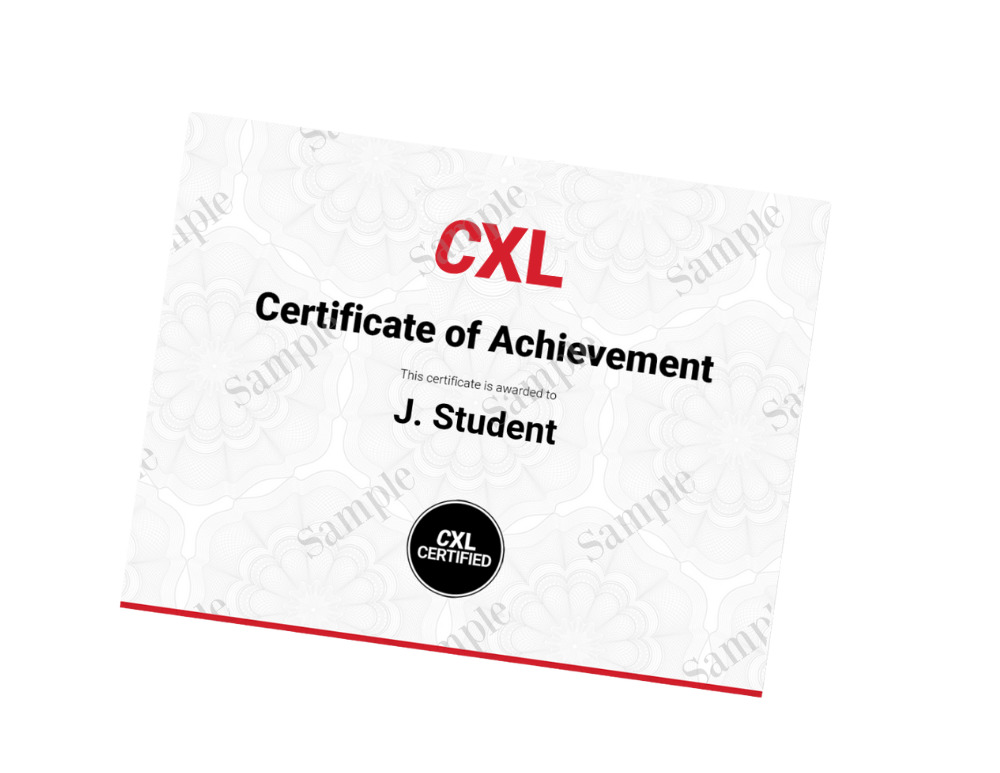 Learn marketing on the job.
Get better results with networking.
Our Marketing playbooks community gives you peer support for every marketing task you face.  90% of marketing tasks are not unique. Someone has already figured it out. Achieve more with less hassle.
Access our library of thousands of marketing playbooks, each showing you how to do a specific marketing task in 10 steps or less, with real-time peer support.
Join our community of marketing experts, ready to support you in getting that promotion or master new strategies, skills, and channels.
Network with some of the world's best marketers and companies and get noticed, hired, or endorsed.
Subscribe to CXL and get access
90+ courses (full list here) on all aspects of data-driven marketing (new courses added every month)
10 minidegrees that give you advanced level skills
Playbook community with 2500+ instructions and peer-support
Got a team, multiple users? Get our Teams All-Access plan instead.
The CXL guarantee
7-day no questions asked money back period
You can immediately apply learnings and improve your results.
Need help convincing your boss?
Click here for a pitch deck, swipe files and tips.
Subscribe to CXL
All plans come with a 7-day trial for $1.
Get access to this and 90+ other training programs.
See plans and pricing
or
Request demo (for teams 5+)
Some of the companies that train their teams at CXL: