Get ahead with
Google Ads: from beginner to capable
Learn how to run successful, profitable PPC ads in 1h 30min, and get the tactics that work in 2023, guided by a world-class expert.
Learn the key decisions you must make in order to succeed with Google Ads
Understand keyword research, campaign types, bidding, and reporting
Get the PPC tactics you can immediately apply to get the right results
Online course: Google Ads for Beginners
21 lessons, 1h 30min
Sign up now Buy just this program for $299
English subtitles
Certificate included

Susan Wenograd
Marketing Consultant
Some of the companies that train their teams at CXL:










Forget about running ineffective, costly ads
If you've ever struggled to make your PPC ads work for your business needs, this course is for you.
In 1h 30min, you will learn a full suite of practical recipes updated for 2023, and you'll walk away with a framework for running and optimizing ads that hit the right targets and get your business the right results.
This is a campaign-level training, which means it covers everything that goes into making a profitable and successful Ads campaign, including choosing a budget, bid type, geography, and other segmentation settings.
Get the Google Ads playbook that works in 2023
The Google Ads platform has changed wildly in the last few years. The best practices you've always read are now obsolete playbooks that make you waste your PPC budget.
Take keywords. They're an outdated chapter in most Google Ads courses you'll find. This training will help you understand how they work now.
You'll understand every single match type, as Susan Wenograd walks you through all features on the platform.
After you take this course, you'll be ready to measure conversions the right way and differentiate the various attribution models.
Learn from a world-class PPC legend
Susan Wenograd
Marketing Consultant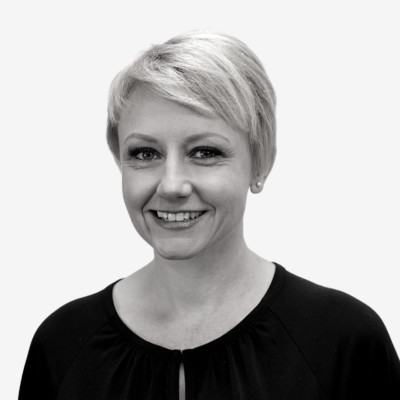 Susan has spent the last 20 years in marketing, specializing in paid search and social for brands and agencies. She has managed tens of millions of ad dollars working with many household names, including General Motors, Instacart, and She's Birdie.
Introduction video
Transcript viewer loading...
Who is this course for:
This course is for you if you…
Are a marketing specialist or manager, and would like to work with a PPC agency while being an expert in the field.
If you're a marketing specialist and would like to run Google Ads in-house with deep expertise, getting the right results and following the guidance of a PPC legend.
If you would like to build a career as a paid ads specialist from scratch, knowing how to get the best results out of Google Ads.
Take this course and you will…
After taking this course, you will:
Be able to set up efficient, successful ads.
Know the most up-to-date best practices from a world-class PPC expert.
Fully understand how to structure Ads campaigns and how the key concepts have changed in 2023.
Master the key metrics used in reporting, and how reporting from Ads and GA4 works.
Understand how to monitor your Ads campaign performance over time, and how to optimize it.
Avoid being caught up by any recent platform changes.
Skills you will master
Google Ads Targeting
Google Ads Campaign Build
PPC campaigns
Search Engine Marketing (SEM)
Google Ads
Google Ads Metrics

Chris Out
For the hard skills, we use CXL to enable all our growth hackers and CRO people, who have different clients with different needs. Everybody can follow a tailored course for the stuff that they need to learn. The next thing we do, we create a learning plan per person, and we check in with people to see how fast are they learning. That learning plan is created based on their ambitions, what their clients need, and how they want to evolve.

Josh R.
CXL has lead to more professional growth than any other year of my life. The best educational investment I have ever made.

Victor A.
CXL gave me a big lift in my career.
Few months after my Growth Marketing Minidegree, I got a job.
Ever since then, the story has been different.

Tomek D.
Our Growth Marketing agency has completed 1298 lessons and 138 courses at the Institute so far. CXL helps us in a number of ways:
1. Provides an incredible source of content to train our staff.
2. Is a good tool in keeping our staff (they're growing and we aid in that).
3. Is an awesome source of new opinions/methods to try out on our clients.

Radvilas Š.
Anyone interested in genuinely understanding the math behind CRO and A/B testing absolutely has to use CXL.
My whole team has a great time discussing the material and aligning our views on processes we use, and to come up with ideas to implement in the future.

Ruben D.
The wide variety of courses taught by many different experts makes CXL highly recommended for every team who takes growth seriously.
New courses are regularly available, making it better and better. CXL is a great platform for learning and growing businesses.

Yasmine de Aranada, Growth Strategist @ Market 8
This course is packed with gold! Momoko is an awesome teacher – I took the course late so only got access to recordings, and even with that, I am able to use every bit of it in my deliverable.

Crystal Ignatowski, Marketing Content Developer @ Surety Solutions
I'll be honest, I didn't entirely understand what the CXL was at first. Then, I realized it was a gold mine. The Institute is jam-packed with courses, certificate programs, and recordings of past events/courses. The CXL was my guide book for many many months and because of that, I am leaps and bounds above the rest. Everything the Institute publishes is part of the top 5%. There is no fluff in the Institute; only real, actionable, and result-driven content. If you think you know stuff, give the CXL a try. You'll be shocked at how much you have to gain.
Your course curriculum
Google Ads for Beginners
1

The Google Ads Interface
Google Ads for Beginners
This module will get you comfortable with the interface of Google Ads. You'll learn where to go for performance data where things are set up, and also where administrative functions are handled such as billing and account access.
Google Ads for Beginners
Google Ads can measure many different conversion types. Some can be used just to observe, while others can be used in your calculations. We'll take you through the two main ways to set up tracking, and how to choose what you use.
3

How Search Campaigns Are Made
Google Ads for Beginners
There are many settings in Google Ads, and understanding where they are is important. These settings affect everything you run within that Campaign or Ad Group, so we'll make sure you know where to find them, and the considerations of each. There are many settings that you won't need to mess with when you're just starting, so we focus on just the need-to-knows.
4

Search Queries, Keywords & Match Types
Google Ads for Beginners
What you bid on and what users search isn't the same. In fact, how Google handles this matching process is different than it was even just a few years ago. We'll show you how this has changed, and what to to understand about the pros and cons of being specific versus giving Google autonomy in choosing.
Google Ads for Beginners
How do you decide the number of keywords in an ad set? How do you know if you should group a certain way? We'll review the most common ways to handle this, so you can make an informed decision for your account set up.
Google Ads for Beginners
Quality Score can determine things like how often your ad shows, and what you pay per click. While it's not a metric we optimize for, it can be helpful in understanding where you might be falling short, and how you can improve. Google gives you a few pieces of data to help with this, and we'll walk you through it.
7

Different Bidding Types & How to Choose
Google Ads for Beginners
Bidding can feel like a stressful choice, but there's a system we usually recommend when you're first starting. Your bidding will evolve as you get more data over time, and we'll show you how to do that.
8

Optimizing Using Search Query Reports
Google Ads for Beginners
Curious what queries Google is matching you for? The search query report is a goldmine of information to understand how Google finds you relevant, what users search for, and things you don't want to show for but (oops!) are. We'll show you how to mine for search queries you want, add them to your account, and add ones you never want to show for again.
9

Optimizing Using Auction Insights
Google Ads for Beginners
You may be seeing changes in your results you can't explain, and that could mean external forces are at work. Learn how to use the Auction Insights report to look at changes over time in the auction space, what your competitors might be up to, and how to adjust what you're doing if you find problems.
10

Using Audiences for Deeper Insight
Google Ads for Beginners
Audience segments are a powerful way to understand what different user types are doing when they search for you. These insights can drive future campaign structure, bidding choices, or even targeting on other Google channels like YouTube and Display. We will walk you through how to add these audiences to your campaigns to observe them, and how to use the data you gather from it.
Google Ads for Beginners
We will review the most important topics to consider before you spend a dime and after you launch your Google Ads campaigns.
You might also like
Show off your hard-earned skills and strengthen your profile.
LinkedIn found that people who add credentials to their profile receive 6x more profile views than those who don't.
Add your certificates to your profile, share your accomplishments with the world, and join our alumni network.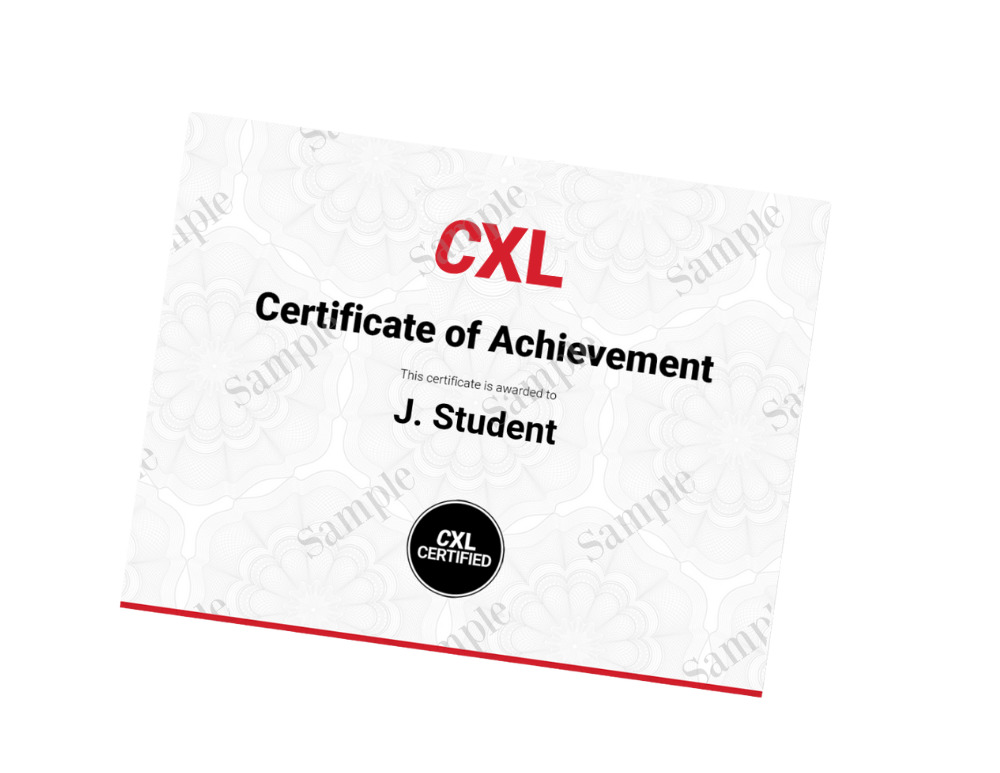 Learn marketing on the job.
Get better results with networking.
Our Marketing playbooks community gives you peer support for every marketing task you face.  90% of marketing tasks are not unique. Someone has already figured it out. Achieve more with less hassle.
Access our library of thousands of marketing playbooks, each showing you how to do a specific marketing task in 10 steps or less, with real-time peer support.
Join our community of marketing experts, ready to support you in getting that promotion or master new strategies, skills, and channels.
Network with some of the world's best marketers and companies and get noticed, hired, or endorsed.
Subscribe to CXL and get access
90+ courses (full list here) on all aspects of data-driven marketing (new courses added every month)
10 minidegrees that give you advanced level skills
Playbook community with 2500+ instructions and peer-support
Got a team, multiple users? Get our Teams All-Access plan instead.
The CXL guarantee
7-day no questions asked money back period
You can immediately apply learnings and improve your results.
Need help convincing your boss?
Click here for a pitch deck, swipe files and tips.
Subscribe to CXL
Get access to this and 90+ other training programs.
See plans and pricing
or
Request demo (for teams 2+)
Google Ads for Beginner course: FAQ
How long does it take to complete this course?
This is entirely up to you – it's how many study hours per week you can put in. This course is 1h 30min long. The majority of people will complete the course in between 1 and 1.5 hours.
What does the course include?
Our Google Ads for Beginners training includes 21 lessons, 3 downloadable resources, 1h 30min of video material, several assignments, and a final exam.
Are subtitles available for the lessons?
Lessons have English subtitles and transcriptions available.
Will I receive a certificate of completion?
After taking this course, you will receive the Google Ads certification from CXL, with credentials that you can add to your LinkedIn profile.
What is the refund policy?
All plans come with a 7-day refund period 7-day no questions asked money-back period.