Become great at influencer marketing
Online course:
Data-driven influencer marketing
By Siim Säinas,
Chief Researcher & Founder @ BrandHero
Course length: 3h 01min
Start 7-day trial for $1
Influencer marketing works – but only if you do it right
It's not unusual to see folks reporting 11x ROI on influencer marketing – but it's only true for data-driven people.
Siim Säinas – the instructor for this course – is looking at campaigns and their effectiveness as his day job, whether it's integrated or social only campaigns. He's put hundreds of hours of work and research into figuring out the optimal, data-driven way to go about influencer marketing.
He will teach you data-driven influencer marketing planning, identification, measurement, and ways to get the best return on your investment.
By the end of this course you will be able to confidently deliver meaningful results for your brand and business.
Get a lesson preview
This course solves your top challenges with influencer marketing
When it comes to influencer marketing, there are a lot of questions that need to be answered:
What do you need to known about influencer marketing to begin with? What are the ins and outs?
How to identify true influencers?
When should you engage them for your campaign and when it's not really a good idea to do that to begin with?
How do you properly plan your campaign?
How do you drive metrics that actually convert direct response outcomes?
How do you choose the best in terms of synergy and brand fit?
How do you build lasting relationships? A lot of these influencers tend to be very transactional-driven, so how do you actually make sure that they stick around?
How do you amplify their content?
How do you measure your campaign results when everything has been done and dusted?
And how do you really develop something always on, or something that kind of benefits UGC?
All of these questions, and much more will be answered in this course.
After taking this course, you'll:
Understand the influencer marketing landscape and know when influencers are a good fit
Learn how to plan well and avoid the common mistakes to maximize ROI
Be able to identify and choose the best influencers; the ones who can truly tell unique brand stories
Limit business risk through good compliance and amplify influencer assets to maximize reach
Measure influencer effectiveness for brand and direct response objectives to know whom to build long term relationships with

Marianne M.
I feel so much more confident in analysis and optimization after taking CXL's courses.
I learn practical techniques that are applicable to any business from the best in class.

Jonathan R.
CXL showed me how to go from no optimization program to a fully matured program, and how to handle all the nuances that pop up along the way.

Gajan R.
If you want to take the next step from dabbling to becoming a real CRO practitioner, the CXL material (plus a lot of practice) will get you there.
Learn processes for getting consistent results from leaders in the field.
This course is essential for you if …
You work in digital and social media marketing for a consumer brand or are preparing for a pitch.
You want to maximise your return on investment with influencer marketing.
You are a brand or agency marketer in pursuit of greater business results with influencers and creators.
This course is NOT for you if you…
Your audience is dominantly in Mainland China, where Social media platforms are unique and require a different course altogether.
You already conduct many influencer marketing campaigns. While this course shares some novel ideas, processes and data to seasoned influencer marketers, you might need additional lessons to fulfil your expectations.
You expect material results from the first campaign. It takes several iterations of campaigns to gain the understanding of what works best for your brand and business.
Siim Säinas
Chief Researcher & Founder @ BrandHero
10 years in Social with over 170 brands in more than 1,500 research and analytics projects. Worked with brands like Pepsi, Intel, H&M, VISA and Google. Work featured in New York Times. Established a method for WFA (World Federation of Advertisers) …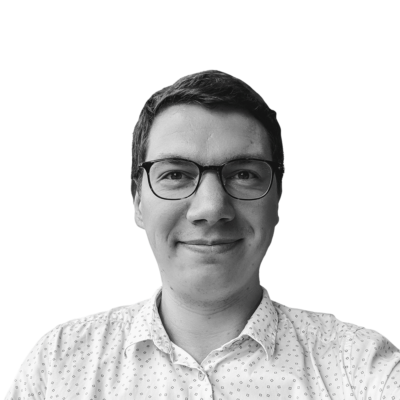 10 years in Social with over 170 brands in more than 1,500 research and analytics projects. Worked with brands like Pepsi, Intel, H&M, VISA and Google. Work featured in New York Times. Established a method for WFA (World Federation of Advertisers) members to systematically build authentic consumer communities online. Pioneered a novel method how Social data is analysed till today by large agency networks in Omnicom and WPP. Member of ESOMAR.
Course overview
Your full course curriculum
Data-driven influencer marketing
1
Introduction to Influencer Marketing
Learn about how influencer marketing delivers value to businesses.
Lesson objectives:
What is influencer marketing
What has changed in marketing in the era of Social media
When not to do influencer marketing
2
Getting Started > Campaign Planning
Get started with your influencer marketing brief.
Lesson objectives:
Types of influencers
How to structure a great campaign brief
Walkthrough case study of a campaign brief
3
Social Media Measurement
The basics of how you approach Social Media measurement and set yourself up for a holistic framework.
Lesson objectives:
How to approach Paid, Owned and Earned Social
Social Media measurement for existing users
Social Media measurement for new users
4
Best Influencer Marketing Campaigns
Learn from some of the best influencer campaigns in the industry and why they delivered.
Lesson objectives:
How did Daniel Wellington grow from a 30K startup to a 228M company with influencer marketing
How Reebok established itself in a new category
10 learnings from good campaigns in influencer marketing
5
Identifying Influencers
Learn to do data-driven influencer discovery and shortlisting.
Lesson objectives:
How to do data-driven influencer discovery
How to do data-driven influencer shortlisting
How to use an influencer discovery tool
6
Identifying Influencers > Synergy & Brand Fit
Learn how to add qualitative variables to your shortlist to evaluate Brand fit.
Lesson objectives:
Why influencers work with brands
Key qualitative variables to assess Brand fit
Learn how to avoid influencers who can jeopardise your brand
Learn how to develop long-term relationships with influencers.
Lesson objectives:
What do brands and influencers want
The value exchange journey
Learn to empower influencers with creative freedom
Learn about compliance and how to avoid risking your brand while working with influencers.
Lesson objectives:
How does compliance and non-compliance look like
What does the FTC and ASA prescribe about influencer marketing
Learn about the marketer's tasklist to be compliant
9
Amplifying Influencer Content
Learn how to achieve maximum reach and ROI from your influencer marketing efforts.
Lesson objectives:
Learn about the 2 options to achieve reach
Learn to use the Facebook's Branded Content Tool and Ad Manager for paid amplification
Learn about the limitations and opportunities of paid amplification
10
Measuring Influencer Campaigns
Learn how to measure and report on influencer marketing campaigns.
Lesson objectives:
How to measure influencer marketing campaigns
Learn about brand and direct response metrics
Use a short and concise way to report upon your campaign's success
Show off your hard-earned skills and strengthen your profile.
LinkedIn found that people who add credentials to their profile receive 6x more profile views than those who don't.
Add your certificates to your profile, share your accomplishments with the world, and join our alumni network.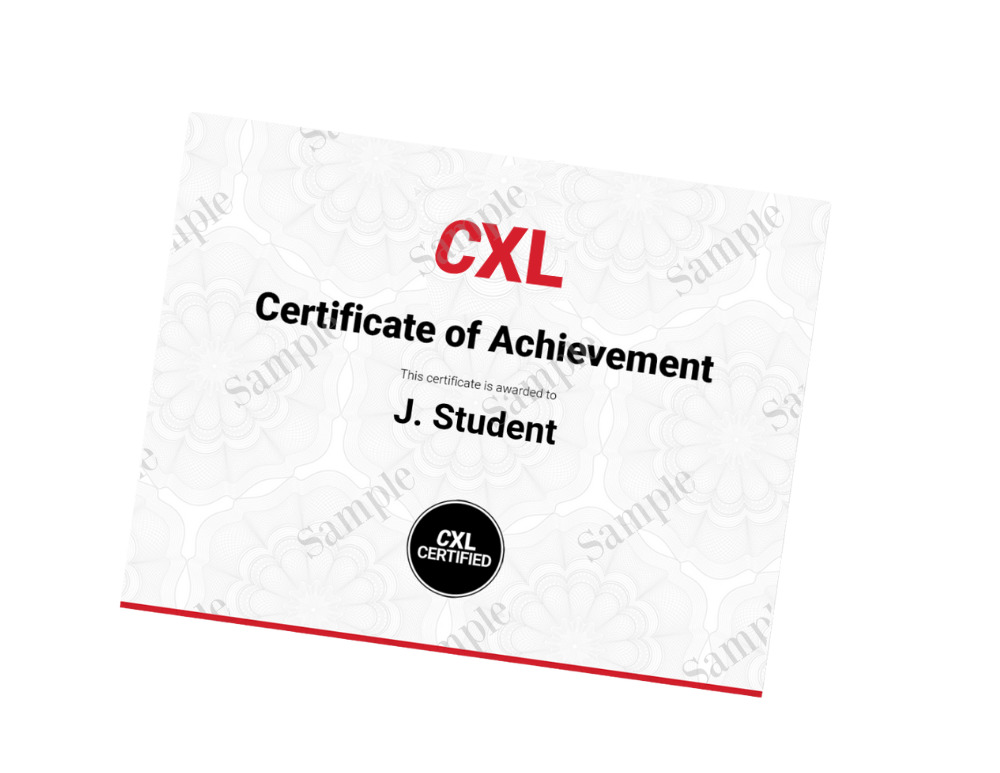 Learn marketing on the job.
Get better results with networking.
Our Marketing playbooks community gives you peer support for every marketing task you face.  90% of marketing tasks are not unique. Someone has already figured it out. Achieve more with less hassle.
Access our library of thousands of marketing playbooks, each showing you how to do a specific marketing task in 10 steps or less, with real-time peer support.
Join our community of marketing experts, ready to support you in getting that promotion or master new strategies, skills, and channels.
Network with some of the world's best marketers and companies and get noticed, hired, or endorsed.
Subscribe to CXL and get access
90+ courses (full list here) on all aspects of data-driven marketing (new courses added every month)
10 minidegrees that give you advanced level skills
Playbook community with 2500+ instructions and peer-support
Got a team, multiple users? Get our Teams All-Access plan instead.
The CXL guarantee
7-day no questions asked money back period
You can immediately apply learnings and improve your results.
Need help convincing your boss?
Click here for a pitch deck, swipe files and tips.
Subscribe to CXL
All plans come with a 7-day trial for $1.
Get access to this and 90+ other training programs.
See plans and pricing
or
Request demo (for teams 5+)
Some of the companies that train their teams at CXL: