Become great at SEO link building
Boost rankings, traffic and brand with link building
A proven system your stakeholders want to see.
Online course
By Irina Nica,
Products Marketing Manager @ HubSpot
Course length: 4h 00min
Start 7-day trial for $1
Some of the companies that train their teams at CXL:










Develop the rare but indispensable skill at the backbone of SEO performance
A successful link building program improves your search rankings, increases your traffic and grows your brand awareness.
Since backlinks are one of the most important factors in search rankings, businesses that struggle to consistently build high-quality backlinks end up wasting much of their SEO and content marketing efforts.
This course gives you the skills you need to start a successful program for your business. And prove the value of your work to key stakeholders — even if they don't understand SEO.
You'll learn how to
Set campaign goals, so you can track and prove your success
Plan an effective content and outreach strategy that gets attention from the right people
Use advanced tactics to improve your backlinks profile, which means more high-quality traffic
This course is ideal for content marketers or anyone who wants to develop the high-value skill of link building.
With a straight-forward approach and a variety of frameworks, this course will help you think and operate as a more sophisticated marketer. So you can advance your career and qualify for new opportunities.

Irina gave the students great practical advice on goal setting, persona research, content audits, competitor research and idea generation to help transform their inbound marketing efforts.
After taking this course, you'll:
Know what works (and what wastes your time): Get best practices, proven tactics and real-world examples of content and outreach campaigns to fuel your own strategy.
Save time and hassle with tactics that don't require new content: Use your brand and existing content to improve your company's backlink profile.
Create and promote content that attracts high-quality backlinks: Get content examples and email outreach templates you can use right away to inspire your own program.
Prove the value of your work: Show your results in a way both SEO professionals and non-SEO stakeholders can understand.
A complete, proven system — not random tactics
You've probably heard of link-build tactics like getting mentioned in a big publication or using free link-building tools.
But how do you put those tactics into an overall approach that gets results for your business?
This course gives you the frameworks and strategies you need to do just that. So you don't need to mix and match random tricks and tools that probably won't work.
You'll also learn what to track so you can prove the value of your work — even to stakeholders who don't understand SEO.
This course is essential for you if …
You're an SEO expert, but want to expand your knowledge of link building campaigns or tactics. You'll see exactly how to get started and what to do. Get real-life examples to inspire your own campaign.
You're a content marketer and you want to know the best ways to attract more backlinks and improve your SEO performance. You'll discover how to find link-worthy content ideas, promote them and report your results to stakeholders.
You know backlinks are among the most important search ranking factors and you're ready to take action. This course is for you if you want to get started with link building right away. You have the resources and you're ready to improve your SEO performance and brand awareness.
This course is NOT for you if you…
You're looking for a quick "silver bullet" solution for backlinks or mass cold outreach. We'll cover effective strategies that work in the long-term — not cheap hacks.
You're very light on resources and marketing staff. This course's approach requires content creation, effort over time and collaboration with other departments. Without those resources, this course may not be ideal for your company yet.
You're an SEO professional with years of experience building backlinks from authoritative websites using quality content and outreach.
Designed for marketers looking to get organized, optimize and improve their marketing campaign efforts
This course is appropriate for any level of marketing expertise and everyone looking to improve how they build, execute and launch marketing campaigns.
Students should have experience building or working on marketing campaigns and projects in order to benefit most from the framework and strategies presented in this course.
Irina Nica
Products Marketing Manager @ HubSpot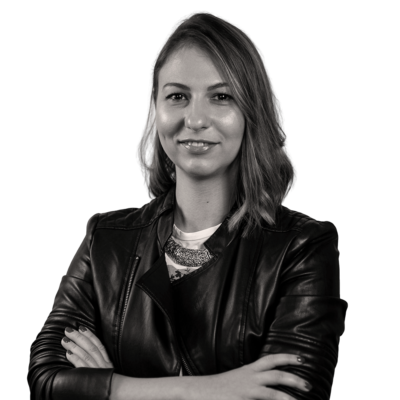 Irina is a driven marketer with over 10 years of experience in content marketing and SEO. As part of HubSpot's User Acquisition team, she is responsible for increasing HubSpot's product awareness across varying features, and her focus is on building buzz and backlinks.
Prior to joining HubSpot, Irina was the Marketing Manager of the award-winning SEO tool, SEOmonitor.com.
Your full course curriculum
SEO link building
Most businesses want to build links to improve their SEO performance. But as counter-intuitive as it may sound, building links for the sake of SEO alone is not a successful strategy.
In fact, that approach can easily backfire and damage your SEO performance. That's why it's crucial to understand the true role of link building and how to do it in a way that brings the most value to your business.
This lesson covers:
The real reason you should build links in the first place
How to assess your backlink profile
How to improve your backlink profile
Most of us want to set goals around things we can control, like the number of backlinks to a specific page.
But there are other goals that will paint a fuller picture of the impact of your link-building efforts for you and your stakeholders.
This lesson covers:
How to set the right campaign goals
How to get buy-in from your stakeholders
How to prove the value of link building (beyond search page rankings)
Without great content, you're unlikely to build high-quality backlinks to your website consistently. That's why this lesson shows you how to create great content.
You'll also learn how to evaluate your existing content (and your competitors') to get ideas for new link-worthy assets.
This lesson covers:
Which types of content will earn you better backlinks
How to audit your website to find existing content worth repurposing or promoting
How to make smarter decisions regarding gaps in your data
If you've ever started a link building campaign, you've probably noticed the people who are most likely to link back to you are the ones closest to you: your clients, partners and friends.
Personal connections are great for building backlinks, but if you don't have an established network, don't worry.
You'll learn three proven methods to find ideal prospects, earn backlinks and build new relationships for your business.
This lesson covers:
How to find the right prospects for your next link building campaign
How to qualify and prioritize your list of prospects
How to manage your contacts and prepare your list for outreach
After great content, outreach is the next vital component of a successful link building campaign.
To build high-quality backlinks, you need to promote your content to the right people at the right time.
Discover how to build an outreach strategy that helps you earn backlinks from ideal publications in a way that feels right for you.
This lesson covers:
Why having a strong outreach strategy is vital for link building, even when your content is outstanding on its own
Fundamental outreach rules to maintain your brand's reputation with content partners
How to build a persuasive outreach sequence that gets your prospects to link back to your content
If you don't track and report your campaign results the right way, your stakeholders won't see the true value of your efforts. Plus, you won't know how to improve your approach for the next campaign.
In this lesson, you'll see how to track and report results, even for non-SEO stakeholders. And how to improve with each new campaign.
This lesson covers:
What to track and measure to show the impact of your work
What to track and measure to continuously improve your approach
The best free and paid tools you can use to track and measure the success of your campaigns
Link building is hard.
That's why you need to take advantage of every opportunity to earn high-quality backlinks — especially opportunities that don't require you to create new content.
This lessons covers:
How to leverage your brand awareness to earn backlinks
How to set alerts that help you get backlinks consistently
How to reach out to the most relevant websites
Getting contextual links is incredibly valuable for your SEO performance. These links send stronger signals to search engines compared to links found elsewhere on the page.
Learn what content to create (or promote) to earn contextual links, how to find relevant prospects and how to pitch them your assets.
This lessons covers:
What contextual links are and why they matter for your SEO performance
How to find prospects to earn contextual links
How to reach out to prospects to earn contextual links
Contributing to others' content is among the best link building tactics out there.
It's great for building your brand awareness, growing your audience and getting subscribers, leads, users and sales. Plus, content contributions send powerful signals that influence your search rankings.
Learn exactly what it takes to become a successful content contributor to relevant, authoritative publications. And, of course, earn quality backlinks in the process.
This lesson covers:
How to become a content contributor to relevant, authoritative publications
How to find ideal publications for your contributions
How to build long-term relationships with fellow contributors
Done right, guest blogging improves SEO performance, builds your personal and company brand, and increases product awareness. Plus, it helps you form valuable new relationships.
Discover proven methods for finding guest posting opportunities that will help you reach your SEO and business goals.
This lesson covers:
How to guest blog in a way that gives you a bigger return on your efforts
How to find ideal guest posting opportunities
How to pitch your post to a new publication
If you don't have enough resources, you may find the last lesson's tactics a bit more challenging.
So in this lesson, you'll see how to make the most of your resources by upcycling old content, which helps you build backlinks and increase your brand awareness.
This lesson covers:
How to scale your content contribution program with minimum resources
A step-by-step process to successfully upcycle content
How to organize your work and find the right publishing partners
Creating free tools, like calculators and template generators, is a great way to earn links and even generate new leads.
You'll discover how to find ideas for tools by exploring your competitors' inventory. Plus we'll cover an unusual method most SEO professionals don't know about.
This lesson covers:
How creating free tools can help you earn more backlinks
How to find ideas for effective tools
How to earn links for your new and existing tools
Directories have a bad reputation in the SEO world because they've been abused by marketers looking for shortcuts.
But not all directories are bad. In fact, some are vital for your business.
Learn why you should build backlinks via directories and which ones you should use (especially if your competitors are using them already).
This lesson covers:
Why you should build links via directories (even if you've heard you shouldn't)
The difference between good and bad directories
The must-use directories that help promote your business
"Listicles" are articles that curate a list of "best of" products in an industry or niche. Potential buyers love these resources because they help them decide in a world with too many options.
That's why this lesson shows you how to earn your way onto relevant "best of" lists and why that can improve your SEO performance and increase sales.
This lesson covers:
What listicles are and why you should care about them
How listicles can improve your SEO performance
How to find relevant listicles and get your company on them
Show off your hard-earned skills and strengthen your profile.
LinkedIn found that people who add credentials to their profile receive 6x more profile views than those who don't.
Add your certificates to your profile, share your accomplishments with the world, and join our alumni network.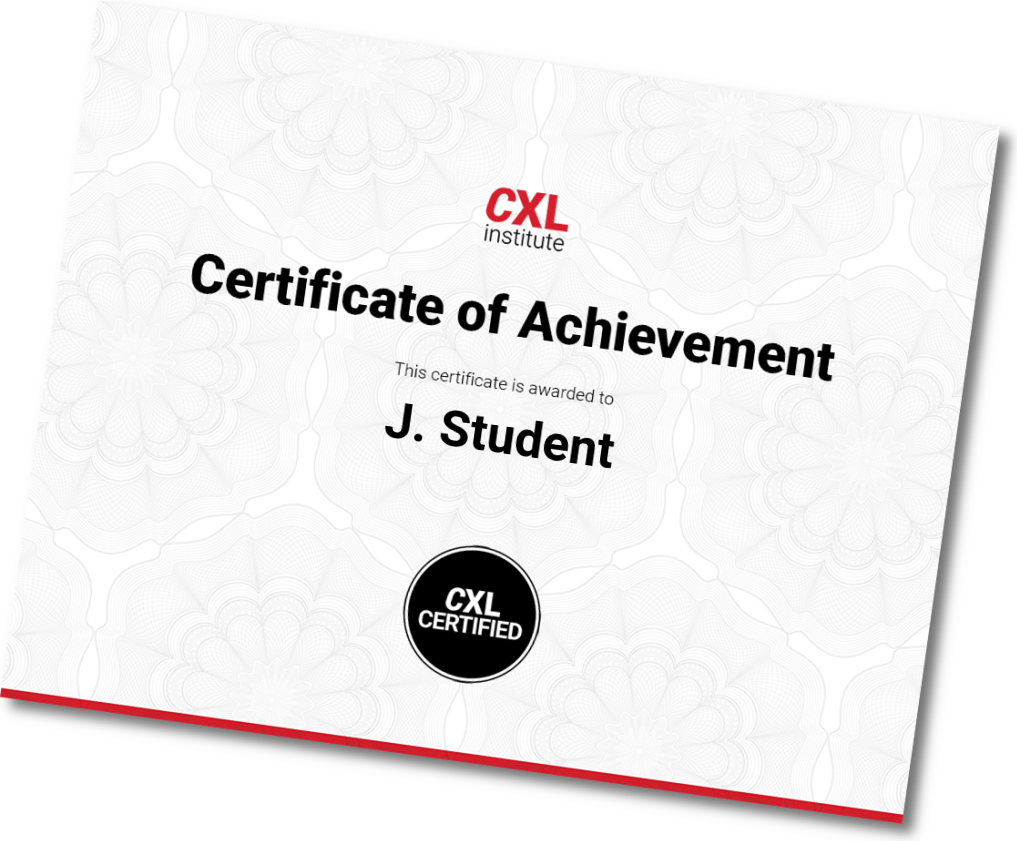 Learn marketing on the job.
Get better results with networking.
Playbook community gives you peer support for every marketing task you face. 90% of marketing tasks are not unique. Someone has already figured it out. Achieve more with less hassle.
Access our library of thousands of marketing playbooks, each showing you how to do a specific marketing task in 10 steps or less, with real-time peer support.
Join our community of marketing experts, ready to support you in getting that promotion or master new strategies, skills, and channels.
Network with some of the world's best marketers and companies and get noticed, hired, or endorsed.
Subscribe to CXL and get access
90+ courses (full list here) on all aspects of data-driven marketing (new courses added every month)
11 minidegrees that give you advanced level skills
Playbook community with 2500+ instructions and peer-support
Got a team, multiple users? Get our Teams All-Access plan instead.
The CXL guarantee
7-day no questions asked money back period
You can immediately apply learnings and improve your results.
Need help convincing your boss?
Click here for a pitch deck, swipe files and tips.
Subscribe to CXL
All plans come with a 7-day trial for $1.
Get access to this and 90+ other training programs.
See plans and pricing
or
Request demo (for teams 5+)
---
This course is available in the following minidegrees: