Become great at partner marketing
Learn how to build, develop and run a successful partner marketing function and give your lead generation efforts a huge boost.
Course length: 2h 08min
Start 7-day trial for $1
Taylor S. Engstrom
Product Marketing Manager @ Auctane/ShipStation
Some of the companies that train their teams at CXL:










After taking this course you'll…
Understand what partner marketing is, how it differs from influencer marketing and strategic partnerships, and why it is one of the most powerful marketing channels B2B organizations of almost any size can take advantage of.
Build a partner marketing practice from scratch, beginning with identifying and recruiting marketing partners to running high impact campaigns to delivering large volumes of leads to your sales team each and every month.
Craft a partner marketing strategy that fits your unique organization with its specific partner-friendly tactics, campaigns, and incentive programs.
Get an edge on your competitors by learning the right tools, processes and ways to work with your team and get the most out of your partner marketing efforts.
This course is essential for you if…
You work in (or want to work in) a B2B organization with average deal sizes of $5k or greater
You want more predictable, quality leads at a fraction of the cost by either leveraging current strategic partners and/or cultivating new win-win relationships
You're a marketing manager, account executive, or account management professional looking to utilize all of your skills in a highly creative, highly impactful field that's changing all the time
This course is NOT for you if…
You operate best in a highly predictable, highly structured environment. Partner marketing combines the best (and worst) of partner relations, marketing strategy, and sales enablement. It is an absolute must that you are comfortable with uncertainty and are flexible enough to produce results.
You're not comfortable being client-facing. Partner marketing involves – well – partners. You must be an excellent communicator by default. Stakeholder management, project planning and external collaboration are all tools of the trade.
You've already executed partner campaigns or work with strategic partners. While this is an intermediate-level course, it provides a lot of context around strategic alliances and the foundations of partner marketing. If you are currently running these programs or are a key stakeholder you may find some of the content redundant.
About
Taylor S. Engstrom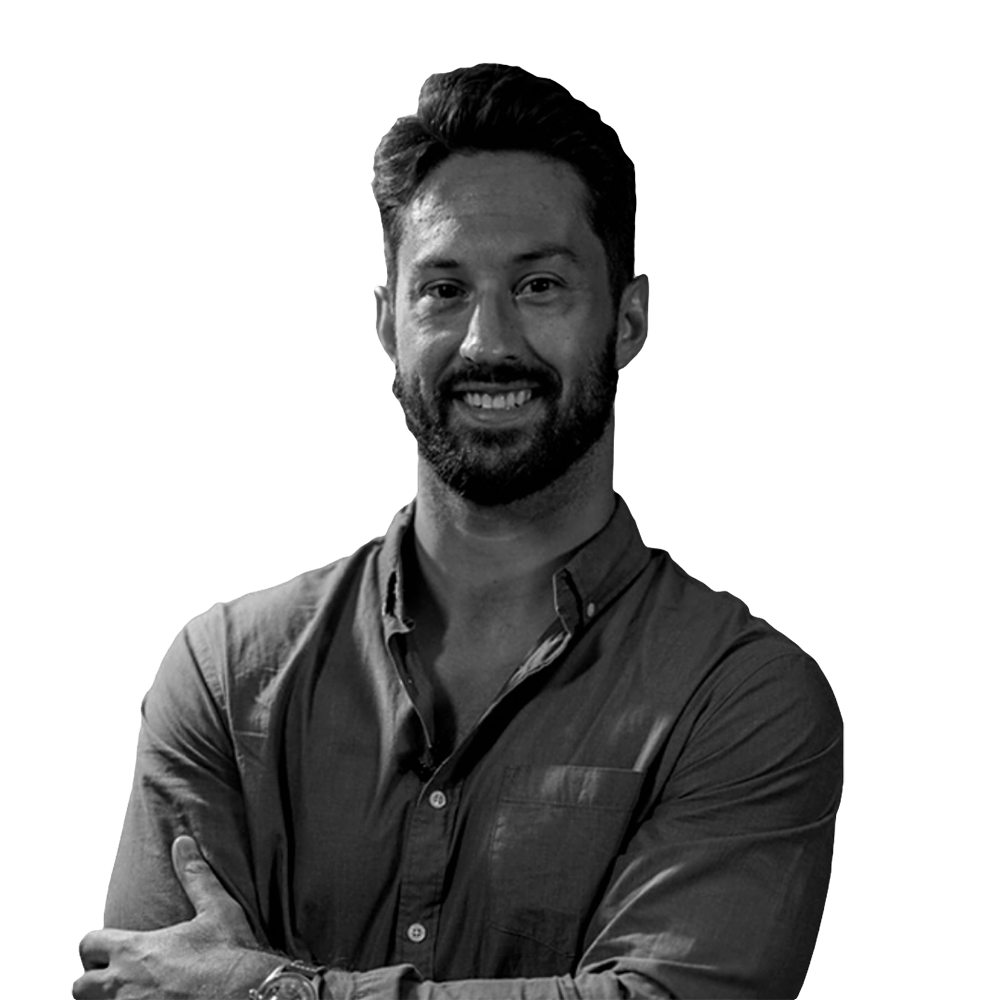 Taylor Engstrom is a product marketer and entrepreneur. Today he leads global product marketing at ShipStation (A portfolio company of Auctane) in charge of developing product-market fit in international markets and evangelizing the ShipStation brand and product for thousands of ecommerce merchants.
Previously he has led marketing departments for several early stage Software-as-a-Service (SaaS) startups across GovTech (Government Technology) MarTech (Marketing Technology) and more. He helped launch the first ever Government Relationship Manager, GRM ™, a CRM for local and state governments, and built a strategic alliances and partner marketing program from scratch for a major privately-held home improvement technology company before they were acquired by a public lead generation company.
Your course curriculum
Partner marketing
How Olympic athletes ended up on the Wheaties box, advantages and disadvantages of utilizing partner marketing, and how you can apply this powerful technique and strategy to your business.
Topics covered:
Learn what partner marketing is from a high level and why you should consider implementing it at your organization.
Understand the key components of partner marketing, learn the advantages and disadvantages and the appropriate attributes of a company or business well suited to utilize partner marketing.
Formulate a hypothesis on why your business or company can go farther using partner marketing than not.
Finding and developing the right partners is the bedrock to a successful partner. marketing program and strategy. Get the basics on partnership development and get ready to build or improve your very own.
Topics covered:
Learn the ingredients to a rock solid marketing partnership from a business perspective, a marketing perspective, to a people perspective.
Discover which partners to avoid and why.
Understand the key phases to partnerships from research and discovery to ultimately executing campaigns with them.
Learn the most common and effective channels and tactics within the partner marketing sphere, discover how to incentivize your team (and theirs) and begin strategizing for your own organization.
Topics covered:
Learn the keys to great partner marketing campaigns
Discover tried-and-true partner marketing tactics and strategies
Brainstorm partner marketing campaigns for your own organization to implement
Go behind the scenes of what working in a partner marketing role/team looks like, from the skills you'll apply to how you work with other teams such as sales, account management, and more.
Topics covered:
Learn about the partner marketing team/role and the skills you'll need
Discover how to work with other teams as a partner marketer
Evaluate your own background and skills through a partner marketing-lens
Review what we've learned.
Topics covered:
Review what we've learned throughout the course and prepare for final exam
Show off your hard-earned skills and strengthen your profile.
LinkedIn found that people who add credentials to their profile receive 6x more profile views than those who don't.
Add your certificates to your profile, share your accomplishments with the world, and join our alumni network.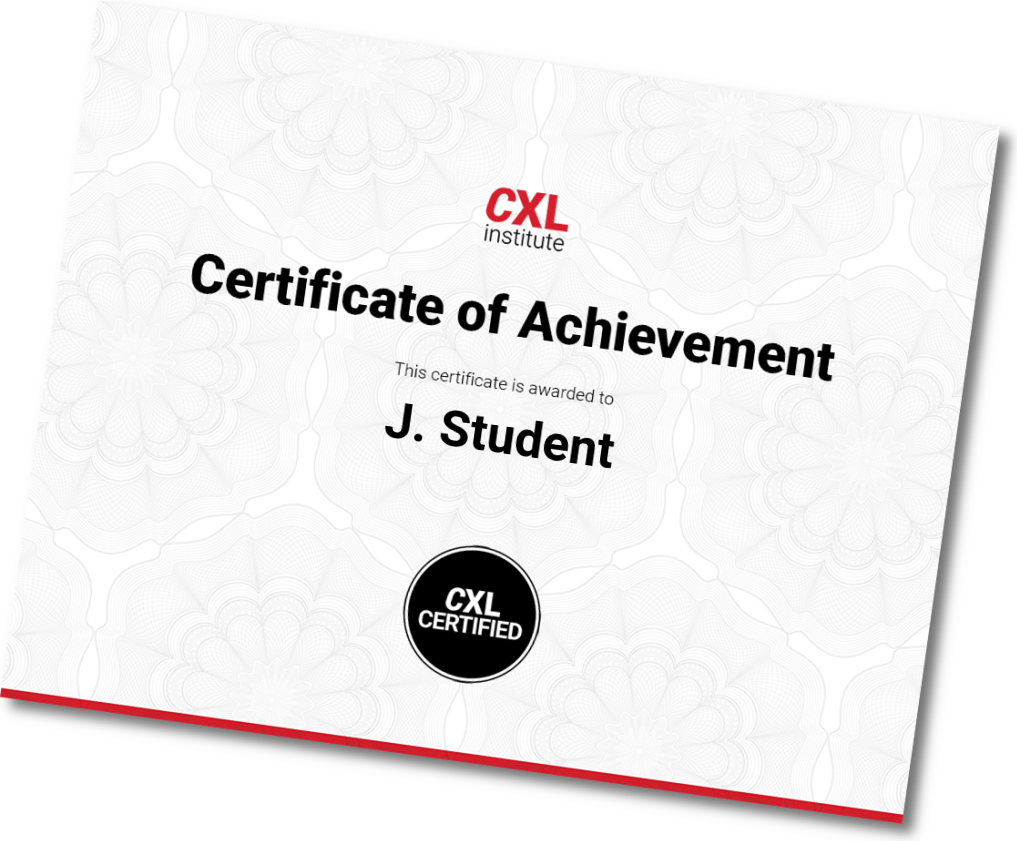 Learn marketing on the job.
Get better results with networking.
Playbook community gives you peer support for every marketing task you face. 90% of marketing tasks are not unique. Someone has already figured it out. Achieve more with less hassle.
Access our library of thousands of marketing playbooks, each showing you how to do a specific marketing task in 10 steps or less, with real-time peer support.
Join our community of marketing experts, ready to support you in getting that promotion or master new strategies, skills, and channels.
Network with some of the world's best marketers and companies and get noticed, hired, or endorsed.
Subscribe to CXL and get access
90+ courses (full list here) on all aspects of data-driven marketing (new courses added every month)
9 minidegrees that give you advanced level skills
Playbook community with 2500+ instructions and peer-support
Got a team, multiple users? Get our Teams All-Access plan instead.
The CXL guarantee
7-day no questions asked money back period
You can immediately apply learnings and improve your results.
Need help convincing your boss?
Click here for a pitch deck, swipe files and tips.
Subscribe to CXL
All plans come with a 7-day trial for $1.
Get access to this and 90+ other training programs.
See plans and pricing
or
Request demo (for teams 5+)
---
This course is available in the following minidegrees: