Become great at voice of customer data
Online course
By Ben Labay,
Managing Director @ Speero
Course length: 2h 09min
Start 7-day trial for $1
Some of the companies that train their teams at CXL:










Find the real reasons behind customer actions
You think you're listening to your customer. You're not. You're wasting your time. This course will open your eyes to the why, allowing you to filter through all the excuses and symptoms that people complain about. "Shipping costs" or "not enough time" are not the problems….they are the symptoms. Learn the theory and an actionable framework for asking the right questions and collecting the right data so you can find the real reasons why people buy your product or why they don't.
Introduction video (2 minutes)
After taking this course you'll…
Clearly understand what research is and what it's not, and how to leverage this understanding to ask better questions.
Evaluate how voice of customer fits into a marketing initiative, and why.
Develop a roadmap to understand your customer through specific VoC research methods, to understand users and their perceptions, user motivations, user behavior, and user fears, uncertainties, and doubts.
Develop a clear understanding and process for translating the data into insights and an implementation and testing plan
Getting to the why to change behavior and perceptions
Voice of customer data is key to getting at the 'why' behind what is happening with the brand and products and all the marketing efforts used to change behavior and perceptions. Without it, established brands can't adapt to changing landscapes of customer attitudes and market forces. Kodak, Nokia, The US record industry all learned this the hard way. Then again, you can't just listen to what people say and expect miracles.
This course teaches a framework to efficiently collect data on users perceptions, behaviors, motivations, and anxieties in a way to put insights into action. You'll be able to come out with a clear understanding of the theory, process, and implications of a proper voice of customer research program.
Learn from tried and practiced processes with dozens of companies across size, vertical, and industry. E.g., a Proctor & Gamble D2C brand, multiple mattresses brands, short term loans, gambling sites, online education platforms, nutrition supplement companies, and a ton of beauty and cosmetic brands.

Alex B.
CXL has helped me tremendously in my journey to become the best digital marketer I can be.
It has opened my eyes to the capabilities of tools like GTM and Google Sheets. You guys have humbled me by teaching me that there's so much more to learn!

Ap S.
CXL is just the best place to grow for a marketer. I learned more in a few months via CXL than what I learned in 8, 9 months on my own.
This course is essential for you if …
You work with customer data and need to get insights from this data.
You want to stay close to your customer regarding their behaviors, perceptions, motivations and anxieties.
You work on a UX team and need a systematic framework for collecting and leveraging customer qualitative data for digital experiences.
This course is NOT for you if…
You want quick insights. Processing qualitative data requires being bored with data, you can't let the machines do the work because they don't have data on customer perceptions in real time.
You only want to work with quantitative, big data problems.
You don't work with customers or customer data.
Skills you should have before taking this course
This course is beneficial for anyone wanting to learn more about how the voice of customer data can impact a brand. Prior knowledge and experience in statistical concepts and marketing basics are an advantage.
Ben Labay
Managing Director @ Speero
Ben is Speero's Managing Director. He combines years of academic and statistics training with customer experience and UX knowledge to help scope and run conversion research programs for companies around the world.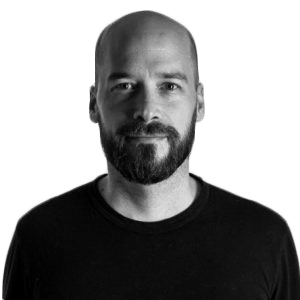 Ben is Speero's Managing Director. He combines years of academic and statistics training with customer experience and UX knowledge to help scope and run conversion research programs for companies around the world.
Your course curriculum
Voice of customer data
1
VoC Research Principles for CRO
Change the way you think about data, research, and knowledge generally. This lesson presents 5 mental models that help to understand research pitfalls generally, with specific examples from research and testing programs.
Topics covered:
Conduct research without (much) bias
Delineate different research techniques for different goals
Define VoC research in the context of CRO
Understanding personas in principle, and the different categories and uses of personas
Topics covered:
Persona failures, the reasons why they have such a bad wrap
Get a framework of 9 different personas within 3 different persona categories
Get a framework to answer questions like i. whose problem are we trying to solve? ii. who are we speaking to? iii. who is using our product?
How to measure, track, and compare your user's perception of the digital experience of your product or website.
Topics covered:
Understand a robust definition and framework for user experience benchmarking
Know how to collect user perception data for different dimensions of user experience - appearance, usability, clarity, loyalty, credibility
Understand methods to address these research questions, i. how are they evaluating our offer compared to others? ii. how do they feel about our digital or product experience?
Research methods to capture data on user behaviors, finding friction issues and where users are tripping up on the website.
Topics covered:
Know how and why to collect passive feedback
Understand pitfalls of user testing and be able to scope out a user testing plan
Have tools to answer these research questions:

What are they doing or not on the website?
Where are they tripping up?
Where do they get confused?
What can't they find that they should?
Research methods to capture data on user motivations and goals.
Topics covered:
Understand how to ask questions and when to use open- vs closed-ended questions
Understanding goals vs motivations for survey techniques and how to scope out surveys
Be able to answer these research questions:

What's the customer's goal? J2BD?
What do they think they want? Why?
How are they choosing / making a decision?
Which other products are we being compared to?
How is what we offer clearly different?
What are they thinking when they see our offer?
6
Anxieties (fears, uncertainties, doubts)
Research methods to capture data on user and customer anxieties.
Topics covered:
Build and target an onsite survey to understand anxieties
Understand how the survey approach can affect response rate
Be able to answer these research questions:

What is the problem?
What is holding a customer back from action?
What do customer's fear about the solution?
Where is their uncertainty of success?
How to process all the data we get with these research techniques, especially the open-ended responses.
Topics covered:
Understand the principles and basics of coding data
Understand the goal of coding data, which is to go from data to information to knowledge
Understand nuances of the iterative nature and pattern finding categories within the process of codification
Note: the tool textalyzer.com which was recommended is now seoscout.com
Get a perspective for the need to account for cultural differences in how we process and respond to questions.
Topics covered:
Learn that context is key in success, and especially with understanding data and people
Context for taming your confirmation bias when interpreting data - be humble even when you 'know'
Get a resource for digging deeper in understanding 8 scales of culture relevant to conducting user research.
Show off your hard-earned skills and strengthen your profile.
LinkedIn found that people who add credentials to their profile receive 6x more profile views than those who don't.
Add your certificates to your profile, share your accomplishments with the world, and join our alumni network.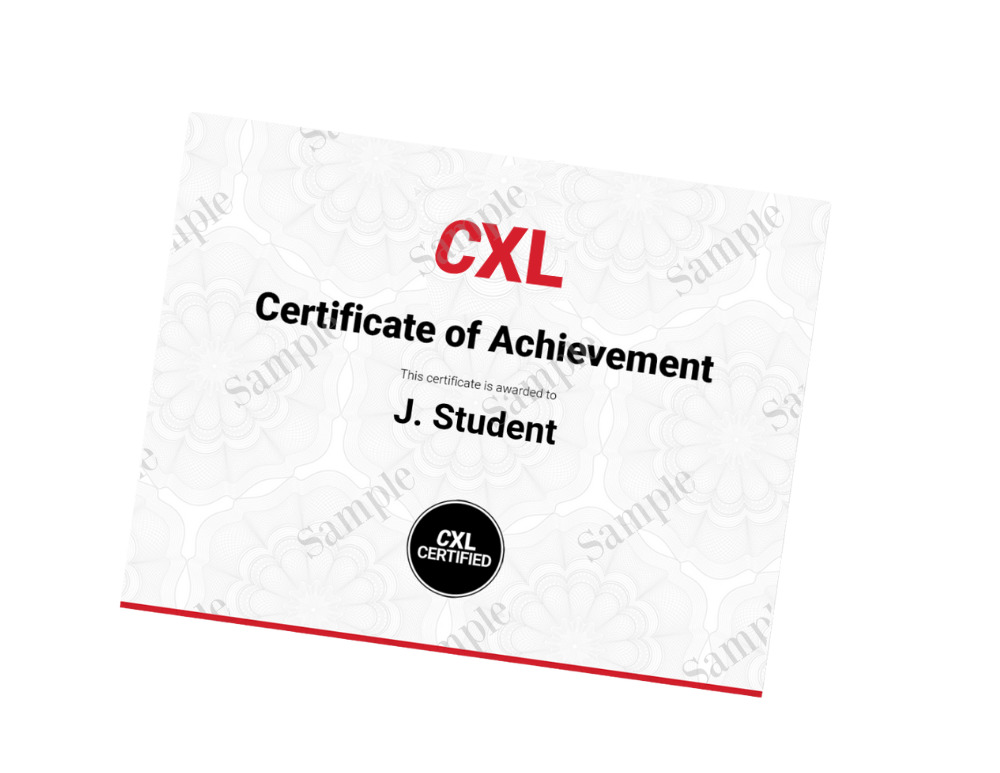 Learn marketing on the job.
Get better results with networking.
Our Marketing playbooks community gives you peer support for every marketing task you face.  90% of marketing tasks are not unique. Someone has already figured it out. Achieve more with less hassle.
Access our library of thousands of marketing playbooks, each showing you how to do a specific marketing task in 10 steps or less, with real-time peer support.
Join our community of marketing experts, ready to support you in getting that promotion or master new strategies, skills, and channels.
Network with some of the world's best marketers and companies and get noticed, hired, or endorsed.
Subscribe to CXL and get access
90+ courses (full list here) on all aspects of data-driven marketing (new courses added every month)
10 minidegrees that give you advanced level skills
Playbook community with 2500+ instructions and peer-support
Got a team, multiple users? Get our Teams All-Access plan instead.
The CXL guarantee
7-day no questions asked money back period
You can immediately apply learnings and improve your results.
Need help convincing your boss?
Click here for a pitch deck, swipe files and tips.
Subscribe to CXL
All plans come with a 7-day trial for $1.
Get access to this and 90+ other training programs.
See plans and pricing
or
Request demo (for teams 5+)