Become great at scaling content marketing
Learn how to increase website traffic exponentially
Online course
By Ross Hudgens, Founder & CEO @ Siege Media
Course length: 1h 35min
Start 7-day trial for $1
Some of the companies that train their teams at CXL:










Harness the power of SEO to scale
Investments in social, email, and PPC can hit their potential ceiling, while SEO, even though a long game, can provide a higher ROI compared to the other channels. Powered through SEO, learn how to build an audience online with content that can be successfully scaled. This course will teach you the in-depth process for building content strategies from scratch and leveling them up to start generating more than 250,000+ monthly site visits.
Introduction video (2 minutes)
After taking this course you'll…
Learn how to build an effective SEO-driven content strategy for your company, no matter the size and budget.
Build a Keyword-Opposition to Benefit (KOB) Analysis you can leverage to rank for high value topics, fast.
Understand what makes content marketable and learn how to port that over to your business.
Develop an end-to-end outreach strategy to help get your content seen and ranking in the search engines.
Apply Content Layering to take your introductory knowledge and get the most valuable pages you build, ranking quicker.
Learn the method that will increase your traffic exponentially
Learn the content marketing method used by Intuit, TripAdvisor, AirBnB and more. After this course you'll understand why email outreach is important, how to use content layering to grow sales dramatically, why design is such a critical component in an SEO-driven content strategy and how to use the Keyword Opposition to Benefit Analysis.

Alex B.
CXL has helped me tremendously in my journey to become the best digital marketer I can be.
It has opened my eyes to the capabilities of tools like GTM and Google Sheets. You guys have humbled me by teaching me that there's so much more to learn!

Ap S.
CXL is just the best place to grow for a marketer. I learned more in a few months via CXL than what I learned in 8, 9 months on my own.
This course is essential for you if …
You are the sole content creator at a company who is responsible for gaining traffic to a blog or similar content library.
You are a marketer looking to learn more about SEO to add to your skill set.
You are a beginner SEO who understands the technical side but is looking for guidance on content and creative.
This course is NOT for you if…
You don't have the resources to execute well designed and written content.
You don't have resources to commit to pitching your content once live.
You consider yourself "advanced" in SEO and already understand the importance of link building and content creation.
Skills you should have before taking this course
The lessons and strategies are for individuals who want to be able to effectively scale content marketing efforts. A general knowledge of common SEO terms used and use of a free or paid keyword research tool are an advantage.
Ross Hudgens
Founder & CEO @ Siege Media
Ross is the founder/CEO of Siege Media, a 85-person, SEO-focused content marketing agency with offices in San Diego, Austin, and NYC. Siege made the Inc. 5000 list the last three years.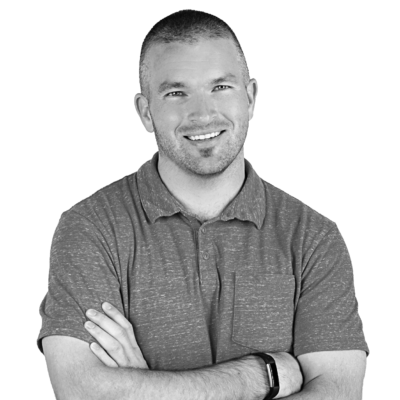 Ross is the founder/CEO of Siege Media, a 85-person, SEO-focused content marketing agency with offices in San Diego, Austin, and NYC. Siege made the Inc. 5000 list the last three years.
Your course curriculum
Scaling content marketing
1
What is SEO driven content marketing?
Why SEO driven content marketing should be your main focus to increase traffic. Learn the basis to get started and scale your strategy.
Lesson topics:
Differentiate between SEO based content marketing and other forms of content
Determine if your website could benefit from SEO driven content marketing
Define common SEO terms as it relates to content
2
Prioritizing Topics for Rankings
Understand the keyword opportunity to benefit (KOB) analysis to create a scalable topic strategy.
Lesson topics:
Develop a content calendar based on ability to rank
Choose appropriate keywords based on four key criteria
Measure value of potential rankings
3
How to layer content over product pages
Make a greater impact with your strategy by matching top funnel keywords to bottom funnel products.
Lesson topics:
Determine how keywords fit in your marketing funnel
Utilize keywords to boost your product pages
Find substitutes when content layering doesn't fit
4
Upgrading the Skyscraper Technique
Learn when and how to apply the Skyscraper Technique to make the most of your available resources.
Lesson topics:
Define the Skyscraper Technique
Discriminate good and bad uses of the Skyscraper Technique
Differentiate between when "10x" or "2x" content formats are necessary
5
When (and How) to Link Build
Know what link building is and how it impacts your site's domain authority.
Lesson topics:
Define link building and understand its importance in SEO and rankings
Demonstrate ability to write effective pitch templates
Evaluate what makes a website "pitchable"
Integrate the course content into everyday practice.
Lesson topics:
Start putting all lessons into practice
Recognize shortcomings or potential hurdles to effectively using this method
Show off your hard-earned skills and strengthen your profile.
LinkedIn found that people who add credentials to their profile receive 6x more profile views than those who don't.
Add your certificates to your profile, share your accomplishments with the world, and join our alumni network.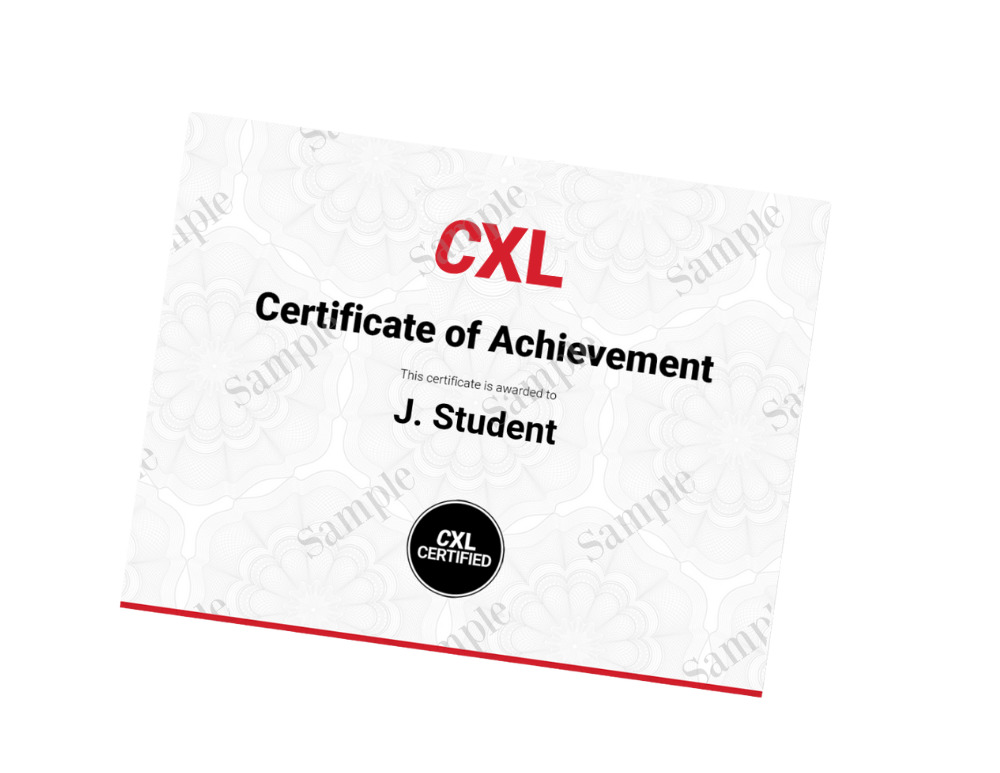 Learn marketing on the job.
Get better results with networking.
Our Marketing playbooks community gives you peer support for every marketing task you face.  90% of marketing tasks are not unique. Someone has already figured it out. Achieve more with less hassle.
Access our library of thousands of marketing playbooks, each showing you how to do a specific marketing task in 10 steps or less, with real-time peer support.
Join our community of marketing experts, ready to support you in getting that promotion or master new strategies, skills, and channels.
Network with some of the world's best marketers and companies and get noticed, hired, or endorsed.
Subscribe to CXL and get access
90+ courses (full list here) on all aspects of data-driven marketing (new courses added every month)
10 minidegrees that give you advanced level skills
Playbook community with 2500+ instructions and peer-support
Got a team, multiple users? Get our Teams All-Access plan instead.
The CXL guarantee
7-day no questions asked money back period
You can immediately apply learnings and improve your results.
Need help convincing your boss?
Click here for a pitch deck, swipe files and tips.
Subscribe to CXL
All plans come with a 7-day trial for $1.
Get access to this and 90+ other training programs.
See plans and pricing
or
Request demo (for teams 5+)