Get more wins and bigger wins
The most comprehensive conversion optimization and A/B testing training in the world.
This program is for people serious about building skills, and are ready to put in the effort it takes to complete a Minidegree. Outsized results follow extraordinary effort. No quick fixes here.
Learn to build and run world-class optimization programs
Dramatically improve your skills, become a CXL Institute Certified Optimizer
Content you can't find anywhere else
See plans and pricing or Request demo (for teams 5+)
Some of the companies that train their teams at CXL Institute:










Start getting best-in-class results from optimization
Improve your skills in conversion optimization, UX, and web analytics
Understand what works on websites, and what doesn't
Develop better A/B testing ideas that win more often
Connect with and learn from peers around the world
Get insights from the pros that will help you grow your business
Introduction video Change your results with world-class conversion optimization training
The Conversion Optimization Certification Program by CXL Institute will teach you the methodologies and processes needed to get more wins and bigger wins.
You will develop in-depth knowledge in conversion optimization (driving growth without spending more) and learn processes that you can replicate across any web property.
Access to expert takeaways + guidance can be a game changer when you're wading through the sea of unreliable and inaccurate information out there.
You shouldn't be operating without this kind of help.
World class instructors
Peep Laja

Ton Wesseling
Manuel da Costa
Stefania Mereu
Andre Morys

Claire Vo
Fred Pike
Georgi Georgiev
Joel Klettke
Yehoshua Coren
Chris Mercer

Jeff Sauer
Momoko Price
Ben Labay
Candace Ohm
Talia Wolf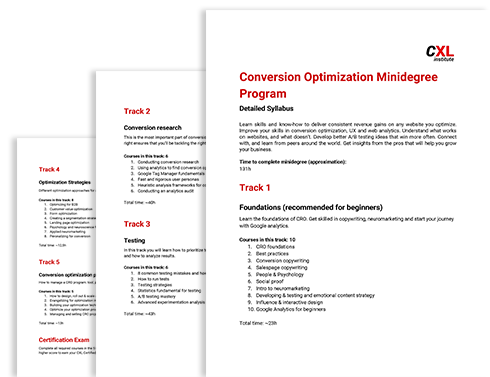 Get updates about the Conversion Optimization Minidegree program
In addition to updates, you will receive the detailed course syllabus PDF.
A program designed to develop true professionals
This in-depth conversion optimization training program will help you become a top conversion optimizer in. The skills you gain will benefit you for years to come. You'll learn how top conversion rate experts in the world approach conversion optimization.
This program will teach you the methodology, tools, and the mindset needed to become a successful optimizer – and make any website sell.
Learn a systematic, repeatable process
True conversion optimization is not about guesswork or running random tests. It's a process. It's what separates wannabes from conversion pros. Amateurs think in terms of tactics, while the pros uncover the real issues by following a proven methodology.
After this program, you'll be able to systematically identify all the places where a website is leaking money, figure out exactly why, create data-backed hypotheses, run tests for learning, and improve your customer theory.
5 tracks, 100% online.
This program is 100% online. To streamline your learning experience, we've organized the program into 5 tracks. Don't have much time right now? No problem. The program is entirely self-paced, take 12 months if you need to.
You can't learn this stuff anywhere
Conversion optimization know-how is still not mainstream. Most top practitioners would rather conceal their processes than share with the competition. Blogs out there don't go deep enough and don't cover everything.
Also, more and more junk information is popping up. That's why the best way to learn is from practitioners who've been doing this for years and years. We've got the best names in the industry to teach you this stuff.
You won't become a conversion god overnight. Much like an elite university program, this course will set you on the right path to become a master of your trade.

"When I see the CXL Institute Certificate on a job application, it is an immediate stamp of approval. It means that the applicant has been trained by the best in the world, and that he or she learned CRO fundamentals like conversion research, web analytics, UX and testing strategy."

This minidegree has a frankly ridiculous amount of amazing content. It took a not-insignificant amount of time to get through, but I now have a serious edge in winning more client work.
CXL Conversion Optimization Certification training program for professionals
This is a comprehensive conversion optimization training program that will give you the skills and know-how to deliver consistent revenue gains on any website you work on.
Take all the courses to unlock the certification test. Pass the test and become a CXL-Certified Optimizer.
What's inside the CRO Minidegree?
35+ self-paced online courses
The CRO minidegree consists of courses covering the many different aspects of optimization.
Master conversion research
80% of CRO results come from research. You'll learn all about qualitative and quantitative research – topics like digital analytics, mouse tracking, and user testing.
Become a pro at testing
You will learn about proper testing statistics, managing the testing process, and A/B testing strategies that get results.
Learn CRO program management
How to set up a CRO program that scales and gets results: people, tools, processes. Evangelizing CRO internally, and selling it externally.
5 cumulative tracks, total of ~106h of videos & study material – designed to make you better at CRO.
Minidegrees are essentially collections of individual courses, grouped together around a theme. It's designed to give you advanced level skills in conversion optimization.
Foundations
Optimizers need to know a lot about a lot. This track covers the fundamentals one needs to know before optimizing anything.
CRO foundations
Conversion copywriting
Design & UX
Persuasion & online psychology
Best practices of high-converting websites
Principles of persuasive design
Intro to digital analytics
Data-driven attribution
Conversion Research
Assess current situation, collect and evaluate data, identify problems and opportunities.
Using ResearchXL Framework to identify issues
Heuristic analysis
Digital analytics
User testing
Survey design
Qualitative research
Data-Driven user personas
Mouse tracking
Conducting a Google Analytics audit
Using analytics to find conversion opportunities
Google Tag Manager
Testing Strategies
What to test? How to prioritize? How to run tests? When to stop tests? How to analyze results?
A/B testing statistics
A/B testing mastery
Common testing mistakes and how to avoid them
How to run tests: from hypotheses to stopping rules
Prioritizing tests: how to decide what to test next
Validity threats: what can skew your test results
Testing QA
Optimization Strategies
Optimization is more than just testing. You need to know every aspect of the full customer journey before you can influence it.
Managing a redesign
Optimizing for B2B
Customer value optimization
Landing page optimization
Creating a segmentation strategy
Conversion Optimization Program Management
How to manage a successful program, and how to sell CRO both internally and externally.
How to design, roll out, and scale an optimization program
Evangelizing for optimization in enterprise
Building your optimization technology stack
Managing and scaling your optimization program
Selling CRO as an agency
How long will it take me to complete this Minidegree?
This is entirely up to you – it's how many hours per week you can put in. If you have 2-4 hrs / week available for learning, it might take you around 6 months. If you can do 10-15 hrs / week, you can knock it out in 3 months.
Show off your new skills: Get a certificate of completion
Complete all courses and pass the final test to become a CXL Certified Optimizer. Our certification will help you accelerate your marketing career and/or land better clients.
CXL Institute is an authorized LinkedIn education provider
You can add your education, certificates, badges – everything you learned and earned at CXL Institute into the Education section of your profile.

"I'm shocked. Dude, wow. Seriously. This is insanely good. I thought I knew a fair few things before but am genuinely shocked at the quality of the new material and reinforced to see the items I already knew mentioned as important and covered. This is an exceptionally good service you've created."

The CRO Minidegree was great.
I previously took the CRO certification from Digital Marketer, and holy crap was I not prepared for how little I knew about CRO before enrolling in CXL Institute's CRO Minidegree.
I thought I learned a lot, but when I saw what CXL Institute offered vs what they had… it was clear to me that what I thought was a pretty decent course was really something that just covered the tip of what your program touched on.
Subscribe now and unlock:
Every single course from our catalog
Access to all 4 Minidegree programs on Conversion Optimization, Digital Analytics, Growth Marketing and Digital Psychology
Talk recordings by world class practitioners at CXL Live and Elite Camp
The CXL Institute guarantee:
Guaranteed return on time spent or your money back.
You can immediately apply learnings and improve your results.
Need help convincing your boss?
See plans and pricing or Request demo (for teams 5+)