Become great at content recycling
Increase your efficiency and maximize your reach with content
Online course
By Paul Boag,
Founding Partner @ Boagworks
Course length: 2h 51min
Start 7-day trial for $1
Some of the companies that train their teams at CXL:










Generate content with ease without compromising quality
Content marketing is becoming harder as the number of publishers skyrocket. Success now relies on building a loyal audience who turns to you as a trustworthy source.
However, to achieve this aim, we need to be able to put out regular, high-quality content, and that can feel like an impossible task. This course shows you how to generate large amounts of content with minimal effort, all without compromising quality.
After taking this course, you'll…
Have the ability to deliver high-quality content marketing material fast, so building a loyal audience with minimal effort.
Know how to take a single piece of content (like a blog post) and repurpose it for different channels, thereby maximising reach.
Be able to implement a robust working methodology for the production of content marketing material. A process that ensures you post regularly and build brand awareness.
Have a suite of possible tools to help you produce content marketing more efficiently and reduce the number of hours dedicated to creating and posting content.

Alex B.
CXL has helped me tremendously in my journey to become the best digital marketer I can be.
It has opened my eyes to the capabilities of tools like GTM and Google Sheets. You guys have humbled me by teaching me that there's so much more to learn!

Ap S.
CXL is just the best place to grow for a marketer. I learned more in a few months via CXL than what I learned in 8, 9 months on my own.
In just 15 sessions, you'll be able to…
Take a blog post and effectively turn it into a series of social media post.
Turn a blog post into quality podcast content.
Build a webinar around blog post content.
Turn webinar content into videos for Youtube.
Transform multiple posts and turn them into an ebook.
Take ebook content and turn it into a self-learning video course.
Implement a fast and reliable blog post writing process.
Make the most of online tools to streamline their workflow.
Become more efficient and effective in how you approach content marketing
This course will enable you to reach more people with your content using less time and effort. You will be able to take a single piece of content and amplify it across multiple channels, repurposing it in different formats, increasing your efficiency and maximizing your reach.
This course is essential for you if …
You use content marketing as part of your marketing strategy.
You have found that your content marketing efforts have failed to generate the return you had hoped for.
You believe you do not have the time or resources to include content marketing in your marketing strategy.
This course is NOT for you if…
You expect immediate results and refuse to invest in new ways of doing business that requires planning, building, and iterating over many months.
You do not see value in content marketing and feel it has no place in your marketing mix.
You have ample time and resources to produce quality content marketing material across a range of platforms.
Skills you should have before taking this course
This course teaches a technique that can be used by any marketer, no matter your level of experience.
Paul Boag
Founding Partner @ Boagworks
Paul Boag works with an enormous range of organisations. Clients include Doctors Without Borders, UNICEF, Puma and GlaxoSmithKline. Over the past 24 years, Paul has improved user engagement and conversion rates across hundreds of sectors. He has writte …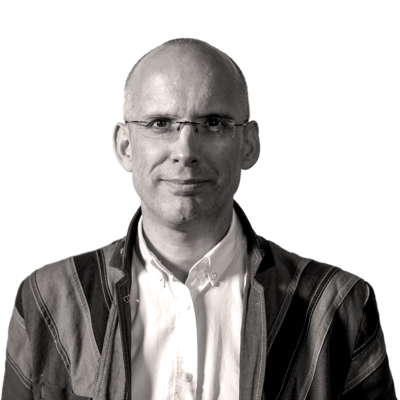 Paul Boag works with an enormous range of organisations. Clients include Doctors Without Borders, UNICEF, Puma and GlaxoSmithKline. Over the past 24 years, Paul has improved user engagement and conversion rates across hundreds of sectors.
He has written five books on user experience design and digital transformation and been podcasting since 2005. He is also a non-executive director at Smashing Media, who runs one of the largest blogs on digital topics.
Your full course curriculum
Content recycling
1
What is content recycling and does it help?
Supercharge your content marketing efforts, reach new audiences, and build brand loyalty.
Lesson objectives:
Define what we mean by content recycling.
Establish how content recycling can help your marketing.
Learn how content recycling can help you personally.
Discover how it can generate a better return on investment
2
How to identify the right content formats.
Not all content formats are right for your organisation. Discover how to choose the right combination for you.
Lesson objectives:
Have a clear picture of the different content types available.
Understand the effort involved in creating different content formats.
Appreciate the pros and cons of different content types.
Understand the relationship between different content formats.
3
Creating a content recycling workflow
Improve the efficiency of your content marketing efforts by establishing a robust recycling workflow.
Lesson objective:
How to establish a basic workflow that you could implement today.
How you can then build on that foundation by adding additional formats.
Ways to get the maximum value out of every piece of content.
4
How to find the best content ideas
Coming up with ideas for content is hard. Fortunately, there are tried and tested approaches that will help.
Lesson objective:
Understand what makes good content.
Learn what content works well for content recycling.
Gain techniques to ensure you always have content ideas.
Discover how to create content when you are not a subject expert.
5
Why and how you should test content ideas
Avoid costly and time consuming mistakes by testing content marketing ideas before rolling them out.
Lesson objective:
How testing can save you time and money.
How to test content ideas like blog posts or youtube videos.
How to test larger projects such as books, courses or podcast seasons.
6
How to write a blog post fast and efficiently
Blog posts will be the heart of your content recycling strategy, and so you need to produce them as efficiently as possible.
Lesson objective:
Understand why blogging is important to your content recycling strategy.
Have a step by step process for writing and publishing a blog post.
Know about tools and techniques for improving your writing process.
7
Maximize the impact of your posts
Because people do not read entire posts online, we need to ensure that our blog posts are engaging and easy to scan.
Lesson objective:
How to format a post for scannability.
How to keep people engaged with your blog.
How to create components that will be later used on social media.
How to integrate calls to action successfully into your posts.
8
How to turn posts into social media updates
Easily recycle a single post into at least half a dozen social media updates that are great content and promote the post.
Lesson objective:
Know what to look for when recycling posts for social media.
Be able to recycle posts in the most efficient way possible.
Have a clear understanding of the pros and cons of reposting entire articles.
9
Produce graphics using blog content
Take the core messages from a blog post and recycle them into engaging infographics with minimal effort.
Lesson objective:
Explore some of the different graphic options available.
Learn what blog content can easily be transformed into graphics.
Discover some tools that can make producing graphics a breeze.
10
How to turn a blog post into a podcast
Easily reach new audiences by turning a written blog post into a podcast that people can listen to on the go.
Lesson objective:
How you go about translating a blog post into a podcast.
Recording techniques to ensure the quality of your audio.
The technical aspects of recording and publishing audio content.
11
How to create video content from a blog post
Video can be one of the most engaging formats, and done right, it doesn't need to be hard to produce when recycling blog posts.
Lesson objective:
The different video formats available to you.
What you need to consider when recycling for video.
Some tools and equipment you will need to get started.
12
Transform multiple posts into long form video
From webinars to courses, video can be a powerful teaching tool. Best of all, they can be created easily by combining blog posts.
Lesson objective:
How to identify opportunities for creating larger video projects.
What different video projects are available to you.
How to overcome the challenges associated with creating more complex video content.
13
How to turn multiple posts into an ebook
With careful planning, a series of blog posts can become the basis for a book that will cement your expertise in your chosen field.
Lesson objective:
Why producing an ebook is a good content marketing tactic.
The practicalities involved in writing a book
The technical components of producing a book.
14
Use email to promote and recycle content
Email plays a unique role in content recycling. It is invaluable for ensuring that older content does not get forgotten.
Lesson objective:
Why email is crucial to your content marketing efforts.
How email can give new life to old content marketing material.
How your blog post and social media can be used to grow your mailing list.
15
Next steps and where to begin
Content marketing is an enormous undertaking. In this last lesson, we finish discussing what you could do and look at where you should start.
Show off your hard-earned skills and strengthen your profile.
LinkedIn found that people who add credentials to their profile receive 6x more profile views than those who don't.
Add your certificates to your profile, share your accomplishments with the world, and join our alumni network.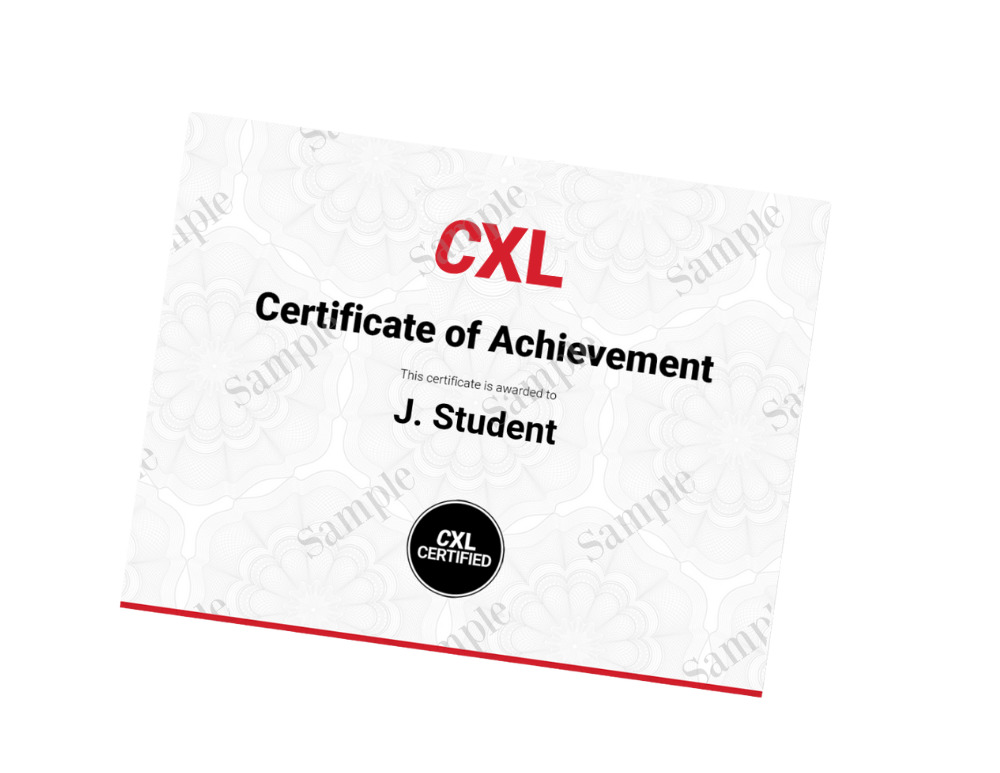 Learn marketing on the job.
Get better results with networking.
Our Marketing playbooks community gives you peer support for every marketing task you face.  90% of marketing tasks are not unique. Someone has already figured it out. Achieve more with less hassle.
Access our library of thousands of marketing playbooks, each showing you how to do a specific marketing task in 10 steps or less, with real-time peer support.
Join our community of marketing experts, ready to support you in getting that promotion or master new strategies, skills, and channels.
Network with some of the world's best marketers and companies and get noticed, hired, or endorsed.
Subscribe to CXL and get access
90+ courses (full list here) on all aspects of data-driven marketing (new courses added every month)
10 minidegrees that give you advanced level skills
Playbook community with 2500+ instructions and peer-support
Got a team, multiple users? Get our Teams All-Access plan instead.
The CXL guarantee
7-day no questions asked money back period
You can immediately apply learnings and improve your results.
Need help convincing your boss?
Click here for a pitch deck, swipe files and tips.
Subscribe to CXL
All plans come with a 7-day trial for $1.
Get access to this and 90+ other training programs.
See plans and pricing
or
Request demo (for teams 5+)
---
This course is available in the following minidegrees: