Become great at neuromarketing
Increase your conversions by understanding how your customers' brain works
Online course:
Applied Neuromarketing
By André Morys,
CEO & Founder @ konversionsKRAFT
Course length: 4h 00min
Start 7-day trial for $1
Some of the companies that train their teams at CXL:










Increase your conversions by understanding how your customers' brains work
To optimize conversion rates, you need to change buyer behavior. Learn how the human brain works and how to leverage that knowledge to increase sales.
This course is about more than just persuasion, cognitive biases and behavioral economics.
In just 5 sessions, you'll learn how to…
Be more effective: Understand how the signal processing in the brain works so your message really gets into the mind of your audience.
Control perception: You can control what and how the content of your websites and landing pages will be perceived.
Raise buying motivation: Understand the influence of emotions and fears of your audience to increase the motivation to buy of your users.

Joe Robinson, PPC Lead @ Be Found Be Chosen
The content was totally unique compared to what I've learned before; it's opened up a whole new avenue for me to continue learning in.

Marjeta Kuralt, Product Owner @ ZenGuard GmbH
André knows how to explain in an easy, yet concise way, using good examples. I already knew quite a bit about neuromarketing and still found this course useful. It's relatively short but gives a complete overview to total beginners as well as helping to deepen the knowledge to those who are already familiar with the topic. Time and money well invested!

James Ryan, Owner of James Ryan Fitness
The limbic map was completely new to me and really changed the way I look at and implement my marketing efforts. Great course.
Most online marketers apply consumer psychology superficially – like a tactic that you can just copy and paste
But the human brain is too complex. It often doesn't work to apply tactics without understanding the deeper mechanisms.
In this course, André will give you an overview how the human brain is hardwired and how to leverage that knowledge for more conversions.
André uses a lot of practical examples to showcase you the application of the knowledge. By attending the course, you will also have fun with tasks and interaction.

This course has shifted my understanding of subconscious decision making and made me a better optimiser. I can't give better praise or thanks than that
This course is right for you if…
You understand that a conversion is a result of a users behavior
You are generally interested in psychology and customer experience
You have already worked with psychological principles but maybe it didn't work for you
This course is probably not for you if…
You think you understand your customers' behavior by using Google Analytics
You think you need to do a lot of quick a/b tests instead of some really good ones
You think psychology is just some esotheric stuff for UX nerds.

It was an extremely beneficial course. It got me to think about marketing in a totally different way than what's talked about in the mainstream blogs and communities, and was a very valuable course to take.
Skills you should have before taking this course
The course is suitable for everyone, but it helps to have:
General understanding about usability / UX / CX
Experience in optimization
Experience in user research
André Morys
CEO & Founder @ konversionsKRAFT
André has been an optimizer for more than 20 years and has been sharing his passion for optimization with others for nearly 10 years as an international keynote speaker, blogger and author. André is co-founder of konversionsKRAFT, a network of leading …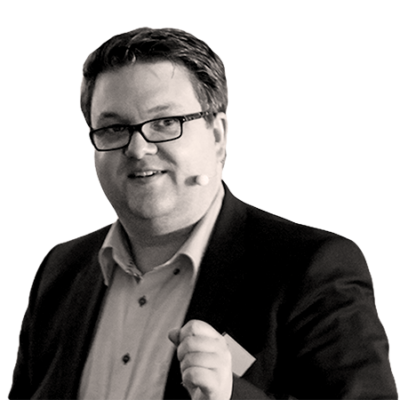 André has been an optimizer for more than 20 years and has been sharing his passion for optimization with others for nearly 10 years as an international keynote speaker, blogger and author.
André is co-founder of konversionsKRAFT, a network of leading optimization agencies across the world. He is also a university lecturer and recently received an award as Germany's Best Employer out of hundreds of participants.
Your full course curriculum
Applied neuromarketing
Topics covered:
How the brain basically works
Why customers are not in control of their mind
Why neuromarketing should be part of the core business model
Most optimizers are familiar with clickmaps and heatmaps from mousetracking or eyetracking. But do you know what stimulus triggers the attention? The eyes are hardwired with the brain and as an optimizer you should know how to influence the customer's behavior.
Topics covered:
People don't control their attention rationally
Five proven ways to influence perception
Why perception is crucial for optimization success
How to implement it in your process
People buy what makes them a better version of themselves. According to neuromarketing studies, most behavior is influenced by a mechanism of preferences for certain values that is deeply implemented in the human brain.
Topics covered:
How the customer journey starts with emotional decisions
Understand how your customers really decide
Mechanisms to influence the customers decision
When we talk about concepts like trust, relevance, or clarity, the customer's brain has made a decision in a couple of milliseconds. This happens a lot of time before the rational part of the brain has a rational explanation of the decision. You can use this principle to increase trustworthiness and perceived usability of your website.
Topics covered:
Understand why the brain makes fast decisions
Utilize this knowledge for increased trust, relevance, and clarity
Reduce bounce rates and engage visitors on your page
5
Implement core principles in your process
Optimizing websites actually means changing buyer behavior. Your optimization process is a process that is not effective as long as you don't implement the core principles of online behavior. Learn how to use neuromarketing principles and how to implement them in your optimization process.
Topics covered:
Disrupt or die: Why CX happens in the mind of the customer and how it affect growth
The core principles of your optimization process
Implementing behavioral principles to accelerate your growth
Show off your hard-earned skills and strengthen your profile.
LinkedIn found that people who add credentials to their profile receive 6x more profile views than those who don't.
Add your certificates to your profile, share your accomplishments with the world, and join our alumni network.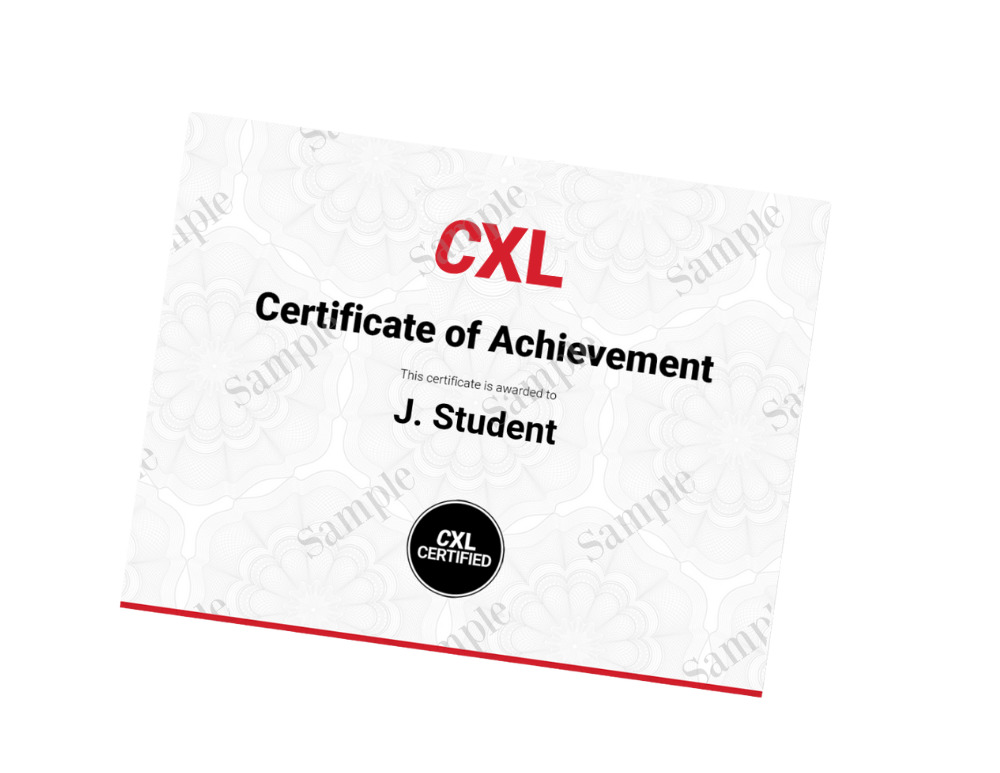 Learn marketing on the job.
Get better results with networking.
Our Marketing playbooks community gives you peer support for every marketing task you face.  90% of marketing tasks are not unique. Someone has already figured it out. Achieve more with less hassle.
Access our library of thousands of marketing playbooks, each showing you how to do a specific marketing task in 10 steps or less, with real-time peer support.
Join our community of marketing experts, ready to support you in getting that promotion or master new strategies, skills, and channels.
Network with some of the world's best marketers and companies and get noticed, hired, or endorsed.
Subscribe to CXL and get access
90+ courses (full list here) on all aspects of data-driven marketing (new courses added every month)
10 minidegrees that give you advanced level skills
Playbook community with 2500+ instructions and peer-support
Got a team, multiple users? Get our Teams All-Access plan instead.
The CXL guarantee
7-day no questions asked money back period
You can immediately apply learnings and improve your results.
Need help convincing your boss?
Click here for a pitch deck, swipe files and tips.
Subscribe to CXL
All plans come with a 7-day trial for $1.
Get access to this and 90+ other training programs.
See plans and pricing
or
Request demo (for teams 5+)