Become great at customer storytelling & proof
Practical techniques for product marketers to understand and leverage customers to fuel better storytelling.
Course length: 3h 58min
Start 7-day trial for $1
Jordan Greene
Senior Director of Product Marketing @ Outreach
Some of the companies that train their teams at CXL:










The secret to world-class product marketing is simple: customers. We all know that to be true, but it's so tempting to get distracted by how amazing our own product is. We often fall short and forget to make the customer the hero of our story – not our company.
This course will help you break through the barrier and build systems to maintain your customer obsession and develop raving fans to power your storytelling!
After taking this course you'll…
Understand how to gather up-to-date information Understand why strong customer storytelling helps you win more deals
Gather customer insights 1:1 with customers and at scale leveraging call analytics tools to distill the insights to effectively market your product
Build programs that develop customer advocates
Leverage customers to tell your story on your behalf
Evaluate & manage 3rd party review sites to build public social proof that compels buyers to choose you over the competition
This course is essential for you if…
You work in marketing at a B2B organization
You're a product marketer who wants to accelerate your career
You're a product marketer who wants to develop programs that drive extraordinary outcomes
This course is NOT for you if…
You're an experienced or successful customer marketer
You don't believe customers are the key to product marketing success
You're looking for a quick method to build a case study
About
Jordan Greene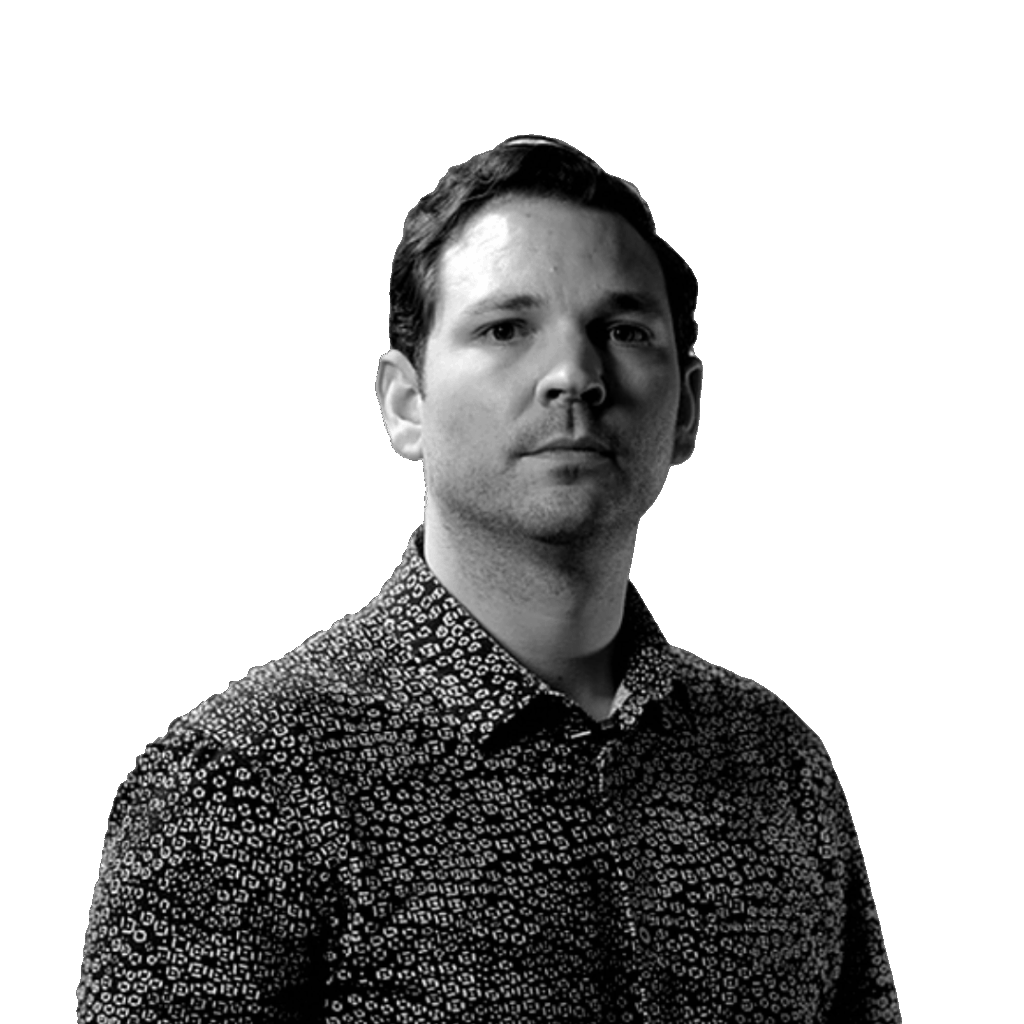 Jordan was the first marketing director at Outreach and leads the go-to-market product marketing team. He's helped grow Outreach from an early-stage startup to a $4.4B sales software company, including building a community of raving customer advocates of over 100k.
He has 10+ years of experience in B2B tech product marketing in growth companies.
Your course curriculum
Customer storytelling and proof
Understand why strong customer storytelling helps you win more deals and the key ways to leverage customer advocates
Topics covered:
Learn what's wrong with taking a product-first lens and why focusing on customers will help your product break through the noise
Understand the value of building strong customer relationships to power insights & develop advocates
Visualize how customers will tell your story
Develop rituals that tune you into what matters most to your customers
Topics covered:
Learn why a consistent set of "customer obsession" rituals will transform you into a world-class marketer
How to regularly "interview" customers & leverage call listening tools to scale customer insights
Develop a basic system to distil & share customer insights
Build programs that develop customer advocates
Topics covered:
Learn why it's critical to "build an army of advocates" on day 1
Understand the basic principles of advocates and how to avoid easy traps
Review techniques to facilitate & develop early advocates
An introduction to the ways product marketer's can leverage customers
Topics covered:
Learn most compelling ways to leverage customers
Apply customer stories to specific marketing assets
Review examples of compelling customer storytelling
Why Joseph Campbell's The Hero with a Thousand Faces is on every great marketer's bookshelf
Topics covered:
Understand the hero's journey and why it's an effective storytelling model for marketing
Learn how to make the customer the hero of your storytelling, not your product
Apply concepts from the hero's journey to marketing storytelling
Review sites can make or break your company - learn the basic playbook to maintain a strong presence that compels buyers to choose you.
Topics covered:
Learn why reviews sites are a critical asset for buyers
How to develop your own playbook to maintain a strong presence on the most important review sites
Understand effective techniques to ask for positive reviews and how to handle negative reviews
Case studies are the bread & butter of strong social proof. Learn the basics of how to construct an effective case study.
Topics covered:
Learn why case studies are a necessary and effective tool for sales
Understand the do's & don'ts when constructing a case study
Review examples of effective case studies
The ultimate social proof happens with buyers connect with customers. Building a reference program for your sales team equips them with the ultimate tool to convince concerned buyers.
Topics covered:
Understand the power of references and why it's worth formalizing a program
Learn the basic principles of getting a program going and ensuring it's scalable
Review best practices to ensure success
Show off your hard-earned skills and strengthen your profile
LinkedIn found that people who add credentials to their profile receive 6x more profile views than those who don't.
Add your certificates to your profile, share your accomplishments with the world, and join our alumni network.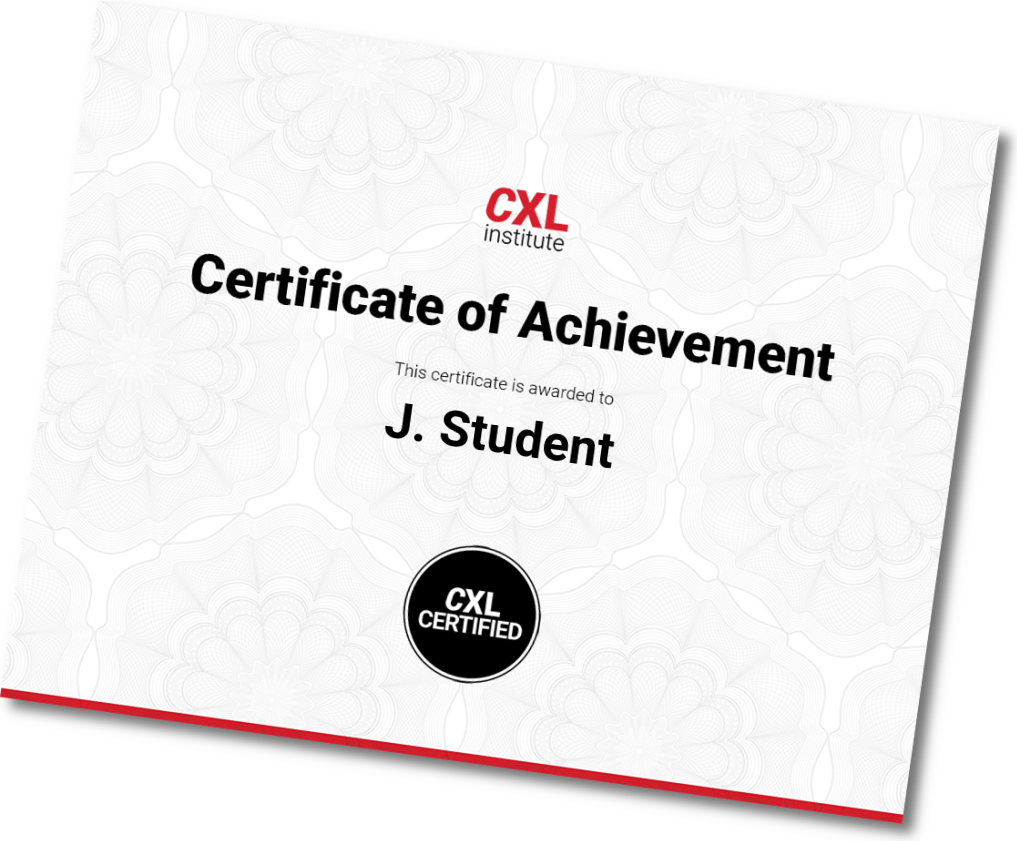 Get this course and 50+ others when you sign up for CXL
This course (and all others – full list here) are included with the CXL subscription.
At CXL, you can take online courses on growth, digital marketing, optimization, analytics, persuasion – all in a single subscription.
World's leading practitioners teaching you their best stuff.
50+ online courses on all things data-driven marketing
New courses added every single month
Subscribe to CXL and get access
90+ courses (full list here) on all aspects of data-driven marketing (new courses added every month)
9 minidegrees that give you advanced level skills
Playbook community with 2500+ instructions and peer-support
Got a team, multiple users? Get our Teams All-Access plan instead.
The CXL guarantee
7-day no questions asked money back period
You can immediately apply learnings and improve your results.
Need help convincing your boss?
Click here for a pitch deck, swipe files and tips.
Subscribe to CXL
All plans come with a 7-day trial for $1.
Get access to this and 90+ other training programs.
See plans and pricing
or
Request demo (for teams 5+)
---
This course is available in the following minidegrees: