Become great at Data presentation and visualization
Online course
By Tim Wilson,
Senior Director of Analytics @ Search Discovery
Course length: 3h 45min
Start 7-day trial for $1
Some of the companies that train their teams at CXL:










Drive stakeholders to take action with the results of your reports and analyses
There is a dangerous belief that, because data is objective, it can speak for itself: as long as the charts and tables and slides are accurate, then the analyst's work is done. This is analogous to stopping and going home after running 25 miles of a race and believing that you have completed a full marathon. What gets delivered in a report or as the result of an analysis, and HOW it gets delivered, is as critical in determining whether stakeholders take action with the information as the underlying analysis itself. More information is generally NOT better. Changing up the data visualizations throughout a presentation primarily just to "mix things up" is a terrible idea.
Presenting "the data" and expecting the stakeholders to draw their own conclusions is a guarantee that they will draw no conclusions at all! The great news is that there are a range of straightforward tips and techniques—grounded in some basic understanding of how the brain processes information—that can be learned and immediately put into practice to ensure that analytics deliverables are clear, understood, and retained by the business stakeholders to whom they are delivered.
Introduction video (4 minutes)
After taking this course you'll…
Identify the most effective data visualization for any situation so that the information is readily understandable by your target audience
Create data visualizations that avoid pitfalls that can introduce confusion and require unnecessary effort for stakeholders to understand and internalize key takeaways
Craft a narrative that holds the attention of key stakeholders, while also improving their ability to understand and retain the information being presented.

Alex B.
CXL has helped me tremendously in my journey to become the best digital marketer I can be.
It has opened my eyes to the capabilities of tools like GTM and Google Sheets. You guys have humbled me by teaching me that there's so much more to learn!

Ap S.
CXL is just the best place to grow for a marketer. I learned more in a few months via CXL than what I learned in 8, 9 months on my own.
This course is essential for you if …
You are responsible for analyzing data and presenting the results to peers, executives, or other stakeholders who need to make decisions based on the information you present to them.
You want your analyses to be regarded as some of the most valuable work conducted within the organization.
You need the skills necessary to improve the actionability of the reports and analyses you develop, as well as the ability to teach others how to develop those same skills.
This course is NOT for you if…
Deeply believe that the "data speaks for itself," so how that data is packaged and presented does not matter.
Are already deeply familiar with and actively putting into practice the data visualization and data storytelling best practices established by Edward Tufte, Stephen Few, Dona M. Wong, Nancy Duarte, Cole Nussbaumer Knaflic, and Brent Dykes.
You are extremely adept at doing the data crunching while relying on others to determine how best to take the results of that work and communicate it effectively so that the business can actually put it to use.
Tim Wilson
Senior Director of Analytics @ Search Discovery
Tim has been working with digital data full-time since 2001 in a variety of roles: from managing a web analytics platform migration and developing analytics processes as the head of the business intelligence department at a $500 million high tech B2B c …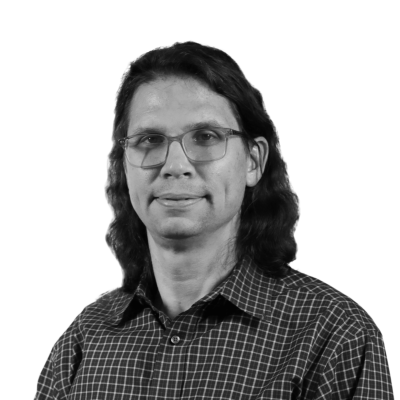 Tim has been working with digital data full-time since 2001 in a variety of roles: from managing a web analytics platform migration and developing analytics processes as the head of the business intelligence department at a $500 million high tech B2B company; to creating and growing the analytics practices at multiple agencies that worked with a range of large consumer brands; to his current role consulting with the digital analytics teams at Fortune 500 companies on their strategies, processes, and tactics for effectively putting their sales, marketing, customer, and digital data to actionable use.
Your course curriculum
Data presentation and visualization
In this lesson, you will learn why data visualization, data storytelling, and effective communication are critical when it comes to effectively delivering analytics information, as well as some of the basics of how the brain works and why that matters.
Topics covered:
How ineffective communication of analysis results can entirely negate the impact of the analysis itself
Why data visualization is not about simply making the data "pretty"
The scope and definitions of "data visualization" and "data storytelling" that we will use in this course.
2
Overview: The brain science of communication
Three types of memory, Gestalt psychology, and examples of reducing cognitive load.
Topics covered:
There are three types of memory: iconic, short-term, and long-term.
The limitations of short-term memory as illustrated by Miller's Law, and why it is critical to work within those constraints.
What it means to reduce the cognitive load of a data visualization.
3
Overview: The Cognitive Load of Pie Charts
Among data visualization researchers and experts, pie (and doughnut) charts are universally reviled. In this lesson, we will explore why that is as an introduction to many of the concepts and ideas that are covered throughout the rest of this course.
Topics covered:
Why pie charts require the brain to do a lot of (unnecessary) work that, ultimately, make them a poor choice of visualization
Why doughnut charts are no better than pie charts
How there are few absolutes in data visualization (which means pie charts are, occasionally, effective)
4
Data Visualization: Maximizing the Data-Pixel Ratio
Maximizing the data-pixel ratio sounds like an entirely esoteric and theoretical concept, but it is arguably the single data visualization technique that, once practiced and mastered, will have the greatest impact on improving the effectiveness of your data visualizations.
Topics covered:
What the data-pixel ratio is and why maximizing it automatically improves the effectiveness of any data visualization
How to overhaul a chart to maximize the data-pixel ratio
How to overhaul a table to maximize the data-pixel ratio
5
Data Visualization: Using Color Sparingly
As computer monitor technology has progressed, we are now at the point where most monitors can display 16.7 million different colors. But, just because you have an effectively infinite variety of colors available to use, doesn't mean that you should! In this lesson, we will explore why a limited palette is a more impactful one, as well as how to go about determining that palette.
Topics covered:
How and why it is important to select a neutral "base" chart color
Why the differentiation between different colors should never be required in order to interpret a chart
How to go about establishing a palette for your data visualizations that matches your corporate palette
6
Data Visualization: The Importance of the Axes
Axes may seem obvious and mundane, and most data visualization platforms automatically generate them. But, they can be generated poorly, and they can undermine the impact of a data visualization if they are not implemented effectively.
Topics covered:
Why 0-based axes are (almost) always the best option
How to avoid too much and/or redundant information in axes
Why dual axes make for difficult-to-interpret (and, sometimes, misleading!) charts, as well as an alternative that is generally more effective
7
Data Visualization: Horizontal Bar Charts for Comparing Categories
When it comes to visualizing categorical data, the horizontal bar chart is often the best choice. In this lesson, we will explore why that is, as well as how multiple horizontal bar charts can be used to provide a clear comparison of multiple metrics across multiple categories.
Topics covered:
Why horizontal bar charts are so easy to interpret
How to use multiple horizontal bar charts and how to incorporate color selectively to minimize cognitive load
How to incorporate horizontal bar charts within data tables to make them faster and easier to digest
8
Data Visualization: Line Charts for Visualizing Time-Series
Line charts are one of the most common types of chart, and they are especially good at showing how a metric has changed over time. In this lesson, we will explore the key considerations when it comes to developing a line chart.
Topics covered:
When line charts are appropriate (and when they are not)
What a slopegraph is and why it can be effective when there are only two points of time in the series
How to handle line charts when the scale of the different series is drastically different
9
Data Visualization: Sparklines and Small Multiples
While the default approach for data visualization is "a chart," sometimes, using multiple charts together is a more effective way to convey information. That's where sparklines and small multiples come in, which are the topic for this lesson.
Topics covered:
What sparklines are and how and when they are most effective
How small multiples can be used to effectively communicate a metric across multiple dimensions
The limitations of sparklines and small multiples
10
Data Visualization: Text as a visualization
Approach metrics written as text as visualizations in and of themselves.
Topics covered:
How standalone text can be a powerful visualization, and what goes in to ensuring that is the case
Using text as the primary element in a data visualization in concert with a sparkline
Considerations for text in data labels and axis labels
11
Data Visualization: Heatmaps
Heatmaps done well can be an incredibly effective way to represent a single metric across multiple dimensions in a way that enables the audience to quickly see which combinations of dimensions stand out. In this lesson, we will explore when heatmaps are most appropriate and the key considerations that go into designing them.
Topics covered:
For what situations heatmaps are most effective
When to include values within the heatmap cells (and when not to)
Important considerations for selecting the colors/gradients in a heatmap
12
Data Visualization: Scatterplots
Correlation is not causation, but correlation—the positive, negative, or lack of a relationship between two metrics—can be key to making a specific point. In this lesson, we will explore how to use scatterplots to visualize the relationship between a pair of metrics.
Topics covered:
How scatterplots can be used to illustrate the strength (or weakness) of the relationship between two metrics
When and how to call out outliers on a scatterplot
Techniques for dealing with extreme values in a scatterplot
13
Data Visualization: Specialty Charts and Chart Elements
Waterfall charts, boxplots, error bars and more: when adding cognitive load is warranted.
Topics covered:
How non-standard chart types increase the cognitive load for the audience for the data visualization
Why increasing the cognitive load can be okay, as long as it is intentional
Examples of non-standard chart types and when it is worth considering using them
14
Data Visualization: Cautionary Charts and Bad Practices
Why 3D charts, stacked charts, bubble charts, and others are generally ill-advised
Topics covered:
How to assess a visualization to identify where it may be adding unnecessary cognitive load.
How to experiment with alternate visualizations and assess them, too.
15
Data Visualization: Dashboard Considerations
There are two types of dashboards. Data visualization concepts
can be applied differently depending on the type.
Topics covered:
The difference between performance measurement dashboards and analytical interface dashboards.
Key considerations when developing performance measurement dashboards.
16
Data Visualization: Data Visualization Resources
A review of the key themes throughout these lessons, and resources for learning more
Topics covered:
A review of the main concepts and considerations for data visualization.
Suggested resources for learning more.
What we haven't yet covered: data storytelling.
17
Data Storytelling: The Power of Narrative
"Storytelling" is not a buzzword: information presented as narrative is more easily understood and more likely to be retained.
Topics covered:
What data storytelling is, and how "narrative" is at its core.
The increase in engagement, retention, and recall when information is presented with a clear narrative.
The most common narrative arcs and how they can be applied.
18
Data Storytelling: Know Your Audience, Know Your Goal.
Who are you ultimately targeting, how will you reach them, and what do you expect them to do with the information you present?
Topics covered:
Key considerations once you identify your core audience.
The importance of starting with a desired action.
An understanding of the different types of delivery formats and how they influence the construction of a data story.
19
Data Storytelling: Establishing a Narrative (and a Flow)
Discovering the narrative before building out the content saves time and increases the ultimate impact.
Topics covered:
Why the way slide decks typically get produced lead to a meandering and ineffective finished product.
How to develop the narrative for an analytics presentation.
How and why storyboarding is an efficient way to develop a presentation outline.
20
Data Storytelling: McKinsey Titles and Reinforcing Content
The title of the slide is the most dominant position. Use it to maximum effect and then complement it with the content.
Topics covered:
What a McKinsey Title is and why it is more effective than a typical slide title.
Why each slide in a presentation should make only a single point.
How to ensure all of the elements of a slide complement and reinforce each other.
21
Data Storytelling: Data Visualization Tips Apply!
Decluttered slides and brain-friendly data visualizations make for high impact presentations.
Topics covered:
How maximizing the data-pixel ratio can be applied to slides.
How the selective use of color can be used to maximum effect.
The importance of including sufficient context on the slide itself.
22
Data Storytelling: Kill the Bullets and Limit the Text
Bullets are bad, despite their proliferation in presentations. And they are unnecessary.
Topics covered:
Why bullets detract from the effectiveness of slides in a presentation
How to keep text to a minimum, while also selectively using color within text to emphasize key ideas within that text
23
Data Storytelling: Presentations vs. Documents
Live presentations vs. the "leave-behind" version of the presentation vs. presentations never delivered live at all!
Topics covered:
What Slidedocs are (and how they differ from presentations).
How to separate the "leave behind" from the "presented live" deck.
24
Data Storytelling: Compelling Imagery
A picture is worth at least 100 words, if not 1,000. Images are an easy and impactful way to support a data story.
Topics covered:
Why imagery is so effective when it comes to increasing engagement, comprehension, and retention.
Tips for quickly finding appropriate and relevant images.
Techniques for placing images to make them appear seamless and professional.
25
Data Storytelling: Editing and Rehearsal
Thinking about what you will say for each slide is not rehearsal. Rehearsal is rehearsal, and it is a worthwhile investment of time.
Topics covered:
The importance of rehearsing a data story before delivering it.
How rehearsal of a presentation is part of the editing process.
The importance of rehearsing out loud.
26
Data Storytelling: Review and Resources for Learning More
A review of the key themes throughout these lessons, and resources for learning more.
Topics covered:
No data story is perfect. Don't make that the goal.
Every presentation of analysis is an opportunity to learn and improve.
Resources for learning more.
Show off your hard-earned skills and strengthen your profile.
LinkedIn found that people who add credentials to their profile receive 6x more profile views than those who don't.
Add your certificates to your profile, share your accomplishments with the world, and join our alumni network.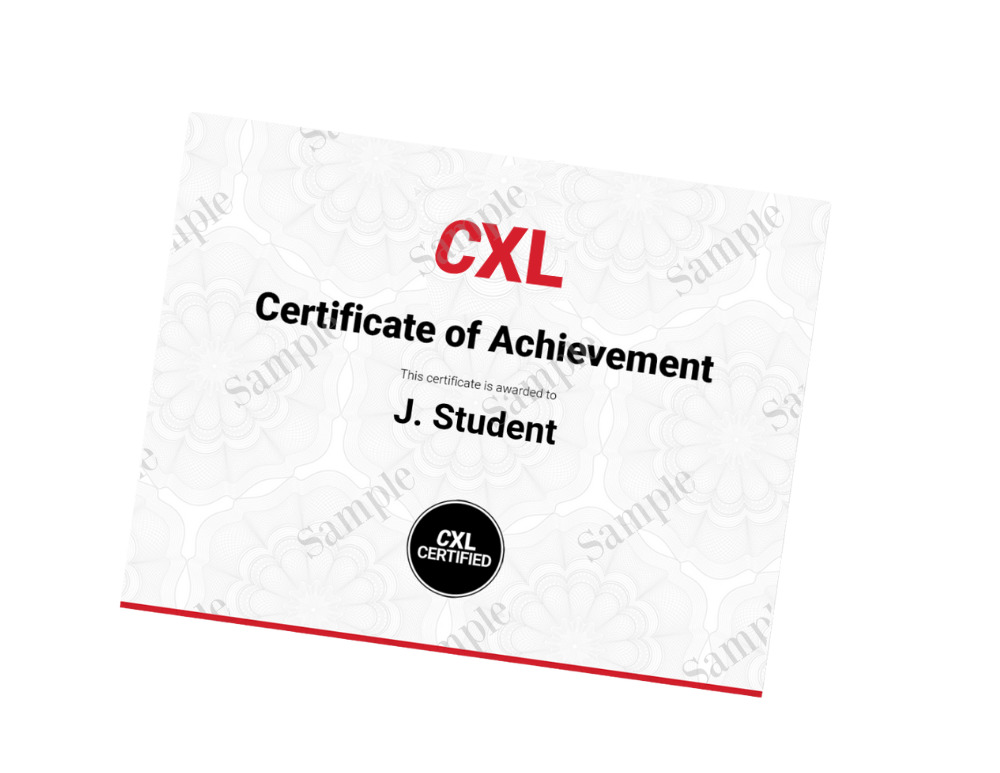 Learn marketing on the job.
Get better results with networking.
Our Marketing playbooks community gives you peer support for every marketing task you face.  90% of marketing tasks are not unique. Someone has already figured it out. Achieve more with less hassle.
Access our library of thousands of marketing playbooks, each showing you how to do a specific marketing task in 10 steps or less, with real-time peer support.
Join our community of marketing experts, ready to support you in getting that promotion or master new strategies, skills, and channels.
Network with some of the world's best marketers and companies and get noticed, hired, or endorsed.
Subscribe to CXL and get access
90+ courses (full list here) on all aspects of data-driven marketing (new courses added every month)
10 minidegrees that give you advanced level skills
Playbook community with 2500+ instructions and peer-support
Got a team, multiple users? Get our Teams All-Access plan instead.
The CXL guarantee
7-day no questions asked money back period
You can immediately apply learnings and improve your results.
Need help convincing your boss?
Click here for a pitch deck, swipe files and tips.
Subscribe to CXL
All plans come with a 7-day trial for $1.
Get access to this and 90+ other training programs.
See plans and pricing
or
Request demo (for teams 5+)