Become great at segmentation and persona research
Learn how to quickly and precisely gather customer and buyer insights that will transform the way you speak to your buyers.
Course length: 1h 56min
Start 7-day trial for $1
Osman Javed
Head of Product Marketing @ Cresta Intelligence
Some of the companies that train their teams at CXL:










After taking this course you'll…
Clearly understand customer segmentation, how to evaluate the five types of segmentation, and effectively determine the right mix of segmentation approaches for your go-to-market strategy.
Learn an easy-to-follow and repeatable 5-step process for building segments that focus and align your business across the customer life-cycle.
Understand buyer personas, their benefits, and how to effectively apply "The 5 Rings of Buying Insights" when researching your buyers and buying committee.
Learn a framework for conducting and processing your persona research to develop effective Buyer Personas.
Apply your segmentation and buyer persona research to develop messaging that resonates with each target market and/or buyer.
This course is essential for you if…
You want to help product marketing earn a seat at the table when it comes to Go-to-Market and Product Strategy.
You want to help your organization cut through the noise and develop differentiated messaging and positioning that resonates with your target audience.
You're looking for a structured and repeatable framework for bringing unique market-tested perspectives to your business.
This course is NOT for you if…
You are not looking to understand the voice of your target buyers. This course outlines methods for gathering first-hand research about your target buyers.
You have already conducted extensive customer and buyer persona research. While the frameworks in this class are helpful to all, they are best understood when put into practice.
You don't believe it is product marketing's responsibility to conduct market and buyer research.
About
Osman Javed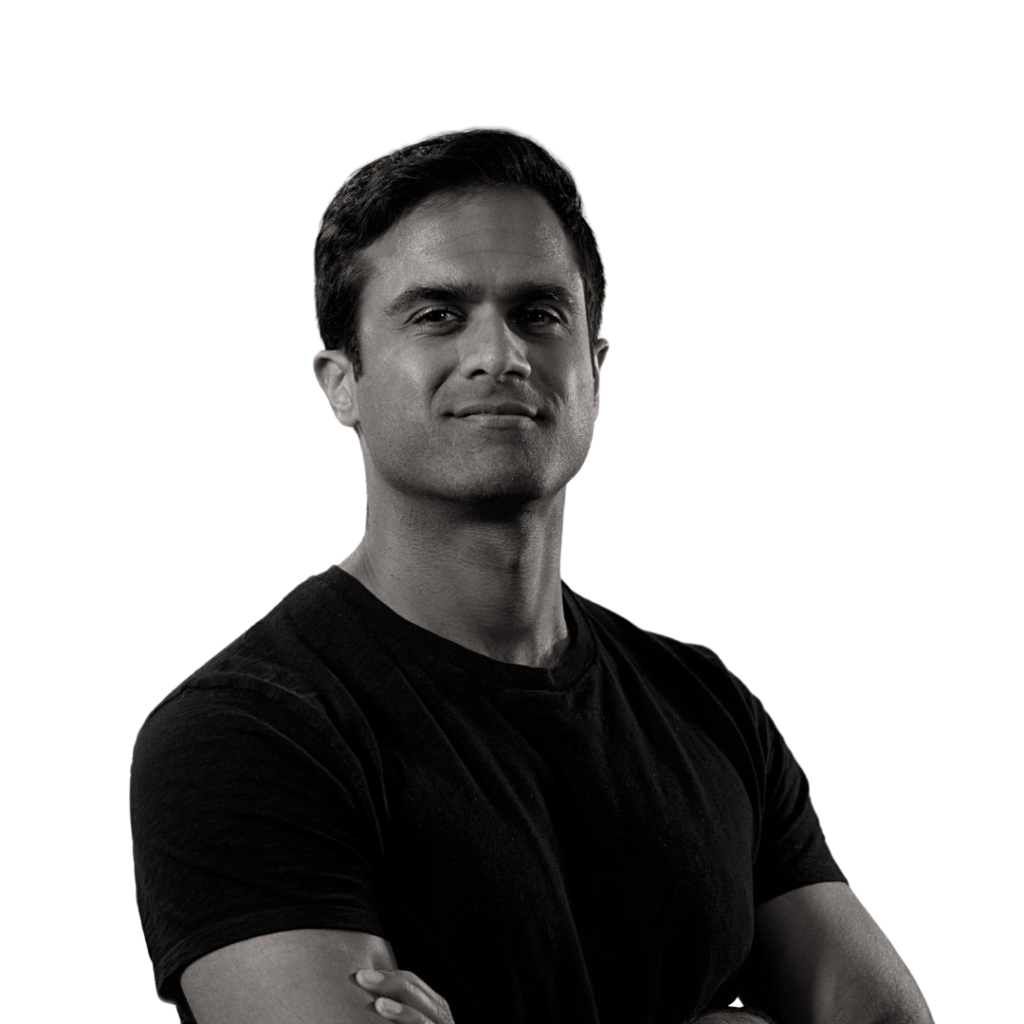 For the past decade, Osman Javed has been building and scaling product marketing strategies for high-growth enterprise startups. Osman started his career in technology consulting, and after a brief stint in product management, found a passion for product marketing and all things go-to-market.
Osman Javed is currently responsible for Product Marketing at Cresta and previously built Product Marketing functions at Tanium and Zuora.
Your course curriculum
Segmentation and persona research
Intro to segmentation and buyer personas and their importance in shaping go-to-market strategies.
Topics covered:
Just why are segments and buyer personas core to good product marketing?
Understand why segments and buyer personas are so important to the go-to-market motion.
Learn why now is the time to invest in segmentation and buyer personas.
This introduction to segmentation defines segmentation, highlights the different types of segmentation strategies, and shares tips and tricks for picking the right segmentation approach.
Topics covered:
Define segmentation
Understand the 5 types of segmentation
Understand how factors like company strategy and maturity impact segmentation decisions.
In this section of the course, we'll take a deeper look at each of the five types of segmentation, looking at their attributes and how to go about collecting the data necessary to conduct your segmentation.
Topics covered:
Develop an in-depth understanding of each of the 5 types of segmentation and look at examples of each.
Learn the common attributes for each type of segmentation and how to go about collecting the data needed to effectively segment your market.
Learn why Firmographic and Technographic segmentation is so popular amongst B2B organizations.
In this lesson, we cover an easy to follow 5-step process for building segments for your business.
Topics covered:
Learn an easy-to-follow 5-step process for building surveys.
How to design and field effective segmentation surveys.
Common mistakes to avoid when conducting segmentation research.
In this lesson, you will learn about buyer personas. What they are, why they're important, and the role they play in your go-to-market strategy.
Topics covered:
Understand buyer personas, the buying committee, and the benefits each serve to your marketing strategy.
Learn the difference between buyer personas and user personas.
Learn how to uncover "The 5 Rings of Buying Insights" and how to use them to drive an efficient and repeatable persona development process.
Learn a framework for researching and building effective buyer persona that actually move the needle for your business.
Topics covered:
Learn how to prepare for a buyer persona project from picking the right people to interview to picking the questions you will ask.
Learn a repeatable 6-step process for conducting buyer persona research. This process will ensure ask questions that uncover meaningful and actionable insights from your buyers.
Review helpful tips & tricks designed to make the buyer persona process as impactful as possible.
Use segments and buyer personas to drive go-to-market strategy. From messaging and positioning, to content creation and sales enablement.
Topics covered:
Learn how to develop differentiated messaging that resonates with your audience's most felt pain-points.
Learn how to develop content strategies that answer questions your buyers are actually asking.
The best PMMs bring new information to the table. Learn how to earn PMM a seat at the table when it comes to Sales Strategy and Product Roadmap.
Show off your hard-earned skills and strengthen your profile.
LinkedIn found that people who add credentials to their profile receive 6x more profile views than those who don't.
Add your certificates to your profile, share your accomplishments with the world, and join our alumni network.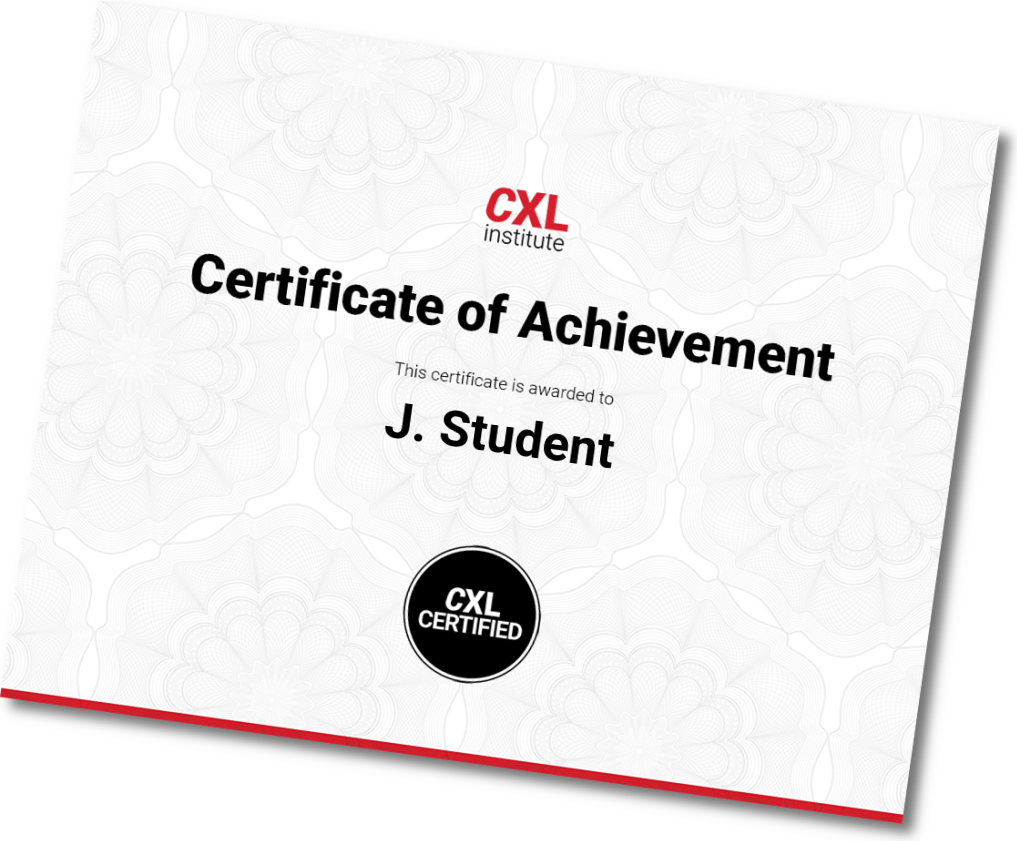 Learn marketing on the job.
Get better results with networking.
Playbook community gives you peer support for every marketing task you face. 90% of marketing tasks are not unique. Someone has already figured it out. Achieve more with less hassle.
Access our library of thousands of marketing playbooks, each showing you how to do a specific marketing task in 10 steps or less, with real-time peer support.
Join our community of marketing experts, ready to support you in getting that promotion or master new strategies, skills, and channels.
Network with some of the world's best marketers and companies and get noticed, hired, or endorsed.
Subscribe to CXL and get access
90+ courses (full list here) on all aspects of data-driven marketing (new courses added every month)
9 minidegrees that give you advanced level skills
Playbook community with 2500+ instructions and peer-support
Got a team, multiple users? Get our Teams All-Access plan instead.
The CXL guarantee
7-day no questions asked money back period
You can immediately apply learnings and improve your results.
Need help convincing your boss?
Click here for a pitch deck, swipe files and tips.
Subscribe to CXL
All plans come with a 7-day trial for $1.
Get access to this and 90+ other training programs.
See plans and pricing
or
Request demo (for teams 5+)
---
This course is available in the following minidegrees: