Introduction to product marketing
Learn the fundamentals of product marketing. Make smarter decisions and deliver results.
Course length: 1h 23min
Start 7-day trial for $1
Justin TopliffSenior Product Marketing Manager @ Highspot
Some of the companies that train their teams at CXL:










Become your company's most valuable asset
Product marketing is a unique and exciting role. Touching almost every business unit across marketing, sales, product and customer success. But navigating these layers of discipline is tough without the right foundational skills and experience.
Whether you're a new or seasoned product marketer, this course gives you the practical knowledge you need to be the best at your job.
Start, scale or optimize product marketing at your company. Lead go-to-market programs with confidence. And build alignment across the business.
Gain the knowledge and tools to stay ahead of change
Product marketing isn't a new function. But it's still one of the most misunderstood. As a product marketer, your focus evolves drastically depending on company size, growth stage, industry and product type. How do you keep up?
This course will give you the clarity you need to tackle your biggest product marketing challenges. Avoid focusing on the wrong goals. And demonstrate clear ROI at any stage of your career.
After taking this course you'll…
Be able to clearly explain what product marketing is, what it isn't, and how it contributes to the overall go-to-market success of every B2B organization.
Develop the right product marketing success metrics and KPIs (hint: these will change over time as your company matures and team grows).
Understand the various functions that product marketing serves, and how, so you can build your voice and value.
Know how to measure product marketing effectiveness and demonstrate value to your boss and stakeholders
This course is essential for you if…
You work in (or want to work in) a B2B organization with a new or existing product marketing function.
You want to level up into a more senior product marketing role or leadership position that requires a global mindset.
You want to save time, money, and frustration by learning from the mistakes of seasoned product marketers instead of making them all yourself.
This course is NOT for you if…
You're in a more traditional marketing function and have no desire to develop skills and expertise outside of your core marketing focus.
You don't work well with others. Product marketers work across disciplines — collaboration and clear communication are a must.
You're uncomfortable with uncertainty and change. Stakeholder management, are table stakes for product marketing.
You're already a product marketing executive who could write the book on product marketing.
Your course curriculum
Introduction to product marketing
1
What is product marketing?
Why product marketing is so misunderstood and the reasons why it looks different from company to company.
Topics covered:
Learn which definition of product marketing is best, and why there are so many
Understand the different places product marketing can reside in an organization, and the pros and cons of each
Understand how product marketing's focus, priorities, and goals change as companies grow
2
Who product marketing serves, and how
How and whom product marketing works with, principles to live by, and why building great relationships is so important
Topics covered:
Learn who product marketing's key internal customers are, and why we partner with them
Get a preview of how product marketing partners with other departments and on which key activities
Understand the principles and tenets that great product marketers embody
3
Goals and responsibilities of product marketing
When you have a hammer in your hand, there's no shortage of nails. Learn which nails really matter so you can focus on the right ones, instead of failing by trying to do everything.
Topics covered:
Learn why product marketing teams exist at companies and the results they're responsible for
Understand why product marketing fails at some companies, so you can avoid it
Learn what good product marketing looks and feels like
4
Key product marketing activities and ownership
With product marketing's breadth and depth across the organization, there's no shortage of things to do and partners to collaborate with. Above all, it's important to have clear delineation of ownership.
Topics covered:
Why delineation of ownership is so important for product marketers
Which key activities product marketing owns that are not up for debate
Areas of collaboration for product marketing and sales, marketing, product, and customer success
5
Product marketing metrics and measurement of success
With collaboration and partnerships extending across the company, what metrics should product marketing be measured on? Which one matters the most, and why?
Topics covered:
Learn the one metric that matters for product marketing, above all others
Understand other metrics that product marketing co-owns with other departments and influences
See what a typical product marketing scorecard looks like
Justin Topliff
Senior Product Marketing Manager @ Highspot
Justin is a product marketer specializing in venture backed expansion- and growth-stage tech companies. He has a decade of experience in product marketing, marketing and operations from a background spanning tech, venture capital and management consulting.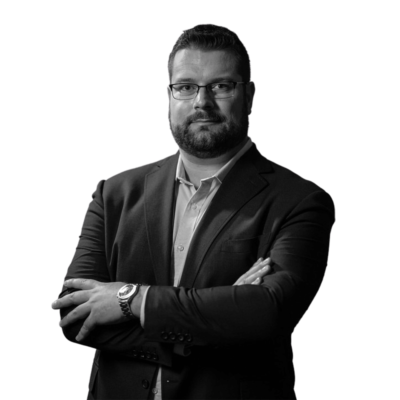 Justin is a product marketer specializing in venture backed expansion- and growth-stage tech companies. He has a decade of experience in product marketing, marketing and operations from a background spanning tech, venture capital and management consulting.
Currently, he leads the market & competitive intelligence function at Highspot, Seattle's newest $2.3B unicorn and the leading sales enablement platform.
Show off your hard-earned skills and strengthen your profile
LinkedIn found that people who add credentials to their profile receive 6x more profile views than those who don't.
Add your certificates to your profile, share your accomplishments with the world, and join our alumni network.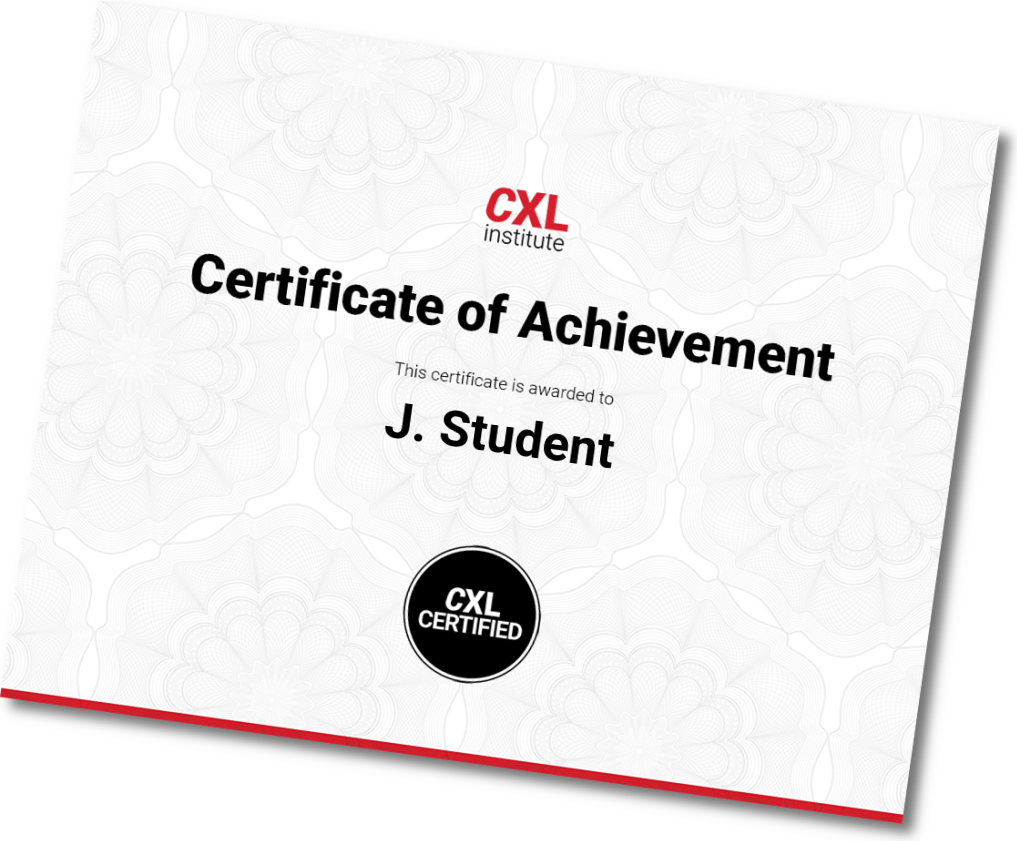 Get this course and 50+ others when you sign up for CXL
This course (and all others – full list here) are included with the CXL subscription.
At CXL, you can take online courses on growth, digital marketing, optimization, analytics, persuasion – all in a single subscription.
World's leading practitioners teaching you their best stuff.
50+ online courses on all things data-driven marketing
New courses added every single month
Subscribe to CXL and get access
90+ courses (full list here) on all aspects of data-driven marketing (new courses added every month)
10 minidegrees that give you advanced level skills
Playbook community with 2500+ instructions and peer-support
Got a team, multiple users? Get our Teams All-Access plan instead.
The CXL guarantee
7-day no questions asked money back period
You can immediately apply learnings and improve your results.
Need help convincing your boss?
Click here for a pitch deck, swipe files and tips.
Subscribe to CXL
All plans come with a 7-day trial for $1.
Get access to this and 90+ other training programs.
See plans and pricing
or
Request demo (for teams 5+)