Become great at Ecommerce Content Marketing
Content marketing, when done correctly, is one of the most economically viable long term channels you can build.
Ecommerce companies tired of burning ad dollars in a race to the bottom with competitors need something else: a moat. A scalable channel that drives both brand and revenue.
Course length: 2h 52min
Start 7-day trial for $1
Alex Birkett
Co-founder @ Omniscient Digital
Some of the companies that train their teams at CXL:










Introduction video (2 minutes)
This course is essential for you if…
Understand the value of content marketing and are willing to invest in the channel, even if you haven't figured out the specifics yet.
You are a marketing leader in your organization looking to build for the long term.
Operate in a highly competitive niche.
After taking this course you will…
Understand your strengths, weaknesses, and trends, and identify the edge on which you can compete in content marketing.
Build a balanced portfolio of buzz-worthy content to drive interest and product-led content to drive revenue and growth.
Plan and build a growth model for your content marketing and SEO program.
Understand the customer journey and the top touch points in the journey that content can help you reach.
Promote and distribute your content in a way to generate leverage and more coverage.
Your course curriculum
Ecommerce Content Marketing
1
The 3 Principles of Effective Content Strategy
In this lesson, we will walk through the primary heuristics and mental models that guide the creation of any strategy.
To win content marketing, you need to have a strategy that produces ROI and suits your particular strengths.
You will learn:
Content marketing has to produce measurable ROI
Content marketing should be a long-term compounding channel
Your approach to content must index on your particular strengths and opportunities
2
Buyer personas and audience development
In this lesson, we will cover audience research and development. It will help you answer the questions, "who is my audience?" and "what does my audience want?"
You will learn:
Buyer personas are often ineffective and a waste of time
Audience research, however, is critical
A buyer persona is a hypothesis and you should build upon it with real data
In this lesson, we will cover popular buyer's journey models to help you structure your content strategy, production, and promotion in a way to meet the reader where they are.
You will learn:
Buyer's journey models are simplified representations of reality, but help you pinpoint the purpose of a piece of content.
Where a reader is in the buyer's journey determines the voice, format, CTA, and promotion of a piece of content.
Avoid thinking that one piece of content can solve all stages and purposes.
This lesson will cover three useful tools for uncovering your strengths and opportunities, which will form the foundation of your ongoing content marketing strategy.
You will learn:
SWOT analysis is a simple tool you can use to identify your unique strengths and weaknesses
A content growth model can help you map out your overall TAM in search and estimate your ROI payback period.
Ahrefs and other SEO tools can identify your relative position in relation to competitors.
5
The Economics of Content Marketing
In this lesson, we will cover how economics is a valuable model for content marketing, both as a mental model and a planning tool. This approach will help you estimate your costs and ROI, and it will also help you determine which type of content you'll need to create to stand out.
You will learn:
Content is not "free traffic." There are always costs, both indirect and direct.
Content marketing is, unfortunately, more expensive when you're earlier stage and in competitive industries.
The goal of a content program is, over the long term, to reduce the cost of content and improve the expected value.
In this lesson, we will cover one of the most useful models in building your actual content marketing roadmap is the "barbell strategy." In this approach, we use a portfolio allocation model to plan out our content and divide it into two clear content types: product-led content and buzzworthy content.
You will learn:
Every piece of content should have a clear purpose, even if it may inadvertently achieve other aims.
Treating content marketing like a balanced portfolio allows you to derive predictable returns as well as get exposure to unexpected benefits like virality and links.
Your particular portfolio distribution can and should change over time and as you grow.
7
Keyword research: content gap analysis
In part 1 of 3 in our keyword research module, we'll do a hands-on workshop walking through the "content gap" method to generating keyword ideas from direct and organic competitors.
You will learn:
Content gaps show you keywords that other websites are ranking for that you are not.
Identifying content gaps allows you to build a big keyword backlog across your entire buyer's journey.
SEO tools like Ahrefs and Semrush make it easy to conduct content gap analysis
8
Keyword research: pain point SEO
In part 2 of 3 of our keyword research section, we cover a fun topic: pain point SEO. In opposition to most keyword research methods, this one starts with customer research and the identifiable pain points your audience expresses.
You will learn:
Customer research is the focal point of all good marketing strategy.
Customer research can also evoke great content ideas, validated through interviews, surveys, and community mining.
Pain Point SEO can uncover underrated or overlooked keyword opportunities, allowing you to beat the competition.
9
Keyword research: head keyword permutations
In the final installation of our keyword research section, we'll cover head keyword permutations. This method helps to uncover all iterations of long-tail keywords in a given topic cluster.
You will learn:
Tools like Answer The Public allow you to uncover hundreds of keyword permutations.
Keywords Everywhere helps you find related keywords to anything you search.
This method will fill your topic backlog with hundreds of potentially overlooked and low competition keywords.
10
Pillar and cluster model: clustering
In this lesson, we'll prune our topic list to keep only relevant ideas on our list. We'll also tag each idea with a categorical variable to begin building topic clusters.
You will learn:
Topic clusters are a popular strategy to develop topical authority in a given field.
They also help you identify internal linking opportunities, which has been shown to increase rankings and reader experience.
Topic clusters aren't a magic solution, but are a great planning and organization tool to help you prioritize keywords in a subject area.
11
Mapping topics to the buyer's journey
In this lesson, we return to our buyer's journey model, and this time, we actually use it to tag our topic list with buyer's journey stages. This will help us plan our content from voice to distribution channel all the way down to the CTA we use on each piece.
You will learn:
Buyer's journeys determine our content prioritization as well as organization.
We can use proxy metrics like CPC as well as our own industry knowledge to identify buyers' journey stages and search intent.
Search intent is Google's assumption as to the expectation of the search results for a given query.
12
Building a content roadmap report
The content marketing roadmap is the centerpiece of our content marketing plan. This is the lesson where we put it all together.
You will learn:
The content roadmap report should be the command center of your content operations.
Content roadmap reports can include various dimensions, some more common than others. If they help you produce content, include them.
The content roadmap report, like any strategy, can be altered and iterated upon. Typically, we create them once per quarter.
13
Writing for SEO: content briefs
In this lesson, we will talk about the centerpiece of content production: the "content brief." In many ways, it is an amped-up version of a content outline, but one complete with all the details that a freelancer, content writer, or yourself need to complete the piece and achieve its aims.
You will learn:
Content briefs are instruction manuals for yourself or your writers.
The content brief is, at heart, a communication tool. Thus, even with a template, you should still tweak it to suit your purposes.
Every piece of content starts with a content brief.
14
Writing for SEO: content optimization tools
In this lesson, we will we'll turn the focus on these same tools to help us write and optimize the piece of content for SEO.
You will learn:
Content optimization tools can help you construct briefs and also optimize the pieces for a given keyword.
Content optimization tools range from free all the way to enterprise.
Content optimization tools typically use machine learning to reverse engineer on-page ranking signals like related keywords, word count, and headings.
Creating content is only half the battle; getting people to read it is just as difficult. One of the best ways to increase the reach of your content is to write the content with promotion in mind - using "hooks" to increase the probability that it will be shared and linked to.
You will learn:
Baking promotion assets into the content itself won't solve all of your distribution problems, but it will make them easier.
Including certain assets in your content, such as original research or images, make it easier for readers to share.
Content distribution is crucial, especially in the earlier stages of your content program.
16
Content promotion tactics
This lesson will be a short walkthrough on effective content promotion strategy. We'll focus on short-term channels like social and communities and long-term channels like search and email.
You will learn:
Manual content promotion is often required to get results from content marketing, especially when you're early stage and without a big audience.
Both short term tactics to generate quick traffic spikes and long term methods like SEO should be taken into account.
There's no single content promotion tactic or channel that works for every company.
17
Google Analytics Goals
This lesson will cover the basic essentials of setting up and tracking goals in Google Analytics so you can measure the ROI of your content marketing.
You will learn:
Google Analytics is a free and easy to use tool to track traffic, events, and goals.
If you're using Google Analytics and haven't set up goals, you're using it wrong.
You should set up goals for all meaningful conversion events related to your business, including purchases but also email signups.
18
Setting up a dashboard
In this lesson, we'll set up a Data Studio dashboard to track conversions generated from your content marketing.
You will learn:
Dashboards help centralize key performance indicators and charts so stakeholders can quickly see performance.
Data Studio is a free tool by Google that integrates with many analytics and marketing tools so you can visualize your data.
Setting up charts to track blog traffic and conversions is easy and effective.
Alex Birkett
Co-founder @ Omniscient Digital
Alex Birkett is the co-founder at Omniscient Digital, a premium content agency.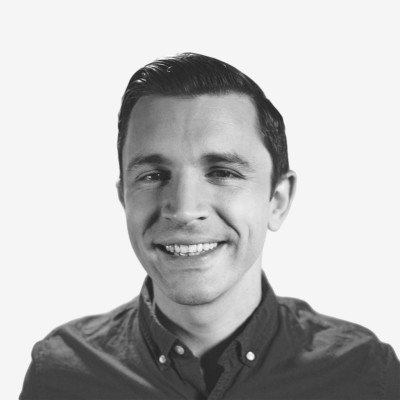 Alex Birkett is the co-founder at Omniscient Digital, a premium content agency. Back in the day, he worked on the CXL blog. Later, he worked on freemium acquisition growth at HubSpot and ran the experimentation team at Workato.
Show off your hard-earned skills and strengthen your profile.
LinkedIn found that people who add credentials to their profile receive 6x more profile views than those who don't.
Add your certificates to your profile, share your accomplishments with the world, and join our alumni network.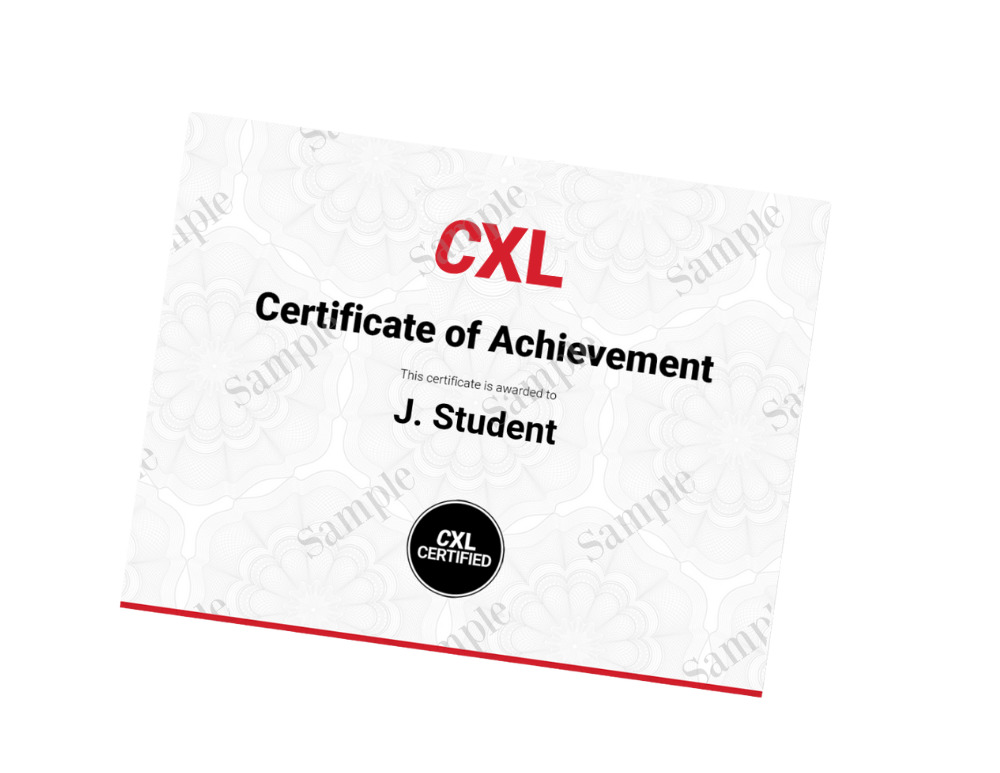 Learn marketing on the job.
Get better results with networking.
Our Marketing playbooks community gives you peer support for every marketing task you face.  90% of marketing tasks are not unique. Someone has already figured it out. Achieve more with less hassle.
Access our library of thousands of marketing playbooks, each showing you how to do a specific marketing task in 10 steps or less, with real-time peer support.
Join our community of marketing experts, ready to support you in getting that promotion or master new strategies, skills, and channels.
Network with some of the world's best marketers and companies and get noticed, hired, or endorsed.
Subscribe to CXL and get access
90+ courses (full list here) on all aspects of data-driven marketing (new courses added every month)
10 minidegrees that give you advanced level skills
Playbook community with 2500+ instructions and peer-support
Got a team, multiple users? Get our Teams All-Access plan instead.
The CXL guarantee
7-day no questions asked money back period
You can immediately apply learnings and improve your results.
Need help convincing your boss?
Click here for a pitch deck, swipe files and tips.
Subscribe to CXL
All plans come with a 7-day trial for $1.
Get access to this and 90+ other training programs.
See plans and pricing
or
Request demo (for teams 5+)