Become great at managing a remote marketing team
Empower your remote team with effective strategies
Online course
By Kevan Lee,
Head of Marketing @ Oyster
Course length: 2h 59min
Start 7-day trial for $1
Some of the companies that train their teams at CXL:










How do you get the best when you're not with your people?
Managing a remote marketing team can be the most impactful lever you can pull … if you know how to pull it correctly. Remote management is possible and it can help your team thrive. With the right tools, playbooks, useful templates and strategies you can build a high-performing remote team.
After taking this course you'll…
Consistently achieve your team's goals together
Report high team satisfaction and team morale scores
Keep your best employees for the long-term
Attract top talent that wants to work for you
In just 14 sessions, you'll be able to…
Deliver your best-ever results as a team
Develop your people using goal-setting frameworks, 1:1 templates, career plans, and project workflows that are fine-tuned for remote management
Build the ideal remote team ops foundation: world-class tools for working together plus efficient systems for projects, data, reporting, and visibility
Run smooth meetings that people actually enjoy, and keep your team working in sync no matter how hairy the project
Understand the human psychology behind what makes your teammates tick and how to support teammates best when everyone is remote
Become an amazing people manager and achieve goals month after month
With this course, you will gain the skills and confidence to become an amazing people manager. You will be able to communicate effectively, organize efficiently, and build a thriving team. You will create an environment for your team to feel empowered, fulfilled, and excited about their work.
By doing this, you will achieve your team's goals, month after month, year after year. You will open doors for your own career to thrive — more influence, more responsibility, and greater scope.

Alex B.
CXL has helped me tremendously in my journey to become the best digital marketer I can be.
It has opened my eyes to the capabilities of tools like GTM and Google Sheets. You guys have humbled me by teaching me that there's so much more to learn!

Ap S.
CXL is just the best place to grow for a marketer. I learned more in a few months via CXL than what I learned in 8, 9 months on my own.
This course is essential for you if …
You want to not just survive but thrive with managing a remote team of marketers, whether spread out across the globe or country.
You're a VP, Director, or Manager looking for ways to better organize, communicate, and empower your team so that it consistently reaches its goals.
You want to increase your influence and responsibility within your company by showing that you can build a high-performing team and deliver results.
This course is NOT for you if…
You are brand new to people management. This course expects a certain level of management know-how to begin with.
You prefer a very hands-on approach to management. Remote management does not allow for micro-management.
You are curious about the benefits of remote work and wondering if it's right for your team. This course won't cover the pros and cons of remote working, only how to do remote management well.
Skills you should have before taking this course
The lessons and content in this course are for those that already have baseline management information and skills. This course will build upon a foundational skill set with more advanced topics for those that are currently in management positions.
Kevan Lee
Head of Marketing @ Oyster
Kevan leads the marketing team at Oyster, creating a more equal world by making it possible for companies everywhere to hire people anywhere. Buffer has  7+ million people users of the  product, and the brand reaches millions each month through content …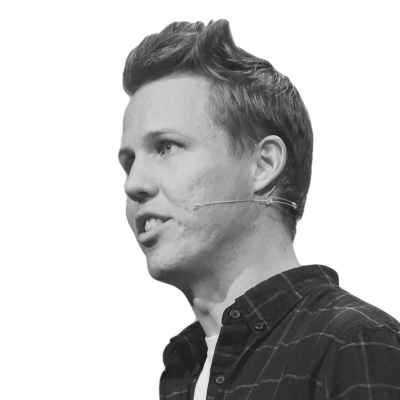 Kevan leads the marketing team at Oyster, creating a more equal world by making it possible for companies everywhere to hire people anywhere. Buffer has  7+ million people users of the  product, and the brand reaches millions each month through content marketing and word-of-mouth. Kevan helped scale  Buffer from $5 million in annual revenue to $20 million all with a happy, high-performing, fully remote team.
Become great at managing a remote marketing team
Principles for remote leaders
Gain a people-leader foundation in remote management, human psychology, and proven best practices. Learn how to apply your new philosophy remotely.
Lessons:
Management theory
Traits of successful remote teams
Creating your remote team system
Learn the best ways to drive asynchronous communication and collaboration, while staying efficient with a remote tool stack.
Lessons:
Asynchronous at the core
The art of collaboration
The remote tech stack
How to conduct a remote team meeting
How to conduct a remote 1:1
Remote team templates and exercises
How to set and achieve goals remotely
Get all the latest goal- setting frameworks that work best for remote teams. Learn how to set goals and iterate quickly.
Lessons:
The keys to remote goal setting
Achieving goals as a team
Managing projects remotely
A crash course in successful project management. See the roles you need to ensure an efficient project that always hits its deadline.
Lessons:
Project management overview
Project management tips and tricks
The secrets to staying connected
Activities, surveys, and exercises for building team morale and encouraging feedback.
Lessons:
Staying connected while working remotely
Embracing feedback
Show off your hard-earned skills and strengthen your profile.
LinkedIn found that people who add credentials to their profile receive 6x more profile views than those who don't.
Add your certificates to your profile, share your accomplishments with the world, and join our alumni network.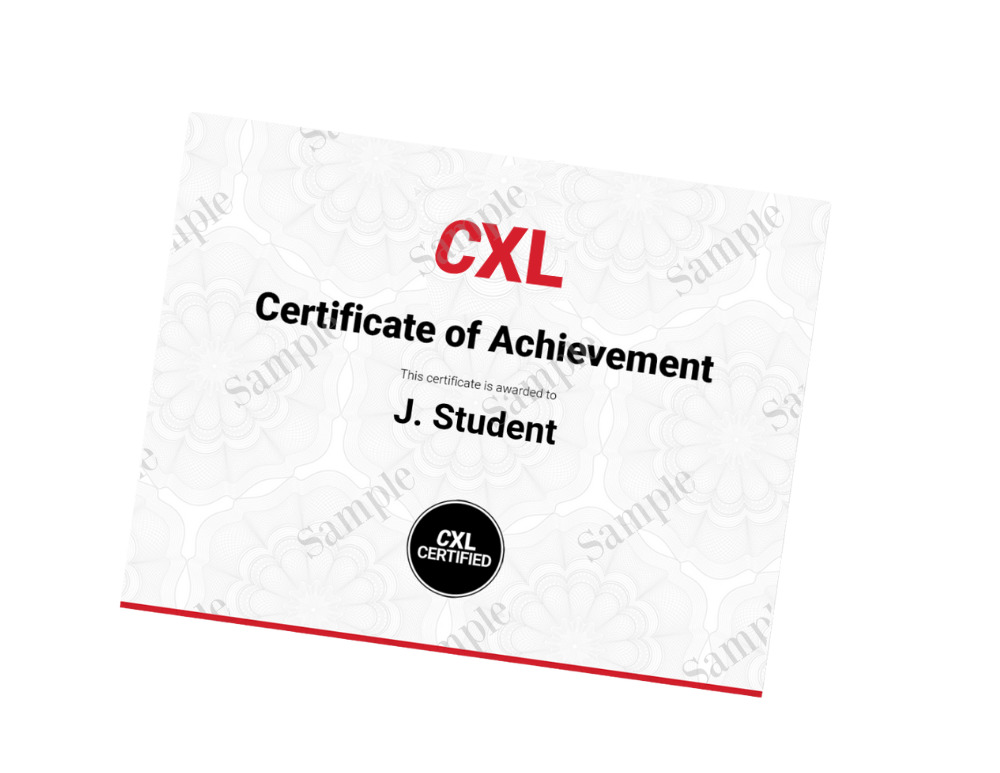 Learn marketing on the job.
Get better results with networking.
Our Marketing playbooks community gives you peer support for every marketing task you face.  90% of marketing tasks are not unique. Someone has already figured it out. Achieve more with less hassle.
Access our library of thousands of marketing playbooks, each showing you how to do a specific marketing task in 10 steps or less, with real-time peer support.
Join our community of marketing experts, ready to support you in getting that promotion or master new strategies, skills, and channels.
Network with some of the world's best marketers and companies and get noticed, hired, or endorsed.
Subscribe to CXL and get access
90+ courses (full list here) on all aspects of data-driven marketing (new courses added every month)
10 minidegrees that give you advanced level skills
Playbook community with 2500+ instructions and peer-support
Got a team, multiple users? Get our Teams All-Access plan instead.
The CXL guarantee
7-day no questions asked money back period
You can immediately apply learnings and improve your results.
Need help convincing your boss?
Click here for a pitch deck, swipe files and tips.
Subscribe to CXL
All plans come with a 7-day trial for $1.
Get access to this and 90+ other training programs.
See plans and pricing
or
Request demo (for teams 5+)