Become great at Positioning
It's easy to dominate your market when you're the only one in it. Discover the framework to become a Market of One.
Online course
By Brendan Dell,
Founder @ The Daily Creative
Course length: 1h 17min
Start 7-day trial for $1
Some of the companies that train their teams at CXL:










Your positioning will determine if you sink or swim
In a crowded market, only companies that get their positioning right will remain afloat.
Without excellent positioning, you face…
competitors who force your prices down,
being perceived as a commodity, a me-too or also-ran,
long sales cycles and price-resistant customers who struggle to grasp your full value,
the risk of becoming irrelevant as the market leader pushes you out of the arena.
Once you master your positioning, you can carve out your own unique space in the sea of sameness.
This course brings you the framework to become a Market of One: A company that customers seek and choose for what makes it unique.
When you're a Market of One — when you stand out in the sea of sameness — sales and marketing get a whole lot easier.
After taking this course, you'll…
Have a complete Market of One messaging framework for your company.
Know how to make any product stand out.
Understand what positioning is and how to use it in the modern marketing landscape.
Transform your positioning strategy into marketing strategy with a tactical plan that you can execute.
Avoid commoditization and "me too" marketing with a unique message that gets noticed and drives business.
Avoid other common pitfalls by clarifying your value (rather than confusing your market).

Aura Geffen
I enjoyed all of it, and Brendan is great, full of insightful advice.

Jim Martin
Brendan explains positioning in a way I haven't seen before: I already applied his technique with several clients, and I can tell it works! It's a short but powerful course. Highly recommend if you've been looking on how to action positioning but struggle to find a down-to-earth approach.

Jack Blanchard
The instructor explained everything very clearly.
Learn effective positioning in the modern landscape
In this course, you'll learn how top marketers at companies like Drift, Salesforce and Zuora rely on a positioning story to separate their companies from the rest. (No outdated examples from the '70s or '80s).
You get practice advice that makes it clear what you should do next. These course is packed with frameworks and actionable steps that will put you on the path to becoming a Market of One.
Become great at positioning in 8 sessions:
Learn to differentiate your company in a sea of sameness. Avoid commoditization, price erosion, and the trap of "me too" messaging.
Discover how to translate your positioning into clear, compelling messaging that makes you the obvious choice for your ideal customer.
Understand how positioning has changed, so you can succeed in the splintered modern media landscape.
Get inspired with eye-opening case studies and examples from top brands.
Create your own positioning strategy. Get a proven template to guide positioning conversations and architect your unique strategy.
Positioning can make the difference between wild success and total failure
Uber and Lyft are both ride-sharing apps, functionally nearly identical. So why do customers choose one over the other? Why have all other ride sharing apps faded into oblivion?
Positioning has a lot to do with it.
These two companies have carved out a unique position in their customers' minds. You too can carve out a unique position in your customers' minds.
This course will put you on the fast-track to becoming a positioning expert who can…
create powerful differentiation to make sales and marketing easier and more effective,
lead a unified and memorable go-to-market strategy,
take a company from market irrelevance to a Market of One.
Never again will customers confuse you for "another one of those." Instead, you'll be the only one like you.
And you'll do it all with a powerful positioning framework that gets your ideal customers to tune in, lean in and choose you.
This course is essential for you if …
Work in software or technology and want to know how leaders differentiate products in the modern world.
Want to develop a more cohesive team culture that rallies around a mission and story.
Want to differentiate a product in a red ocean, driving bigger deals, less price resistance, more inbound leads, and higher conversion rates on every promotion you launch.
This course is NOT for you if…
Aren't willing to take a position in your market and lead.
Favor the perfect answer versus testing, experimenting, and learning to find the position that will move your market.
Believe in product-led positioning and aren't willing to test new approaches to go-to-market strategy.
Skills you should have before taking this course
This course is ideal for those who have a baseline understanding of their market dynamics.
Brendan Dell
Founder @ The Daily Creative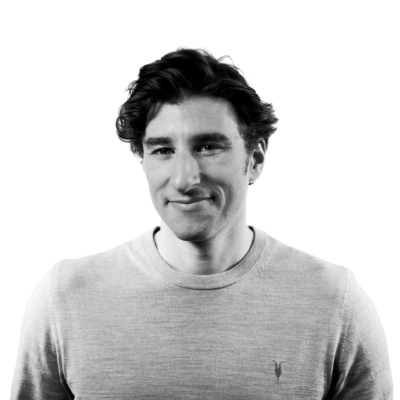 Brendan is an author and award-winning messaging expert and the founder of The Daily Creative.
He is the creator of a simple, story-driven communications framework that allows organizations to clearly differentiate themselves in the marketplace, transforming them into a Market of One—an organization that is sought after for what makes it unique.
Your full course curriculum
Positioning
David Cancel, the CEO of one of the fastest-growing start-ups in the world, is famous for saying, "Product-based differentiation is going away. Act accordingly."
So what is effective today?
Story-driven positioning.
A differentiation strategy that relies on changing the conversation, rather than comparisons — and will help you stand out and thrive. No matter the category in which you compete.
Discover the 8 elements of a modern positioning story and get introduced to a framework you can use to carve out your company as a Market of One.
Topics Covered:
Why the traditional positioning statement is no longer effective and how Silicon Valley leaders & top Fortune 500 companies position products today
The 8 elements of a modern positioning story
5 questions to determine if you have a positioning problem
Great positioning is effective not because you are great, but because you promise transformation for someone else.
To make a strong promise, you must have a specific target in mind.
In this lesson, we'll learn three techniques to identify your best customers: those who buy quickly and often, spend the most, and have the most to gain and lose.
Topics Covered:
How to mine your sales team to discover your best customers
A data-driven approach to identifying your best customer
What to document in order to develop irresistible customer-led positioning
The most effective companies don't position products in a vacuum. They rely on the voice of their customer to frame the language they use.
In this lesson, you'll learn a 12-question framework to mine your customers for insights, so you can create an irresistible strategy.
Topics Covered:
How to mine your best customers and let them craft your positioning for you
Effective versus ineffective surveys
How to identify themes that translate into elements of your positioning story
Great positioning is about creating change — making it imperative that your best customers do something now.
But you can't create change without understanding your customer's status quo and frame of reference.
How you position that change depends on your demand type.
Topics Covered:
The 3 demand types
9 questions to determine yours
How your demand type affects your positioning story and strategy
In the modern world, it's not your competitors who pose the biggest threat to your business. It's the status quo.
Yet top companies like Drift, Salesforce, Zuora, Nike and others have learned a framework that allows them to position effectively in an ever-more crowded market.
This relies on creating change.
In this lesson we'll learn three of the key elements required to create change. And how to put them to work in your positioning story.
Topics Covered:
The 3 essential elements of compelling change and stakes
How to identify a compelling change and stakes to get your customers to act now
How to create a compelling villain to rally customers against
"People like us do things like this." Seth Godin explains that this is the essence of great marketing.
Your best customers will act when they believe that your product will help them become a better version of themselves.
When they believe that people like them solve their problems the way you solve them.
In this lesson we'll learn how to craft an irresistible promised land, show your key features as superpowers to help reach the promised land, and how to harvest compelling proof that leaves your prospects thinking, "people like us do things like this."
Topics Covered:
The 5 elements of an effective promised land
How to choose which features to highlight & harvest compelling proof
Examples from Zuora, Salesforce, RadarFirst, Drift and Alo
If you ask your team or your market about what your company does, what will they say?
If they can't tell you in a sentence the change you're creating, you have a positioning problem.
In this lesson, you'll learn how to craft a memorable simple promise.
One that is known by your market. Embraced by your team.
One that differentiates you in our noisy, crowded world.
Topics Covered:
The 12 laws of high-impact messaging
How to craft a simple promise that makes you "the only one like you" instead of "another one of those"
Teardowns of effective and ineffective messaging
Will the story resonate?
And if so, what is the most effective way to bring your story to the market?
This is what we'll explore in this lesson.
Topics Covered:
How to craft a memorable roll-out strategy that breaks through the noise
How to build effective tests to vet positioning
How the individual elements of your positioning story create a unified go-to-market strategy
Show off your hard-earned skills and strengthen your profile.
LinkedIn found that people who add credentials to their profile receive 6x more profile views than those who don't.
Add your certificates to your profile, share your accomplishments with the world, and join our alumni network.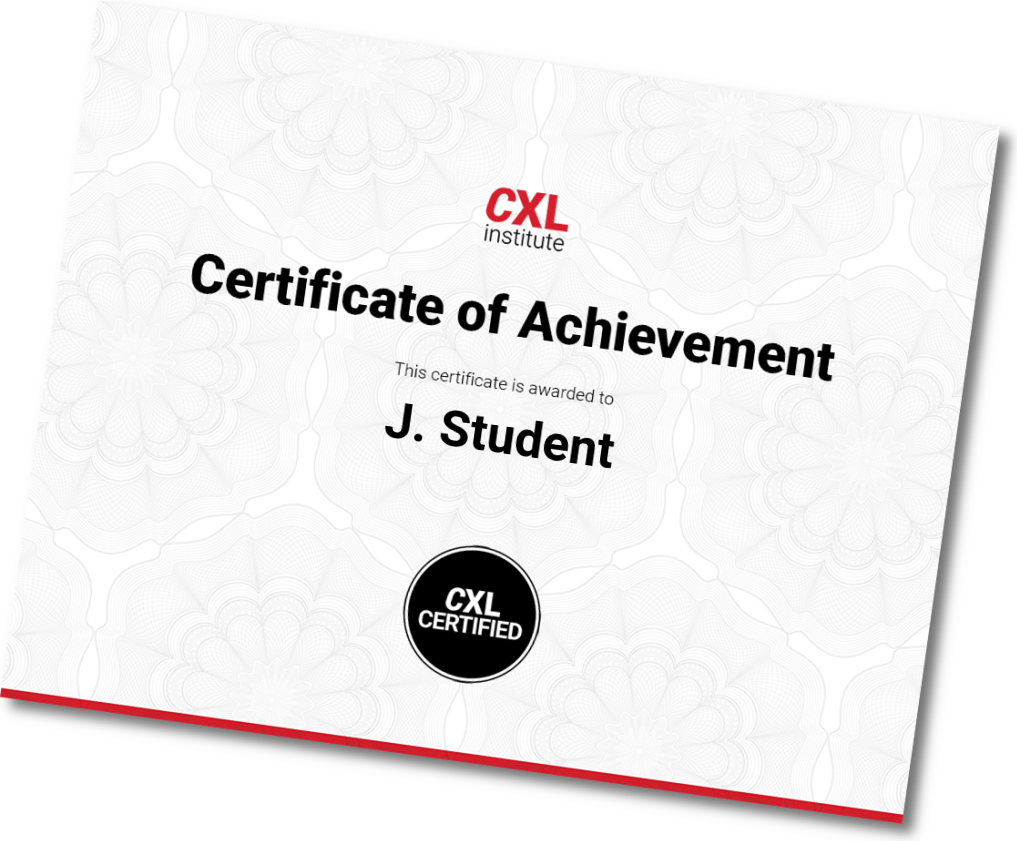 Learn marketing on the job.
Get better results with networking.
Playbook community gives you peer support for every marketing task you face. 90% of marketing tasks are not unique. Someone has already figured it out. Achieve more with less hassle.
Access our library of thousands of marketing playbooks, each showing you how to do a specific marketing task in 10 steps or less, with real-time peer support.
Join our community of marketing experts, ready to support you in getting that promotion or master new strategies, skills, and channels.
Network with some of the world's best marketers and companies and get noticed, hired, or endorsed.
Subscribe to CXL and get access
90+ courses (full list here) on all aspects of data-driven marketing (new courses added every month)
11 minidegrees that give you advanced level skills
Playbook community with 2500+ instructions and peer-support
Got a team, multiple users? Get our Teams All-Access plan instead.
The CXL guarantee
7-day no questions asked money back period
You can immediately apply learnings and improve your results.
Need help convincing your boss?
Click here for a pitch deck, swipe files and tips.
Subscribe to CXL
All plans come with a 7-day trial for $1.
Get access to this and 90+ other training programs.
See plans and pricing
or
Request demo (for teams 5+)
---
This course is available in the following minidegrees: