Become great at Google Tag Manager
Master fundamentals of Google Tag Manager
Online course:
GTM for beginners
By ,
Course length: 7h 00min
Start 7-day trial for $1
This training will give you
A knowledge of how to use Google Tag Manager to deploy third-party tracking scripts.
The power to set up tracking without having to rely on a developer.
A system you can immediately use to make sure all of your tags (HotJar, Optimizely, Mixpanel, etc.) stay organized.
Introduction video
Google Tag Manager is an essential skill of any technical digital marketer or analyst
Google Tag Manager probably isn't something that keeps you up at night, wondering where you're falling short skillwise. But if you're in digital marketing, maybe it should be.

Google Tag Manager is a control center for your online data
What is a tag manager, anyway?
It's like a control center for your data. If you're operating without a control center, you're not getting all the value out of your data measurement and analysis.
Maybe you've even installed Google Tag Manager and started to play around with it, but you realized it wasn't as intuitive as you first thought. This is common. Thing is, while some of the basics are easy to get down (setting up tags, for instance), the power of Google Tag Manager goes far beyond these things. But even with some preliminary skills, you can do some awesome things with GTM.

Kyneret Azizo
Mercer is wonderful. His teaching style is simply unparalleled. To my knowledge, no one teaches analytics as well as him. He has a way of simplifying the most complex details so they are fully digestible.
Allison Sturtevant
Deep learning in a reasonable amount of time.

Carlos Alberto Reyes Ramos
Due to this course, I was hired in my first project as an optimizer where I used every concept learned. Also, Chris Mercer was an amazing instructor. He was able to make Google Tag Manager very digestible and simple to understand. The course was full of insight, practical from day one.
Google Tag Manager opens up new worlds for you with analytics and optimization
Wouldn't it be nice to simplify cross-domain tracking so your data is actually useful? To set up custom events and variables to track on page activity with greater granularity? To allow your marketing team to deploy tags without calling over a developer to help out?
Google Tag Manager solves so many of the most common problem marketers have with analytics.
Playing around by yourself can be valuable, but it's so much more efficient to watch over an expert's shoulder as they show you the ins and outs, the most important and powerful use cases, of Google Tag Manager.
"I'd go so far as to say that a [Tag Management System] is practically a prerequisite to managing analytics efficiently, and ultimately to deriving serious value from analytics at all."


Nick Iyengar in MarTechToday, 2016
Tag management is relatively new in the grand scheme of the digital marketing world. It's only going to become more and more important to know and master in the years to come, especially if you're in digital marketing.
Take the time and invest in yourself; your future in marketing may depend on it.
This course is right for you if…
You're a digital marketer who wants to increase the value you provide to the company (and get paid more).
You're an analyst who wants to derive more value from their data and open up your analytics insights to your organization, even those without technical skills.
You want to accomplish things like cross-domain tracking, custom tracking, enhanced ecommerce tracking, and tag deployment – with ease.
You're tired of having to rely on developers to set up tracking for you.
You want to supercharge the analytics skills you already have, and get more out of the data you're currently working with.
This course is probably not for you if…
You consider yourself an advanced Google Tag Manager user.
You're bored by this analytics and "tracking" stuff, and just want to be creative
Josh Howard
Founder & CEO @ Single Use Ain't Sexy
Josh Howard is the Founder & CEO of viral sustainable hand soap brand Single Use Ain't Sexy.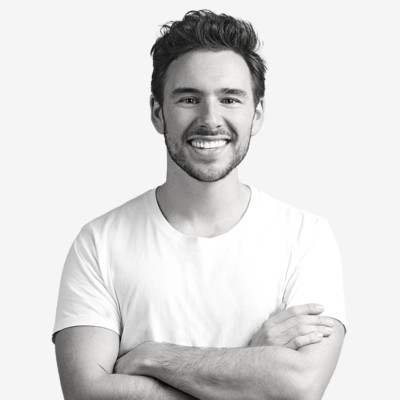 His business has saved tens of thousands of single-use plastic bottles from landfill by replacing them with dissolvable hand soap tablets and reusable glass soap bottles.
Coined as "the brand turbo-charging Australia's sustainability movement," Single Use Ain't Sexy has won 2 Good Design Awards, a Pause Fest Award & been featured by NBC Universal, E-News, The Guardian, and Time Out.
Josh is also a keynote speaker and worked as a New York-based advertising executive & lawyer in a previous life.
8-class intensive
training course on Google Tag Manager
CXL Institute brings you an in-depth online training course led by analytics and tag management expert, Chris Mercer, of Seriously Simple Marketing.
This course will make you effective at using Google Tag Manager to increase your analytics powers at your company.
If you're on a small team, you'll be a hero. If you're a marketer or an analyst at a larger organization, the value you bring to your role will drastically increase.
Be competent in one of the most useful tools out there for a digital marketer.
Confidently know that your tracking isn't broken
Use Google Tag Manager to deploy third party tracking scripts
Set up tracking without having to rely on a developer
Get more insights from your data with advanced tracking.
Build a system you can use immediately to make sure your tags stay organized
When you complete this course, you'll be able to
GTM expert Chris Mercer will pull back the curtain and let you watch over his shoulder as he shows you:
How to use tags, triggers, and variables to customize your tracking and get more value from your data
How to do simple cross-domain tracking
How to use GTM to send multiple sources of data to Google Analytics
How to create automatic tracking events
How to set up retargeting and tracking pixels for customer acquisition campaigns
How to use the GTM "dataLayer" feature
How to add users and manage workflow, turning your company into a culture that values and uses data to make better decisions
All in all, this course is going to make you a lot of money.
Your full course curriculum
Google Tag Manager
1
Your Introduction to Google Tag Manager Basics
What is a tag manager and how does it differ from Google Analytics?
2
Getting to Know GTM: Tags
3
Getting to Know GTM: Triggers
4
Getting to Know GTM: Variables
5
Getting to Know GTM: Data Layer
An introduction to the data layer.
6
Getting to Know GTM: Organization
Folders, user management basics, and naming conventions.
7
Getting to Know GTM: Preview Mode
8
Getting to Know GTM: Workflow
Using Workspaces from plan, to build, to preview, to publish and review
9
Getting Started: Creating Your First Tag
Shows how to setup a GA Pageview tag
10
Getting Started: Scripts & Pixels
Introduces basic pixels (hotjar, paypal, facebook)
11
Tracking Engagement: Clicks & Time
12
Tracking Engagement: Scroll
13
Tracking Engagement: YouTube Videos
14
Data Layer 101: Storing Details
15
Data Layer 101: Reading Details
Use DVL's to get information from the Data Layer
16
Tracking Ecommerce: The Basics
17
Deep Dive: Cross-Domain Tracking
18
Deep Dive: Tag Sequencing
19
Deep Dive: Formatting Variables
How to control variable results
Show off your hard-earned skills and strengthen your profile.
LinkedIn found that people who add credentials to their profile receive 6x more profile views than those who don't.
Add your certificates to your profile, share your accomplishments with the world, and join our alumni network.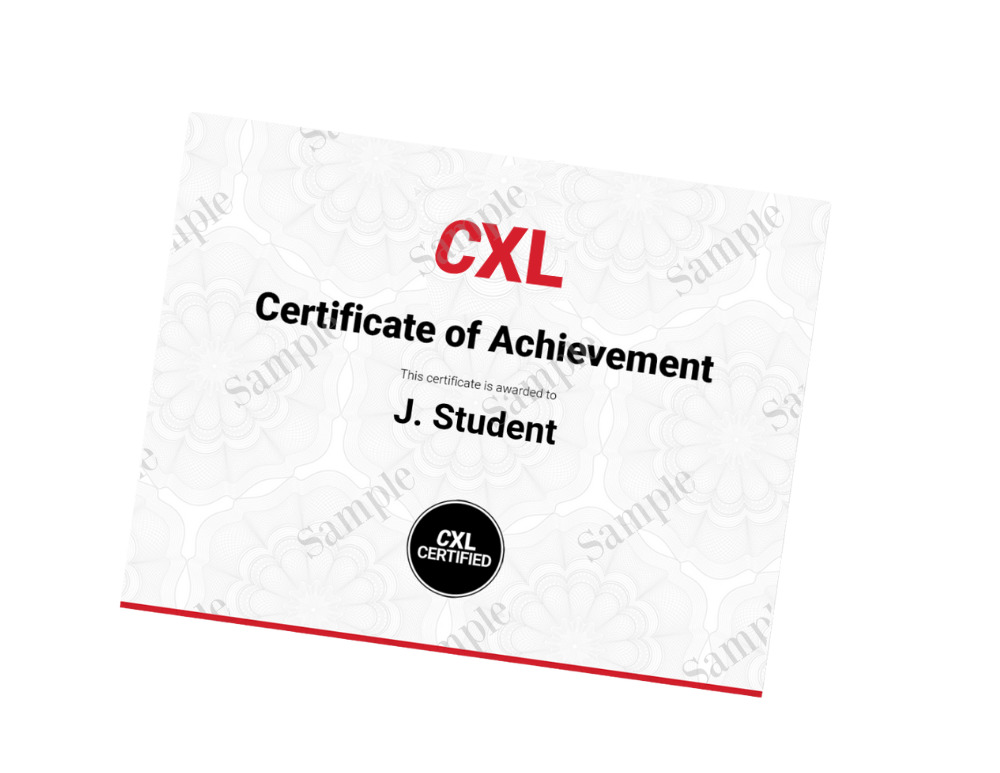 Learn marketing on the job.
Get better results with networking.
Our Marketing playbooks community gives you peer support for every marketing task you face.  90% of marketing tasks are not unique. Someone has already figured it out. Achieve more with less hassle.
Access our library of thousands of marketing playbooks, each showing you how to do a specific marketing task in 10 steps or less, with real-time peer support.
Join our community of marketing experts, ready to support you in getting that promotion or master new strategies, skills, and channels.
Network with some of the world's best marketers and companies and get noticed, hired, or endorsed.
Subscribe to CXL and get access
90+ courses (full list here) on all aspects of data-driven marketing (new courses added every month)
10 minidegrees that give you advanced level skills
Playbook community with 2500+ instructions and peer-support
Got a team, multiple users? Get our Teams All-Access plan instead.
The CXL guarantee
7-day no questions asked money back period
You can immediately apply learnings and improve your results.
Need help convincing your boss?
Click here for a pitch deck, swipe files and tips.
Subscribe to CXL
All plans come with a 7-day trial for $1.
Get access to this and 90+ other training programs.
See plans and pricing
or
Request demo (for teams 5+)
Some of the companies that train their teams at CXL: