There are three ways to grow sales, online or offline. Only three. However, most companies focus on just one—acquiring customers. By ignoring the other two, they're missing out on revenue opportunities.
So what are the three ways to increase sales?
Increase the number of customers.
Increase the average order size.
Increase the number of repeat purchases.
1. Increase the number of customers
This is what most businesses do and try to get better at.
You do this by solving a real problem, being remarkable, driving relevant traffic (free and paid), boosting conversions, using referral programs, and so on. It's the most expensive part of increasing sales.
Since this is what I mostly write about on this blog, I'll move on to the next two ways to increase sales.
2. Increase the average order size
They say that the most profitable question of all time belongs to McDonald's: "Would you like fries with that?" That question captures the essence of this point.
When you get people to the stage that they're ready to buy from you, you can ask them to buy more things. There's much less friction. The reason is that getting customers to the buying point is the hardest part of the sales process.
They need to trust you and believe in the value they're getting. They need to convince themselves that they need or want it. And they need to believe that it's the right thing to buy at this moment.
Once they've made a conscious decision to give you money, they've simultaneously decided to give you their trust. So, in that moment, you're able to sell them more. Here's how to do it.
Upsell a product that cost about 60% less
Question: When somebody buys a shirt, should you upsell them a tie, or the whole suit?
The right answer is a "tie." It's (usually) cheaper and hence seems like a small thing to add. If you try to upsell something more expensive, you'd counter the same friction as you did with the initial product. (That doesn't mean it can't work, just that it's harder).
The time-tested 60×60 rule says that your customers will buy an upsell 60% percent of the time for up to 60% of the original purchase price. Any upsell you offer must be congruent with the original purchase. When they buy shoes, you offer shoe-care products, not a keychain.
Ever registered a domain name through GoDaddy? Let's see how many things they'll try to upsell you on: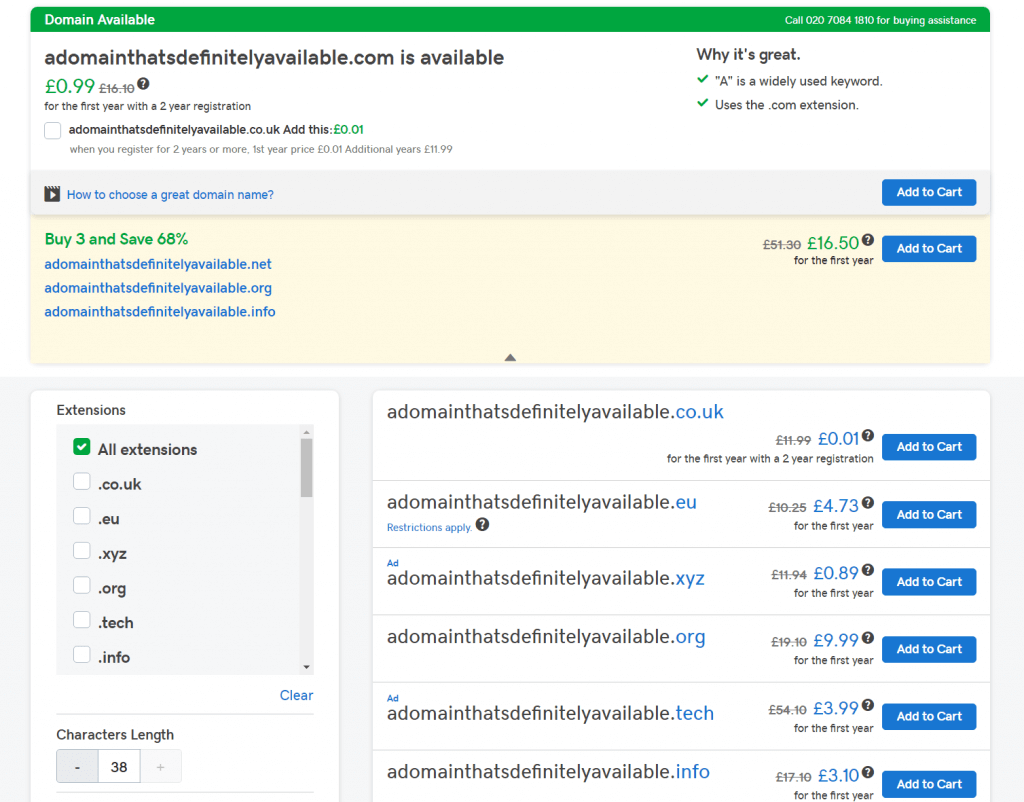 Here's the list:
Different extensions (.net, .info, etc.);
Domains you searched previously;
"Variations you might consider";
Premium domains;
Country- and region-specific domains;
"Add 5 more domains and get bulk pricing";
Pop-up banner with "Get 3" or "Get 5" additional extensions for a deal;
Email plan.
Yes, that's eight attempts to upsell you! GoDaddy is excessive, but it's been working for them. You should at least try to upsell one thing.
Quantity discount
Buy more, save more! Vistaprint does this: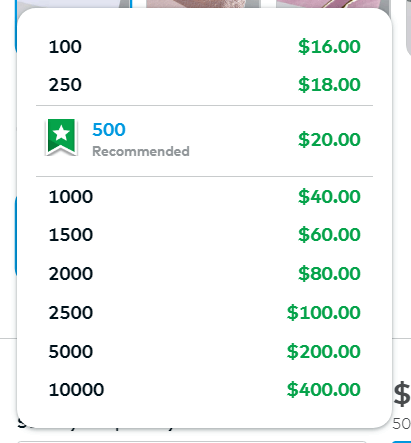 Offer an upgrade
Remind people that for just a little more money, they can get a fancier product. Most people won't need more than 64 GB of storage for their iPad, but thoughts like "just in case" and "it's only $150 more" make Apple more money.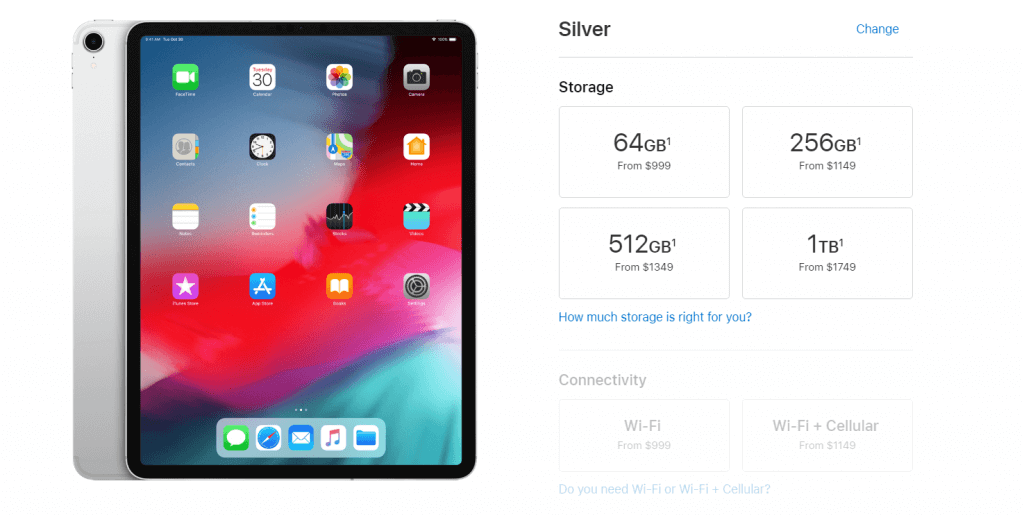 Product bundling
Product bundling—offering something to go with the initial product for a special price—is a great way to increase the average order size. Amazon frequently recommends you get a bundle:

(Incidentally, they also upsell every buyer with the offer of an Amazon credit card.)
I throw marketing seminars each time I go to Europe, and whenever I offer an online marketing course to go with the seminar fee (for some extra money, but a very good deal), around half the people take the offer. Bundling FTW!
Complementary products
"Do you need batteries?" Sometimes you can get the extra sale by reminding customers of a new need that they'll have because of buying the initial product. This can be an easy sale because it's rational. It makes sense.
If you buy an LED flashlight on Best Buy, you're immediately offered batteries to go with it: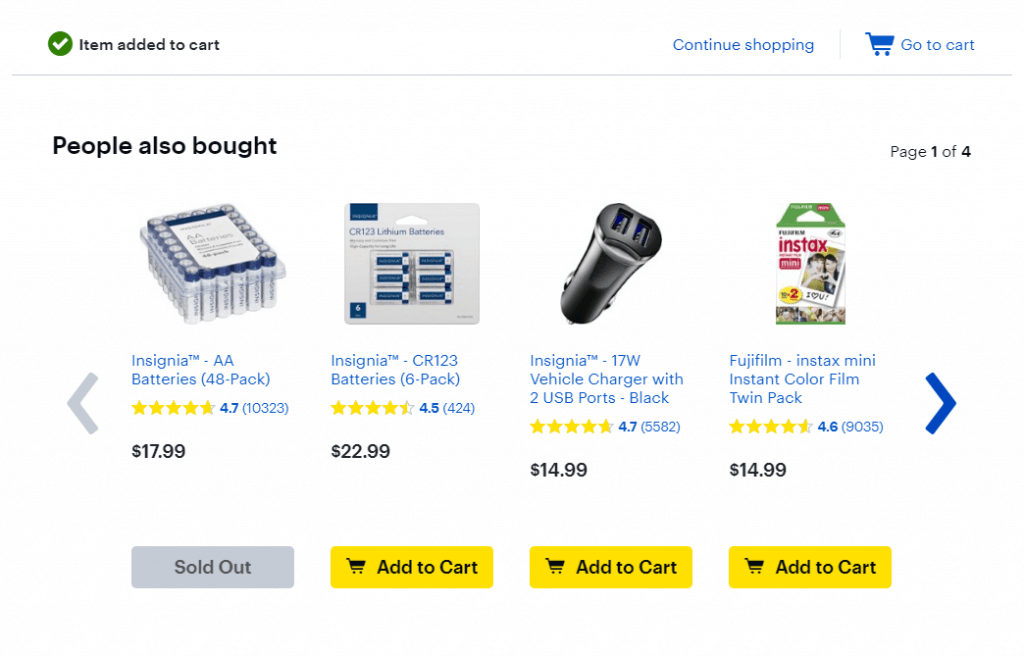 One interesting thing you can do is to tell someone not to buy the complementary product if they don't need it. This can reduce friction.
If a customer expects to go straight to the checkout but then gets smacked with an upsell, it's nice to word it in a way that reduces the pressure and lets them feel in control.
Longer commitment
Charge monthly? Get them to sign up for a longer time period. GetResponse lures with a 18% annual discount: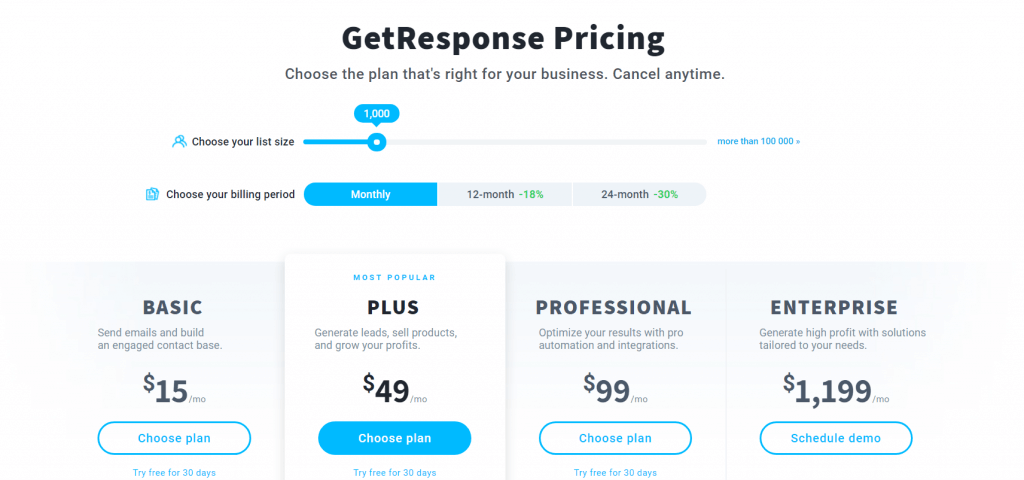 Extended warranty
If you've ever bought a gadget, you've probably been offered an extended warranty—for a price.
Even though, statistically speaking, extended warranties are almost always a bad deal for the buyer, it provides peace of mind. Amazon immediately offers a "Protection Plan" if you add a TV to your cart: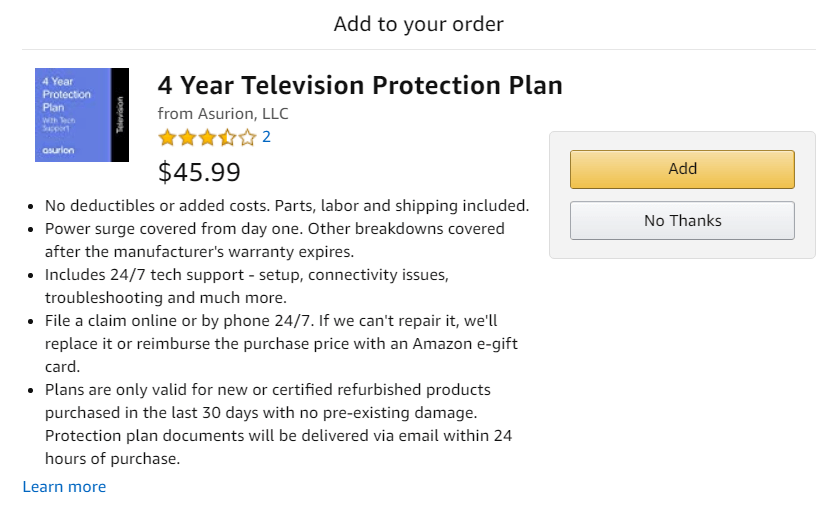 Add-on services
Ever go to Chipotle? You can get a good burrito for a decent price, but they offer to add tasty guacamole (right in front of your eyes) for $1.80 more.
Get customers to add small things to their order for a small fee. They might just add up, if you know what I mean.
Here's how PSD2HTML does it: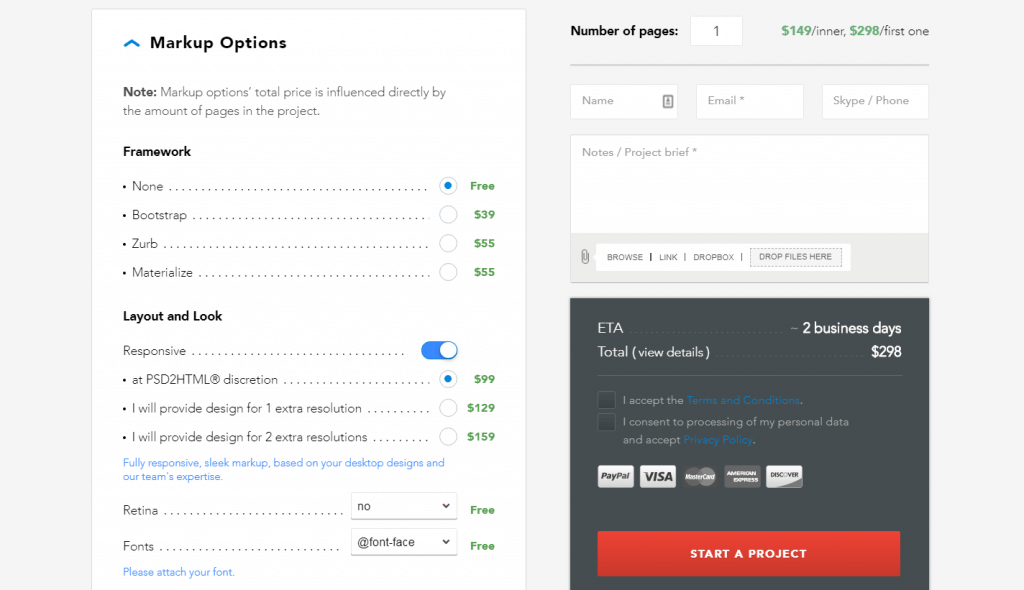 Expedited delivery
If you sell physical products or do custom work (be it software development or engraving jewelry), you can get people to pay more for faster service.
HP ships your purchases faster if you pony up additional $8.30: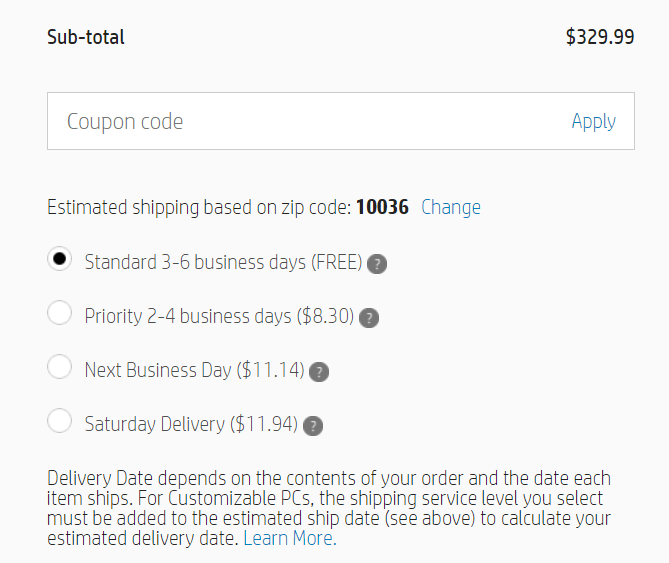 Once you've maxed out your options to increase the average order value, it's time to move on to your third method of increasing sales—getting those same customers to come back again (and again).
3. Increase the number of repeat purchases
You spend a ton to acquire new customers—it's much cheaper to keep them than to go off finding new ones all the time.
You don't want to keep all of them—just the profitable ones. First, you'll have to which ones are costing you, and which ones bring home the bacon. (You may also want to offload some due to the emotional costs of servicing them).
Here are some ways to keep the existing customer buying.
Offer promotions and remind customers what you offer
Send targeted follow-up emails to customers offering a related product or service. (You can do this automatically with a good email autoresponder and shopping cart.) Notifying them of deals is also great.
Wine Library is constantly sending me wine offers over email (because I've bought before). Every now and then, I'll take it: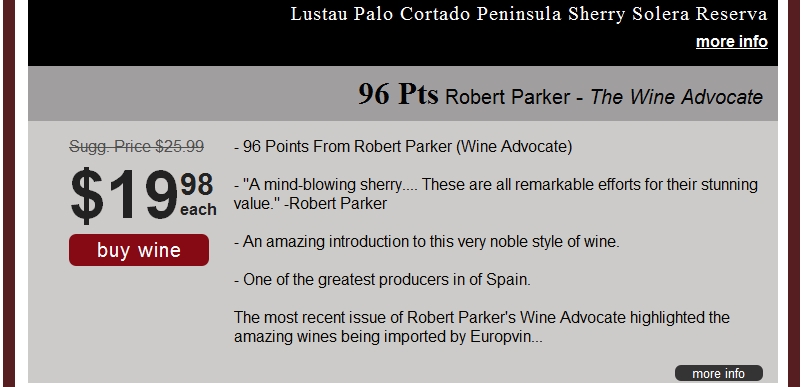 Companies do this with email marketing but also on social media. Get customers to follow you on one of these and offer special deals just for followers.
Here's an example from Modcloth Facebook page: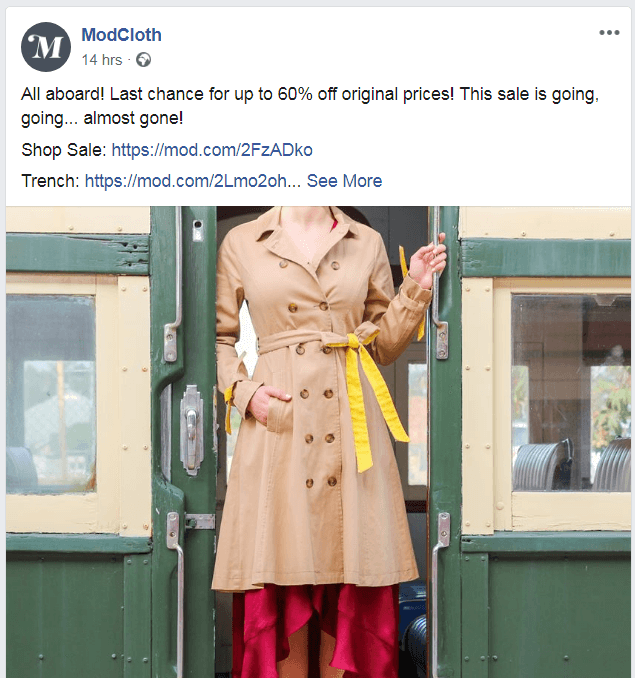 Free shipping for a year (locking customers in)
Do you use Amazon Prime? Free two-day delivery is nice, and so are free streaming movies. However, by giving you this deal, Amazon's essentially locking you in. Why buy from anyone else if Amazon ships it for free (in just two days)?
Wine.com does the same thing: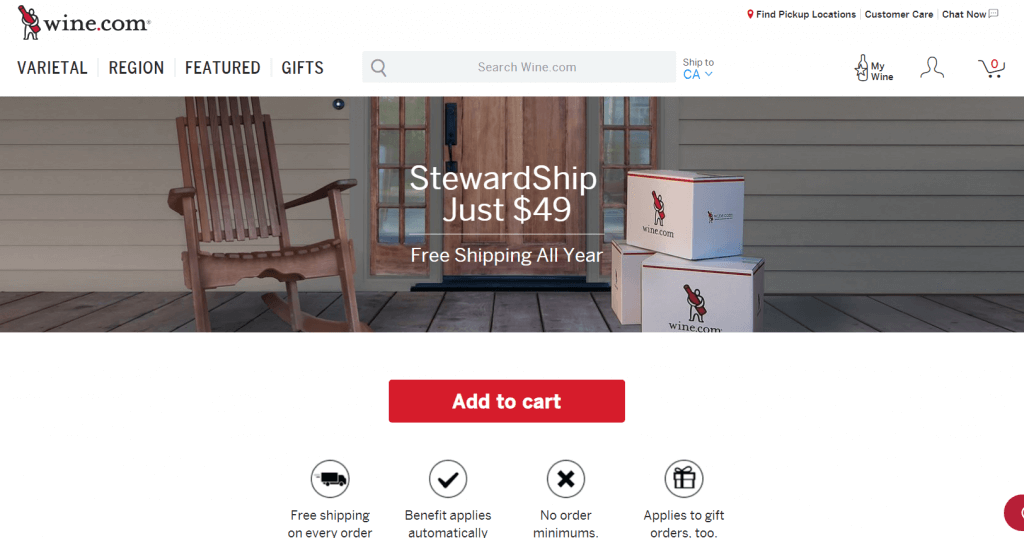 If your customers buy the kind of products you sell frequently, come up with an incentive to keep buying from you—and only you.
Offer coupons with the order
Do you know the open rate of transactional emails? Three times higher than commercial emails.
So when customers place an order with you and receive the "Thank you for your purchase" email, make sure you include some marketing in that email, like a coupon code.
They just completed an order, so they probably won't buy immediately. coupon code with an expiry date is a better idea than offering an additional product. (You should have offered that immediate buy opportunity as an upsell during the checkout.)
I bought a gift for a friend, and the confirmation email had a coupon in it: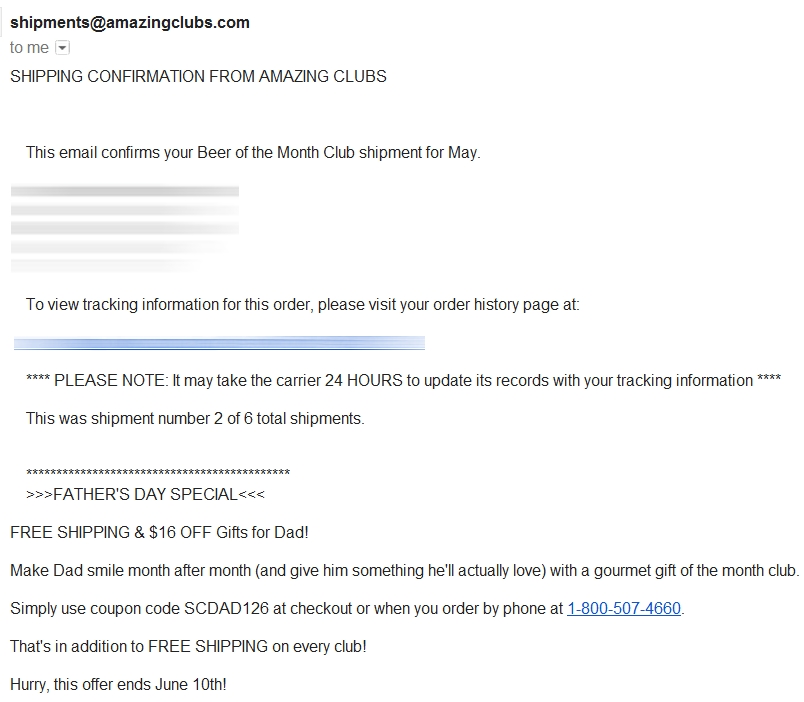 Save credit card details
I shop on Amazon all the time. The few times when I don't buy something from Amazon are when I'm after something that Amazon doesn't have.
Of all the reasons I prefer Amazon, the biggest one for me is that my credit card details are already stored there. If I go buy from an online store I've never visited, I have to enter all the payment and shipping details. Annoying.
In recent years, they've made it even easier by removing the need for a checkout page altogether: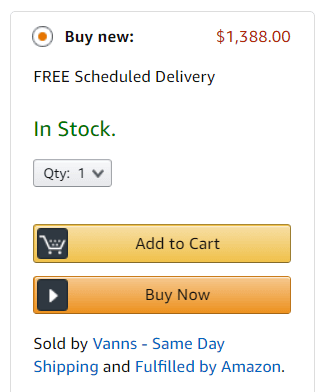 People are inherently lazy. Your job is to make buying from you as easy and convenient as possible.
Customer experience
People remember experiences. If the experience your website provided sucked, they won't come back. Investment in user experience pays off.
Somebody on Quora suggests that Play.com (now part of Rakuten) provides a great experience. I did a search on Twitter, and it could be true:
Service is the new selling
This is directly related to the last point. Once you get the customers in, provide a superior support and service experience. You can always impress people with excellent service since the average quality of service is very low.
If you provide excellent service, people not only recruit new customers for you, but they'll be sure to repeat their experience.
Release a new, better model every year
iPhone, anyone?
Conclusion
When trying to increase your sales, don't forget the other two ways in addition to getting new customers. Optimize for all three ways and enjoy growth thanks to previously untapped opportunities.