Most people won't buy anything on the first visit, so you need to capture emails. And then what? In this article we're going to dive deep into a discussion about creating content for your autoresponder campaign.
We've talked about re-optimizing your autoresponders and creating effective drip campaigns before. This article is about how to not sound like a robot and keep that personal vibe even when your content is on auto-pilot. We'll also look at how frequently you should be sending and length of your campaign to maximize it's effectiveness.
By the time you're done with this article, I guarantee you'll be thinking more strategically about Autoresponders, and ready to create content that'll help you automate trust building exercises, shares, and sales.
A Quick Note About What's To Follow
Through my research, I've found that the popular use of autoresponders is to create a series of quick, short, automated blasts of slick pitch messages to ship products or services as quickly as possible.
That's not what this article is about.
Everything I've found indicates that these heavy pitch oriented autoresponders lead to higher spam complaints, unsubscribes, and negative brand mentions through social media.
However, research supports that people read most or half of their emails, respond to passion, hate being pitched, HATE irrelevance, and won't mind frequent emails as long as that email is relevant, interesting, and specific to their needs.
Dan Zarrella of Hubspot has conducted some very interesting research using the Hubspot and MailChimp Databases, which talks about opens, click throughs, and a number other factors. If you're interested you should watch the full webinar here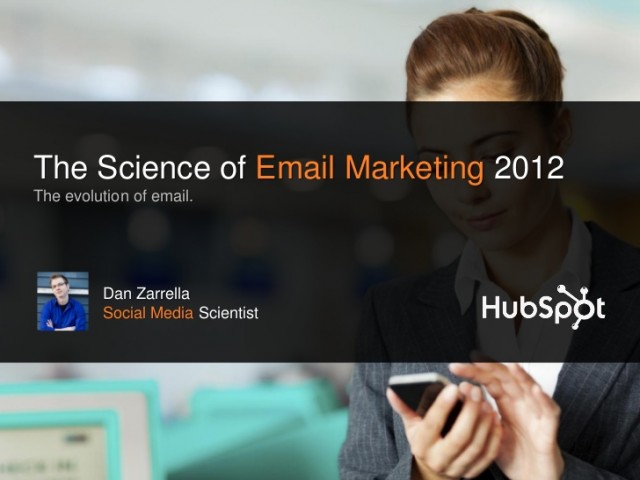 Perhaps the most fascinating thing about Dan's research combined with the other research I've found is that even though open & click through rates drop off over a subscriber's life time, the value of long term subscribers tends to be higher.
This combined with other research and sentiment found throughout this article, leads me to believe that autoresponder campaigns should be a long, continual process, designed to consistently provide value, regardless to where your prospect is in their lifecycle.
Identifying The Starting Point of Your Auto-Responder Campaigns.
Knowing where to start your autoresponder is difficult.
How are you able to tell where you should start your sequence, how frequently you should send, or even what to send?
Truth is, without looking at the data, you can't.
BUT, if you go to your analytics right now and identify the pages with the highest bounce rates, and how people are coming to them, you'll find ripe starting points for your autoresponders.
The search queries and links visitors click to get to these pages give you very valuable insight as to your visitors state of being. In a face to face networking situation, this would be how you enter the conversation.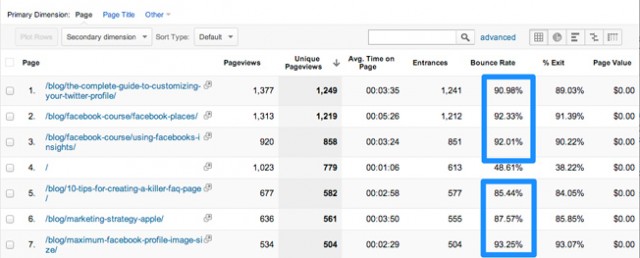 From here, determine a lead magnet that would best match the intent of the page. Then consider what the logical progression of the conversation would be after the offer's been made.
In this case study on Kissmetrics, Garret Moon, founder of Todaymade.com talks about how they targeted their 85% (or higher) bounce pages as a place to offer relevant lead magnets, which lead to doubling their optin rates within 7 days.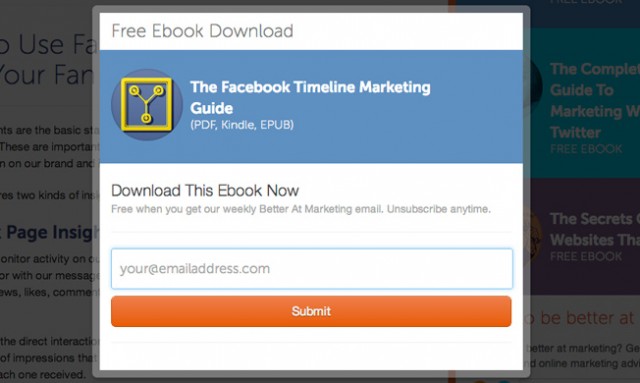 Please realize though, your lead magnet doesn't have to be an ebook. It could be videos, a free trial, discounts…whatever will be the most relevant to your visitor & your overall offering.
It's also important to realize that just because a great lead magnet might increase your overall lead intake, doesn't mean it'll be lucritive to continually beat your subscriber over the head with sales messages shortly after they subscribe.
Though it seems counter-intuitive to not go right for the sale, according to Sirius Decisions, 80% of "bad leads" that sales teams disqualify due to lack of budget or timing do go on to buy within 24 months. Gleanster Research also reports that 50% of leads are qualified but not yet ready to buy.
In other words, most people are just figuring out they even have a problem and aren't ready to pull the trigger right away.
If you're respectful of that, the longer you keep in contact with them and provide value, research shows "Companies that automate lead management see a 10% or greater increase in revenue in 6-9 months."
Ads authority Perry Marshell's "Autoresponder guy", John Fanchersays:
"The method we teach is 80% content / 20% pitch. Rather than pitching in every message, we recommend making deposits first…for 3 or 4 messages of pure, helpful content. Zero pitch."
What's the "Content Story" for your Autoresponder?
Create story arcs that happen over the next few weeks, months, or even the next year when thinking about your sequence. Think about the obstacles your subscriber has overcome to get to you, and where they could go with with a little help.
In a revealing case study, Perry Marshell shows that by using this method within the first 8 days of his sequence, the "value per visitor" increases dramatically compared to traffic being sent to a page that simply asks for the sale.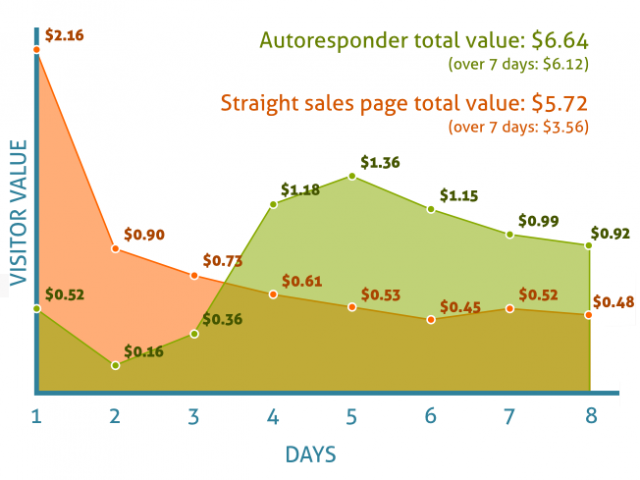 Knowing they "make deposits" for the first 3-4 messages, it's interesting to watch the value per visitor increase on the fourth message – likely when they make the first offer for the paid solution.
But here's where data gets facinating. When you compare the value per customer with Dan Zarrella's aggregate Click Through Data, you see a very revealing story.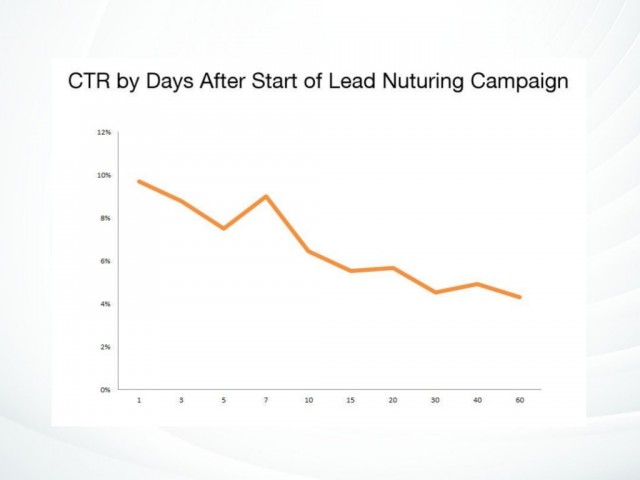 As click through rates decrease, the value per visitor increases.
Why is that?
Opening/clicking/buying subscribers realized problem was bigger than they thought and admit they need to fix it (so they buy now).
Opening/clicking/Non-buying subscribers decide the problem isn't worth fixing right now, but are interested in keeping tabs on a solution.
Non-Opening/non-clicking subscribers filter themselves out, leaving room for more valuable subscribers.
In other words, if the first 3-4 messages are designed to help the right people, the heros, your active subscribers, will make decisions that lead them to the next steps of your journey together.
When SeoMoz wanted to increase the amount of free subscribers to fully paying members, they made their "hero's" decision to embark on the journey simple – They offered unlimited access to the full range of Pro Tools for $1 for the first month. To help them get the most of their $1 trial (and upgrade to full subscription) they created a 30 day "Quick Start" guide which gave them 10 emails of very actionable advice and let the hero generate "quick wins."
The result?
In the span of four months, SeoMoz increased conversions by 170% and generated over $1 Million in additional revenue. Full case study here.
All because they took the time to understood where their free subscribers were, and helped them make the most out of their premium trial.
Disclaimer: This is provided you're making sales. If your click through rates are low, and you're not making sales, there are a number of things you could fix.
The 4 Stages of Relationships
In the last article about ReOptimizing your AutoResponder, I quoted a case study by Mauro D'Andrea about how he improved his email clickthrough rates.
In this case study he talks about how he based his content framework off of Professor Mark L. Knapp's "Four Stages of Relationship Development" model and creates his campaign to reflect each stage.
Stage 1: Value Addiction
Email every 2 days.
Build a story about being an awesome source of content.
Phase lasts for roughly 4 or 5 emails
Light offer on last email of the phase (noticing a pattern yet?)
Stage 2: Sticking
Slow down frequency to 3-5 days. Keep providing great content.
Encourage deepening relationship by encouraging subscribers to reply to emails, take surveys, or comment.
Ok to sell (small, but firm offer).
Phase lasts for roughly 4 emails
More obvious offer on last email
Stage 3: Rapport
Slow down frequency to every 4-5 days.
Sales email after 4-5 emails.
Number of Emails 4
Next step email at end of sequence.
This stage starts about 20 days out or more. At this point, the people who are still opening your emails and clicking your links are indicating they want to deepen the connection with you. The goal at this stage is to provide value in a way that will:
Help people who are really sticking to the DIY route but also
Reinforce the idea that a paid solution will be the easier way to fix the problem.
With SaaS businesses using the free trial, Phase 3 emails are those found near the end of the trial period. These emails could include things like checklists, recaps, & bonus content that addresses feedback you've received from Stage 2.
Stage 4: Loyalty
Email every 5-6 days.
Paid offer every 4-5 emails. (Cross sales, partner offers, conferences)
Though it may be easy to dismiss these people on your autoresponder – who have not yet purchased, but continue to open and click your links – these may be among your most valuable subscribers.
Think about it, after this long, they continue to interact with the content you're putting out. Either A.) They're not ready to buy, or B.) Your offer hasn't quite matched up with their immediate needs.
If their needs haven't been met yet, dig into the gap between their interest in your free stuff and determine why they haven't bought yet.
This information could help you find relevant partners (if you're an affiliate or in software), products to add to inventory (if you're in e-commerce) or to add features, or at least learn to communicate the benefits of your features better.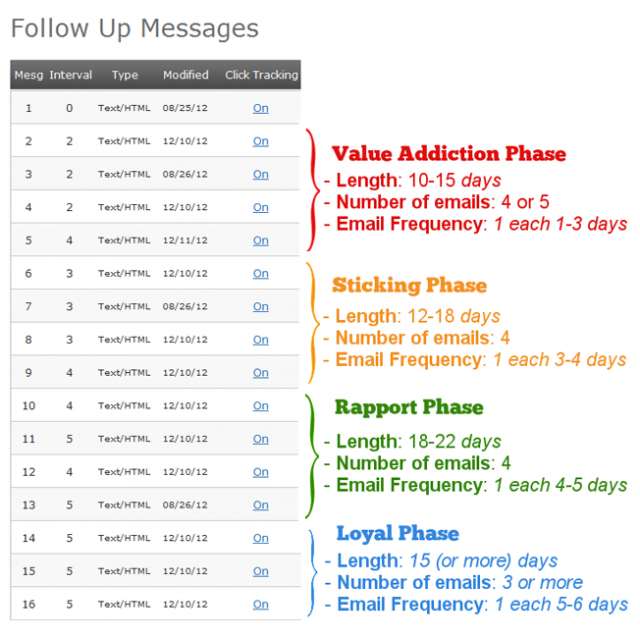 It's the loyalty phase where you would consider the "email forking" strategy where you make new offers based on specific interests (the Hubspot ebook strategy) & start the cycle over.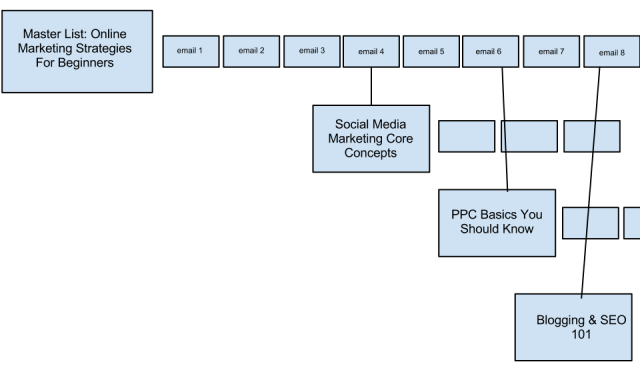 If for some reason there's a group of people on your main autoresponder after several months, who continue to open and click, you should first look into your landing page optimization.
Provided everything is on the up & up, create a segment to test increasing your frequency with "special offer" emails (like JCPenny) or send "Vip club" type emails (like Zappos) to reward long term active subscribers.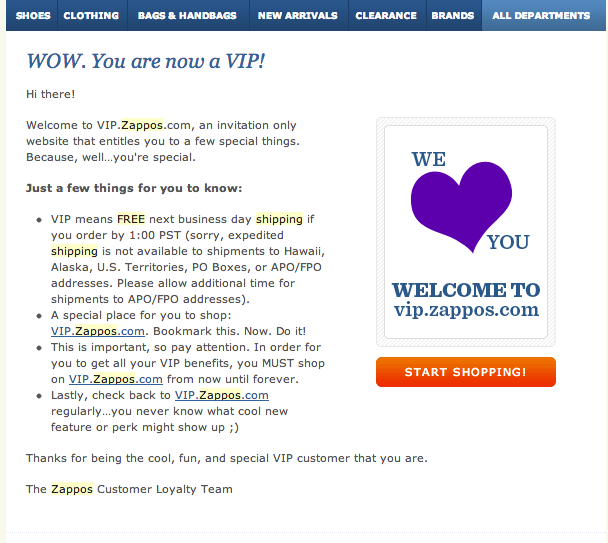 Building Your Email Communication Strategy
If you want your email autoresponder to work for you as a way to build audience, relationships, sales long term, you have to change your thinking to a longer form story (kind of like a television series)
To do that, we have to use the Four stages of relationship building and fill each email in with the four types of content found in content marketing.
Viral/Emotional State
This content deals with the extremes of the human condition. Use to help subscriber know you understand roughly their goals, frustrations, and where they are right now.
Discussion
Encourage your subscriber to hit reply, fill out a survey, give some form of feedback. Ask for feedback starts small and increases with each Stage.
Lead
Further commit subscriber by encouraging downloads of bonus ebooks, offering specialized trainings or webinars. Goal is to provide deeper value while also gauging level of interest to fix problem. Tangental lead content throughout the sequence will also give you a strong indication of subscribers wants and needs based on the actions they take.
Sales
Similar to lead, however this content encourages subscribers to come to a firm decision to fix problem.
Sticking with the analogy that autoresponders are like the story arc for a movie, or a television series, let's look at how these 4 types of content fit into the story arc that we've been building up to throughout this whole article.
Typically every story has three acts. if you apply the three act structure "acts" to each phase in your email sequence, you can create a story that will resonate with the people who stick around.
Act 1 – Character (email 1 Understanding why customer signed up for lead magnet)
Act 2- Conflict (Emails 2-3 digging into/discussing the problem)
Act 3 – Resolution (Email 4 possible solution/offer)
This interview between Autoresponder guy John Fancher, and award winning filmmaker Josh Russell provides VERY valuable insight on applying film and television writing towards autoresponder content.
"Whoever is trying to get a product to an audience, they're saying, 'I have a solution for you' but for the audience, a solution is alien. It's outside their paradigm, it's alien, it's far away, it's distant." – Josh Russell
Create A Wireframe For Your Autoresponder Strategy
For your solution to not be alien for your reader, combine what we've learned in "The 4 stages of Relationships" and "The Four Types Of Content" to build a flow chart for your autoresponder campaign.
But wait, remember how in the very beginning of this article Marketing Sherpa indicated that many bigger sales happen well after the sales team consider a non-buying lead "bad"?
This is why I plan my Autoresponders for a full year to correspond with my overall marketing strategy.
In order to not become overwhelmed, I'll spend a couple hours creating themes for each month. I then break down those months within weekly themes, then only after creating that framework, will I work on the individual messages.
I find this approach to be much more manageable, and it allows me to identify those "arcs" we were talking about before. (As a side benefit, I can also drive traffic back to my blog, when an old articles reinforce the points.
On a month to month basis, that wireframe/flow chat might look something like this.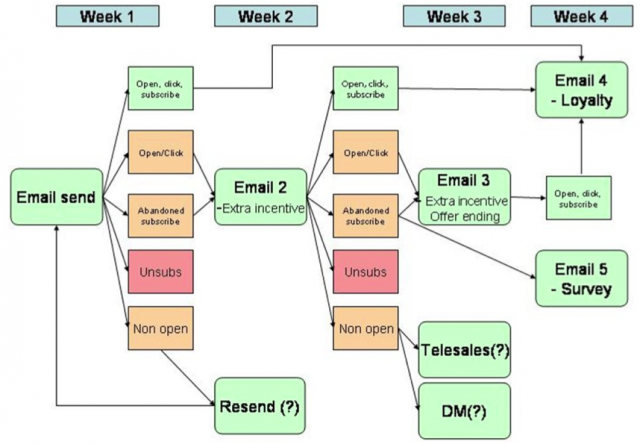 While this may seem like a lot of work, setting up the monthly then weekly frameworks only really requires a couple hours to sketch out.
The work, of course, is not just to set up the framework to capture more of your own sales over time, but to ultimately set up more behavioral email marketing campaign, which according to the e-consultancy email marketing census report only 14% of respondents are doing but 47% are planning on it.
But yeah, let's save behavioral targeting for another day, shall we?
One Last Note About Autoresponders
Create the autoresponder framework first, sketch out the overall communication strategy starting with most likely optin area, and during the later phases of your autoresponder, link to existing content that supports your overall argument.
Have your offers in place first, use your autoresponder as a way to help subscribers understand the problem. Share stories about how you came to the solution, admit failures that lead you to the conclusions you've come to.
If in doubt about frequency, use the A/B/A/C autoresponder vs autoresponder test from this article to find bigger wins.
And heed the warnings of the MailChimp blog…
…"be careful not to get TOO automated.The key to a good autoresponder campaign is to not let the recipient feel like it's an autoresponder campaign."