You already know retargeting works. But what if you're doing it all wrong?
What if grouping all audiences into the same retargeting campaign is actually doing more harm than good?
The truth is that a lot of people never give the attention or resources that's needed to improve their retargeting campaigns. It's an afterthought.
So today, we're going to look at seven retargeting case studies that use some great, creative tactics.
With research showing that retargeting consistently outperforms all other targeting strategies, these tactics can have a huge impact if done right.
I'll break down each case study and show you the takeaways so you don't have to read them in depth (but you can, if you're nerdy like me).
Retargeting case study #1: World First and Periscopix
World First is one of the UK's most well-known and trusted foreign currency exchange services.
When they looked to expand to new, larger markets, they got Periscopix to help them do it. Their main challenge has always been the long lead time of a potential World First customer, so they knew remarketing was key to remain top of mind for them.
With the help from Periscopix, they managed to:
Reduce cost per acquisition (CPA) by 99% if the user had converted at a previous remarketing level;
Increase full account signups in UK and Australia by 28% and 105% respectively.
How did they achieve this?
Periscopix describes their approach through a four-tiered hierarchical remarketing strategy.
When a visitor lands on their website, they are each a potential new client. However, to identify how likely that is, they go through two smaller conversions—nano conversions and micro conversions—which helps determine the quality of each new visitor.
Once they determined which actions sort a visitor in which tier of conversion, they used programmatic display to serve ads to these most relevant audiences.
They also focused on potential new users while they're in the research phase. They noticed that users who interacted with the site were likely to return within seven days and complete the same action, which helped with brand validity and consumer confidence.
Finally, results have shown that users that completed a nano conversion were 10 times more likely to create an account.
Key takeaways
Not all website actions are made equal. Review the most impactful actions your website visitor can take before they convert to a lead or a customer.
Then, run ads that will help those that completed those actions come back and proceed to the next important step.
Make sure to adjust your messaging and ad creative to each of the segments you're targeting so you can make the most of this tiered approach.
Read more about the case study here.
Retargeting case study #2: Myfix Cycles and Webrunner Media Group
Retargeting doesn't have to be complex or involve expensive technology.
Need proof? Check out this case study from a Canadian bicycle retailer, Myfix Cycle. They partnered up with Webrunner Media Group and only used a small marketing budget and a correctly installed Facebook pixel.
Before this campaign, they were barely breaking even with their Google Ads. After their retargeting campaign on Facebook, their results exploded: they generated close to $15 for every $1 spent.
In other words: they saw return on ad spend (ROAS) of 1,529%!
Let's unpack what they've done for this retargeting campaign.
First, they've set up Facebook pixel and conversion tracking on their website.
Second, they created three audiences:
People who visited the website in the past 14 days;
A subset of the above group—those that added a product to their cart in the past 14 days;
People who made any purchase from Myfix in the past 180 days.
On Facebook, this is available through Custom Audiences. Myfix Cycles targeted the first two audiences they've created and excluded the third one, recent buyers, from both (people don't buy bicycles often, so it would have been a waste of budget to target them).
In the ads themselves, they emphasized free shipping and the aesthetic appeal of their bicycles.
Finally, they noticed that the ad frequency of between five and seven times was the sweet spot for their customers, so they kept an eye on it in case it started going past those numbers.
Key takeaways
Try going back to basics and identify which warm audiences you can bring back to your website based on their previous actions.
Myfix struggled to convert Google Ads audience directly, but they knew they've already shown purchase intent, so they created Facebook audiences from their website traffic that leverage that.
Remember to exclude recent buyers in case the purchase cycle for your product is longer than a few weeks or months.
Read more about the case study here and here.
Retargeting Case Study #3: Total Wine and ReTargeter
With almost 200 stores across the US, Total Wine clearly knows how to sell wine.
On top of that, they wanted to grow their ecommerce storefront, so a few years ago, they partnered with ReTargeter to create a long-term strategy to drive traffic and online sales.
After analyzing potential opportunities for Total Wine, folks at ReTargeter decided to focus their retargeting strategy on CRM and abandoned cart retargeting. They also invested in creative assets for a customized shopper experience.
Here are some of the results they saw:
Revenue generated from retargeting increased 20.7% year-over-year;
Lifetime return of 6:1 on ad spend;
A huge, 50% increase in reach year-over-year.
The reason this worked? They created unique audiences and segments by matching their CRM email list to those available on retargeting platforms like AdRoll and in Google Ads (check out Customer Match options).
CRM retargeting doesn't require cookies or pixels, so it doesn't have an expiration date.
What's so special about using your CRM data? It potentially holds valuable data about the behaviors of your visitors. First, you can use specific segments from your CRM (or even your email list), such as your churned customers or those that haven't purchased for some time.
And secondly, the platforms you can retarget them on can use their own insights to help you deliver the best experience.
Key takeaways
Use the data about the audiences you already own, such as your list of current customers, past customers, leads, or email subscribers.
This helps you create unique audience groups and get hyper-specific with ads you show them on social media, websites they browse, in Gmail ads, and more.
Read more about the case study here.

Retargeting case study #4: Mazda and Merchenta
Mazda had a simple goal of getting more butts in seats to test drive their cars. To do so, they reached out to Merchenta (a retargeting software company) to help get more website visitors into their local Mazda dealerships by way of some smart PPC ads.
Merchenta worked with Mazda to "drive" (pun intended) some impressive results with their proprietary IntelliAds solution. Here are some quick stats:
Visitors who saw the IntelliAds converted at a 53% higher rate than the control group.
The value of car sales through their retargeting was 98% higher than the offline average.
They had an engagement rate of almost 20% from their ads.
So how do you replicate those results?
First, Merchenta created customized ads based on geographic radius to target people who are more likely to go to a specific Mazda dealership.
Second, they dynamically inserted the specific Mazda model(s) the site visitor was interested in (from their website activity) and matched the inventory with dealerships that were local to them.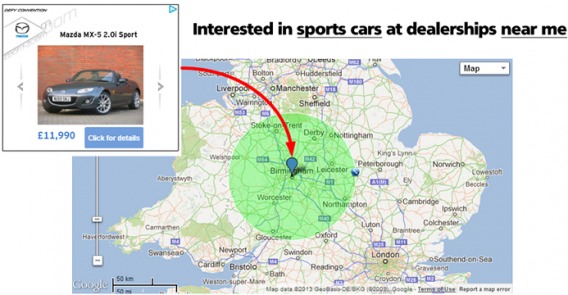 The coolest thing about this case study is that visitors went to the national Mazda site (not individual dealer sites) where Merchenta was able to connect with local dealership inventory to personalize the ads as much as possible.
Key takeaways
To implement something similar yourself, you can use Google Ads dynamic remarketing and create city-specific campaigns that have individual audience groups paired with specific products or offers on your site.
Even if you're not a car manufacturer and handle all your business online, you can use the same principle by testing the idea on the cities that drive the most traffic.
You can look inside your Google Ads dimensions tab to break down which cities should get their custom remarketing ads first.
Read more about the case study here.
Retargeting case study #5: Watchfinder and Periscopix
Just like Mazda improved their retargeting ads with proximity, Watchfinder did so with audience granularity from Google Analytics.
Being the UK's largest online watch dealer, Watchfinder had the same goals as any other good ecommerce store: to increase sales.
By using Google Ads, they achieved some numbers you'll surely be jealous of:
In just six months, they achieved an ROI of 1,300% (for every dollar spent, they were getting $13 back).
Average order value increased by 13%.
Achieved CPAs that were 34% cheaper than non-brand search campaigns.
How'd they do it?
First, they created 20 specific audience lists that showed intent, but did not purchase.
Second, they defined these audiences by funnel stage, location, on-site behavior, and Internet service provider (ISP).

What's crazy is that visitors from certain ISPs showed stronger engagement and higher conversion rates compared to other ISPs (this is where I almost cried).
Key takeaways
Inside your Google Analytics account, you can slice and dice your audiences in different ways with the data there. In fact, you can create up to 2,000 different remarketing audiences within your account.
Once you've segmented enough audiences with your GA data, you can then target them as individual groups and import them into Google Ads, and pair with your specific retargeting ads.
Read more about the case study here.
Retargeting case study #6: eBags and Google
Previous two case studies have shown you two things:
Proximity of ads to the location of the visitor works.
Audience granularity shows what combinations work.
But what if you could check a few buttons to spend less time and resources to improve your retargeting performance? Let's take a look at eBags.
Selling luggage ain't exactly a sexy thing. But eBags isn't your typical bag store either.
Selling more than 17 million bags since 1998, eBags knew they had huge retargeting potential, but what they did with their data was pretty creative. Here are some stats:
With their regular ad spend being quite high, their retargeting added an additional 15% in revenue.
Their efficiency (time spent managing retargeting campaigns) improved by 25%.
Wanna know how they did it?
First, eBags decided to automate their retargeting bidding process by using the Google Ads Return On Ad Spend (ROAS) functionality.
Second, they used Remarketing Lists for Search Ads (RLSA) and added positive bid modifiers on past purchasers and shopping cart abandoners from the last seven days.
Third, they used Gmail ads to cross-sell complementary products to people who just bought something from other retailers.
To review, having the Google Ads platform automatically find retargeting opportunities that are closest to your ROAS goals is brilliant.
Using RLSA ads to be more aggressive with comparison shoppers is super sneaky.
And cross-selling laptop bags to people who have bought computers from other retailers is just evil freakin' genius.
Key takeaways
First, using programmatic remarketing with ROAS targeting allows you to save time optimizing. To set this up, you'll want to create what's called a "flexible bid strategy."
The ROAS flexible bid strategy is one of five you can create inside your Google Ads Shared Library under bid strategies.
Second, RLSA ads help convert people who are comparison shopping on Google. You can add these to any campaign by going to your "Audiences" tab, adding the remarketing audience, selecting "Bid only," and adding in your percentage bid modifier.
Third, Gmail ads are a great way to target complementary products that go hand-in-hand with what you offer. You can create a Gmail ad campaign by creating a regular display campaign and targeting the placement of mail.google.com.
After that, you'll want to add in keywords on your competitors' domains or the cross-sell opportunity domains you know about.
Read more about the case study here.
Retargeting Case Study #7: Lumension and Just Media
Okay—enough with ecommerce stores. Let's take a look at a B2B retargeting example.
This retargeting case study comes from the fine folks over at MarketingSherpa.
With the help of their marketing agency Just Media, Lumension, a global leader in endpoint security software, realized greater potential and effectiveness with their retargeting campaigns.
And without all the fancy things that ecommerce marketers can do when it comes to retargeting, this specific case study had some very interesting results. Here are a few of them:
Lead volume went up 81% despite a 30% PPC budget cut.
Targeted influencer traffic increased 10%.
Now you may be asking: "What the heck is targeted influencer traffic?"
That's a phenomenal question.
Because I had no idea either.
Lumension didn't just take a regular shotgun approach to retargeting (i.e. all visitors in one audience that gets the same message). They actually mixed both online and offline events to get the results they were looking for…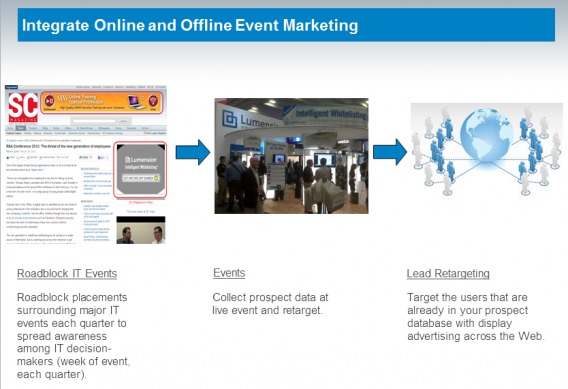 First, they used a tactic they referred to as integrated retargeting. They worked with website publisher partners who covered events that interested Lumension's target audience.
Lumension then cross-referenced site visitors with conference booth attendees to retarget online afterwards (this can partly be done with Google's Customer Match feature).
Second, they worked with other media portals to retarget visitors who showed interest in competitor content. They could then target individuals who were in the market for IT security, but not in their funnel yet by using cookies the media portals would drop in the visitors' browsers.
This is almost too good to be true, right?
Key takeaways
You're never limited to your own data when it comes to retargeting. Get creative by talking to publisher sites where your target audience hangs out and see what's possible.
Read more about the case study here.
Conclusion
You've read the case studies and seen the proof. It's time for you to act.
We both know that it's easier to convert people who already know you.
What other retargeting case studies have you found that helped you improve your PPC performance?
Let me know with a quick comment or I'll retarget you until you do.