According to a survey that researched omni-channel commerce for small and medium-sized businesses, email is the key driver of both customer acquisition (for 81% of respondents) and retention (for 80% of respondents).
Behind email are channels like organic search, paid search, and social media, but they don't come even close to email marketing.
A McKinsey report says that email is 40 times more effective at acquiring new customers than Facebook or Twitter. Customers you acquire through email also appear to have a higher customer lifetime value (LTV).
But this isn't an "email vs social media" article. Instead, let's talk about maximizing your email marketing efforts. More specifically, we'll look into email retargeting to display ads across all mediums, including social, to improve the lifetime value of your customers across every channel.
What is email retargeting?
Email retargeting shows ads across various display networks based on the emails your subscriber opens.
The technique allows you to create contextually relevant display advertising across the web. Ultimately, this can lead to reducing your overall send frequency while maximizing the effectiveness across multiple channels.
In one case study, BustedTees used email retargeting to display ads to customers who recently purchased a product. The goal was to encourage repeat purchases within a short timeframe. Combined with CRM retargeting (detailed later), they were able to create an average order value of $40 and achieved 195 conversions with a 390% ROI.
How does email retargeting work?
Similar to other forms of retargeting, when a subscriber opens your email, a cookie is dropped into their browser.
When that subscriber visits other websites with retargeting ads enabled, your ad will be displayed (provided it's the highest bidder), helping your brand to stay top of mind.
Platforms like Retargeter and AdRoll are able to reach roughly 98% of the internet's ad inventory by leveraging various ad exchanges. They allow you to display relevant advertising virtually everywhere your potential customer would be.
Crowdcast, Retargeter's customer, said the following about retargeting:
Retargeting makes us look bigger, it makes us look like we spend more money than we actually are.
According to an Adobe Campaign consumer survey, 61% of consumers prefer promotional email to other small business communication.
Using email as your primary hub for growth and acquisition predisposes your subscribers to purchase, and refer more loyal and engaged customers.
How to use email retargeting to generate loyal customers: an example
Let's say you've created a high-ranking landing page that sells widgets.
To drive additional traffic to this page, you've created a standard Facebook Ad campaign, with the intention of using email retargeting later. It's because you've heard that retargeted Facebook ads generate 89% more sales revenue than non-Facebook channels.
You also know the majority visitors won't convert to a sale on the first visit, so your primary call to action is for visitors to enter their email for a drip campaign on the different aspects of widgets.
In this drip campaign, you talk about widget problems, widget use cases, why widgets matter, and how to find your company on various social media platforms.
Every email contains a retargeting cookie.
If a subscriber opens the email, but doesn't click the link, they trigger a burn pixel. The retargeted Facebook ads and sponsored newsfeed story will then attempt to drive that subscriber to the content the email originally intended to deliver.
Doing this effectively increases the chances of each message being heard, and keeping the prospect focused in an otherwise hectic internet environment.
After the subscriber buys, they are sent to a confirmation page with a "Refer a friend" section.
Considering that people are 71% more likely to buy based on social media referrals, your new customer can now recommend their friends to your business by sending them to a landing page. This landing page contains an ethical bribe and a call to action to subscribe to your email drip campaign, effectively repeating the cycle.
Theoretically, your widget customers are:
Entering the funnel through search, paid ads, and are being referred by a friend;
Being nurtured through email;
Exposed to consistent messaging across all marketing channels which corresponds to each message in the email lifecycle.
This will lead to better than average customers with strong brand loyalty—or at least that's what the statistics indicate.
4 real-world email retargeting examples
Let's see use cases for every type of email retargeting:
Use case #1: Online retailer reinforces email messaging
Using the "email forking" strategy, you automatically move subscribers to new email lists that are more specific to their interests.
For example, if a retail site first email offers "shirts and shoes" and the subscriber clicks "shoes," they will be moved to a shoe specific email list, and the "shoes" retargeting ad is triggered.
On the next email, the subscriber will be given a choice between "casual and dress shoes." When the subscriber clicks dress shoes, now they are moved to the "dress shoes" list while the retargeting ads switch over to display dress shoes over network. The idea is to drill into specific interests and reinforce those click decisions with relevant retargeted advertising.
Denim retailer LuckyBrand uses this strategy very clearly.
Upon signup, subscribers are offered with 20% off next purchase, and are encouraged to use their new 20% discount within a relevant category.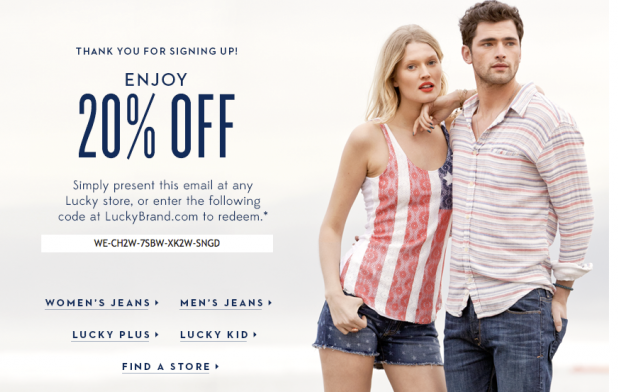 Clicking the link that corresponds to your gender switches you to a gender-specific list. Relevant retargeting ads are then displayed across the web depending on your activity on the site.
What's more interesting is how LuckyBrand uses IBM Product Recommendations software to send product suggestions over email based on items found in the subscriber's abandoned shopping cart.
To implement a similar strategy for your business, email tools like Infusionsoft, Ontraport, and AW Pro Tools (an AWeber premium app) allow for click-based list switching and subscriber tagging. Retargeting software like Retargeter allows you to insert ad retargeting snippets into the emails you send.
Use case #2: Cookie seller reduces shopping cart abandonment
Baymard Institute collected data from over 40 studies to find the average cart abandonment rate at around 70%.
Over 75% of email revenue is generated by triggered campaigns rather than one-size-fits-all campaigns. Check out my article on recovering abandoned carts for more tips on using triggered emails.
Cookie retailer Smiley Cookie used this methodology to send a three-message autoresponder specifically for people who abandoned their shopping carts. They were able to convert 29% of abandoned carts into buyers.
Here's the summary of their strategy:
First email is sent within 30 minutes of abandoned cart, which reminds visitor of all guarantees and FAQs.
Second email is sent 23 hours after cart abandonment and offers a 10% discount.
Third email is sent four days after abandonment and offers a 20% discount.
Smiley Cookie's marketing director said this about the campaign:
Although concerned that offering a discount might have conditioned customers to continually abandon their carts, this has not come to pass. Smiley Cookie's abandonment rate has remained steady.
Check out the full case study here.
Use case #3: Facebook News Feed retargeting
Let's say your subscriber opens a sales email, clicks the link, but doesn't convert. Then what?
Your marketer instincts might urge you to push the sale, but really you should view this as an opportunity to learn more about why your lead isn't buying.
AdRoll provides the foundation for this with this ad: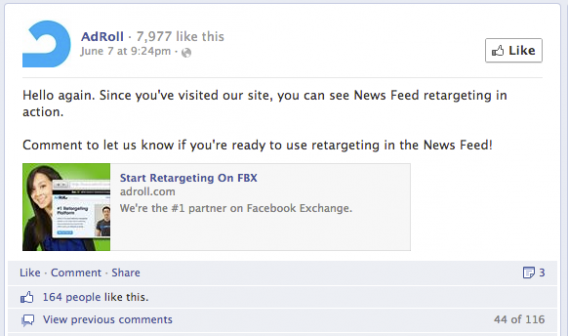 While this Facebook ad clearly acknowledges the site visit, you could easily link to a survey in order to understand more about your lead's objections and concerns.
In time, you will gather enough data to preemptively address these concerns. You could also enable an additional retargeting cookie to the survey which would encourage your customer to view a FAQ style webinar, or a more detailed product page.
The point is that by using email and site retargeting together, you can move non-buyers into a better, more informed nurture sequence. Ultimately, you can leverage the data to influence campaigns on every level of the funnel.
Use case #4: CRM email retargeting to reactivate old customers
CRM retargeting includes displaying retargeted ads using nothing more than a subscriber's email.
Earlier, I mentioned BustedTees using the method. Basically, they created a separate list of all their inactive/dormant email addresses and created a display campaign which allowed them to monetize and engage customers who had not interacted with the company in a very long time.
In the span of the month, the company was able to generate 447,180 ad impressions targeted towards people who were already familiar with the brand, but hadn't interacted with them in a while.
If your company sells to high ticket customers, another way of using CRM email retargeting would be segment out the known CEOs within an email list, then upload those emails to the retargeting platform.
Doing this allows you to target very specific people with your ads across the web, allowing for a much stronger messaging, and streamlined product offering.
Car manufacturer Toyota uses a similar method of sending retargeted ads to their customers with a two year lease set to expire.
A word of warning about email retargeting
Retargeting networks like Retargeter or Facebook dynamic ads allow you to upload entire email lists to their servers, allowing them to serve those users with retargeting ads.
While it can be extremely effective for reactivating dormant email leads, it's important you realize that you must update a common privacy guarantee:
"We won't rent, sell, share or barter your email address to third parties."
If you decide to do email retargeting, it's important that you update your privacy policies to reflect that.
Conclusion
By adding retargeting pixels to your emails in a smart, non-creepy fashion, you can reduce irrelevance not just in your email marketing, but in your overall marketing endeavors.
Curious, have you already tried email remarketing? If not, have you noticed any great remarketing campaigns in your online adventures?