If you've ever thought about running a PPC campaign for the first time, there's a good chance you wondered which PPC channel to use.
The PPC targeting options that Facebook has available are different from Google Ads, LinkedIn Ads, Twitter, and an abundance of other PPC marketing networks.
Where do you begin when there are 72+ PPC options for you?
Here's how to create a PPC targeting master plan that will help you find your perfect audience.
Use demographic targeting if you have a novel product.
Sometimes, your product or offer is so new that there's no search demand out there for you to easily harvest. That means you have to generate awareness and demand yourself, before you get that sale.
Companies like Essio Shower and TYME sell products that people don't know are available, so a great deal of education around their product needs to happen before a conversion will come.
And that's exactly why demographic targeting works so well for them on Facebook and the Google Display Network.
By zeroing in on gender, age range, and other interests and behaviors (which we'll cover later), Essio and TYME have been able to use PPC marketing to their advantage, turning every one-dollar investment into a four-dollar return.
Here are ads they used on the Google Display Network: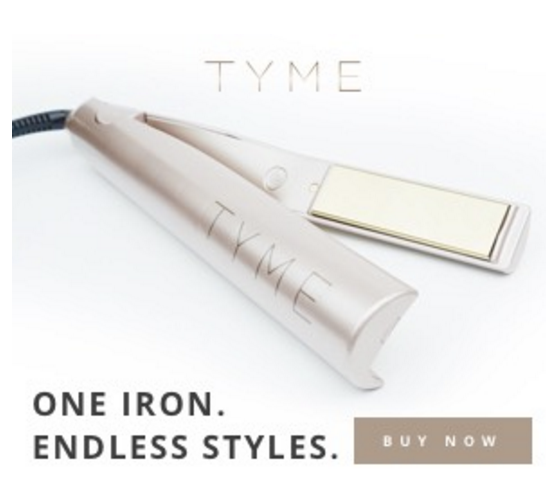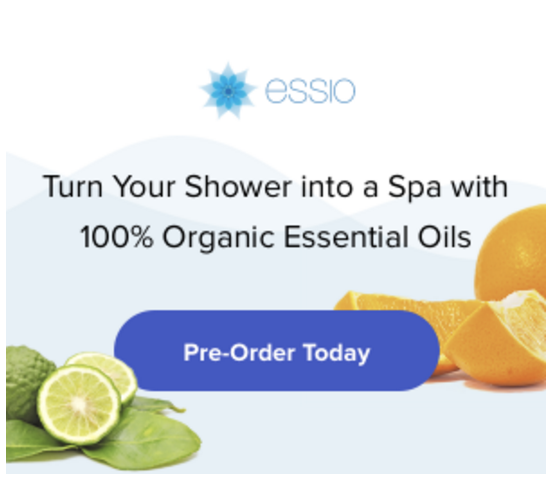 With PPC marketing, you're also able to target other demographics like:
Income level;
Parental status;
Nationality/ethnicity (which Facebook got in trouble for);
Geographic location;
Language;
Relationship status;
Education level;
Work/career;
Political affinity.
And that's just in the demographic realm.
As of today, Facebook ad targeting is much stronger than any other PPC channel when it comes to demographics.
If your B2B/B2C product or service doesn't have search demand, and you want to use demographic targeting to your advantage, then prioritize these networks:
Facebook for its custom audiences;
Google Display Network for the sheer publisher size;
LinkedIn for B2B companies.
Use LinkedIn if you want to target based on career characteristics.
With LinkedIn, you're able to target a much deeper set of work-related demographics compared to, say, Facebook.
Here's a look at your PPC targeting war chest:

As you can see, you have 14 targeting options that are ripe with B2B opportunity.
If you know that you want to target HR people in North American companies with at least 500 employees, then LinkedIn is the only place you can do that type of PPC targeting.
But a challenge we frequently find is that ad fatigue (one of the reasons why your cost per acquisition can go up) is more severe on LinkedIn than on Facebook. Why? Audience sizes are often smaller—you have to keep refreshing your creative to keep cost-per-clicks from spiking.
But if what you're promoting has enough margin to sustain sometimes higher-than-average costs per click, then LinkedIn can be the perfect PPC platform for you.
Use Google Ads if you have strong keyword intent.
If there's one thing that keeps Google neck-and-neck with Facebook when it comes to advertising, it's their search network.
The strong keyword intent behind a user search is why some injury attorneys are willing to pay more than $100 per click—even as that click still has to turn into a lead, then a sale.
Running text ads on Google or Bing can be one of the fastest, shortest sales cycles for PPC traffic. Our PPC thermometer shows which PPC channels give you visitors who are closer to buying:

Search almost always takes the cake when there's already demand.
When someone is searching for what you have to offer, you're able to bypass the awareness and consideration part of your funnel and go straight to the preference and purchase part.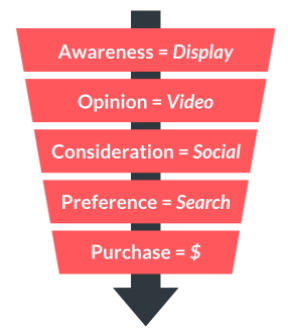 By bidding on they keywords your prospects use to find you, you can calculate how many clicks it takes to get a conversion, and how many conversions you need before you get a sale (if you're in the SaaS or lead gen space).
This helps you set currency-specific bids on your keywords. In addition to that, you can layer your search targeting with:
Geographies;
Languages;
Devices;
Retargeting audiences.
When you're launching your PPC search campaigns, keep two things in mind:
1. Multi-intent keywords
These are different groups of keywords that have their own micro funnel within your bigger funnel. This means that most of the keywords you bid on might not ever turn into sales if you don't match your call to action or offer with their conversion intent.
Consider these three types of keywords you might bid on if your company buys cars from people: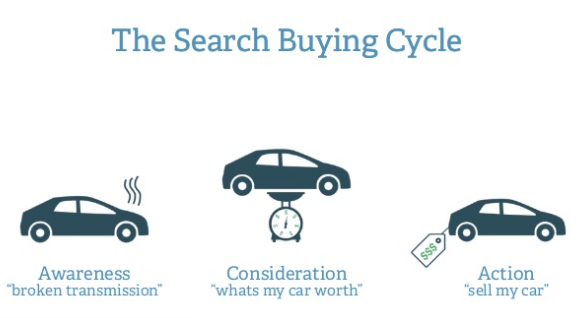 2. Sales tracking
If you're in the SaaS or lead gen space, it's vital to track sales after the initial lead, trials, or demo. Most advertisers can identify which PPC channel or campaign (e.g., Google Ads, Facebook) makes them money but not the keyword or audience within that campaign.
Without keyword-level sales data, you may think that, as in the example below, Keyword 1 is the best performer because it has the lowest cost per conversion:

When, in fact, you should allocate most of your budget toward Keyword 2 because it has the lowest cost per sale:

The best part about the Google and Microsoft Ads search networks are that any type of business can benefit from them.
Whether you're B2B or B2C, if there's already demand out there, the search networks make it easy to capture it.
How granular should you get with geographic targeting?
One of the best things about PPC is your ability to have deep control over your traffic.
Unlike non-paid traffic sources (e.g., search results, social, referral), you can customize the visitor's full experience from keyword to ad to landing page—based on keywords, current weather, and even the city they're in.
Even if you're a national advertiser, you can succeed by breaking up your PPC campaigns by state. But it gets even better if you tailor it to the city.
We've run a ton of tests when PPC ad copy is specific to the city of the visitor, even tailoring the phone number to users' area code.
If you're running PPC campaigns through Google Ads, you can look at the Dimensions tab and prioritize which geographic locations you want to target first with ad-specific city mentions.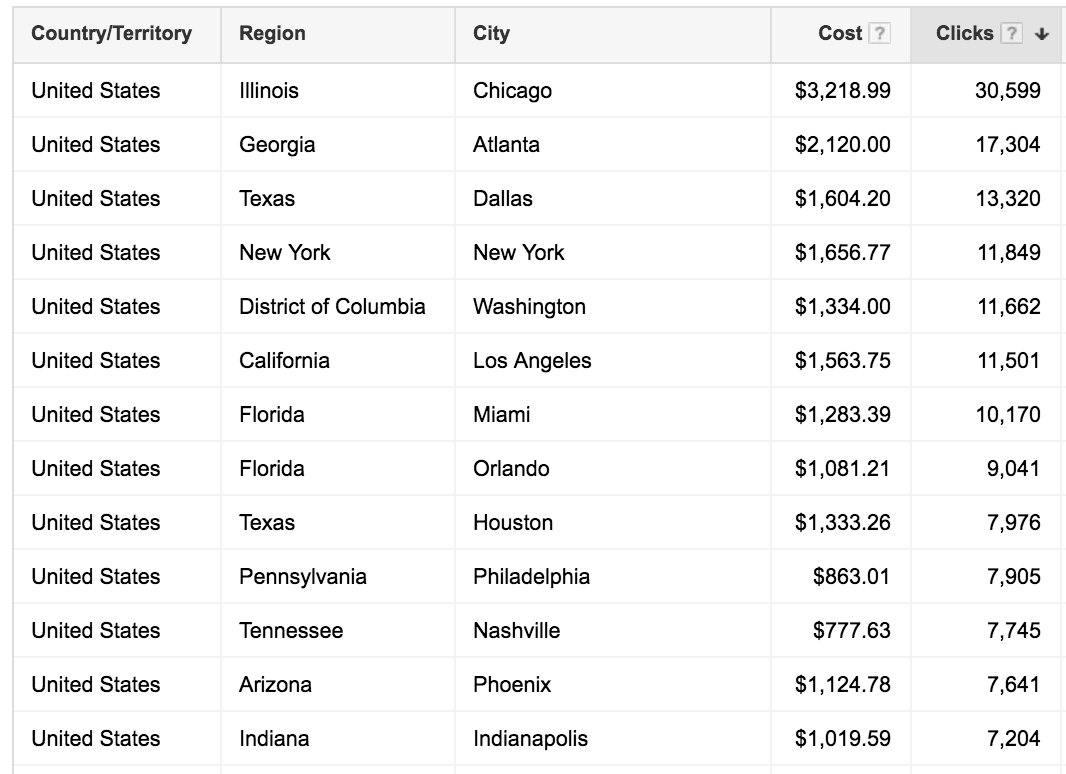 Which cities give you the most traffic? Start there.
By breaking down your PPC campaigns with specific geographic targeting, you can seem even more local than you actually are, which can lead to higher conversion rates.
How do you target interests, behaviors, and topics?
Interests, behaviors, and topics are PPC targeting options to help you find new audiences that may be interested in your product or service.
PPC channels like the Google Display Network and Facebook have the greatest reach when it comes to this type of targeting. Here's what they mean.
Interests
Also called "affinity audiences" in Google Ads, interests allows Google and Facebook to categorize and group thousands (if not millions) of visitors into certain buckets of what they like.
If customers who love your aromatherapy shower kit also like massage, yoga, and meditation, then interest targeting could allow you to target people who don't know about your product.
Interest targeting has nothing to do with which publisher site the visitor is on when they see your ad. It's more about their general browsing behavior and which sites they like to be on.
Behaviors
Behavior targeting on Facebook is closely related to interest targeting on Google Ads.
But on Facebook, behavior targeting is based on third-party data from partners like Epsilon, Acxiom, and Datalogix. Facebook tracks what you do outside of Facebook.
Here are some categories you can use to target:
Automotive;
B2B;
Behaviors targeting;
Charitable donations;
Consumer classification;
Digital activities;
Expats;
Financial;
Job role;
Media;
Mobile device user;
Purchase behavior;
Seasonal and events;
Travel.
Other categories are always being added and changed. For a breakdown of each type of behavior, read Facebook Ad Targeting: 49 Tips to Hunt for More Conversions.
Topics
Topic targeting is related to the Google Display Network. You can target groups of websites that cover similar topics.
Google has an extensive library of different topic codes you can target depending on your target audiences. You can find that library here.
If you sell protein powder, for example, then you'd target the topic: category::Beauty & Fitness>Fitness>Bodybuilding.
If you sell security services, you'd target:
category::Business & Industrial>Business Services>Fire & Security Services.
If you sell swimming pools, you'd target:
category::Home & Garden>Swimming Pools & Spas.
What about retargeting and custom audiences?
Detailed audiences like retargeting, custom audiences on Facebook, and similar audiences on Google Ads help you target people who either already know you or share the same characteristics of your best customers.
As you already know, retargeting helps you recover lost conversions from those who weren't ready to convert the first time. We wrote a massive post on retargeting campaigns.
Custom audiences on Facebook allow you to retarget your visitors on Facebook via a pixel/cookie or by uploading an email list. When that happens, you also create a lookalike audience—Facebook goes out and finds visitors with similar demographics and browsing behavior as current visitors/customers.
Similar audiences is a Google Ads feature to find new people who have "shared interests and characteristics of the people in your remarketing list."
When used correctly, these detailed audiences can help you scale your PPC efforts.
Conclusion
Now that you have a solid understanding of the different PPC targeting options, it's up to you to prioritize them based on your target audience and goals.
The options you have are endless. Even clients that have been with us for years have yet to hit a plateau. We haven't even scratched the surface of the available PPC funnels.