If 500 different people go to Amazon.com, they each a different version of the home page. How come? It's personalized! It's no secret why Amazon does that: content personalization makes money.
A study by Monetate revealed that marketers that exceeded their revenue goals have a dedicated budget for personalization 83% of the time.
Content personalization and behavioral targeting are the next two big things that are going to give you the conversion lift you want. Both of them should be looked at seriously by anyone looking to keep rocking in the future.
What is content personalization?
People visiting your site have different intentions: some are there to buy something, others simply doing research, and some might be trying to get a job with you. Then you got your first time visitors and returning ones. Some don't know why they're there and are looking for a way out.
Despite all this, most websites and landing pages display exactly the same content for all visitors—no matter what they're searching for or how they got there. These websites try to appeal to a wide range of visitors simultaneously, and thus are not exciting many.
Wouldn't it be awesome to display different content and call-to-actions for different types of visitors, essentially making your visitors feel like the page speaks their language?
Blair Lyon, VP of marketing with Monetate, said:
Creating a one-to-one customer experience contributes significantly to customers that are more highly engaged, which in turn has a direct impact on the merchant's bottom line.
This is where content personalization comes into play. It lets you target different content to different types or groups of visitors based on their behavior or other factors.
How content personalization works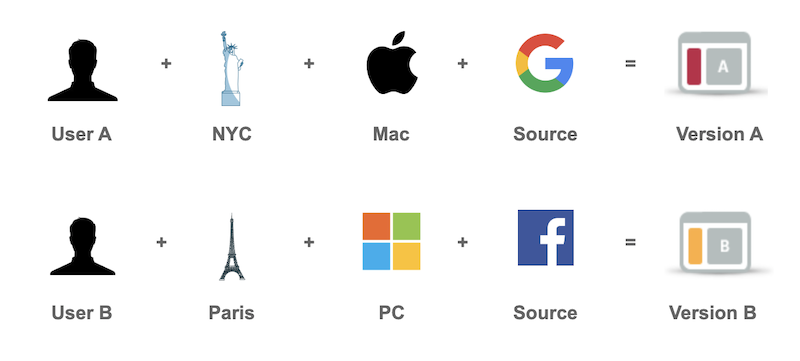 It works by looking at the data that is available to you about the visitor, such as location, keywords they searched for, ads they clicked, whether they've been to the site before, and buying history, and compares that against a set of variables you've put in place.
Those variables could include:
Location: city, country, region;
Device: iPhone, iPad, Android phone/tablet, Windows, Mac, Linux;
Search keywords: which keywords brought them to your website;
Visitor frequency: first , second, third, fifth time visitor;
Date and time of day, proximity to payday;
Referring URL: a website that referred them;
Customer history: have they bought before, what, at what price range;
Sessions behavior: navigation clicks, page views.
There are many more variables which can be taken into account like age, gender, and more—possibilities are pretty much endless and it depends a lot on how much information you already have about that customer.
Location targeting
How about showing people ads relevant to their location? Seems like an obvious idea, and it works really well. With one of their location targeting campaigns, Timberland increased their store visits by 25%.
Monetate found that when they personalized experiences based on international visitors' geo-location, they've improved conversion rates by as much as 100 percent.
Location-based content personalization from ASOS and Nordstrom
ASOS is smart when it comes to serving their visitors the information they're looking for.
On their Delivery & Returns page, they immediately serve you with prices and delivery times based on where you are right now. If you want to change that, you can easily do so.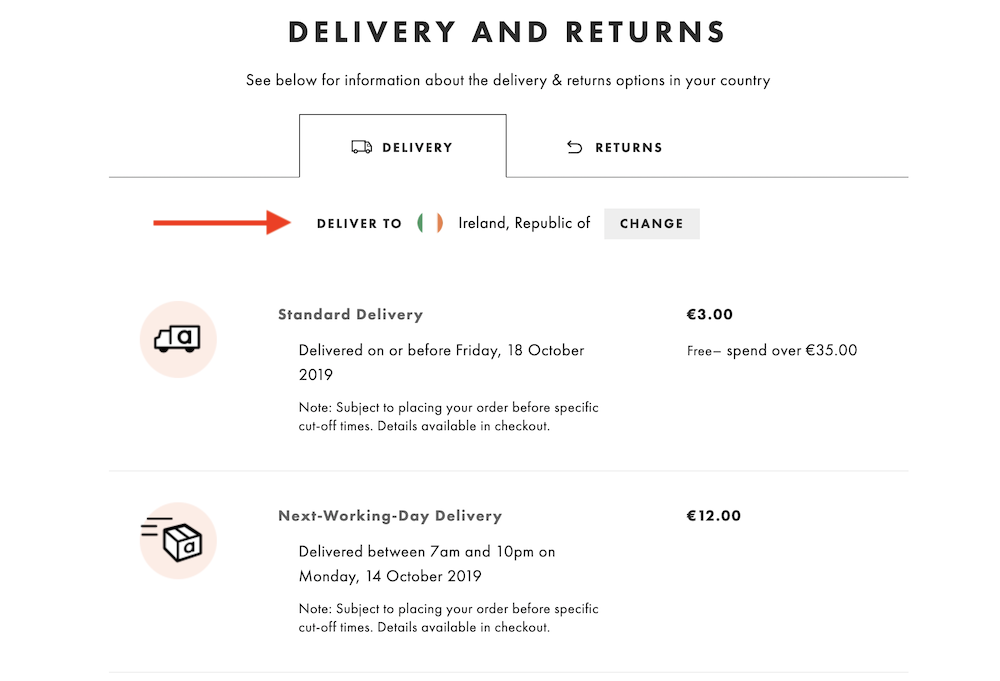 Nordstrom also picks up on your location and immediately shows you prices in your local currency. This way, you never have to look up exchange rates and interrupt your current purchase journey.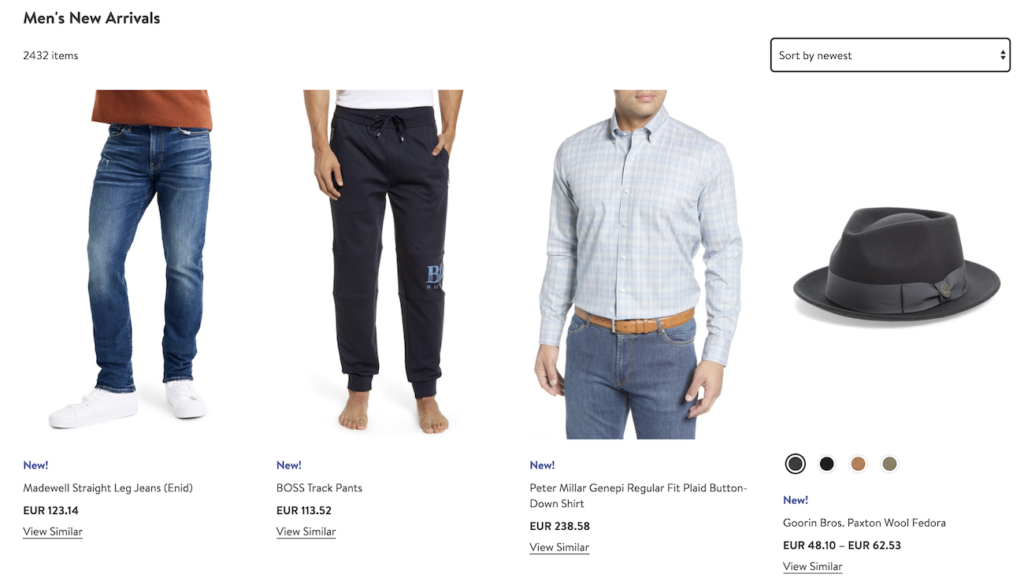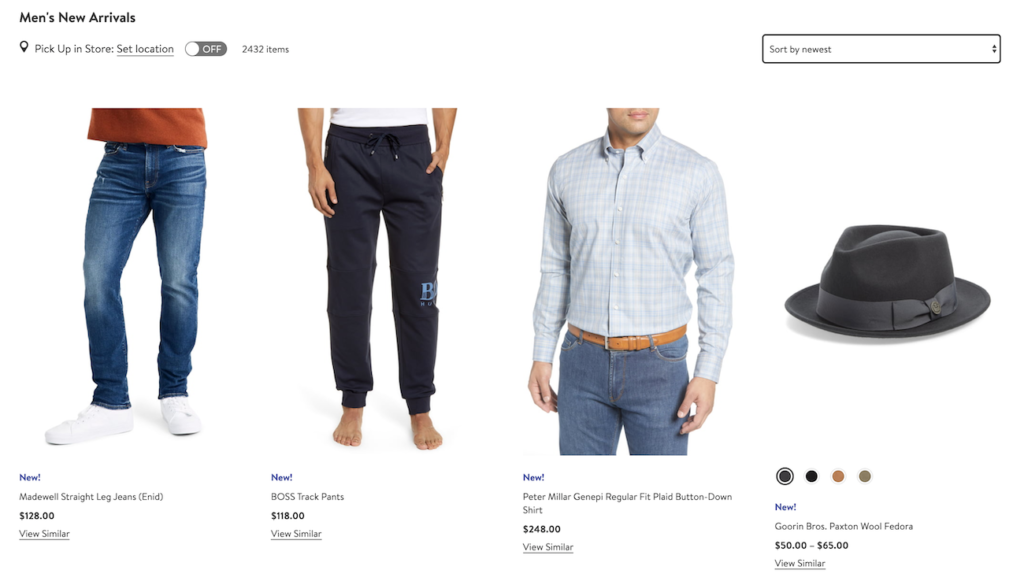 Bonus points for Nordstrom: US visitors can also set their location for store pickup, but you can't see that option with European visitors since there are no stores local to them. Smart!
Less friction leads to more sales, and personalized content helps you achieve exactly that.
Ad targeting and Amazon
Similar system is used in targeted ads on websites across the web. Let's say you read an article about the latest Android phone on a news site. Eventually you navigate away and read something else on another site, and you see ads about Android phones there.
It works by tracking your behavior across the web through the use of cookies, and then using that data to give you relevant ads. Some think it's freaky, some consider is useful since you're actually seeing ads you might be interested in.
The same thing happens on Amazon where it uses your interaction history and other data to drive more sales. This is how "More items to consider," "Frequently bought together," and "Customers who bought this item also bought" lists are generated—with user behavior data.
You don't even necessarily need to buy something. The other day I was looking at some business books on Amazon. A couple of days passed and I got this email from them: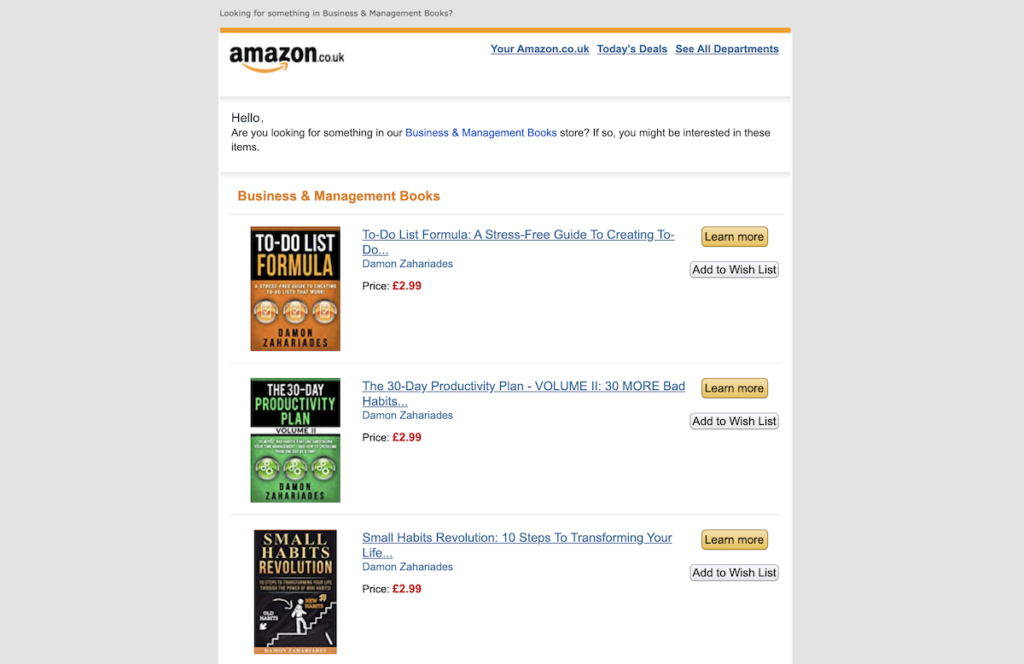 Systems in use for ad targeting on big retail sites like Amazon are very complex—they're called learning systems. They're capable of looking at the data and learning from it all by themselves.
This doesn't mean that content personalization is only for the big players. There are tools available for companies of all sizes, and it's becoming a more crowded marketplace by the day.
Case studies on personalized content
Case study #1: VWO
The team over at VWO were looking for engineers and designers to join their team over at their New Delhi office in India.
To increase job applications from their own homepage, they ran an behavioral targeting campaign for users accessing their homepage from India. For that they used their very own software, Visual Website Optimizer.
The test was about having a tiny banner displayed on the right hand side of the screen which said "We're hiring in Delhi :)." Half of the visitors from India were shown the usual page and other other half the new version with the banner on the right.
This is what the original looked like: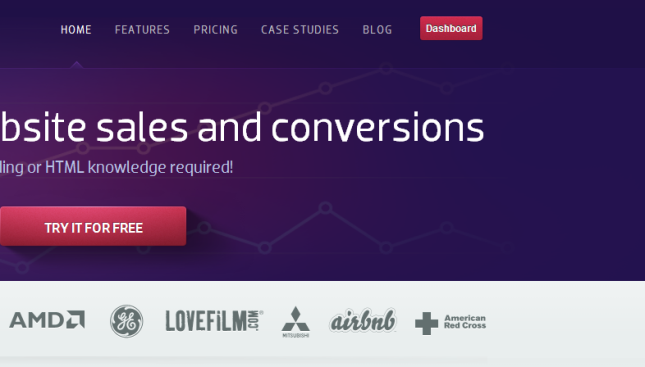 And this was the one with the tiny banner: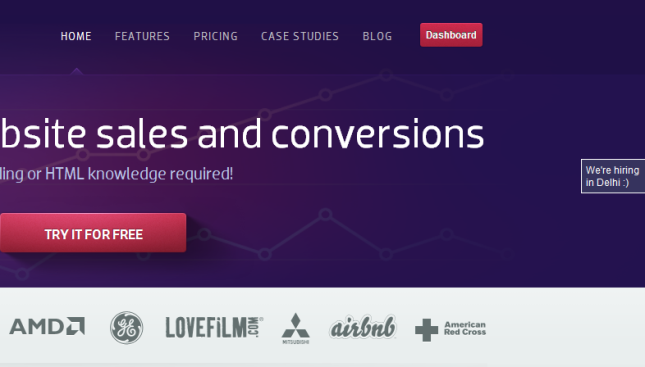 Case study results
There was a 149% increase in clickthrough rate to the Careers page. For benchmarking, they also measured worldwide click through rate to the same page and got 0.43% as the results. For visitors from India without the banner, clickthrough rate was 9.17%.
With the banner, clickthrough rate for Indian visitors was 22.86%. This is an improvement of 149% compared with normal 9.17%.
Case study #2: JD Sports
A few years ago, JD Sports ran an experiment on two of their brands, Millets.co.uk and Blacks.co.uk.
They used the Barilliance product recommendations engine to suggest products based on the intent and preferences of each visitor. This engine uses page types and product categories that user interacts with as key information.
They offered suggestions such as "What customers ultimately buy," rule-based cross-selling, and auto-generated top-selling product recommendations.
Case study results
Compared to average site conversion rate, this project increased conversion rates by 332% on Millets.co.uk and 277% Blacks.co.uk where a visitor selected a personalized product recommendation.
For every £1 spent on the personalization technology, JD Sports generated £291.7 in revenue. What a return on investment!
Getting started with content personalization
You might think that content personalization is valuable, but possibly complicated and time-consuming. Luckily, there's software that can help you out.
Personalization software
Marissa Mayer, Yahoo's former CEO, described the content personalization technology a while ago as being "a few years away." Those few years have passed, and the time for this technology is now.
In fact, there's a multitude of companies offering content personalization of various sorts. As mentioned before, VWO is an option. So are their competitors, such as Optimizely and Convert.
Then there are tools like:
As always, there is no one size that fits everyone. Check them out and see which one fits your needs.
Step 1: Choose your variables
First, analyze your incoming traffic. Where it is coming from? What are they doing on the site? Take a look at organic search and the keywords they use to land on your site.
After analyzing current behaviors and traffic sources, go ahead and try to figure out how to make their buying experience better. Start small at first by choosing your top three audience segments and go from there. Remember that the more segments you create, the more personalized content experiences you might have to create. So start small so you don't get overwhelmed and lose motivation.
Another good place to start is looking at your top three to four organic keywords and personalizing landing pages for them so that they mention that keyword in the copy.
We wrote a blog post about getting quality traffic that converts—take a look there for hints on where to get good traffic from. Combing good traffic with personalization is pure gold.
Step 2: Configure rules and create segmented content
Once you have created your initial set of rules (variables) and customer segments, it's time to take that information into your personalization software of choice.
Here's an example from VWO: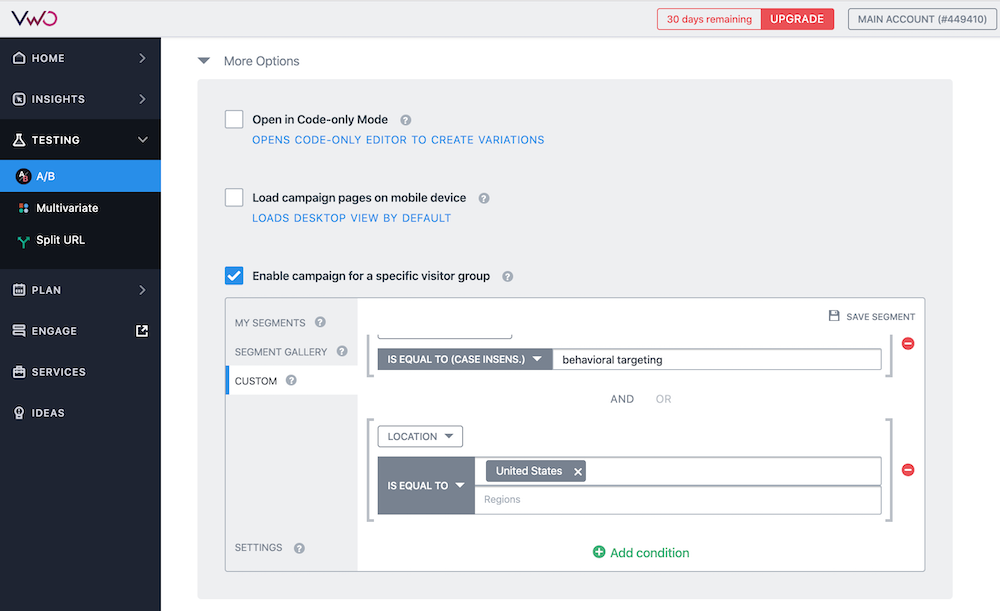 Simply choose your variables (such as search query and location) and then add the value for each. You can also choose between AND and OR statements to expand or narrow your audience.
Step 3: Launch your content personalization
Time to see your personalized segments in action. There's always a chance something went wrong, so run it for a period of time and analyze the results so you can make adjustments as necessary.
Keep tweaking and playing with your campaign until you have something that you are satisfied with and works to boost conversions.
Conclusion
You want to provide the best experience possible to your visitors—ideally, they'll only see stuff relevant to them. This is why content personalization is so incredibly important. Higher relevancy leads to higher revenues—win-win across the board.