Done right, demand generation can supercharge growth. It's how ConvertKit grew from $98K to $625K MRR and Morning Brew reached two million subscribers in just five years.
Demand generation tactics address two of the biggest marketing challenges: raising brand awareness and generating leads.
Without awareness and leads, you're missing out on opportunities to close sales and grow your business. That's why you need a demand generation strategy.
In this article, you'll learn how to follow in the footsteps of brands like ConvertKit and Morning Brew through interest-building demand generation tactics.
The state of demand generation in 2022
Demand generation's approach was born out of necessity. It uses marketing to raise brand awareness and get people excited about your products or services.
Today's buyers are more empowered than ever. The information needed to make decisions is all around them: in their communities, at events, and at the end of a Google search.
The impact of this? Longer customer journeys and drawn-out purchase decisions influenced by multiple touchpoints. This has changed how buyers interact with sales.
More than two-thirds of buyers have researched your solution (and others') before talking to sales. Plus, 60% prefer not to interact with sales reps at all.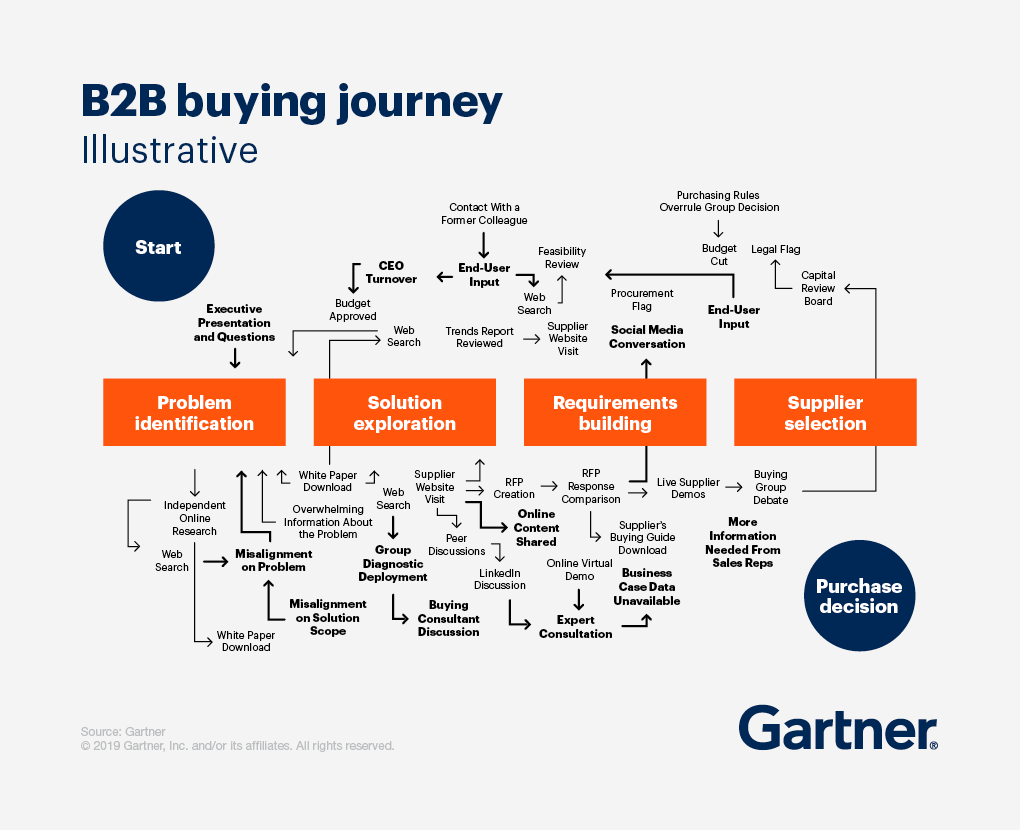 To fuel your pipeline and shorten the sales cycle, you have to create demand naturally. Sales are less likely to be forced with outbound methods. They now have to be earned by building relationships at every stage of the buyer's journey (including with every other decision-maker in the buying group).
Demand generation works best with a plan
Demand generation marketing isn't one single strategy or activity. Typically, multiple strategies run simultaneously to target buyers at different parts of the sales funnel.
But each tactic and content asset should be underpinned by solid foundations that both sales and marketing teams are aligned on.
Before getting started, be clear on:
7 demand generation tactics to grow your pipeline
With every business fighting for attention, those that win are those that give customers what they want: value.
Value creates demand.
Let's look at seven proven ways to deliver it.
1. Elevate your founder and employee personal brand
To build true connections with buyers, humanize your brand.
Sprout Social research shows that when a CEO has an active presence on social media, 70% of consumers feel more connected to that brand. Likewise, 72% of consumers prefer brands whose employees share information online.
Fostering a personal brand, and empowering your employees to do the same, helps build perceived value, trustworthiness, and credibility.
Take SparkToro founder Rand Fishkin. Search Google for SparkToro and the results focus primarily on Rand.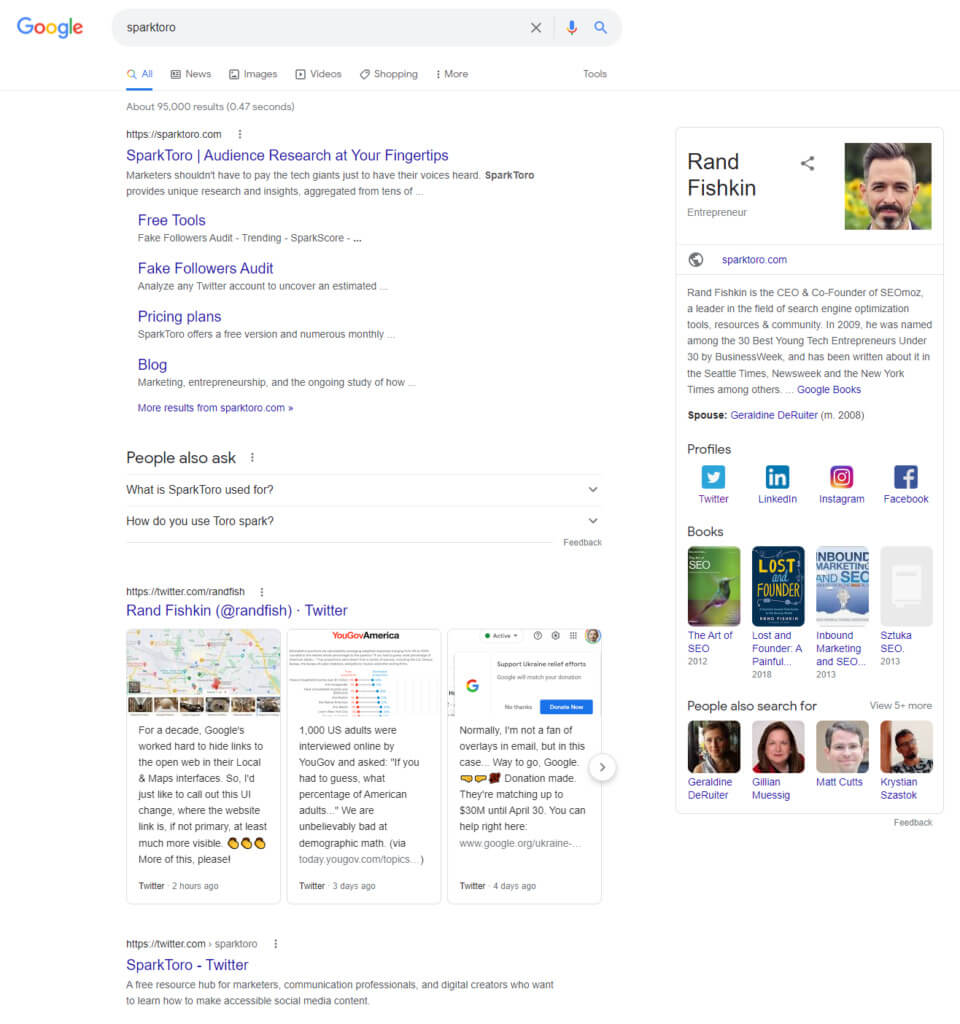 Since co-founding Moz in 2004, Rand has continually put himself out there as a public face. He shares content, interacts with followers on Twitter and LinkedIn, appears on podcasts, and speaks at events. He's done so with the same motivation: helping people.
Rand regularly shares his knowledge and thoughts on digital marketing, tech, and startups. This has helped him amass a following that directly influences the success of his companies.
When Rand left Moz to found SparkToro, his personal brand was key to the new company raising $1.3m in angel investment.
"Our advantages were almost all network-driven. Because I've been in the tech/startup/marketing field for 17 years, and have many kind folks who, over those years, offered to support my future efforts, a lot of the fundraising conversations were inbound. Folks saw my post about leaving Moz, and reached out, wanting to know if they could participate in whatever I was doing next." – Rand Fishkin [via SparkToro]
Buffer echoes Rand's people-first approach. The platform grew its brand by putting employees front and center.
Its blog, for example, is driven by its team.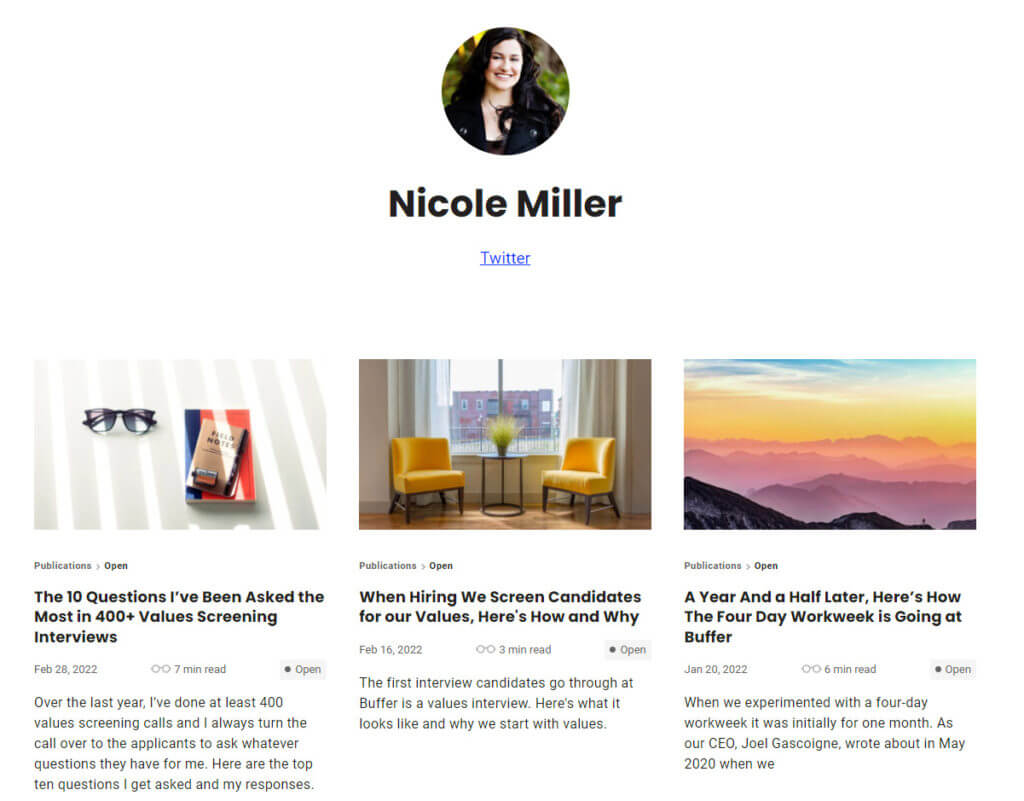 Team members also represent the brand on social media while simultaneously building their own personal brands.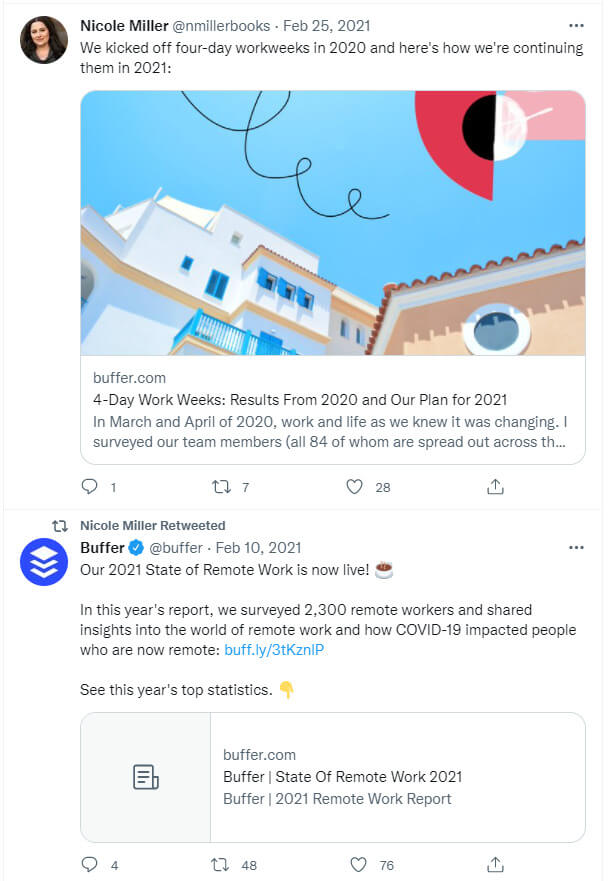 This helps further the company's reach and promotes an engaged workforce (which leads to 20% higher sales and 21% higher profitability).
Get in front of as many audiences as you can. Share valuable insights consistently and build relationships to boost engagement. Demand will naturally follow.
2. Become a trusted brand with thought leadership
Thought leadership is what growth marketer Ramli John says turns your target audience into "superheroes" by helping them hone their "superpowers."
Around 57% of buyers say that thought leadership builds awareness for a new or little-known brand, and 53% say it's important for new and small companies to produce thought leadership to consider working with them.
Thought leadership demonstrates your knowledge to help buyers overcome their problems at every stage of their journey.
Inside sales CRM Close.io, for example, grew its company to $6+ million in annual revenue with thought leadership-fueled content marketing.
Its founder Steli Efti explains in a blog post why this approach is beneficial:
"Out-teaching your competition is one of the best ways to build your brand, especially in the SaaS world. If you teach people how to run their businesses more effectively, they'll look to you first as they search for software solutions."
The team creates tons of material and makes it freely available to its target audience as blog posts, ebooks, guides, webinars, YouTube videos, and newsletters.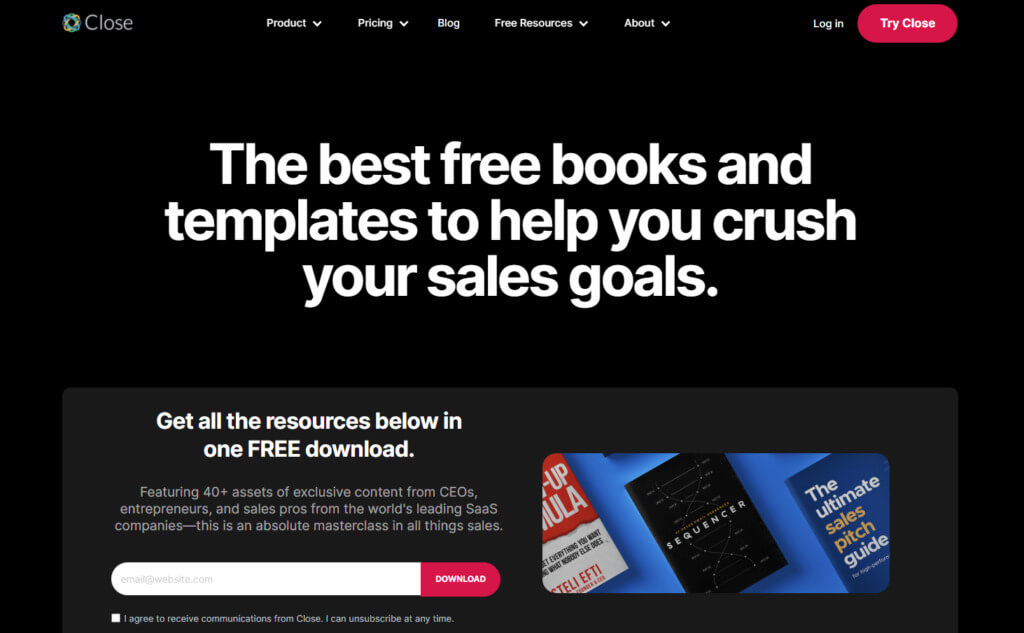 The brand repurposes content to increase its reach, allowing people to consume their thought leadership the way they want. This empowers them to hone their superpowers however they learn best.
A visual learner, for example, might watch a YouTube video before signing up for a webinar. Someone who prefers to read might download an ebook after reading a blog post.
Engaging potential customers at multiple touchpoints gives Close.io several ways to generate demand.
"Every week, I receive emails from people thanking me for a specific tactic or piece of advice. Some of them even set growth milestones around becoming a Close customer.

Founders, sales directors, and sales reps love our content so much that they're counting down the days to purchase our product. That's some powerful stuff. Because we've helped them every step of the way—whether they're launching startups, building sales teams, or chasing down sales goals—they know exactly who to trust when they're ready for an inside sales CRM." – Steli Efti [via Close.io]
To win at thought leadership, be different. Close.io's content marketing machine is successful because it offers unique value. Steli and his team have been there and done it, so they can talk about sales from an individual viewpoint.
Use your perspective and experience to your advantage to stand out. Positioning is fundamental to striking the right chord.
As Peep Laja explains in his CRO Agency masterclass:
"The first step with successful inbound marketing is positioning. You need to figure out, what are you about? You as a consultant or you as an agency.

The problem is if you look at all the content out there—all the agency websites, all the freelancers—they're all pretty much saying the same thing. You can just switch out logos of various agency websites and nobody would notice because they're all saying, 'we increase conversions', 'we increase your conversion rate', 'more revenue per visitor', all that stuff. So you want to have a different angle, a new angle, something that you're about."
How are you better than the competition? What can you say that they can't? What can only you offer?
If differentiation is a contentious issue for you, try this: create a list of three qualities that differentiate your brand. Each quality can be something your competition does individually, but you should be the only one that does all three.
Your unique value proposition will help drive demand. Use it to kill two birds with one stone: create original and engaging content, and position your brand in a way that stands out to your target audience. Otherwise, the best you'll achieve is entertaining window shoppers.
3. Run Webinars to nurture interested prospects
Since the rise of remote working, video has become increasingly accepted as a tool for learning and social interaction. Webinars as a demand generation tactic have benefited greatly from this.
Research from ON24 shows that 95% of B2B marketers now use webinars for lead generation. Of those, 72% say they directly impact pipeline and revenue.
Webinars are an effective lead gen tool to nurture prospects in the middle of the marketing funnel. At this stage, they already understand their pain points and are evaluating potential solutions. Signing up to watch a webinar is an expression of interest.
Engaging viewers with video content also lets you harness the benefits of personal branding and thought leadership on a low budget.
This is the tactic that ConvertKit used to increase monthly revenue by 637%.
Having launched an open affiliate program that paid 30% commission for the lifetime of the customer, ConvertKit built a loyal customer base that was growing with the company.
They used this to their advantage, hosting webinars with affiliate partners and using their influence to drive sales.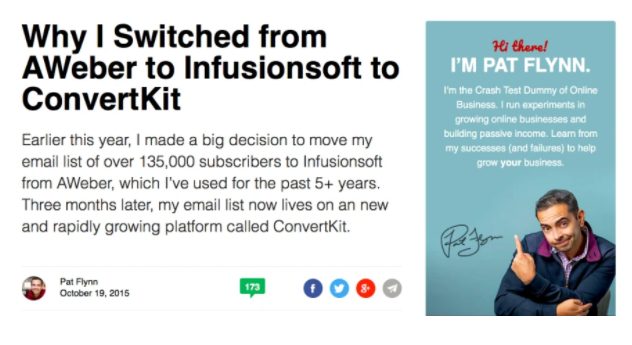 To save on resources, the team ran the same webinar repeatedly, hosted by different partners. Any affiliate could host a webinar, no matter how small the audience.
One on hand, this helped ConvertKit leverage its network to fuel its sales pipeline. On the other, affiliates got to expand their influence.
"This not only grew our email list significantly (up to 50,000 subscribers in a year) but also drove a ton of new revenue. Today we pay out just over 10% of our revenue each month to our affiliates." – Darrell Veterfelt, ConvertKit co-founder [via Leadfeeder]
But the success of its demand gen strategy wasn't solely down to who was hosting a webinar.
Each webinar focused on giving value without anything asking for in return. The team used them as a long-term investment, giving away online courses, ebooks, t-shirts, and free monthly subscriptions, alongside freebies from affiliates.
By making that first experience with the brand one of generosity and learning, ConvertKit laid the foundations for trust.
The company's narrow audience further enhanced this. Each webinar focused specifically on content for bloggers—a niche in which its founders were experts.
"I think it was that thing that made us succeed more than anything else. And there were many times that we had talked like maybe we should broaden this, maybe we should expand our target market. I'm really glad that we didn't—at least in the first two years—because it was the intimacy that we had with our people. We know you—because we are you and we're only for you." – Veterfelt
Focus your webinars on what you know. Find out which problems your audience is looking to solve and build content around these pain points.
To drive interest, promote your webinar at least two weeks ahead of launch. ON24 states that around 53% of registrants sign up in the seven-day period before the event, and only 1% sign up on the day.
Value, however, doesn't end after the live showing. ON24's webinar research also shows that 31% of attendees only watch on-demand webinars, with the majority registering a week after the event.
Capitalize on this by making webinars a part of your long-term content marketing promotion strategy and find a place for them on your website.
Kajabi, for example, promotes live and on-demand webinars in its resource center.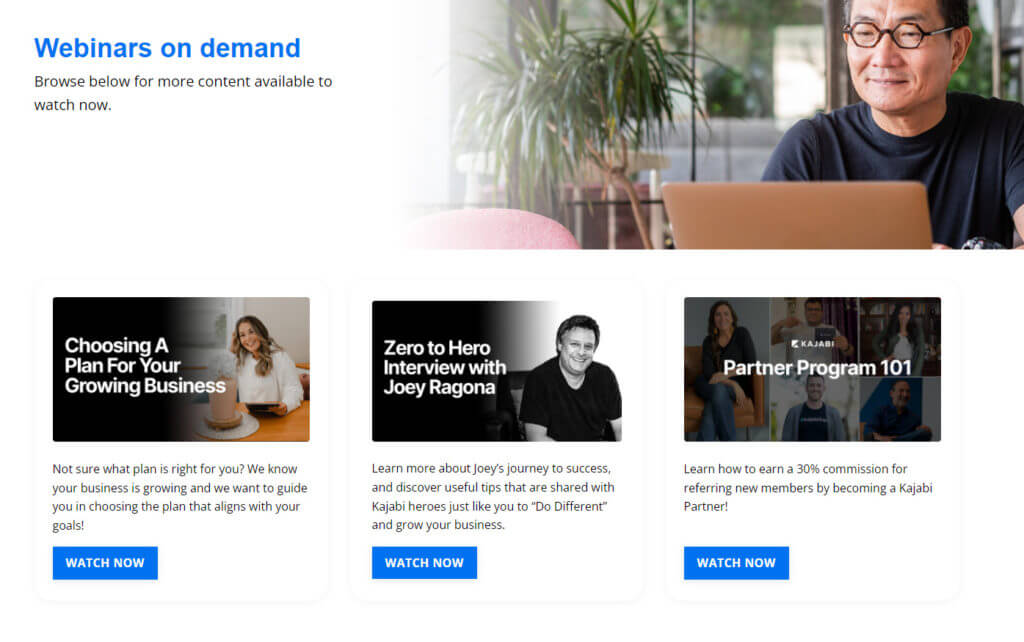 By making them easily accessible, prospects who are self-researching options can consume content around their schedule. This allows them to progress down the funnel at their own pace, giving you a steady stream of high-quality leads.
4. Harness the power of remarketing to stay front of mind
Most visitors to your website won't buy on their first visit. This isn't to say they're not interested. It's more likely that they're assessing their options.
Remarketing (ads targeting previous visitors) is a gentle reminder of your offer and a nudge in the right direction.
It can also be used to reach people who share certain characteristics with your top customers.
The key to remarketing is serving the right message in the right place: where your audience hangs out.
By segmenting audiences based on Google Analytics and CRM data, you can create highly personalized ads to re-engage people that have shown intent. This is a tactic Mazda used to get more people to test-drive its cars.
Using dynamic ads, they showed visitors the specific car model they were interested in based on their website activity. By combining this data with geographic radius, the ads also showed people the closest dealerships.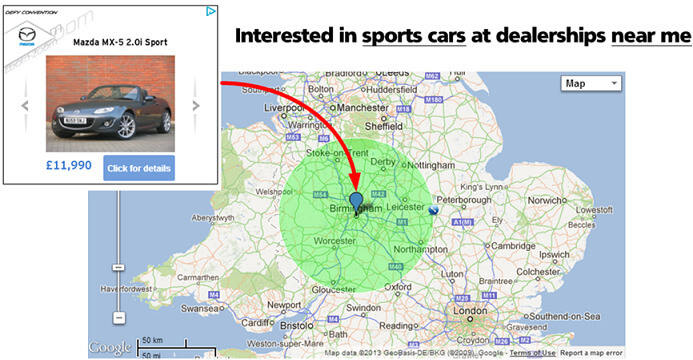 The result? 20% engagement rate, 53% higher conversion rate, and a sales value 98% higher than the offline average.
This shows what's possible using the data you have at your fingertips. But you don't have to limit yourself to your own traffic.
Security software company Lumension worked with a publisher who covered events that interested its target audience. By cross-referencing conference booth attendees with website visitors, it reached a new audience who may have never heard of the company.
The company then took this a step further by working with other media portals to retarget visitors interested in competitor content.
This allowed it to engage visitors outside of its funnel who were in the market for IT security, boosting targeted influencer traffic by 10% and leads by 81%.
Get creative. Talk to publishers. See how you can combine to drive demand. Test specific offers with your ideal customers based on locations or products that drive the most traffic.
When customers narrow down their choices, a well-timed ad from a company they recognize can swing the pendulum in your favor.
5. Partner with influencers to build trust and credibility
Social proof is a powerful thing. It makes us feel we're making the right choices. As GetUplift.co's Talia Wolf explained:
"As customers, we buy products that make us feel good about ourselves, products that change us and make us better. By using social proof in the form of testimonials, reviews, and trust icons, you're helping customers make a decision, feel confident about their choice, and be a part of something bigger.

The form of social proof that you choose can instigate different emotional triggers. Planned carefully, you can spark specific emotional triggers that influence customers' feelings towards their purchase and your business." [via CXL]
By partnering with influencers you can leverage social proof to increase demand.
Take Demandbase. It teamed up with Outreach, Bombora, Drift, and others to create an ABM Market Research Study.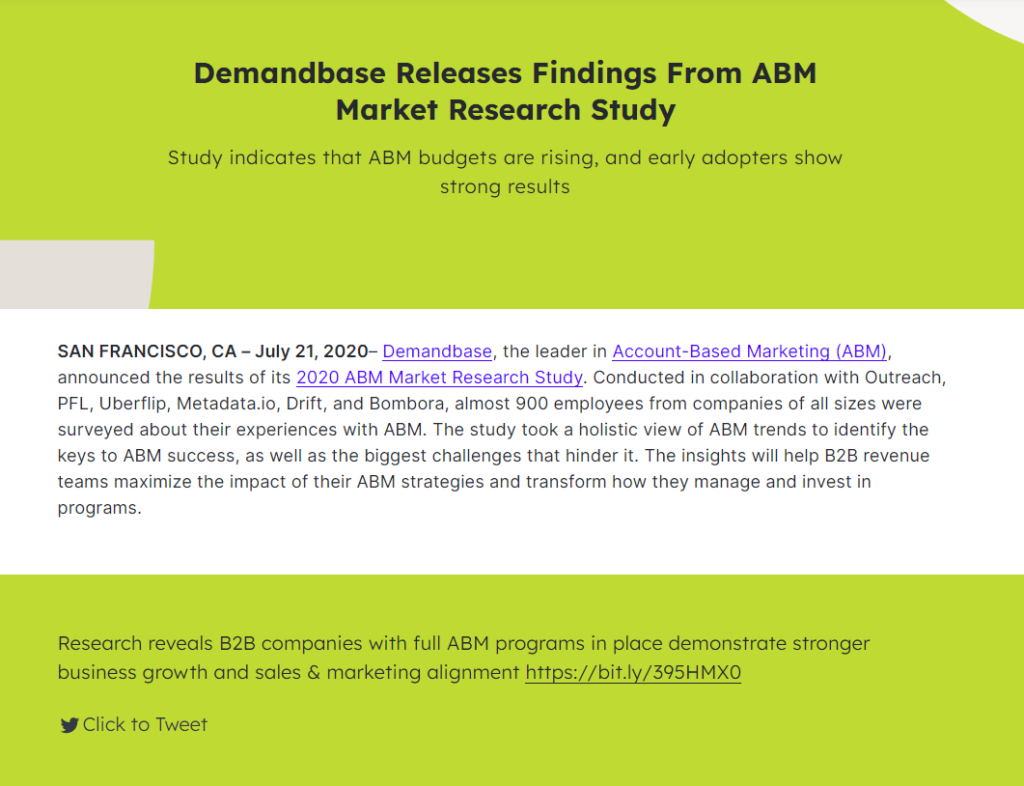 Having these respected brands on board gives it more credibility. Working with other brands gives Demandbase a larger data set to work with. These brands committed to a study with a company they trust, boosting Demandbase's reputation and visibility with new audiences.
Partnerships can be used to create a range of lead magnets, such as:
Research reports;
Webinars;
White papers;
Free tools;
Case studies;
How to guides;
Events.
To get them right, choose your partners carefully. Demandbase's partners, for example, are all in the account-based marketing space. This gives them access to a relevant audience.
It doesn't make sense to team up with a direct rival, but any partner audience should offer potential leads.
Ensure that any partnership is mutually beneficial. If a partner gets as much out of it as you, they'll be happy to promote it to their audience. The demand they create also turns into traffic for your website.
6. Nurture leads and upsell customers with email marketing
Email marketing is 40x more effective at acquiring new customers than Facebook or Twitter, and it's a key driver of retention for small and medium-sized businesses. Customers that you engage through email also have a higher customer lifetime value.
As you build audiences from other demand generation campaigns, use the data to nurture leads who didn't convert and upsell to existing customers.
Email marketing strategy is a game of trial and error. You'll need to test, track, and analyze everything from subject lines to copy to CTAs, and then look closely at the results to find the right formula.
It's also crucial to deliver the right content at different stages in the customer journey.
Flock sent this email on how its platform can benefit trial users.

This is a well-timed email for onboarding new leads, but it would be the wrong message to send to paying customers.
Existing users instead receive emails on new features, with tips on making the most of them.

This allows Flock to maintain engagement on the platform with users who are familiar with its benefits.
To create the demand with the right audience, focus on the six essential elements of high-performing emails:
List segmentation. Use list and CRM data to group people based on buyer personas, location, and previous activity.
Personalization. Create content relevant to a recipient's interests and previous interactions with your business.
Benefit-focused subject lines. Find inspiration in your own inbox. What compels you to open an email? What compels your team? Test subject lines and measure success by open rate.
Compelling body copy. Keep readers engaged with clear and simple content. Follow proven copywriting formulas to describe a problem and position your product as the solution.
Optimized CTAs. A/B test action words, as well as button color and placement.
Mobile-friendly design. Some 81% of all emails are read on mobile devices. Format templates with important content above the fold. Use concise copy and optimize emails for tapability—making buttons and links large enough to click.
7. Leverage existing customers for referrals
Successful demand generation leads to happy customers who will recommend your product to others.
However, of the 83% of people who say they're willing to refer new business to a company, only 29% of them do.
This tells us that some people need a push. Make referrals worthwhile by rewarding this customer behavior.
For example, Morning Brew built an audience of two million subscribers with a referral program that let customers reach different milestones.
The more people a customer refers to Morning Brew, the greater the reward (from access to a premium newsletter for three referrals up to a trip to Brew HQ for 1000 referrals).

Along with tempting benefits, Morning Brew makes it easy for people to share content with friends and followers. Spreading the word is as easy as clicking a button.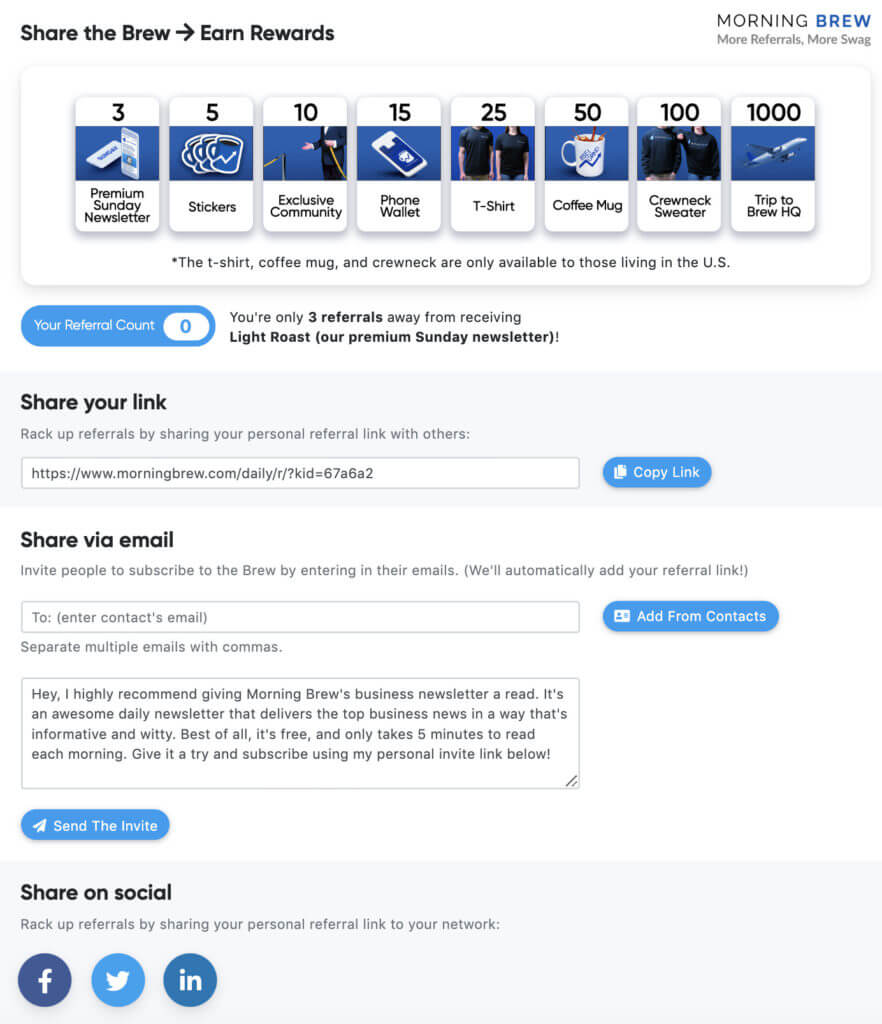 Its reward hub also motivates customers with a real-time counter that tracks referrals and encourages them to keep referring their brand: "You're only X referrals away from receiving X reward."
Use Morning Brew's referral program to inspire your own.
Survey your customers to find out how likely they are to recommend you to others;
Ask them what they most value about your product or service and use their responses to create your incentives;
Give participants something to work towards to keep them involved.
Make it easy for them to spread the word with short links and pre-written copy;
Keep them engaged with regular progress updates;
Regularly review and introduce new incentives to keep customers engaged.
Make the reward for performing a task greater than the action and your customers will become your biggest demand generation asset.
Conclusion
An effective demand generation program can't be set up and launched in a morning meeting. It's a long-term approach that requires buy-in from every department and evolves with customer needs.

The key to success with any tactic is understanding your audience. Be clear on who you're talking to and what you want them to do. Focus content around their needs and offer relentless value.
Every interaction with your brand should give customers another reason to trust and choose you over the competition.
Advance your demand generation skills and drive growth for your business with CXL's Growth Marketing Minidegree.