The average B2B buyer has 27 brand interactions before deciding. Very few, if any, of these interactions are with a sales rep.
Instead, buyers are self-directed, gathering information from social media, websites, webinars, and online events.
This behavior has marketers pledging to up their demand generation budgets. Because if people are making up their own minds, without coercion from sales, creating demand is the best way to get them to choose you.
In this article, you'll learn about how a demand generation manager benefits an organization and which qualities they need to fuel your sales pipeline.
What is a demand generation manager and why do they matter?
Demand generation combines marketing tactics, strategies and programs to create awareness and drive interest in your products or services.
The role of a demand generation manager (DGM) is to manage the team and the campaigns that create awareness and interest.
But isn't that the role of any marketer? Look at the biggest challenges marketers face in any annual survey and you'll see the same priorities related to developing, nurturing, and converting leads: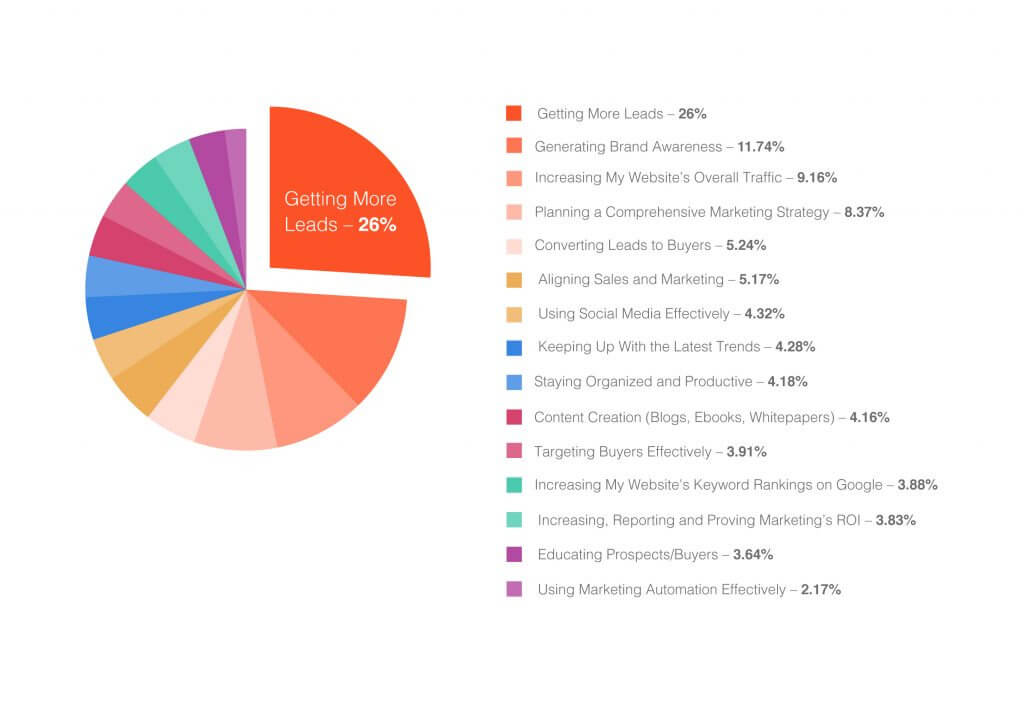 Marketers are always looking for ways to get people excited about products or services.
The difference between a demand generation manager and a marketing manager is that demand generation is bigger than just marketing.
Marketers raise brand awareness to capture leads that are handed to sales teams to convert into customers. DGMs see that demand is maintained throughout the sales cycle.
Demand gen managers aren't in the game of capturing leads
Demand generation owes a lot to inbound marketing. It wouldn't exist were it not for the internet empowering buyers to do their own research and make informed decisions.
70% of buyers are already clued up on a product before they talk to sales, if they talk to sales at all. They know what their problem is, what's needed to solve it, and what the best options are.
Marketing teams capitalize on this fact with lead generation campaigns. And they put a lot of stock in them. More than half allocate most of their budget to securing leads.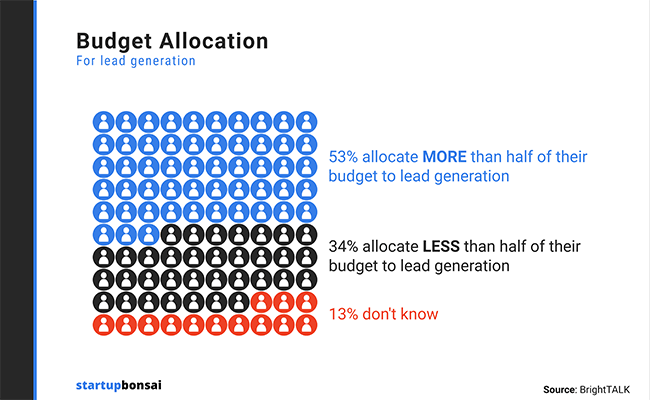 The problem with lead generation is that, as Brian Gleeson notes, "we've mislabeled user actions like forms-fills as 'leads.'"
For example, a marketing agency creating an ebook on "SEO for beginners" may attract 500 leads, a win for marketing.
But how many of these leads are marketing qualified leads (MQLs) and how many are people with no buying authority looking to learn a bit about SEO?
Only around 10–15% of B2B leads turn into paying customers, and it's because tactics optimizing for the early stages of the funnel only cater to early-stage goals.
This siloed approach is what demand generation managers are brought in to help overcome. It's their job to implement a holistic approach to growth that encompasses both marketing and sales and looks at every stage of the buyer's journey.
As this job ad for a DGM role at DeepCrawl details:
"The Demand Generation Manager will work closely with the channel marketing managers to plan and deliver marketing campaigns. They will own the conversion funnel working collaboratively with the sales team and the product team to drive inbound marketing, outbound sales and optimize lead conversion. The Demand Generation Manager will be responsible for innovating and continually testing different marketing activity to maximize lead generation and ROI."
To achieve overall business goals, DGMs have to go beyond the product or service to appeal to the motivations of the ideal customer.
This involves using marketing automation, sales and marketing data, and different strategies (e.g., account-based marketing and lead generation) to build processes designed to deliver the right information to the right people at the right time.
At every touchpoint, they must improve the prospect's situation to build relationships and earn trust. Or, as growth marketer Ramli John says in his CXL demand generation course:
"If you want to sell efficiently at a high velocity, turning people—by educating, by empowering, by entertaining—into superheroes is the way to do it."
By helping people hone their superpowers, DGMs don't simply add names to lists; they keep prospects moving towards the sale.
Where does a demand generation manager fit into an organization?
Demand generation managers are technically part of the marketing department. They typically report to a CMO, VP of Marketing, or director of demand generation and work to plan, build, and execute marketing programs.
The responsibilities from this DGM role at SaaS company Datto show how embedded demand gen managers are in marketing:
• "Build strong, integrated marketing programs using a mix of content marketing, digital marketing, email marketing, and webinars to drive new business opportunities and revenue.

• Plan, develop, and execute email marketing campaigns to generate and nurture leads in an effort to build a qualified sales pipeline.

• Manage a marketing budget that will drive the most qualified leads through paid programs such as content syndication, pay-per-click, and events.

• Measure, analyze, and report on campaign performance and provide strategic direction based on analysis.

• Closely partner with other marketing team members and the sales organization."
They'll be heading up the team to develop new strategies, create new market segments, and define and measure metrics to demonstrate ROI to stakeholders. Sometimes, this will be across the full marketing spectrum. Other times, they'll focus on a particular channel or initiative.
HubSpot's demand generation team manager Amanda Sibley, for example, is responsible for generating demand at the top of the funnel. A dedicated content team creates the assets, and Sibley's team launches the campaigns and manages the promotion to drive traffic and downloads.
Where DGMs and their demand generation teams differ from traditional marketing teams is in their close relationship to sales. Their focus is on a marketing strategy that supports overall sales efforts. For this to work, it requires complete marketing and sales alignment.
Segmentation in the customer journey can result in marketing teams running campaigns that sales reps undervalue and sales reps wasting time prospecting unproductive leads.
It's an issue that costs businesses more than $1 trillion a year, and it's the number one reason revenues stagnate or decline.
Get it right, however, and it's a different story. Marketo research shows that aligned organizations have 67% higher conversion rates and leads that generate over 209% more revenue.
When it comes to account-based marketing, Internal Results' Head of Digital Marketing, Will Humphries, ranks alignment as the key to success:
"My number one tip [for companies starting ABM] is to ensure there is full alignment between your sales and marketing teams.

This includes having an unclouded vision of the accounts you want to target, the goals you want to achieve as an organization, and the KPIs that are going to help you measure your successes.

Without a solid foundation of what you want to achieve, you will not get the results you are hoping for. Also, you need to know who the decision-makers and influencers are within your target accounts. If your data is not accurate, your account-based marketing program will fail miserably." [via The Smarketers]
It's the job of DGMs to get everyone on the same page and clear on four priority steps:
Define and understand your target audience. Use firmographic data, source information, and customer behavior insight to establish what people need to hear from the first interaction to sale.
Create core messages to speak to your target audience. What do you do? How do you do it? Why do you exist?
Define shared terms and internal language. Be clear on what defines leads, MQLs, and SQLs
Create a process for working with leads. Establish where leads go between sales and marketing, the order in which you reach out, how quickly to reach out, and over what timeframe.
This ensures the hand-off from marketing to sales is consistent and customer-orientated.
A day in the life of a demand generation manager
Communication skills are an essential asset for demand gen managers because a lot of time is taken up by meetings.
"Some days, I literally have meetings from 9 a.m. to 6 p.m.," Amanda Sibley told Technology Advice's Aleks Peterson.
Her morning starts by writing down people management tasks including a follow-up on recently launched campaigns and prepping for the day's meetings.
But there's also time in the morning to get hands-on with creating retargeting campaigns and editing.
DGMs enjoy lunch with team members, learning about them away from the desk. Then it's an afternoon of meetings. First up is a strategy meeting with other managers, followed by a meeting with the content team, and one-on-ones with members of her team to check in.
"Regardless of the team size, I think these kinds of meetings are really important, whether it's peer-to-peer or manager-to-employee. You need to stay up-to-date on what everyone is doing." [via Technology Advice]
The day for Amanda ends with checking emails, before listening to a podcast on growth on the commute home.
What do companies look for in a demand generation manager?
When Vital asked individual personas what their biggest challenge was, the answer was unanimous. Business owners, CEOs, sales reps, marketing managers and coordinators, IT practitioners, and agencies all wanted more leads.
Given that a demand generation manager's job is to drive qualified leads through the sales pipeline, in many ways, the success of the company depends on them being great at what they do.
Ideas and demonstrable demand generation experience are high on the list of hiring managers. Market Recruitment co-founder Matt Dodgson's recommended interview questions are heavily influenced by these factors:
1. "If we hired you into this role, how would you approach your first 30, 60, and 90 days in the job?

2. Now we've talked you through what we do, how would you generate demand for us? Is there anything else you'd need to know? And why have you decided on those activities?

3. What would you put in place with the sales team to ensure there's alignment between what marketing does and sales does?

4. Tell me about the most successful demand generation campaign you've run, what did you do, why did you do that and what did it result in?

5. Tell me about a demand generation campaign that didn't go well, why did that happen and what did you learn from it?

6. In your last role, talk to me about what elements of the demand generation campaigns you executed and what support you had internally or externally?

7. What elements of demand generation do you enjoy and what do you dislike?

8. What have you learned recently and where did you learn it from? How do you stay on top of current demand generation trends?

9. How have you influenced pipeline growth and conversions?

10. What excites you about our job?"
As are Metadata.io's Jason Widup's questions, which are based on his own experience of hiring a demand gen manager.
"Many of the questions I ask are to understand a candidate's perspective on demand gen.

Why?

Because the best marketers have their own perspective on everything from metrics to channels to branding.

The answers to these questions differentiate those who are well-read versus those who are well-read and have their own hands-on experience to build a unique perspective on."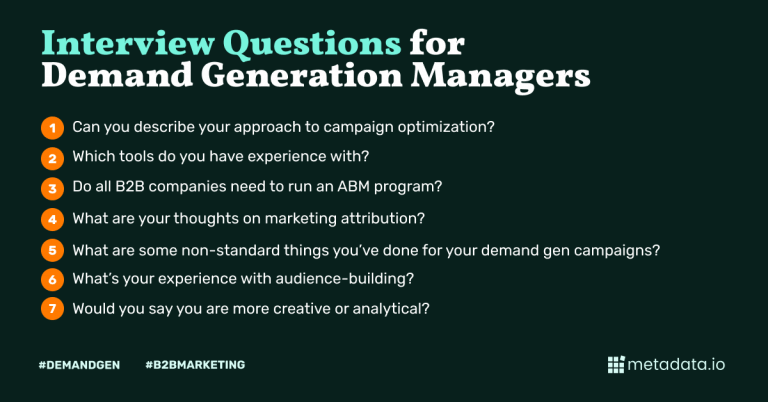 These questions are reflected in the desired skills and experience section of almost every demand generation manager job ad you'll come across.
Here's an example from DeepCrawl:
"Key experience and knowledge:

• 3–5 years demand generation marketing experience, ideally from a B2B company;

• Extensive hands-on experience of running performance marketing campaigns across paid social (Facebook, Twitter and Linkedin) as well as paid search, retargeting and PPL (pay per lead);

• Experience in running successful B2B ABM campaigns targeting enterprises;

• Extensive knowledge of demand generation best practices and demonstrated ability to generate leads;

• Hands-on experience using Salesforce or similar CRM software;

• Experience of managing multi-channel marketing campaigns in a B2B, SaaS environment;

• Direct experience with marketing automation software (such as Hubspot), CRM (SalesForce) as well as a good understanding of marketing automation systems, lead scoring and attribution;

• Knowledge of Google Analytics and Google Data suite and experience running detailed campaign reporting;

• Strong project management skills;

• Problem solver with a growth hacking mentality;

• Zapier is your friend;

• Experience working within a SaaS company—a plus;

• Experience working with WordPress—a plus;

• SQL / Programming basic know-how—a plus."
And another from a SaaS role advertised by We Love Salt:
"Please ONLY apply if you possess the following:

• Minimum of 4 years' experience in B2B lead generation and customer acquisition marketing for a B2B SaaS or technology business;

• Demonstrable experience of creating marketing assets such as landing pages, ad posts, email templates;

• Strong experience in managing budget and paid campaigns across Google AdWords (Search, display, email, retargeting) and Social (LinkedIn, Twitter, Facebook);

• Experience in using Salesforce and other sales and marketing platforms. (i.e MailChimp, ChartMogul, GA);

• High level of proficiency with managing and interpreting campaign data – budgeting, reporting, analysis, troubleshooting, optimization;

• Strong organization, verbal and written communication skills essential;

• Ability to learn fast, balance priorities, and meet deadlines;

• Team player: organizing and managing with multiple stakeholders within the business;

• Self-motivated and self-managed: able to think independently, get feedback and find solutions."
According to SaaSMQL's CEO and former DGM, Franco Caporale, to be successful, a DGM should:
Be data-driven;
Understand sales processes;
Understand the back-end side (marketing automation systems);
Be focused on ROI;
Be an expert with content marketing;
Be willing to experiment and careful in tracking results.
Within these traits are a combination of core skills and targeted skills:
Core skills:
Marketing automation tools. You should have experience using multiple tools to quickly and efficiently run campaigns on different channels.
Analytics platforms. An understanding of Google Analytics, and email and social media analytics tools is essential in gathering data to plan, implement, and improve demand generation strategies.
Excel. Working with pivot tables and building reports is important to communicating results to team members and stakeholders.
Communication. You need to be able to communicate with sales and marketing teams daily to keep campaigns running smoothly. You'll also be responsible for proving ROI to stakeholders in simple terms.
Targeted skills:
Hypothesization. You need to be able to look at what will work for your audience and develop it into a campaign that's launched at the right time.
Willingness to adapt. Not everything works out as planned. You need to be strong enough in your convictions to change direction and modify KPIs based on results.
Becoming a demand generation manager
The skills required to succeed in a DGM role are such that you can't parachute into a job from an unrelated field.
The role is best suited to mid-to-senior level marketers that have worked on demand generation campaigns or transitioned into demand generation specialist roles that involve:
According to Intricately research, a demand generation specialist should have:
Bachelor's degree in marketing or business or other related degree;
At least 4-7 years of marketing experience, preferably executing some of the same tasks to be managed in the role, such as content development;
Experience with CRM and marketing automation software;
Experience measuring the effectiveness of demand generation efforts at each level of the funnel.
If you're currently in a marketing or demand generation specialist role, think about demonstrable experience.
Take note of your role in successful demand gen campaigns. Hiring managers want to see a track record. Write down how you contributed and how it benefited the result. Use screenshots and numbers (e.g., increase in leads, conversion rate, website traffic, etc.) to communicate your success.
Where possible, gather references from DGMs, demand gen directors, and marketing VPs to add weight to your skills.
Study those above you closely. As Trend Micro DGM Ashleigh Davis says, it's important to "listen and observe."
"I think it's critical to always be learning and always be striving to become the best 'you' possible. I read somewhere that you should thoughtfully select 3-5 descriptive words that you would like your personal brand to embody.

Next, you should do a blind survey and see how people describe you. The results may be crushing, but they can also be extremely beneficial for course-correction.

As I've contemplated my own 'descriptive words,' I have continued to watch and monitor those around me—do they exemplify what I want to be? If yes, I watch closely and try to learn from them. There are so many tremendous people around each of us—it's time we take notice!" [via Heinz Marketing]
How does your DGM operate? How do CMOs communicate with their teams? What language do sales team leaders use?
What do they do well? What would you do differently? Everything you learn now can be used to become a stand-out candidate.
How much do demand generation managers earn?
Demand generation managers are well-compensated financially, but salaries differ considerably depending on experience.
According to Payscale research, the average base salary for a DGM is $84,876.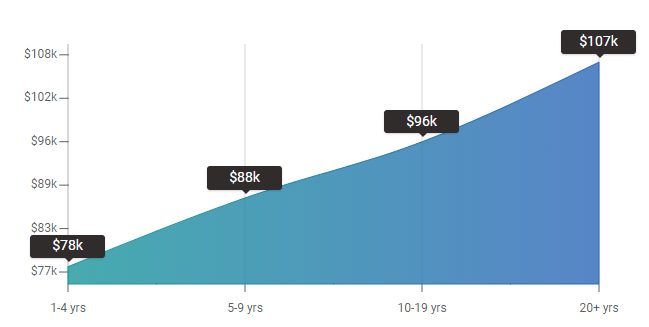 An early career DGM with 4+ years of experience earns an average of $77,522.
A mid-career DGM with 5–9 years of experience earns an average of $87,545.
An experienced DGM with over 10 years of experience earns an average of $95,737.
A late-career DGM with 20+ years of experience earns $107,351.
It's worth noting that this is lower than research from Comparably, which puts the average salary at $130,300, with the most experienced DGMs earning $187,200.
If you're moving into a DGM role from a demand generation specialist position, you can expect a significant bump in your earnings. According to Salary.com, the salary for specialists typically falls between $50,491 and $62,725.
Conclusion
If you're a business struggling to attract high quality leads or want to drive growth and build brand awareness in a competitive market, adding a demand generation manager to your team will help drive demand with your target audience.

By cultivating long-term relationships, they fine-tune customer experiences to fill your sales pipeline with people likely to buy and work to keep them.

The right person for your team will have a proven track record of running demand gen campaigns, leadership qualities, and a persuasive personality.

If you're an experienced marketer that ticks these boxes and thinks deeply about customer behavior and marketing analytics, you could be the DGM companies are looking for.
Grow your demand generation skills to land a job as a demand generation manager with CXL's Growth Marketing Minidegree.