Messaging determines 80% of your conversion rate. It helps you grab your target audience's attention, hit their pain points and aspirations, and build interest in what you're selling.
Yet, there's no one-size-fits-all approach to building the perfect messaging strategy.
Too many brands try to follow old messaging frameworks and cast a wide net. Strong messaging, however, requires you to pinpoint your unique customer base and speak directly to them.
Effective messaging must be informed by your market, competitors, buyer intelligence, and user research. It takes time, steady research, testing, and optimization to craft the right message.
This guide will help you understand how to set yourself apart from the competition and deploy a messaging strategy that resonates.
What is a messaging strategy?
A messaging strategy is a framework that guides your communications and ensures your messaging is aligned with your brand and with your audience at every step in the customer journey.
Why you need a messaging strategy
Strategies are plans meant to help simplify a process, and this is no different with your brand messaging strategy.
The point isn't to complicate your content creation—it's to ensure your messaging is aligned with the customer journey every step of the way.
Gumroad, a software that allows content creators to easily sell digital products, gets straight to the point with their unique selling proposition (USP):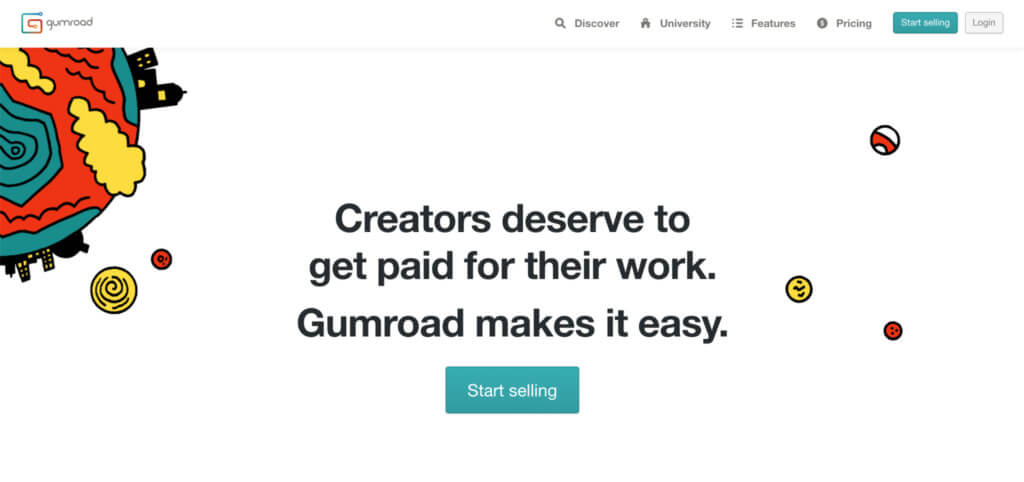 They state exactly who their target audience is: creators. It's customer-focused and speaks to a common pain point: not getting paid enough (or at all) for created content. If your work is never undervalued and you always get paid, Gumroad isn't for you, and that's ok.
If the messaging does resonate, it's incredibly compelling. Gumroad likely knows this, which is why their "Start Selling" CTA is equally as enticing. Their audience is in a rush to turn the tide, so why not compel them to get started right away?
The best USPs are backed by what you do, and on the next page Gumroad makes it clear they've helped 91,224 creators earn over $476,139,752: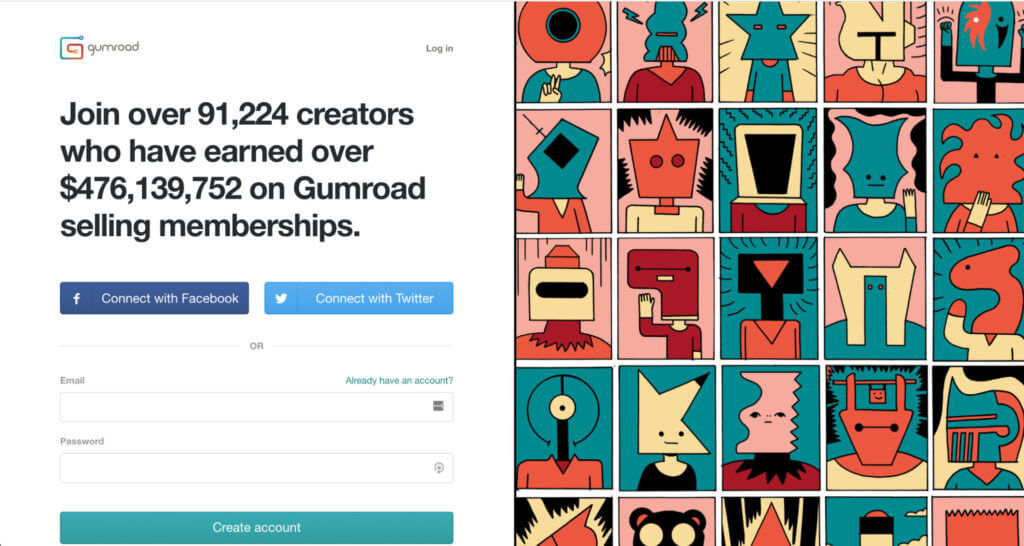 If you aren't chomping at the bit to sign up after reading that, you likely aren't their ideal customer.
You also need to focus on the things that set your business apart from the competition. Your brand's mission, its ideals, what it stands for, and how you're going to best attract your audience.
Start with user research. Understand your target demographic's buying habits and what makes them most likely to pull out their wallets. Figure out how your product uniquely fits into the market and drive that message home. More on this later.
Why is messaging a challenge?
Too many brands try to cast a wide net. In the current landscape, that won't work. Competition is rife, and people have endless choices. It simply isn't possible (or realistic) to create a product or service that everyone wants.
Instead, pinpoint your unique customer base and speak directly to them. What makes you special? Importantly, what makes your audience special? Whatever sets you apart, and/or makes your audience tick, lead with that.
Deloitte found that brands that view themselves as human entities are more successful at building connections. Fostering these connections deepens trust, which sways decision-making and loyalty.
It takes time, steady research, testing, and optimizing to craft the right message. Even then, treat your marketing messaging as a living document to match your ever-evolving audience.
How to build a messaging strategy that wins the marketing game
Everybody is competing using the same elements, for example:
Every landing page needs a strong USP to grab attention
Product descriptions are table stakes
Customer-centric content is going to continue to grow in popularity and importance
Because:
People care about what you can do for them and the causes they care about, not simply what you do
They want to get to the crux of the matter quickly
They need to picture themselves using or benefiting from your product or service
The data is out there. Every marketing team has access to free Deloitte reports like this one to gauge consumer trends: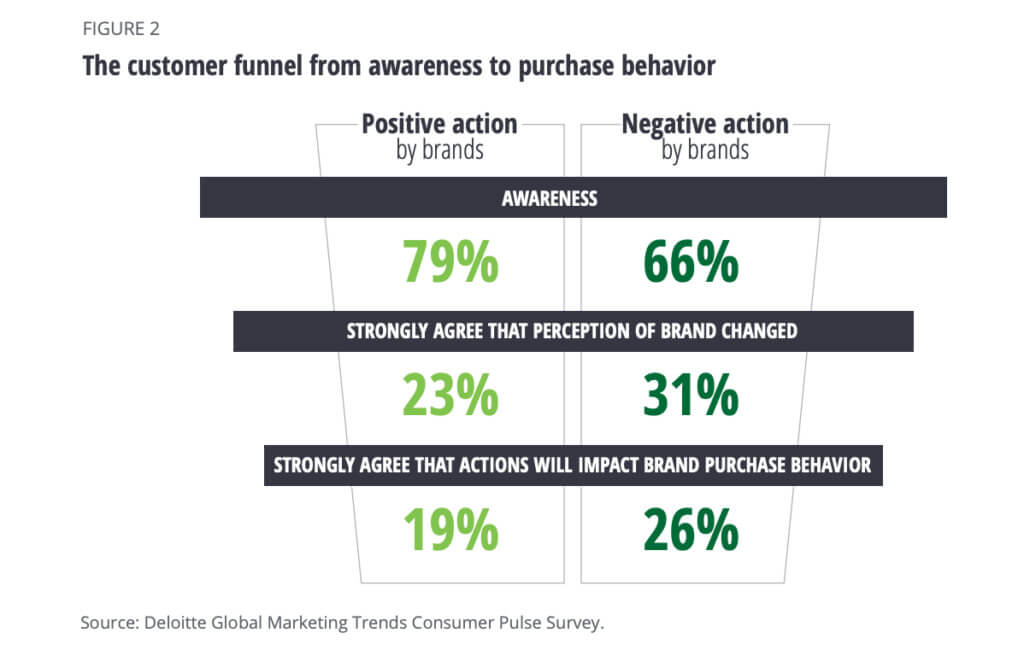 To avoid sameness, you have to be radically different. Here are four elements of an effective messaging strategy and our take on how to use them to stand out.
4 steps to create a powerful messaging strategy:
Craft a unique selling proposition;
Determine your target audience and compile a buyer persona;
Build your brand story and use business storytelling;
Write your message strategy guidelines.
1. Build your unique selling proposition (USP)
Your unique selling proposition is front and center. It's the executive summary of a business proposal, so to speak. The elevator pitch. Grab my attention or lose your chance.
In some cases, this means niching down (as we saw with Gumroad). Filling a void in the market is a form of standing out. And being the first to do something gives you a leg up.
Take Dollar Shave Club. The convenience of having razors mailed to their audience monthly wins out over many other brands.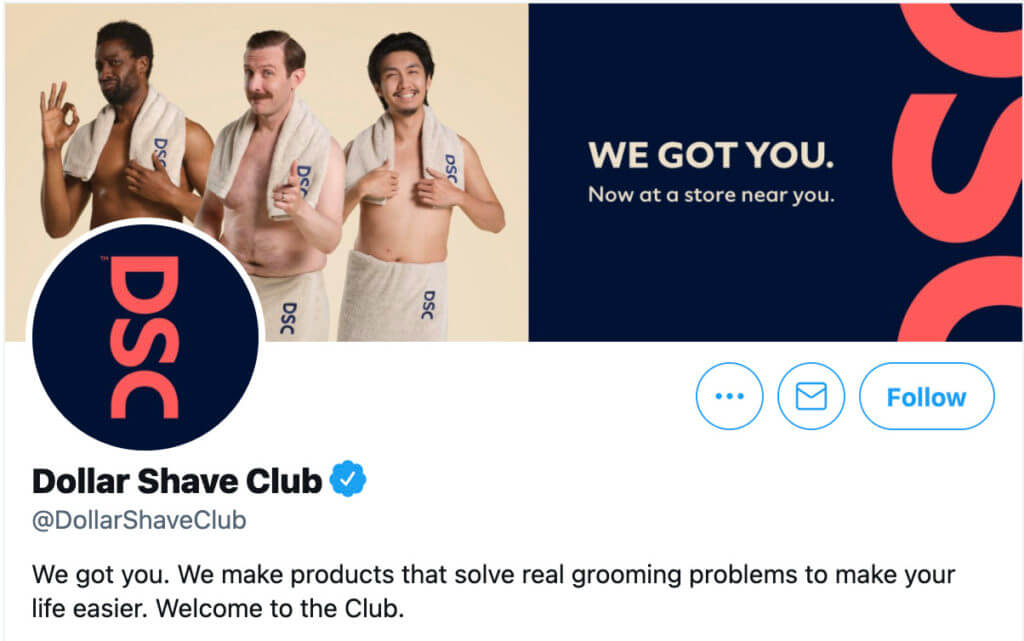 Their Twitter bio showcases their main USP: making life easier by solving real problems.
Naturally, somebody will copy Dollar Shave Club in due time. When that happens, they'll need to produce new products or ideas that are equally as innovative, impressive, and compelling. We go into detail about how outdoor gear brand Yeti did just that in a later section.
2. Determine your target audience and buyer persona
What influences your target audience's decision-making? Start by compiling a buyer persona to determine:
Basic demographics (age range, gender, income, education level, etc.)
Media consumption
Hobbies & interests
Goals
Pain points
Use social listening to gauge intent, desires, and needs. Conduct voice-of-customer (VOC) research, interviews, and surveys to ask your customers pointed questions about their buying experience.
Understanding what makes your audience tick informs your positioning strategy. It's what takes your product or service from "nice to have" to "I need that now".
The team at Dollar Shave Club understands that their audience craves simplicity plus high quality. One without the other won't make the cut, literally.
On their homepage, 'value' and 'control' are positioned back to back: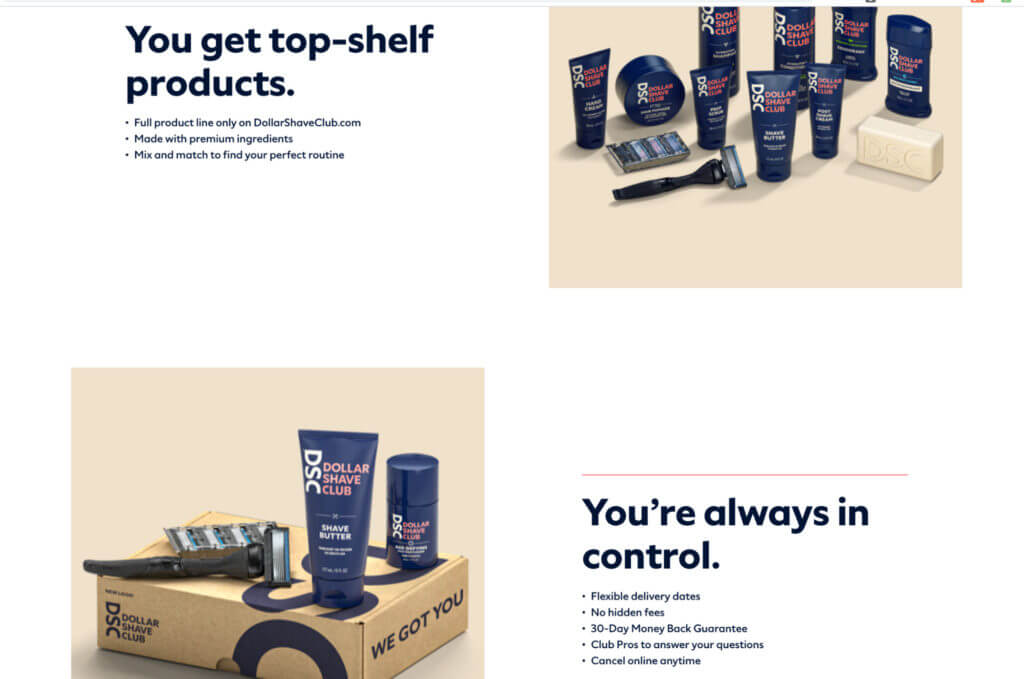 Note the use of "You" in both headers. Instead of, "We bring you top-shelf products" which centers the business, they center the customer's needs. Always highlight what the customer will gain, not simply what you can bring.
3. Craft your brand story
Your brand story (and business storytelling techniques) helps you generate an emotional connection with your audience. This strengthens brand loyalty and drives customer retention.
A brand story should talk about how your brand came to be, why you make your products the way you do, the story behind your service offerings, what your company's mission means to you, and the like.
TOMS Shoes showcases how ⅓ of their profits go to charitable causes. They have an "Impact" page in their top-level navigation so it's one of the first things visitors see: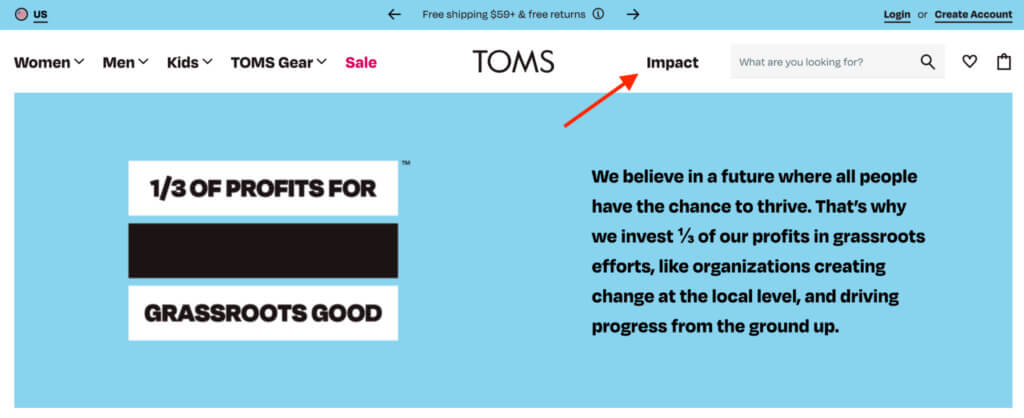 This page showcases specific causes they donate to and even includes an impact report sharing how donations have helped change lives.
Value-centered experiences move the needle (if your audience demands them). Your mission statement should speak directly to the values your end-users care about and define how you will deliver on your promises.
If you fail, trust will break. Close the gap between what you say and do. An empty promise is worse than no promise at all.
Deloitte's HX TrustID™ helps marketers to quantify the relationship between humanity, transparency, capability, and reliability: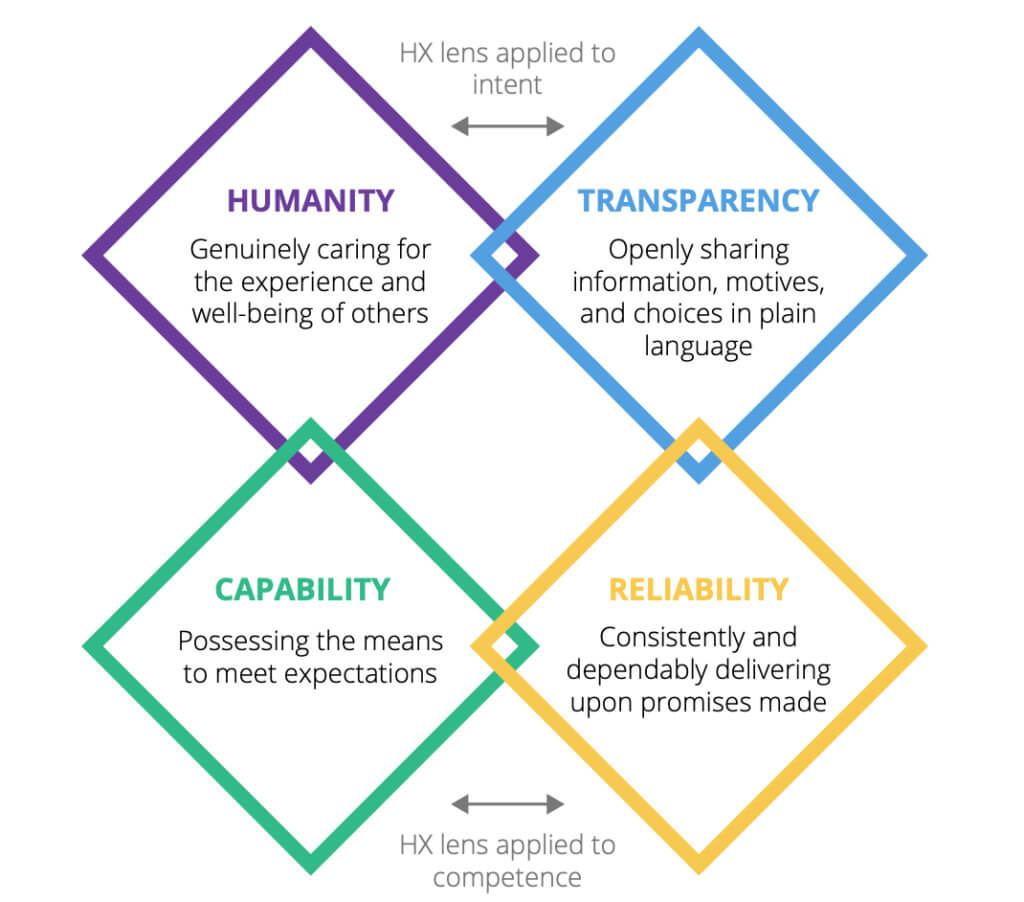 Each of these components is a pillar of trust. But you don't need to have an equal balance to succeed. Context plays a big part. Naturally, context will vary by industry and offering. Deloitte found:
Humanity is rated of higher importance for service industries like hotels and casinos
Transparency is rated most important for transportation and logistics companies
Capability is critical for travel brands like rental cars, cruises, and rideshare
Reliability is top of the list for the automotive industry
Listen to what your customers say to gauge what they consider most important. Then, tell stories that speak to those values to drive connection and prove authenticity.
4. Write your message strategy guidelines
Your messaging strategy guidelines are a playbook for how your marketing team should create materials. By collating key information in a framework, you'll reduce internal feedback loops, improve collaboration, and empower consistency—which can increase revenue by 33%.
At a minimum, your brand messaging framework should include:
Your mission statement
Tagline and/or USP
Value proposition
Brand pillars
Here's a short-and-sweet brand messaging framework from Coschedule: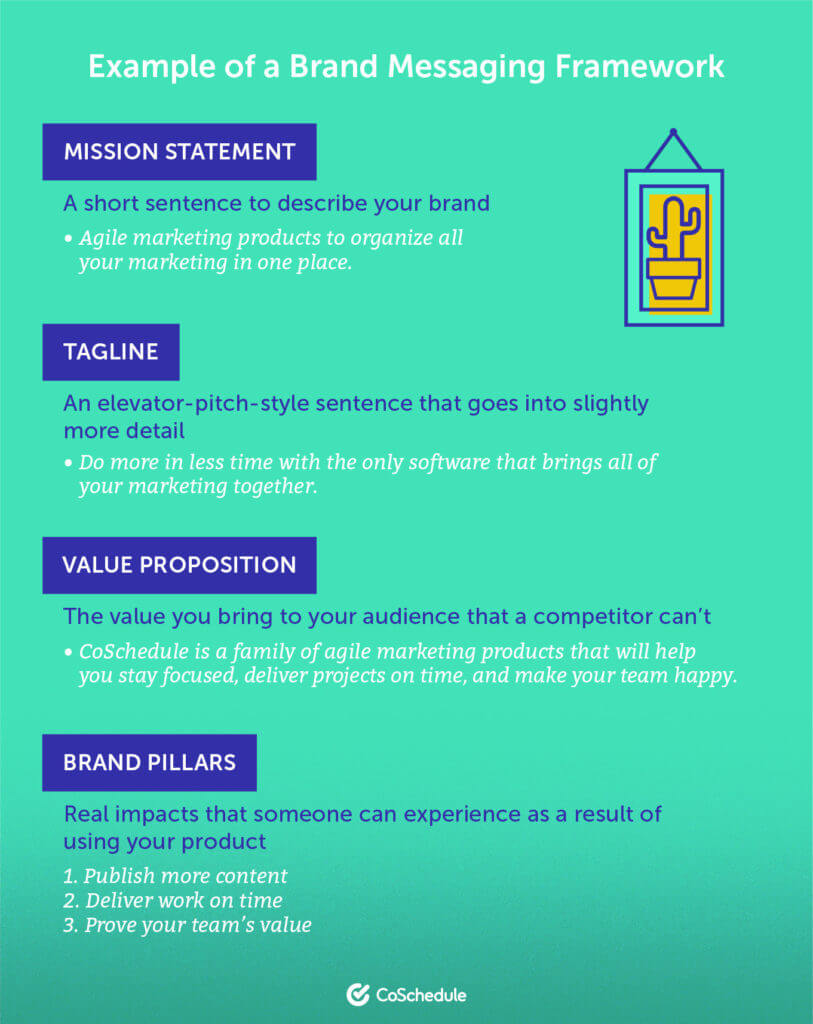 Your brand messaging and positioning strategy will need to go deeper. Make sure to include:
Buyer personas
Tone of voice guidelines
Key words and phrases that describe your brand, and those to avoid
Grammar preferences
Your brand promise(s)
Everybody on your team should have access to this key information, and refer back often. Make sure to update and re-distribute them as needed. As your brand and customer demands evolve, your guidelines will inevitably fluctuate.
Researching, planning, and deploying what makes you unique
The hardest part of cementing your brand positioning is determining what actually sets your business apart. It's also the most important.
Focus on what sets you apart
This means defining your differentiation strategy. All too often, companies offering the same product or service use the exact same messaging. This isn't going to help you sway customers from your competitors.
Take makeup brand and beauty product retailer LUSH. They focus on sustainability and eco-friendly products: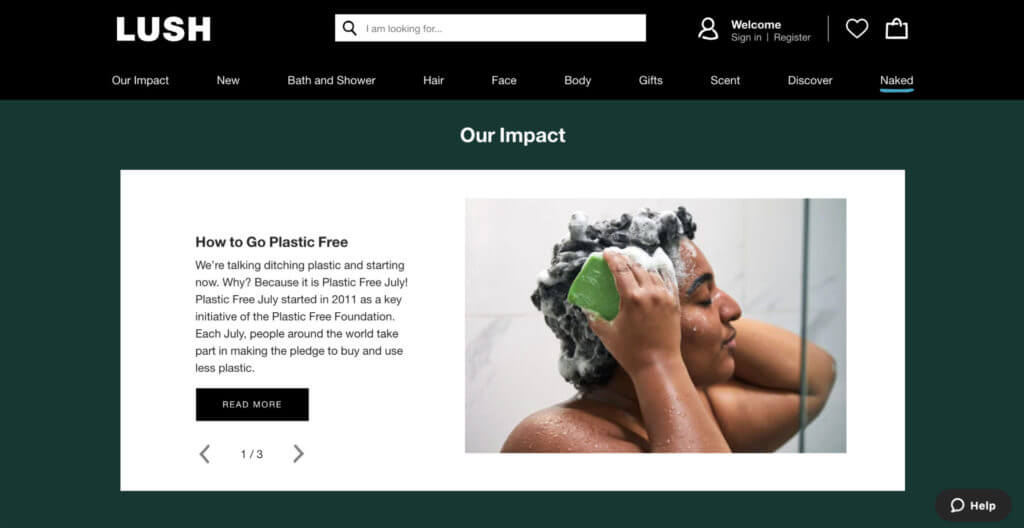 They may not have the most high-end products, but this strategy grabs the attention of people on a mission to shop smart, use less plastic, and reduce overall waste.
This sets them apart from their mainstream competition like Sephora, Ulta, and Bomb Cosmetics.
Pinpoint at least one thing that makes your business different and put it in front of your customers; whether it's sustainability, donating proceeds, comfort, or something else.
Don't try to appeal to everyone
Take outdoor equipment brand Yeti. They don't just sell a standard cooler; they specifically appeal to an outdoorsy audience: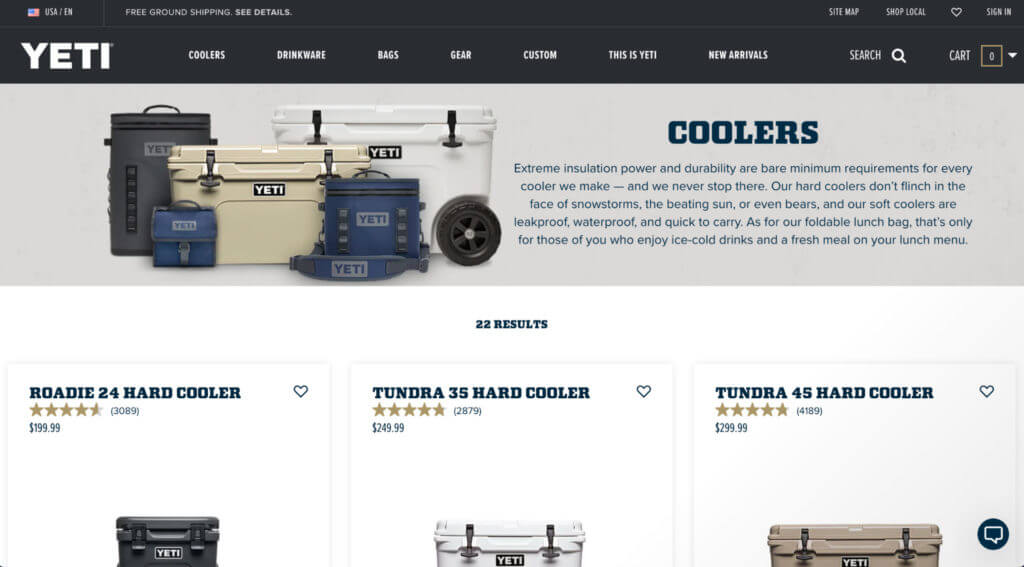 Their "Hard Coolers" offer "Extreme insulation power and durability".
Their Instagram bio includes a #BuiltForTheWild hashtag and their feed showcases photos of camping, fishing, hunting, and other outdoor activities.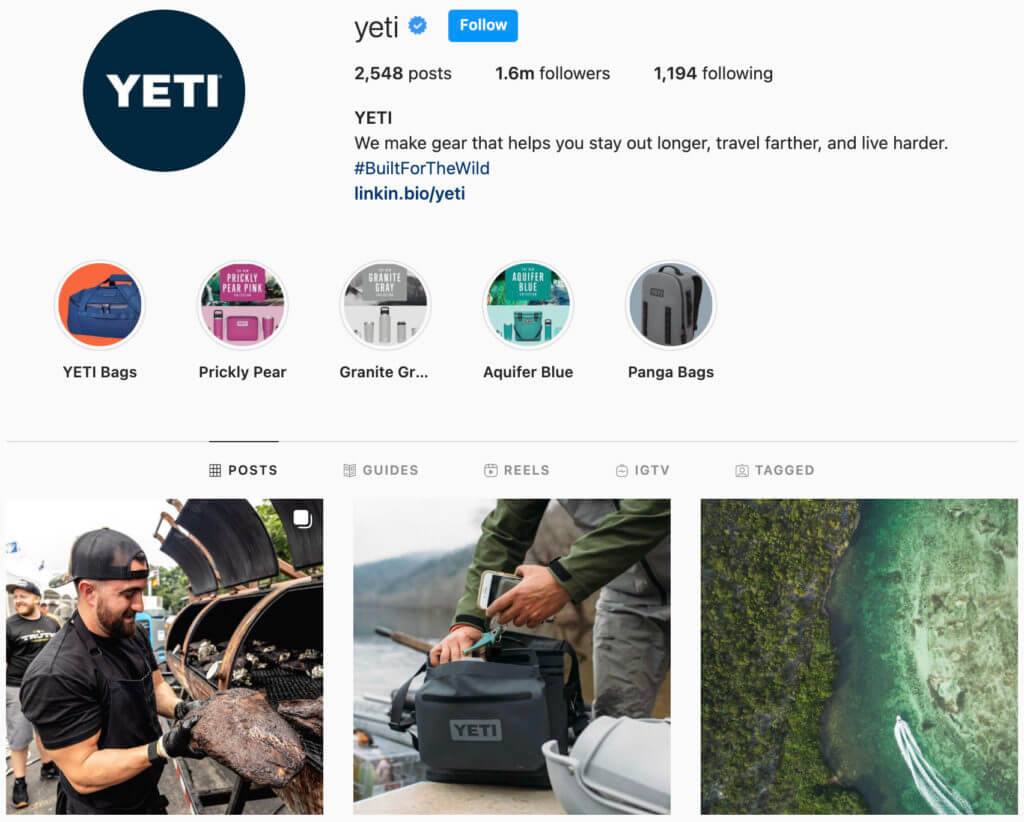 Consumers who regularly enjoy those activities are going to think of Yeti first when they need tough outdoor gear. Consumers who simply need a cheap cooler for a backyard BBQ likely won't buy from them—why would they?
Yeti wouldn't stand out so starkly if they tried to include a much wider audience in their messaging strategy. It would water down their unique value proposition and hurt their differentiation play.
But Yeti isn't the first brand to sell industrial-grade coolers. A quick Google search shows us several other top-dollar coolers on offer: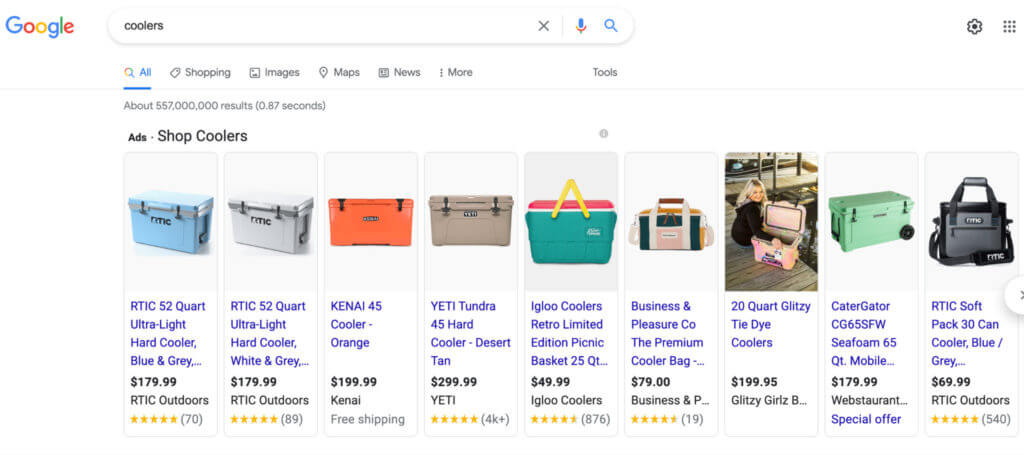 Why are Yeti all the rave? They weren't an overnight success. It took 10 years and steady growth, punctuated by a brilliant messaging strategy, to achieve a $5 billion valuation.
When they launched, their coolers were 10x the average price. They got away with that by branding them as "Grizzly Bear Proof". But they didn't just say "no bear can get inside", they had their cooler tested and approved by the Interagency Grizzly Bear Committee, which Yeti showcased as social proof:
That was in 2011. In 2015, Yeti's core audience—fishermen and hunters—had spread the word enough to help them land a big investment. They built a niche product for a very specific community and catered to their needs. In due time, the community paid them back in dividends.
They also followed our earlier advice: consistent innovation. They now sell a variety of outdoor products from tumblers to luggage to widen their appeal:

Note how the majority of their best-selling products are now insulated cups. That's a successful expansion.
Speak to your customers
Stop thinking in industry jargon and start speaking your customers' language. Think about why your current customers love doing business with you, and bring that line of thinking into your marketing messaging.
Also, consider their end goal. Ask questions with a Jobs-to-Be-Done (JTBD) framework in mind. What will your product or service help them achieve?
Take the vacuum. Customers aren't actually intrigued by the machine itself. They simply want a clean floor. The JTBD is a clean environment to feel comfortable in—the vacuum is a means to that end goal.
And as Yeti proved, cold drinks are important, but a cooler that prevents a Grizzly Bear from stealing your sustenance on a camping trip is the end goal.
Getting to the bottom of your customers' motivations and satisfaction (or dissatisfaction) with the current market options helps inform the picture you'll ultimately paint.
Consistently test and refine
The last step is to test, analyze, and adjust. You need to make sure your messaging strategy actually works and resonates with your customers.
Test your new messaging strategy on a select number of web pages and social media posts. See which ones get the most engagement and figure out why.
Was it the way you told your story?
The channel you told it on?
The medium you chose to use?
You can't just post to Instagram and expect results, for example. You need to follow a tried and true Instagram marketing strategy and optimize for your audience. The same goes for new product launches. If you don't follow a product launch strategy, you're shooting in the dark and hoping you hit your target.
Your messaging strategy needs to align with every other marketing campaign and consideration you deploy. It can't live in a bubble. Every time you launch a new product, you must have a messaging strategy consistent with the product lifecycle, the customer journey, your unique customer segments, and so on.
Your messaging might also change over time as you find your most profitable audience, as your business offerings expand, or even due to opportunity.
Zoom's messaging changed drastically through COVID-19 as they became the go-to for business meetings, friends and family video calls, webinars, and more. Now, they focus their messaging on "More Than Just Meetings," repositioning themselves as a full-scale online communications platform: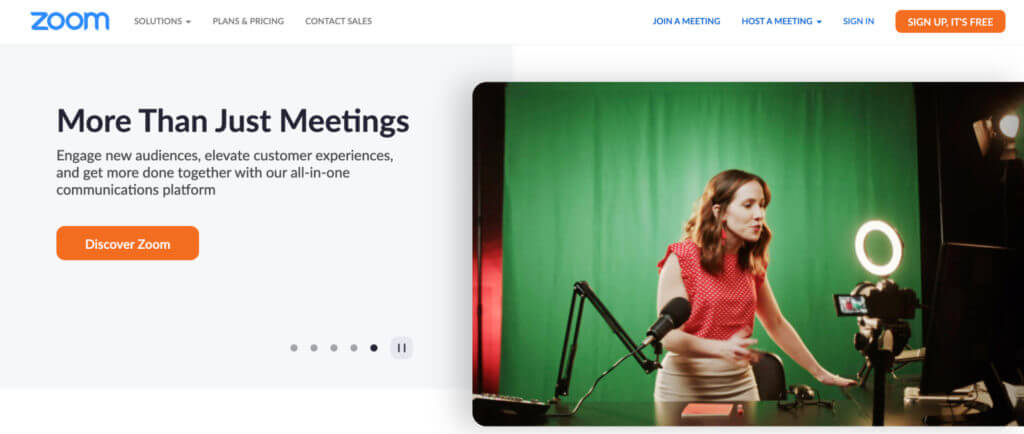 A/B test campaigns and landing pages to see which version performs better. Keep an eye on analytics and conversions to pinpoint drops and determine when you might need to adjust your differentiator and your marketing messages. And keep the user experience top of mind.
Services like Wynter can help you test your messaging against your target audience to make sure it has the effect you're looking for, as well as refine any areas that might not be as clear as you expected.
Conclusion
Having a solid messaging strategy helps to strengthen your brand and allows you to stand out in your target market.
Talk to your customers to gauge their end goals and learn their voice. Analyze your competitors to pinpoint your uniqueness and strategically position yourself.
Take these learnings and apply them to the standard messaging strategy elements. But remember that what works now may not work later. Consistently innovate and listen to consumer trends to stay relevant, compelling, and on top.
Learn more about branding to solidify your place in your industry.
Working on something related to this? Post a comment in the CXL community!