Become great at Google Analytics
Extract expert-level marketing insights from Google Analytics
Online course:
Intermediate Google Analytics

By ,
Course length: 5h 50min
Start 7-day trial for $1
Ready to go beyond the basics? This tactical training course will let you watch over the shoulder of one of the world's leading Google Analytics experts.

Enroll in this Google Analytics course to learn how to…

Master attribution so you know exactly how your channels work together and how your users convert.
Get 10x more out of the basics you already know: custom dimensions, custom metrics, event tracking, etc.
Draw out advanced insights from your content analytics, form analytics, social analytics and PPC analytics.
Produce enterprise-level reports using Data Studio.
Unlock all of the potential of enhanced ecommerce to make smarter product, placement and promotion decisions.
Are you ready to take Google Analytics to the next level?
So you know a thing or two about Google Analytics, huh? Great. That data-driven mindset puts you ahead of 60% of marketers today.
Now it's time to join that top 10% of Google Analytics experts.
It's time to find the insights that will take your campaigns, site and career to the next level.
You don't know what you don't know
Remember when you were starting out and you'd open Google Analytics, take a look at your sessions for the month and then close the browser?
You've come a long way.
But there are still plenty of insights hiding below the surface you've managed to scrape so far. The truth is, you just don't know what you don't know.
You'll start by learning how to build audiences, which will not only uncover powerful new insights about your visitors, but allow you to run more effective acquisition and retention campaigns as well.

Luiz Freires
The course is very hands-on with reports open all the time and with analysis and improvements applied constantly. It has a great didactic approach and can be extremely useful for a marketer or for product professionals at all levels.

Kyneret Azizo
It's as if Mercer mastered GA and then mastered the art of actually teaching. Fantastic.

Jawahar Kaushal
This course boosted my income considerably and made my digital marketing career possible.
Customization is king
It starts with a Google Analytics configuration that's customized for you and your business.
That's why you'll spend a significant amount of time on how to customize based on your business and particular use case.
Custom dimensions, custom reports, custom metrics, custom everything.
Your Google Analytics will be designed just for you and your specific needs.
Kick last click attribution to the curb
If you're like most marketers, you're still relying on last click attribution. The problem? You're missing out on a lot of conversion and funnel insights.
You need to understand and visualize how your visitors actually convert. Last click attribution won't give you that.
Learn exactly how many touches occur before the conversion, exactly how long it takes, exactly how all of your channels are working together.
Dive deeper into content performance, ad spend ROI, and more
Is the content team spending their time wisely? Is the PPC team? How about the social team?
To be a data-driven marketer who makes meaningful business decisions based on real insights, you'll need to dig beyond the basics. You'll need to mine for data that proves ROI.
You'll learn how to better spend your marketing time and money.
This course is right for you if…
You already understand the basics of Google Analytics.
You want to better measure your visitors, content performance and user experience.
You want to spend your advertising budget more effectively.
You want to build smarter, more useful reports and dashboards.
You want to really understand enhanced ecommerce.
Custom dimensions, custom metrics and calculated metrics sound like fun to you.
You want to learn how to get more out of this powerful analytics tool.
This course is probably not for you if…
…you have never logged into Google Analytics.
Skills you should have before taking this course
You should be using Google Analytics weekly for at least a few months, or else be familiar with another Analytics platform like Adobe.
You can still attend this course if you are new to Google Analytics, but you will be overwhelmed with new knowledge and use cases! (That's not necessarily a bad thing)
In Google Analytics you should know:
How to track events
How to configure goals
What a dimension and a segment is
Not required, but bonus:
Other marketing theory and platform knowledge
Google Tag Manager knowledge
You're probably overqualified if you:
Already can easily explain differences in custom dimension scopings
Know every work-around to sampling
Could easily go into Google Analytics and deliver business recommendations in 5 minutes
Josh Howard
Founder & CEO @ Single Use Ain't Sexy
Josh Howard is the Founder & CEO of viral sustainable hand soap brand Single Use Ain't Sexy.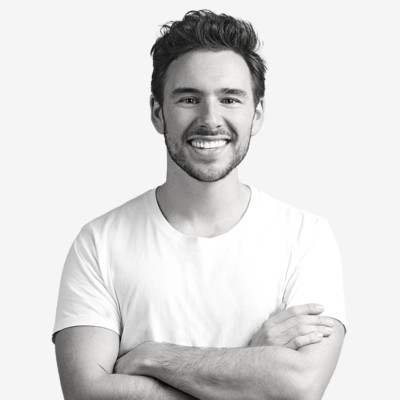 His business has saved tens of thousands of single-use plastic bottles from landfill by replacing them with dissolvable hand soap tablets and reusable glass soap bottles.
Coined as "the brand turbo-charging Australia's sustainability movement," Single Use Ain't Sexy has won 2 Good Design Awards, a Pause Fest Award & been featured by NBC Universal, E-News, The Guardian, and Time Out.
Josh is also a keynote speaker and worked as a New York-based advertising executive & lawyer in a previous life.
Join this Google Analytics masterclass
CXL Institute brings you intensive online training course led by world renowned analytics expert, Chris Mercer.
After just 16 classes, you'll have Data Studio expertise and advanced Google Analytics skills. You'll be able to:
Identify and build audiences.
Implement rich attribution modeling (i.e. no more "last click").
Do powerful customizations.
Draw out cross-device and mobile app insights.
Wield enterprise ecommerce capabilities.
At the end of the day, this course is going to make you a smarter, more data-driven marketer. (It's going to make you a lot of money, too.)
Course overview
Level Up Your Google Analytics Skills
Section 1 – "Clean Data"
Google Analytics has a story to tell you, but "dirty data" can make reading that story harder than it needs to be. In this section, you'll leave knowing:

What to do when the user completes an action on an entirely different domain
How to tell the difference between your team your actual users
How to minimize "spam" in your data
Section 2 – "Finding Answers"
Google Analytics can answer some key questions, but only if you know how to get to those answers. After this section, you'll have:
The ability to measure step-by-step in the customer journey funnel
A solid framework of how to use segments (and create your own)
The knowledge required to create any custom report you need
Section 3 – "Tips & Tricks"
This is where the real magic of Google Analytics comes alive! In this section, you'll cover the various skills you'll need to unlock your analysis, including:
Creating dashboards and other "shortcut" reports
Customizing your marketing channels
Understanding attribution in a multi-touch world
Using Automation to Exporting Google Analytics Data
By the time you've completed this course, you'll have taken your Google Analytics skills to the next level so you're better able to find the answers you need, when you need them, in a format that makes sense and clearly communicates your "data story".
Show off your hard-earned skills and strengthen your profile.
LinkedIn found that people who add credentials to their profile receive 6x more profile views than those who don't.
Add your certificates to your profile, share your accomplishments with the world, and join our alumni network.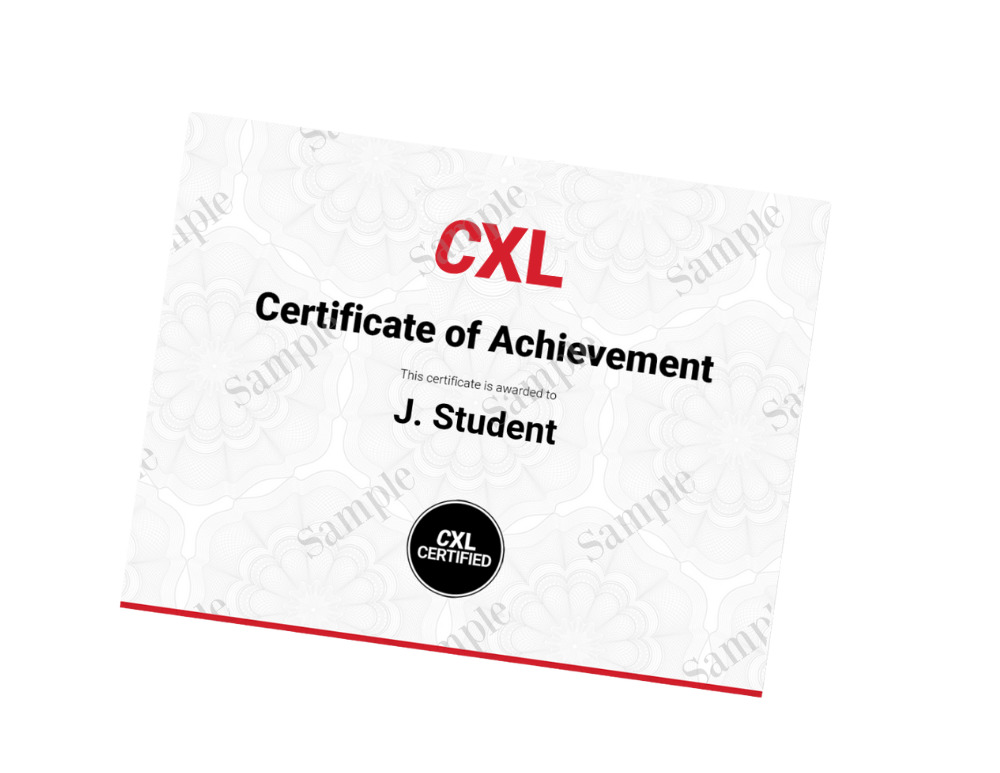 Learn marketing on the job.
Get better results with networking.
Our Marketing playbooks community gives you peer support for every marketing task you face.  90% of marketing tasks are not unique. Someone has already figured it out. Achieve more with less hassle.
Access our library of thousands of marketing playbooks, each showing you how to do a specific marketing task in 10 steps or less, with real-time peer support.
Join our community of marketing experts, ready to support you in getting that promotion or master new strategies, skills, and channels.
Network with some of the world's best marketers and companies and get noticed, hired, or endorsed.
Subscribe to CXL and get access
90+ courses (full list here) on all aspects of data-driven marketing (new courses added every month)
10 minidegrees that give you advanced level skills
Playbook community with 2500+ instructions and peer-support
Got a team, multiple users? Get our Teams All-Access plan instead.
The CXL guarantee
7-day no questions asked money back period
You can immediately apply learnings and improve your results.
Need help convincing your boss?
Click here for a pitch deck, swipe files and tips.
Subscribe to CXL
All plans come with a 7-day trial for $1.
Get access to this and 90+ other training programs.
See plans and pricing
or
Request demo (for teams 5+)
Some of the companies that train their teams at CXL: