With U.S. News declaring it the number one job in sales and marketing, and a median average salary of around $142,000 in the U.S., it's no surprise that people are looking at how to become a marketing manager.
Perhaps you want to move up the ranks at your current company, or maybe you're looking to change careers. Before you invest the time and effort it takes to get into the role, it's essential to understand the responsibilities it entails.
In this article, you'll learn what you can expect in the role, how you can demonstrate your worthiness to become a marketing manager (at your current place or in greener pastures), and how to present your case for a promotion.
Everything you need to know about the marketing manager role
Marketing managers can be called various things depending on the company. Some companies refer to individuals carrying out general marketing tasks as marketing managers, while others distinguish the leaders in their marketing departments this way.
Most companies are direct and call the people in these roles marketing managers or marketing directors. Some reverse the subject and call the position director of marketing.
Larger companies usually get specific about which of their channel's marketing the applicant will be managing. Others get creative.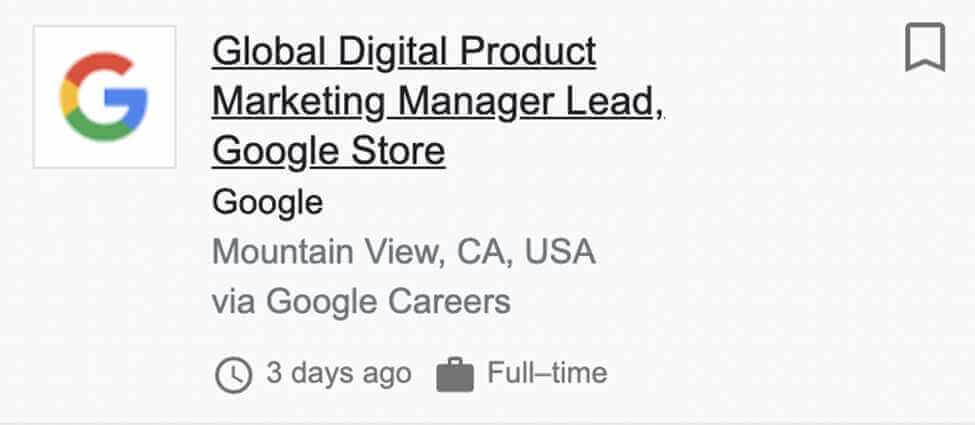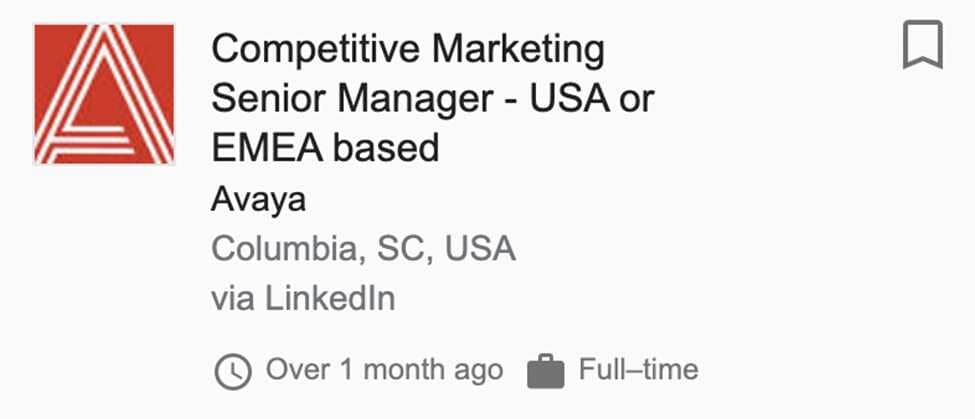 As you can see, there are many names for marketing managers and many niches for marketing managers. This may seem confusing at first, but knowing a little more about the types of marketing managers will help you apply for the role that suits you best.
The specifics of each role will vary depending on the industry and the company you choose. For example, let's look at the differences between two types of marketing managers.
A content marketing manager's role may focus on overseeing the production and execution of content across social media, the company's website, email, and other channels.
Here is an example of a content marketing manager's job duties: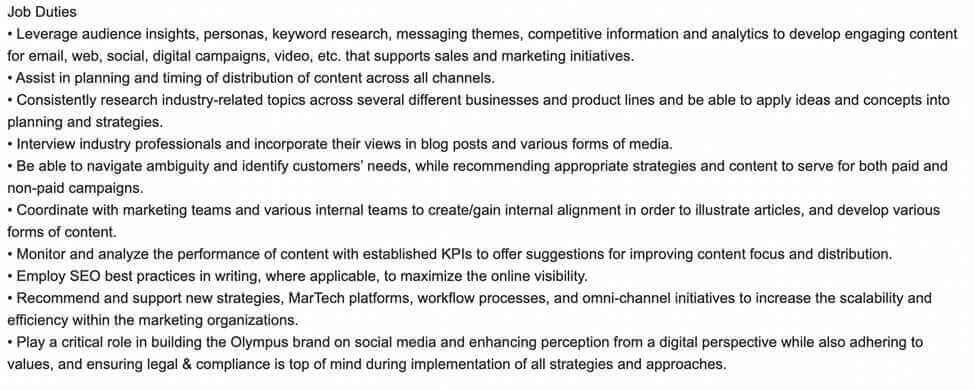 A digital product marketing manager's role will focus on a tech product, ensuring all channel communications are optimized and aligned with its positioning strategy.
Here is an example of a digital product marketing manager's job duties:

In general, marketing manager responsibilities boil down to overseeing and implementing marketing campaigns to facilitate growth and retention for the company—in whatever shape or form the company does this.
To help you get the broad scope of what to expect in any in-house marketing manager's role, we've outlined the most typical points in a job description as well as common traits marketing managers share.
What does the day-to-day of a marketing manager look like?
Marketing touches every part of a company. Marketers can be involved in product development to ensure the product aligns with the customers' needs, in communicating price points, in finding the best angles to keep customers coming back, and so on.
Your daily tasks will vary depending on the size of the company you work for, your industry, etc. The bigger the company, the more specialized your role will be. At a smaller company, you're more likely to generalize across a variety of marketing tasks.
All marketing managers will carry out a mix of strategic duties across the lifecycle of projects, such as monitoring trends, testing ideas and optimizations, and tracking metrics. As a manager, you'll also be responsible for allocating budgets for various purposes and liaising with stakeholders and other departments.
If you're managing a team, you'll likely be distributing duties to team members and supporting them in their roles. These days, it's far more normal for teams to be fully or partially remote, so virtual collaboration (e.g., in meetings or workshopping platforms) may become a regular part of your day.
Typical day-to-day responsibilities might include:
Creating, managing, and adapting an overall marketing strategy for the brand
Working with designers, videographers, copywriters, developers, and more, to gather assets for campaigns
Deciding how much of the marketing budget goes to different tools and services for each campaign
Conducting market research to ensure campaigns are relevant to your audience
Staying on top of—and testing—marketing trends and strategies
Managing marketing assistants or account managers on your team
Tracking metrics and analyzing the performance of various strategies, channels, and campaigns
Here are some examples of how employers communicate those responsibilities on job boards: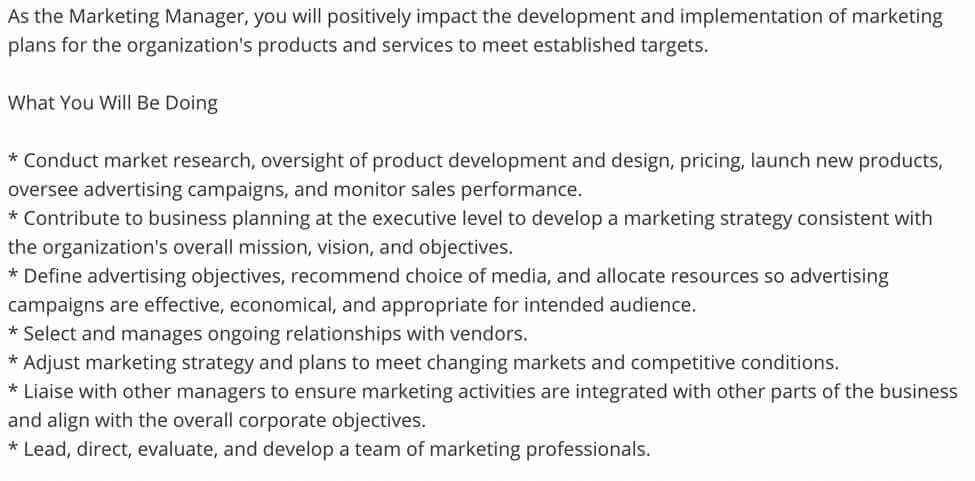 This position clarifies that the role entails running a team and liaising with vendors. So while still heavily strategy-focused, peer-to-peer communication skills will also be vital.

This role is far more product-driven. It also appears to be a new product entering the market, so the ideal candidate will be familiar with implementing solid go-to-market strategies and product launches. The marketing manager for this role will develop a close relationship with the product and become an expert on the benefits specific to various global audiences to stay ahead of the competition.
Understanding the audience is key to any marketing manager role. If you've been in marketing, you know this already. But a marketing manager needs to go beyond knowing the demographics profile of the target customer. This is because they are often in charge of decision-making at the top level and need to know more than just who they are, but where they shop, whether they listen to the radio or watch TV more, and what social media channels they prefer.
To develop and maintain a strategy, they need to understand customer motivations as well as any evolving needs according to market disruptions and competitor movements.
In short, you need to understand your audience's demographics and psychographics, or IAO variables (Interests, Attitudes, and Opinions).
Understanding these elements to your audience will help you make high-level decisions. If your competitor swerves their traditional marketing for a more outrageous campaign, do you follow suit? Should you wait and see how the market reacts? Should you get to work on a counter campaign?
You'll need to constantly access insights on your consumer and how they interact with your brand, your competitors' brands, and related markets. In your day-to-day, that will look like tracking metrics for your campaigns while also keeping your ear to the ground in your industry and beyond.
As one Google marketing manager job posting puts it, "Know the user. Know the magic. Connect the two."
In addition to market research and strategic planning, marketing managers must have a keen eye for both design and copy. You may have a team of people to bring elements of the strategy to fruition, but you'll be the one accountable for its successes and failures.
Between team management, insights gathering, and campaign planning, you'll also assess creatives' direction and quality. You'll take everything you know about the customer, the market, and the channel into account as you zero in on the optimal way to reach your audience.
What are common traits of marketing managers?
If you want to be successful in your role, pay attention to some of the top qualities or traits of marketing managers to see if this could be the right job for you.
Leaders and hiring managers are looking for marketing managers who are:
Motivated. Being a marketing manager requires a level of self-starting in order to succeed. If a campaign isn't working, they need to take initiative to figure out how to turn it around.
Innovative. Marketing requires a lot of creativity, free thinking, and ambition to try new things. As new industry trends emerge, you should be able to easily understand and decide how you'll react.
Good communicators. Whether you're communicating with clients or with customers online, having good communication skills is a must. Likewise, when you're trying to convince leaders to try out a new marketing plan, you'll need to know how to argue your points with data behind you.
Adaptable. Marketing—especially digital marketing—is constantly disrupted, so you'll need to be flexible and ready to adapt to new channels and tactics when necessary.
Leaders. As a marketing director or manager, you'll likely have a team underneath you. You need to be a good leader and project manager to ensure your team produces content and campaigns smoothly.
Here is an example of how an employer articulates the qualities they're looking for in a new hire:

Some employers will include the attributes they need on their team, sometimes in a bullet list and others in a narrative-like description. This role makes it clear that big picture thinking and technical, specialized skills are required for the position.
What should you do in your current role to demonstrate marketing manager skills
If you're a junior marketer in an entry-level position looking to move up in the ranks, it's a good idea to start developing some hard and soft skills that demonstrate you're ready for a promotion.
We've got a few actionable tips for how you can further your career well before approaching your boss or a hiring manager.
1. Take an online course
One of the earliest things you can do to prepare is to further your education. Your company may have education prerequisites, such as a preference for candidates with a bachelor's degree or an MBA. If no education requirements are listed, there are many online courses to help you learn specific marketing skills and stand out.
CXL's Institute offers several online courses, including digital marketing programs. We cover everything from A/B testing, branding, and social media marketing to Google Analytics, SEO, or landing page optimization.

With options like this, it's easy to expand a specific skill set that you know your company is looking for in their advanced marketing positions.
Some jobs require specific certifications, such as Google Ads certifications. These courses are often free and only take a handful of hours.

Being certified in a specific niche relevant to the role you're seeking is a great selling point for landing that new job or promotion.
2. Measure your results
One great way to prove that the work you've been doing is working is to track and measure all of your marketing initiatives. Show off your analytical skills by putting your results together in a report. Keep that report to share with your boss when you approach them to discuss your promotion.
Measure results from organic social media engagement, lead generation efforts, advertising ROI, email CTR, and other tasks you've worked on to help your cause.

You can present these numbers in many creative ways. Charts and graphs show you're capable of putting together engaging reports and demonstrate your effort to impress your boss.
As we'll mention later, you're going to want to have a tangible list of your achievements and accomplishments thus far, so measuring and recording your results is the perfect starting point.
3. Take initiative on projects
Volunteer to head up new projects and marketing efforts that your team is working on. The best experience is hands-on experience. Showing your marketing executives that you're interested in taking the lead on more tasks is a great way to prepare yourself for a marketing manager career.
If there aren't any new projects coming up, do some research and pitch your own ideas to head. Prove to your boss and the colleagues you may one day be leading that you are able to see projects through from beginning to end.
4. Improve processes
If you have an idea to help improve or streamline processes for your marketing team or switch up an existing tactic or strategy, speak up. Bring it to your team and make it your baby, tracking key metrics all the way.
For example, research and pitch new project management tools that can help your team work better together. Or, present an emerging marketing tactic that you think would work well for your company, ideally with evidence and data to back it up.
5. Be responsive
Leaders and senior colleagues will notice if you're quick to respond anytime they approach you. Don't let your emails or Slack messages pile up. Be open and helpful, proving that you're reliable and can handle having more on your plate.
6. Take risks
Try out new strategies and take risks that have the potential to reap big rewards. Whether you want to move up in your own company or plan to search for a marketing management position in a different organization, standing out with big moves will be a selling point for why you're the person for the job.
How to present a case for promotion to your boss
Once you've researched the role and prepared yourself for the challenge, you'll be ready to reach out for that promotion. Here are four steps to help you feel confident throughout the conversation.
1. Understand every aspect of the role
The first step is to make sure you know the full scope of the role you're hoping to move into. What do marketing managers at your company do? Make sure you're confident that you have acquired the skills necessary to excel in that role.
You can always learn some skills on the job, but having a good grasp on most of your new responsibilities will ensure you can hit the ground running and make your boss feel confident in promoting you to that role.
If the job description is published on your company website, take a look to see each of the day-to-day tasks it lists. See if you can speak to someone already in that role, or ask your supervisor what would be expected of a marketing manager.
2. Create a list of your accomplishments
The next step is to put together your case and create a list of reasons why you deserve this promotion. This could include a log of your involvements for the past 6 to 12 months, results you've achieved, skills you've learned, or anything else you think is pertinent.
Put together a report or presentation that you can share during your discussion with your boss about the promotion. Consider including endorsements or recommendations from peers on your team.
3. Take steps to stand out on your team
Go back to our section about what to do to showcase your marketing manager skills. Each of those ideas will help you to stand out on your team and demonstrate that you're a go-getter who would excel in a position with more responsibility.
Many companies prefer to promote internally before hiring someone new. Your bosses are going to be looking at the team members who stand out from the crowd to fill these roles. Your job is to make sure that person is you.
4. Make your case for promotion
This is where you make your pitch. Share your report and walk your boss through all of your accomplishments, emphasizing your value to the company and your help in its growth. Remain confident and professional, stating the facts and showcasing why you're the best choice for this role.
Talk about what your first 60 to 90 days would look like and how you would set yourself up for success as a marketing manager. To feel even more secure in your pitch, practice it beforehand.
Thank your boss for the opportunity and show how excited you are for a chance in this new role. If you're given a negative result on the spot, stay polite and professional, but ask what you can do to be considered for a promotion in the future.
Conclusion
We wish you the best of luck as you work towards this new role. To prepare yourself for a leadership role in marketing, check out CXL's online courses. We're here to help marketing professionals like yourself learn more about the industry so you can land your next big role.
Many employers advertise for marketing management positions on our job board, including CXL. Bookmark it and keep an eye out for your ideal position.