Every business needs leads. The biggest challenge for marketers is getting them.
Account-based marketing (ABM) and lead generation both offer a way to do this. Done right, both can help attract the kind of high-quality leads that become long-term customers and advocates.
Snowflake achieved over 300% growth with ABM. Templafy generated 475% ROI with lead generation. DocuSign combines both to fuel its sales funnel.
In this article, we'll look at both disciplines, explaining what they are and when they're best used. You'll also learn how to approach ABM and lead generation to engage your ideal customer.
Account-based marketing is a team sport
ABM is a company-wide strategic approach to finding and converting specific accounts that add long-term value to your business, both financially and through industry standing and pulling power.
Where lead generation casts a wide net, ABM uses a spear to target and catch the best fish.
It flips the traditional sales funnel on its head, ditching the one-size-fits-all approach to marketing in favor of a land-and-expand approach.
The result? A higher ROI than any other type of marketing.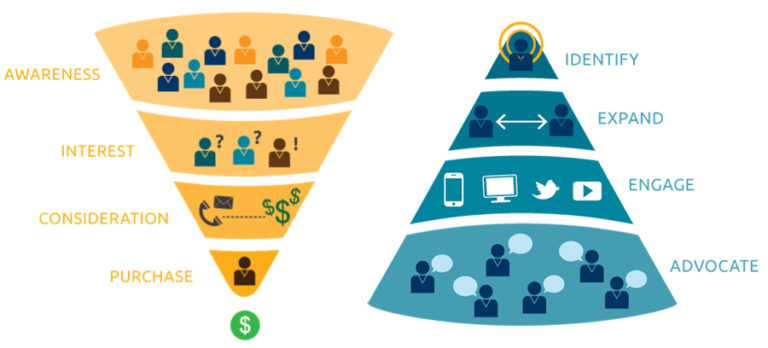 ABM treats each account as a target market. Marketing efforts revolve around engaging and closing the entire buying committee within those accounts.
Here's an example:
When T-Mobile rolled out its unlimited data plan, contextual intelligence platform GumGum wanted them to see how useful its computer vision technology could be and highlight how the two companies could collaborate.
To pull this off, they wouldn't run a hit-and-hope campaign to target a ton of brands like T-Mobile and pray they'd notice. They specifically targeted the T-Mobile account.
GumGum identified that T-Mobile CEO John Legere likes to support his company as often as he can, often wears the color magenta, and loves Batman.
Using this information, the ABM team created a comic book called T-Man and Gums and sent 100 copies to T-Mobile and its agencies of record. Within hours, Legere praised the work on social media.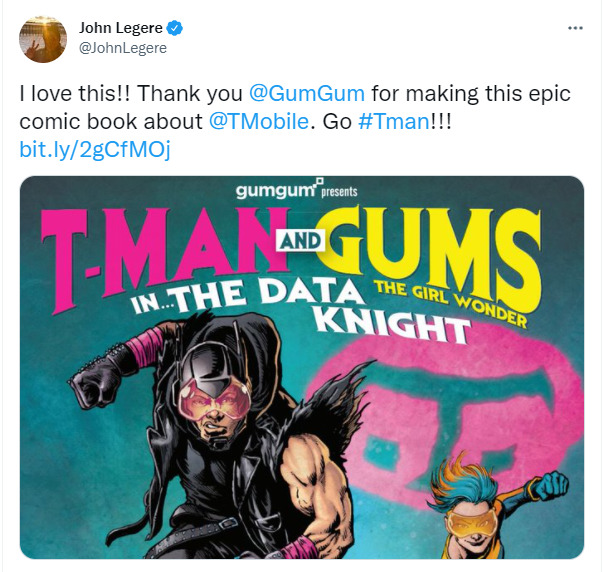 Within days, they set a meeting and T-Mobile eventually became a client.
GumGum now also lists similar clients, including Vodafone and Sprint, a sign of how one big-name client can attract others.
For ABM to work, everything must be geared towards delivering personalized content that builds relationships. This required complete alignment across marketing and sales teams to engage, then close the deal.
Alignment can make all the difference to a business. It's proven to drive more revenue, improve customer experience, and power growth.
ABM forces teams to get on the same page.
Without insight from salespeople, marketing teams can't create content that resonates with ideal accounts. Without marketing attracting the right accounts, there are no hot leads for sales to have meaningful conversations with. Without qualitative and quantitative data from both, it's impossible to nail an ideal customer profile.
If ABM gives your ideal customer everything they want and need to become a long-term partner, is there actually a need for lead generation?
Lead generation gets people through the door
Lead generation is the process of attracting interested prospects to turn them into buyers.
Leads are something that every business needs, and lead generation aims to keep them coming. To return to our earlier analogy, it's using a net to catch large schools of fish.
Pre-digital marketing, traditional lead generation involved reaching out to unaware buyers through outbound marketing tactics such as cold-calling, direct mail, or media advertising to introduce them to products or services in the hope of convincing them to convert.
Today, people have everything they need to make their minds up at their fingertips.
For example, recently I was in the market for some transcription software. I headed to Google to search for "best transcription software" and read some blog posts that reviewed the best options.
I then took to Twitter and Slack to ask for recommendations from my network. Otter.ai most commonly popped up. That led me to a page on the Otter.ai website: "5 reasons why you need Otter.ai for Zoom." From there, I read case studies on the company blog before eventually signing up.
I was knowledgeable about the product before ever communicating with the company.
My experience is true for many others.
According to Demand Gen Report, 56% of B2B buyers say that a web search is their first resource, and 79% say the winning vendor's content significantly impacts their buying decision.
Inbound marketing focuses on content that brings your target audience to you, rather than you chasing them. When they do reach out, it's because there's interest. It shifts lead generation from quantity of leads to quality.
As CXL founder Peep Laja notes in his CRO agency masterclass:
"…it's permission-based marketing. They're coming to find you. They're coming to ask, 'Hey, can I work with you?' instead of you knocking on their door and saying, 'Hey, I'm going to sell you something.'

Inbound marketing is way more effective because if you're talking to inbound leads, leads that fill out the form on your website, they already know who you are, there's already some level of trust. And when you're having a conversation, you might even be in a power position."
Inbound marketing for lead generation maps to the buyer journey and focuses on awareness-building marketing campaigns across multiple touchpoints, such as:
The aim is to answer questions and establish trust and thought leadership to progress potential customers down the funnel towards conversion.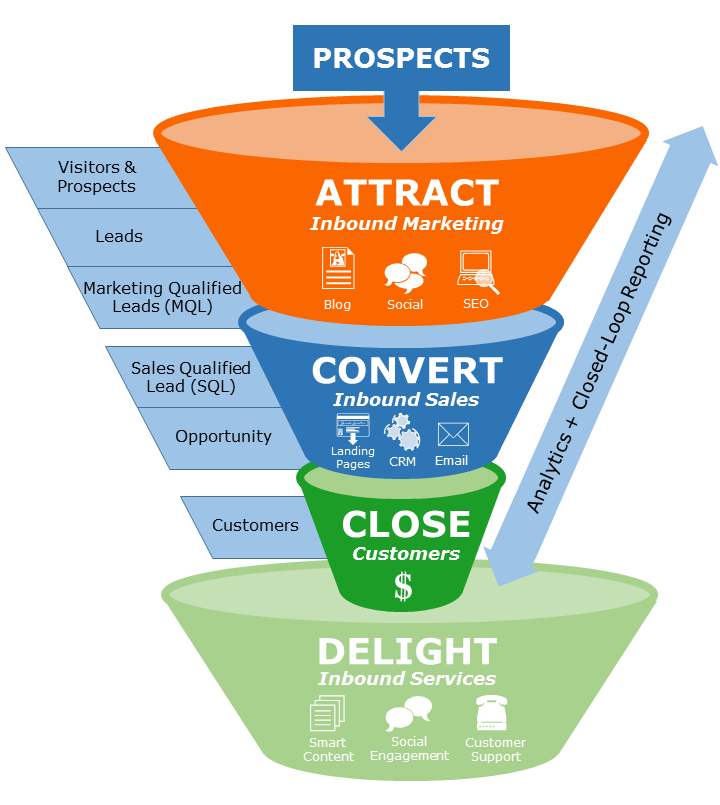 The results of this can benefit future ABM efforts.
ABM is built on a list of target companies that should be your customers. By converting customers with an interest and need in your offer, lead gen helps to unearth qualities and characteristics of strategic importance.
Which is right for my business: account-based marketing or lead generation?
The answer to this question depends on what you're selling, who you're selling to, and where you're at in your business (i.e. do you have the sufficient budget and team for a targeted account strategy).
It doesn't necessarily have to be one or the other. You can run lead generation campaigns while simultaneously using ABM to win or expand important deals.
DocuSign, for example, created an ABM program to increase click-through rates and boost the number of conversations with high-value accounts.
This involved running a targeted ad campaign for over 450 enterprise accounts in six industries, with personalized content for each industry and buying stage.
It was a huge success, resulting in a 22% increase in sales pipeline, 59% engagement rate, and 300% increase in page views.
But it didn't come at the expense of inbound lead generation efforts. DocuSign continues to create weekly blog posts, monthly videos, and post valuable content daily on social media.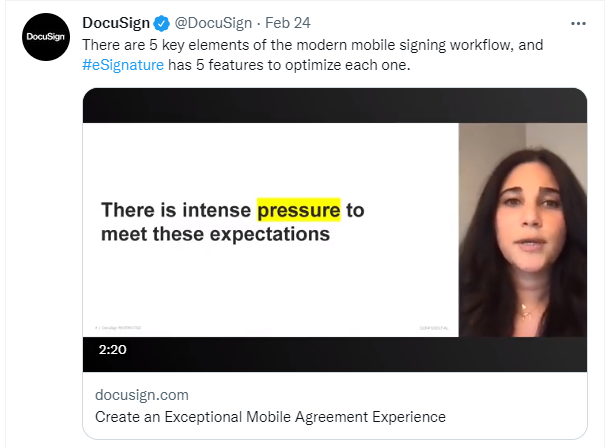 A general rule of thumb to follow is:
Small target market and high average customer value (> $30,000). ABM makes sense. There is a narrower set of customers to go after. Because of their financial or strategic worth, a structured, highly customized approach helps to filter out external noise.
Had GumGum run a lead generation campaign that involved blogging about Batman, there are no guarantees it would have grabbed the attention of the T-Mobile buying team. Wooing the client required the creation of a comic book, specifically for the CEO and stakeholders.
Large target market and small average customer value (< $10,000). Lead generation makes sense. With a large market and many existing solutions, you're more likely to be able to create demand with inbound marketing. Lower ACV also means churn is likely higher and CLV is lower. Deploying low touch campaigns helps to grow email and CRM lists and convert a higher volume of prospects.
That's a broad view, but it helps to simplify things. There are other factors involved in making your decision, such as:
The complexity of the buying cycle
Account-based sales cycles are more complex than a sales cycle targeting one person.
Selling to a Fortune 500 company will likely involve engaging multiple stakeholders and adhering to compliance and security complexities.
The sales cycle will be longer than that of a small business owner deciding for themselves. But the customer is worth more and the target approach of ABM is warranted.
Where the buying cycle isn't as sophisticated, it's easier to run self-service demand generation campaigns and let customers educate themselves through your personalized content.
The complexity of the product
The harder it is to explain how your product works, and how to use it, the harder you'll need to work to sell it.
For example, data connectivity platform LiveRamp used ABM to secure meetings with 15 high-profile clients.
LiveRamp's product is designed to "enable companies and their partners to better connect, control, and activate data to transform customer experiences and generate more valuable business outcomes."
It's a complex product with benefits for multiple people. Its true potential is best communicated in highly targeted campaigns that educate those at the top of the company. ABM makes sense.
Something like data analytics platform Plausible, on the other hand, is a simple product designed for startups, freelancers, and bloggers. Its benefits are easy to communicate without sales meetings.
The cost
ABM is resource-heavy and requires significant investment in software and infrastructure to support sales and post-sales activities.
If the customer is paying a significant amount for your solution, their investment can cover your overheads.
If you offer a product at a lower price point and rely on a higher volume of customers, you'll need to decide if a customer's strategic value is worth the extra investment.
For example, securing a leading player in your industry could be used as leverage to attract other big names, making a more costly ABM approach worth it in the long run.
In most cases, low-value products benefit from lead generation to keep marketing and selling low and profit margins high.
Winning high-value clients with ABM
How you approach ABM depends on your business model and ideal accounts, as well as how you plan to expand campaigns.
Before developing a program, consider the following variables:
Deal size. The higher the value, the greater the level of customization that's required to engage and convert customers.
Product complexity. The more complex the offer, the more finely tuned the personalization has to be to understand the specific goals and pain points of the customer.
Number of stakeholders. How many decision-makers within an organization do you need to sway? Different people within specific accounts will have different needs. A CFO, for example, might want to see how your product benefits the company financially, whereas a CMO will want to know how it makes them more efficient.
Strategic importance of clients. Does the client offer more than revenue? If so, even a small deal may warrant a targeted approach.
Company perception. How well are you known? What do people think of you? The more brand equity you have, the easier it will be to get prospects to pay attention.
Competitive environment. Is your industry open season or are you up against established names. The more crowded the market, the harder you'll have to work to convince prospects.
Internal factors. Do you have the resources to maintain a sustained ABM strategy? Do you have the talent in-house? Is your company fully aligned?
Understanding these variables will help you work out where you stand and what you need to do to make ABM work. It will also give you a better understanding of which type of account-based marketing strategy to invest in:
Strategic ABM. Highly customized one-to-one marketing. Typically used to expand existing customer accounts and cross-selling for high-value accounts. ITSMA research cited by Demandbase shows that the typical deal size for Strategic ABM is $2M+. Median number of accounts of 14 and median spend per account is $36K–$50K.
ABM Lite. Lightly customized, one-to-few programs for clusters of accounts in similar industries or with similar challenges or opportunities. Typically used to land new deals and upsell existing relationships. Typical deal size here is $250K+. Median number of accounts is 50 and median spend is $3K–$15K.
Programmatic ABM. One-to-many accounts marketing. Leverages ABM software to tailor messaging and creative for specific named accounts at scale. Typically used for landing new logos that may eventually be used in Strategic ABM or ABM Lite programs. Typical deal sizes for Programmatic ABM are $50K–$250K. Median number of accounts is 725 and investment per account of $1K–$3K or less.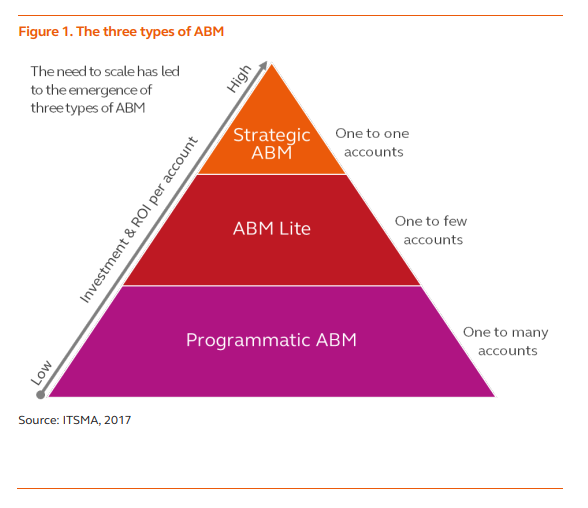 Use the median numbers as a guide for which program to lean towards. From here, begin crafting your strategy by following the three steps detailed in our guide to account-based marketing:
Establish proof of concept with an ABM pilot. Define your objectives (e.g., improving close rate or increasing deal size). Secure executive buy-in by communicating the financial value of ABM. Ensure sales and marketing are fully aligned. Set realistic and achievable goals in relation to your budget and team.
Narrow down your ideal account. Combine your ideal customer profile with marketing and CRM data to find accounts most likely to benefit from ABM.
Analyze your audience to build strong connections. Research target accounts to establish their priorities, interests, and habits. Find ways to connect with them and use what you have in common to develop personalized experiences that move deals forward.
A lot of research can be done for free using current data and online sources like search engines, social media, websites, and industry publications. But to get things moving and scaling quickly, consider investing in software.
It's not always cheap, but it's often a necessary investment. Check out Derek Gleason's post on the best account-based marketing tools and software, where he walks you through the top options and when to use them.
Standing out from the crowd with inbound lead generation
Like ABM, to win at inbound lead generation you have to know who you're talking to. This requires robust customer personas, based on customer goals, pain points, and mindset gathered from qualitative research and analytics.
All the stuff that helps you meet their needs to capture, first their attention, then their email address to go on and develop relationships (and eventually sales) via regular communication.
But with every company that has an online presence indulging in the same fight for attention in some form, it's not enough to simply start writing blog posts or creating TikTok videos. To generate new leads, you need to stand out.
This means being clear on who's doing the talking. As Logo Design CEO Zaheer Dodhia says:
"Know thyself first, audience second.

Rather than assessing the competition's demographic, I've found value in starting from the source: myself. Analyzing what I had to offer, and how it would meet the needs of my potential audience, has been my business model from the beginning."
What makes you different?
When faced with a choice of several products, the one a potential customer chooses is the one that best speaks to their needs.
If you're going head-to-head with competitors that are more established or better known, saying the same things they are isn't going to get you noticed. If you're not getting noticed, you're not bringing in leads.
Come at inbound from a different angle.
Why are you in business? How are you better than the rest? What can you say or do that makes you unique?
Take email marketing platform ConvertKit. Up against heavyweight brands like MailChimp, AWeber, and Campaign Monitor, ConvertKit has managed to build a company that generates over $2M in monthly recurring revenue.
How? By serving an audience nobody was directly talking to when it first launched: creators.

The company was founded by Nathan Barry, who needed a better way to reach his audience as a blogger and creator to sell books and courses through email.
Barry spoke exclusively to online creators from the perspective of an online creator, following his core values of "teach everything you know" and "work in public."
This positioning and unique value proposition helped grow the brand.
The best inbound marketers all do what Nathan Barry did, and does: avoid the sea of sameness.
Take inspiration from others in your space, but don't follow suit.
Read different books, listen to different podcasts, watch different videos. Acquire different ideas, new ways of thinking about common problems.
Use these to nail your positioning and build a value-driven online presence that flows through your lead generation marketing efforts:
Showing up consistently where your audience is, with content that makes a difference to their day, builds the relationships that blossom into customers and eventually long-term fans.
Conclusion
Account-based marketing and lead generation are both crucial to driving growth. The strategy that is best for you right now depends on your short-term and long-term objectives.

If your goal is to capture lots of potential customers quickly, cast your net wide with lead generation.
If your goal is to secure high-quality leads that offer long-term value, narrow your focus and use ABM's personalized approach to pave the way for lasting relationships.

In either case, focus on delivering content marketing that provides distinct benefits to your audience. Define what makes you different, what you have that no one else does. Demonstrate this in everything that you do.
Whether you're marketing to one or 100,000, communicating your unique value is what wins conversions.
Want to land bigger deals faster? Become great at account-based marketing in CXL's Account-based Marketing course.