There are two cans of soda on a table. One is a Coca-Cola can, and the other is a cheaper, white label cola brand. Which do you choose?

You'll probably choose Coke because it's more familiar. It's the safer bet.
Coca-Cola has brand equity that makes people gravitate towards it. With the right framework, any startup can achieve this in their industry.
In this article, you'll understand what brand equity is and how to build it so your audience reaches for your product, service, or solution over the rest.
Why brand equity matters now more than ever
Every day in the U.S., almost 12,000 new business applications are submitted. In the SaaS industry alone, it's estimated that every company founded in 2019 had around ten competitors on average.
If you haven't invested in brand awareness and built connections, why should anybody choose you over all that competition?
Without brand equity, you can't tap into a customer's "consideration span" when they're ready to buy.
Invest in relationships so when the time comes, your audience will instinctively choose your solution to fill their need.
Take Shopify. It's one of many ecommerce software platforms on the market but only the fifth most popular by market share.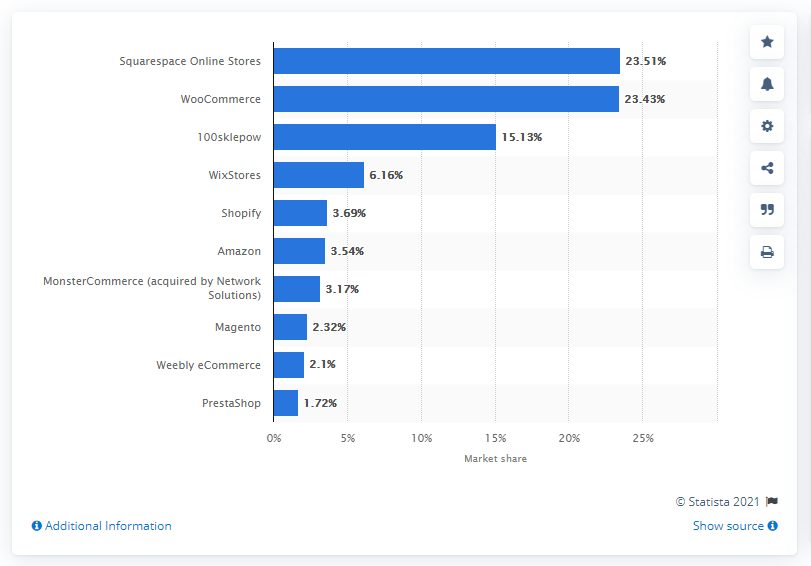 It's also not the cheapest ecommerce platform: Squarespace plans start at $12 per month, Woocommerce has a completely free plan, and Shopify's plans start at $30 per month.
Yet, in 2021, Shopify posted record sales, growing 113% year-over-year and doubling in brand value to $828 million. Squarespace on the other hand, grew 24%.
Why did entrepreneurs turn to Shopify to launch their start-ups and not one of the more widely used and cheaper platforms like Squarespace or WooCommerce?
Brand equity.
Since its launch in 2006, Shopify has positioned itself as the best solution for small-end and startup entrepreneurs.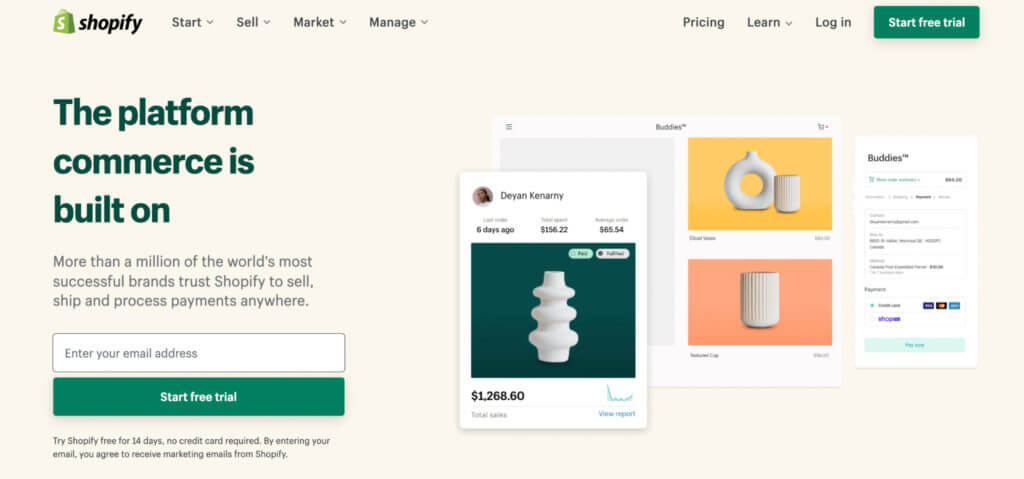 Whereas, Squarespace's value proposition is more about building a beautiful website.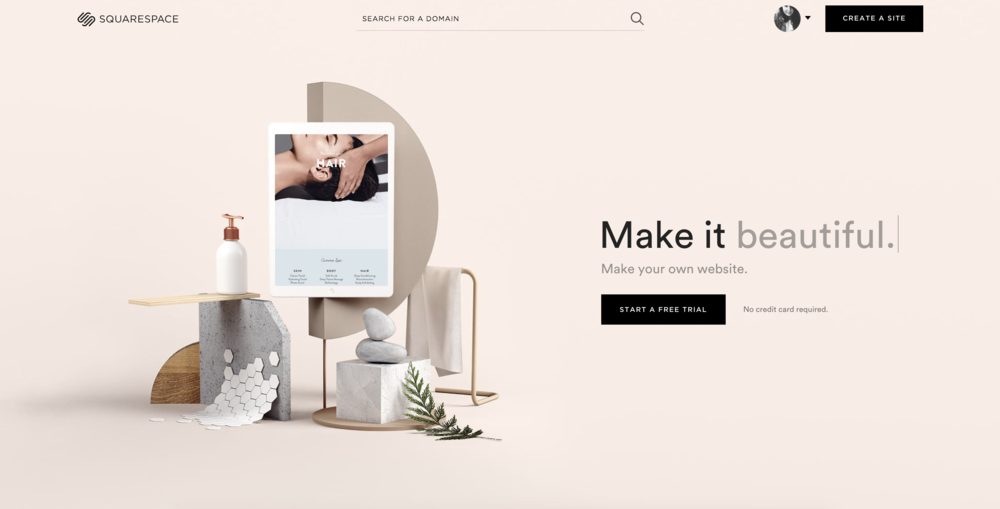 Shopify has also funneled a ton of resources into educating its audience and helping them succeed.
Its tools are designed for beginners and its brand marketing focuses on helping would-be entrepreneurs build successful businesses, as evidenced by their Quickstart Guides: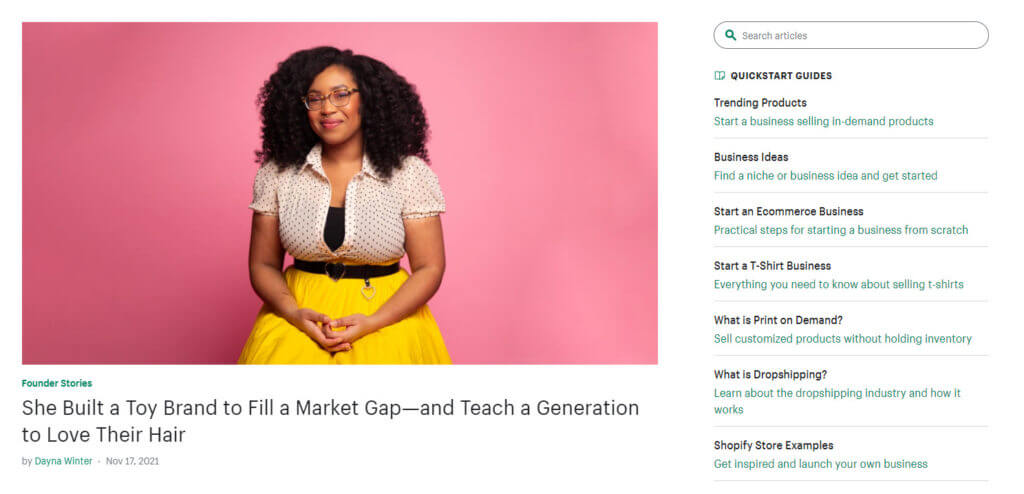 And its customer stories, which act as social proof to show customers what people like them have achieved on the platform: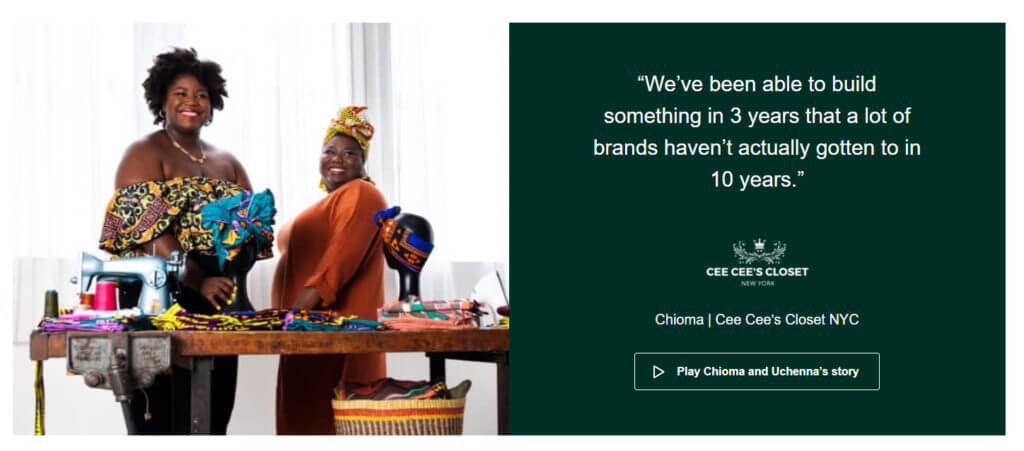 Shopify boasts 891K followers on Instagram, compared to Squarespace's 294K followers and WooCoommerce's 36.3K followers.



Studies show that only 5% of B2B customers are ready to buy. To grow a brand, you have to be familiar to the other 95%. When they're in the market, they'll remember you.
This is why Shopify doesn't have to be the most widely used platform or try to compete on price. It builds brand equity with its entrepreneur audience by sharing helpful resources and creating a community of like-minded business builders.
Building brand equity helps businesses compete through brand-relevant memories. It grows your brand by investing in future buyers, while lowering CAC (less spend on ads) and increasing ROI.
What brand equity looks like, as demonstrated by customers
So, why do people gravitate towards Coke instead of the cheaper alternative brand?
Trust.
It's the reason that 69% of people buy from a brand they know over one that gets better reviews.
It's also why companies can charge a premium for products even when they can't demonstrate their superiority. And it's why three-quarters of people will stay loyal to a brand, even if another starts trending.
Brand equity helps build the relationships between the perceived benefits and perceived costs that people relate to that product. That consumer perception can be positive or negative.
If consumer perception is positive, it indicates that:
They've heard of you
You've built trust
Brands that have built positive brand equity can usually charge a premium. Negative brand equity, on the other hand, means customers would be willing to spend more on a generic product than a well-known brand.
Negative equity often happens following major recalls, or when a company causes some publicized CSR crisis. It's why reputation management and following good business practices is a critical but unseen part of a company's brand.
You don't have to have been a HubSpot customer to know they're a go-to company if you ever need a reliable CRM.
HubSpot built brand equity through community-building, blog posts, social media marketing, and its HubSpot Academy.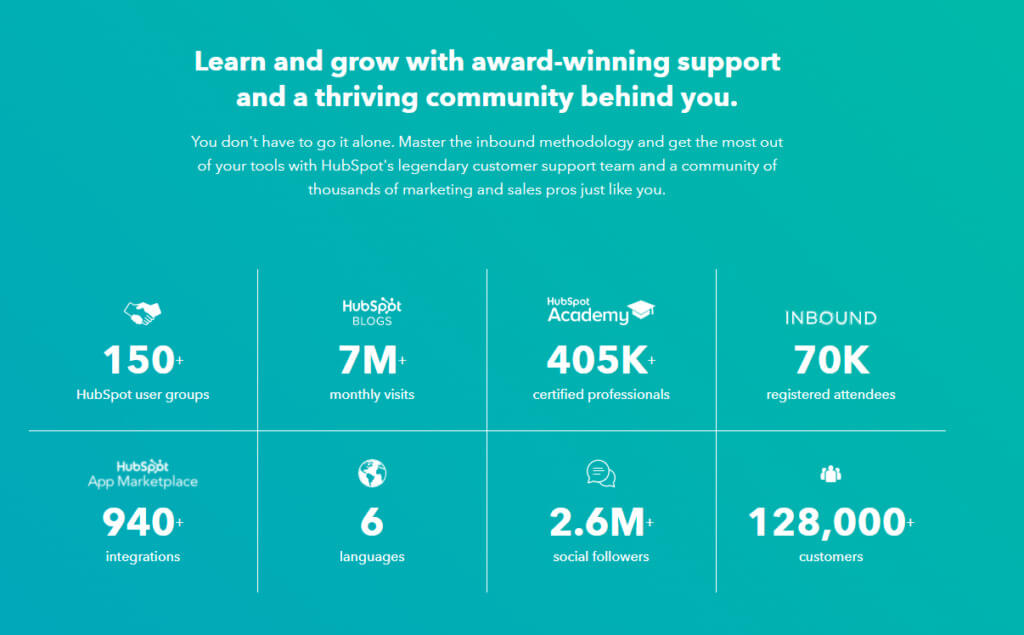 HubSpot has built its brand to over 100,000 customers and $1 billion in annual recurring revenue in 2020. Despite the uncertainty of the times, companies believed in HubSpot and used the CRM to scale their businesses.
Their appreciation of the business didn't go unappreciated:

On brand building, Intuit co-founder Scott Cook once said:
"A brand is no longer what we tell the consumer it is, it is what consumers tell each other it is."
If you're creating a brand people like, they'll be happy to sing your praises on social media and in forums.
Take this thread from the Superpath community, where a marketer is seeking some insights on Clearscope and SEMrush.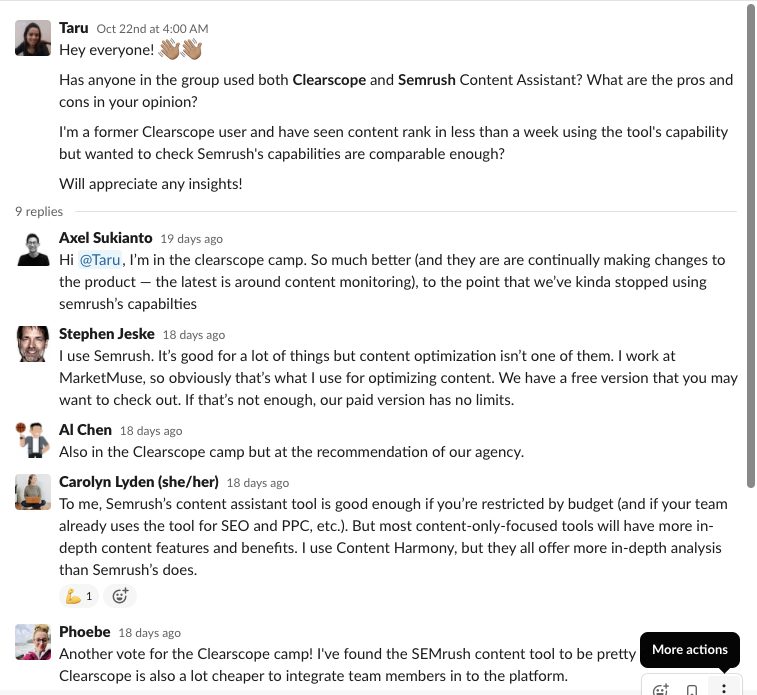 By delivering a positive experience, Clearscope has created customer loyalty. This has produced an army of community advocates.
Every word-of-mouth recommendation that Clearscope receives strengthens brand equity. That's because 90% of people are much more likely to trust a recommended brand, even if that recommendation is from a stranger.
In this example, HubSpot engages with praise and feedback it receives, strengthening customer relationships: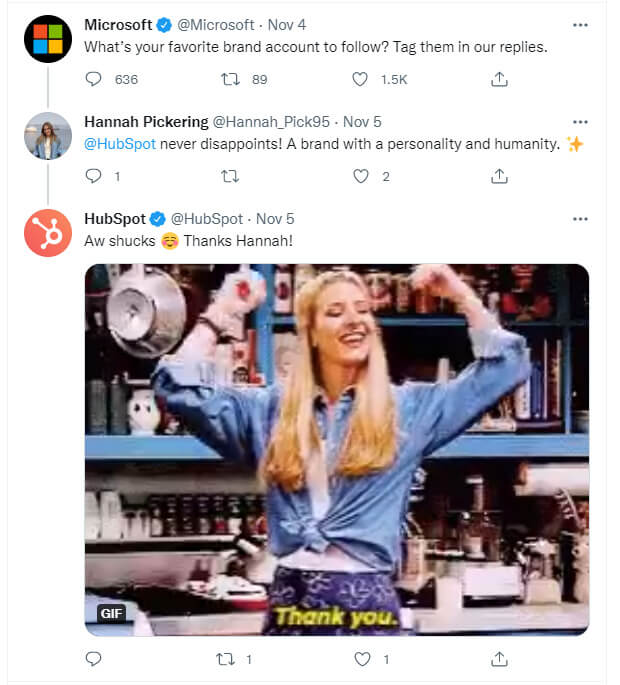 While the internet has enabled people to advocate for the brands they love, it's also empowered them to share negative feedback and lodge complaints.
Sprout Social research shows that only 8% of dissatisfied customers would stay quiet on an issue, and 47% of those voicing their opinions and experiences do so on social media.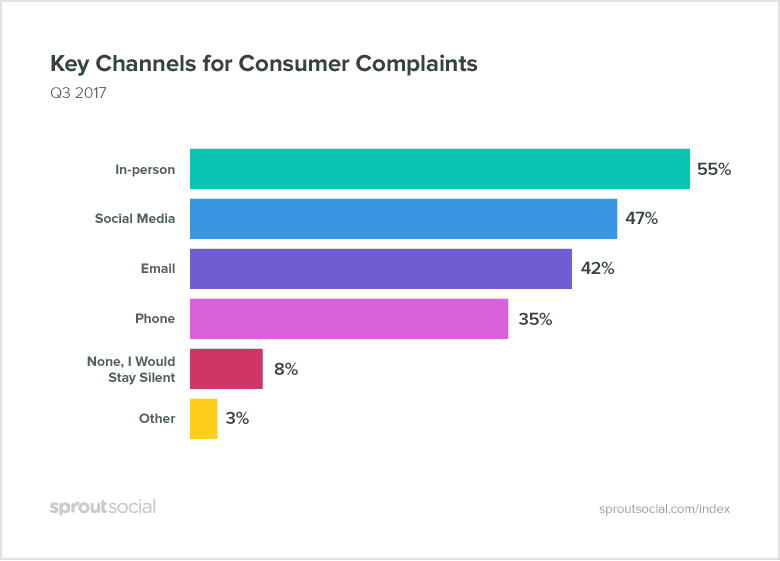 Every complaint posted publicly is seen by a person's friends and followers. And the further a post spreads, the bigger the dent it can make in your brand equity. Stay ahead of this by responding to negative feedback immediately.
Trello works hard across its social media accounts to address complaints and feedback from its target audience:

More than four in five people expect a brand to respond to social media comments in a day or less. Trello counters any negative impact the original comment has made on people browsing YouTube comments by getting involved early.
Trello is only able to do this because it's using social listening to gauge and manage brand sentiment. It only takes a single bad review to strip away your competitive advantage.
The components of brand equity (and how to build and acquire them)
When it comes time to decide where to allocate resources to build brand equity, it seems like the best way forward would be to drive a brand awareness campaign.
But if your market is crowded, you'll need to stand out with more than just recognition. You'll need to build an emotional connection, too.
In the current landscape, it's important to both create a strong positive emotional response and to be instantly recognizable.
When something new and disruptive is around the corner, achieving recognition and connection is critical to establishing long-lasting brand equity.
To do this, revisit your branding strategy.
1. Brand awareness
Become the top-of-mind brand by tapping into what makes your audience tick.
Reverse engineer customer behavior by digging into your existing data to find out how they interact with your business. Ask: What resonates with the target audience? Which current marketing tactics get the most engagement? What images and messaging inspires action?
Talk directly to your customer base. Use surveys and courtesy calls to establish how customers found out about you, and what they most like (and dislike) about your brand and products.
Use this information to drive your marketing and create campaigns that people want to share and shout about online.
At this stage, the aim is to achieve brand recognition, so focus on value.
One way to do this is through useful content. Document collaboration tool Bit.ai, for example, created a resource to help its target audience make an onboarding checklist: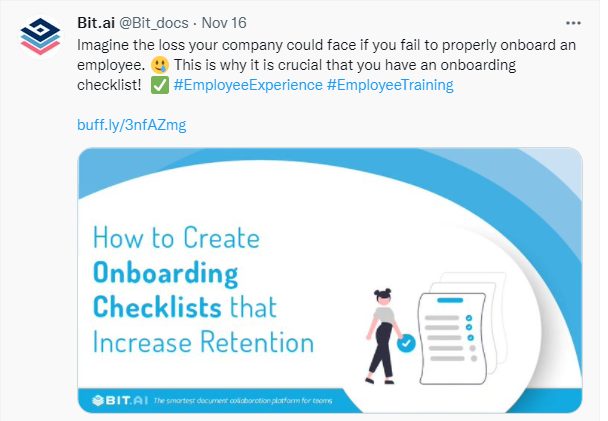 Not only does this offer tangible benefits (people learn how to create a checklist), it helps position Bit.ai as a helpful, authoritative brand.
For readers, when the time comes to purchase a document collaboration solution, they'll remember Bit.ai as the brand that helped them solve a problem.
Another way is by giving away something for free, such as a trial period or tool. CoSchedule's Headline Analyzer is a standalone tool to help marketers improve their headlines.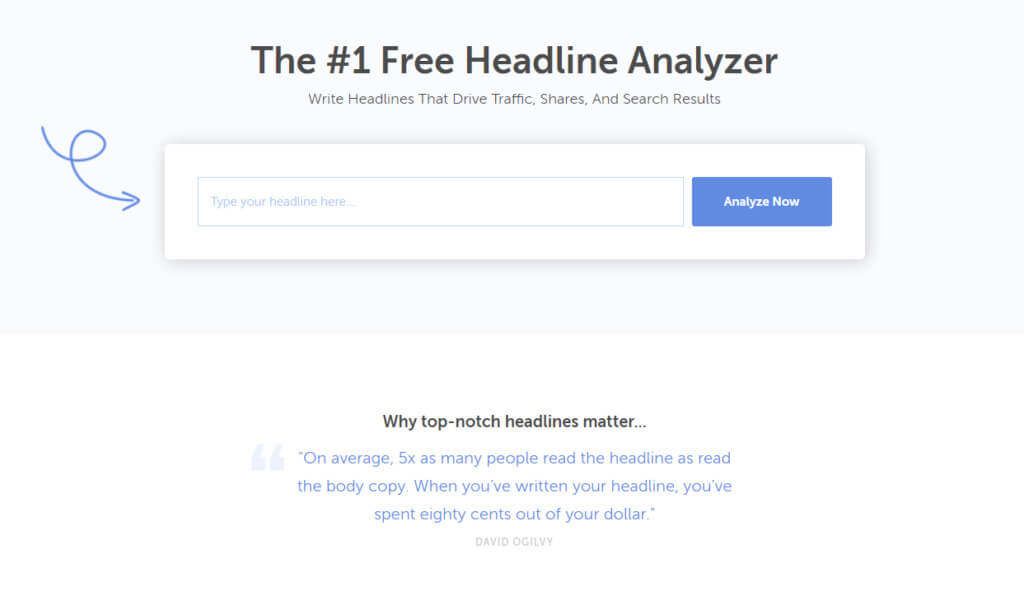 Right now, marketers are looking to spruce up their headlines. Further down the line, they might be looking to improve their entire marketing campaign.
And when comparing options, which is going to be more appealing? A brand they're seeing for the first time in SERPs, or the brand that helped craft a great headline a few months ago?
2. Positioning
Brand positioning is hard work. Offering a great product or service isn't enough—that's table stakes. It takes work to discover what your actual value is to your customer and how you should sit in the mind of your customer.
Once you've settled on a position, you need to commit to it consistently. Create a consistent brand message that conveys your core values and mission across every channel so that people know who you are and how you're different from the competition.
For example, Toggl is a set of tools designed to help teams work more effectively:

Its USP for its most popular tool, Toggl Track, fits in with the company's mission to be effective, empowering, and effortless.
And as any great positioning statement should, it makes it clear who the product is for (teams) and backs it up with substance: "Reliable time tracking software loved by 5M+ users."
Establish your message by nailing the following four elements:
1. USP. Come up with a compelling unique selling proposition that combines what your customers want with what you do well. Toggl's target audience wants to work more productively; Toggl Track helps them do this. This is communicated in its USP: "Time tracking for better work, not overwork."
2. Your target audience. Use customer personas, social listening, voice of customer research, and surveys to learn your audience's interests, goals, and pain points
3. Your story. Listen to what your customers say to identify what they consider most important. Then, tell stories that speak to those values to build an emotional connection
4. Your message strategy guidelines. Develop guidelines that set out how your team will create materials. These should include your mission statement, USP, value proposition, and brand pillars. Build everything from your product to your brand marketing campaigns with these guidelines to ensure your position and messaging are consistent across every platform.
3. Relationships
Give people a reason to gravitate towards your brand from their earliest interactions by showing them you're a safe bet.
This can be done with social proof in the form of reviews or customer stories, or with brand associations.
Buffer, for instance, lists its marketing partners and clients on its homepage.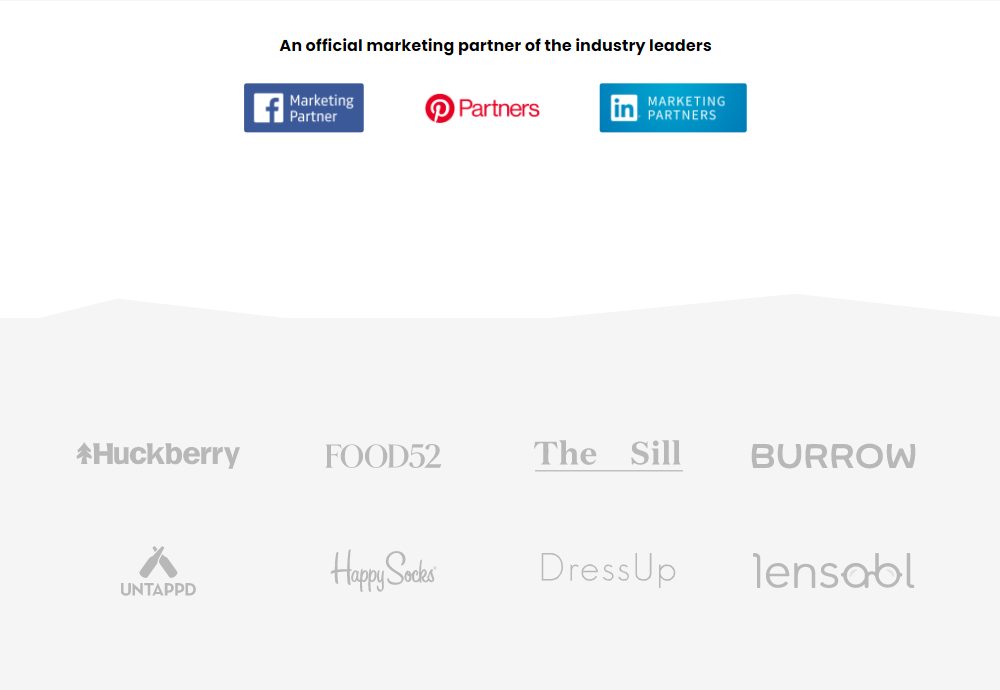 The marketing partners speak for themselves. However, even if you're not familiar with these client brands, that eight other companies have trusted, Buffer gives them enough credibility to warrant consideration.
A similar effect can be had by working with influencers.
Take Wix, which partnered with influencers like Karlie Kloss to create instructional ads on YouTube.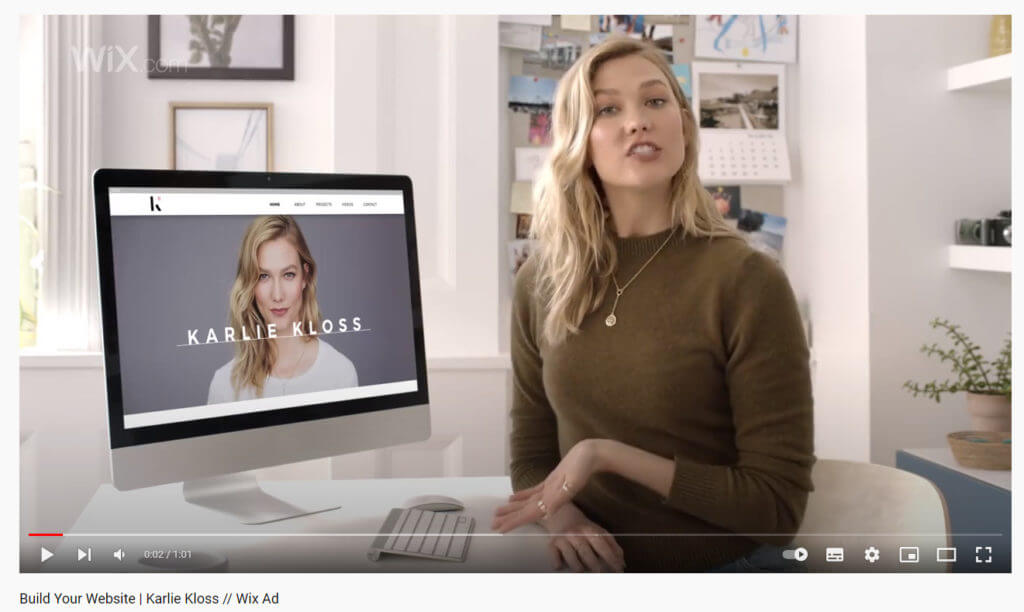 If you're a fan of Karlie Kloss or are familiar with her work, knowing that she uses Wix for a website immediately builds a degree of trust in the platform. It also gives Wix brand equity over competitors that aren't using similar tactics.
Trust-building and trust-maintenance are both important. Track and listen to conversations around your brand and become an active voice in the community. Thank customers for their praise and address their concerns, like in the HubSpot and Trello examples.

Every touchpoint is an opportunity to influence and build sentiment toward your brand. From experiences with your website to conversations with you on email and live chat, to how you reward them for their loyalty, every interaction point needs your attention.
4. Storytelling
Brands use stories in a variety of ways: to be funny, to incite a movement. Ultimately, the goal of storytelling is to resonate with your audience and build connections in their memories.
"Tell me the facts and I'll learn. Tell me the truth and I'll believe. But tell me a story and it will live in my heart forever." – Ed Sabol
Good brand storytelling can stir emotions and encourage audiences to make recommendations.
Regardless of industry or medium, compelling stories share the same fundamental elements:
Plot and conflict. A series of events and actions that relate to the struggle between protagonist and antagonist.
Characters. The hero of the story (protagonist) and who or what they're faced with (antagonist).
Setting. The time and place that the story happens, brought to life by landscape, scenery, buildings, seasons, or weather.
Theme. A central idea or belief that defines the purpose of your story and why you're telling it.
For example, in this Mailchimp presents story broken down by Erica Schneider in her guide to business storytelling, the main character is a software developer. The plot is focused on him trying to successfully work from home, but he's facing conflict from constant interruptions that are derailing a video call.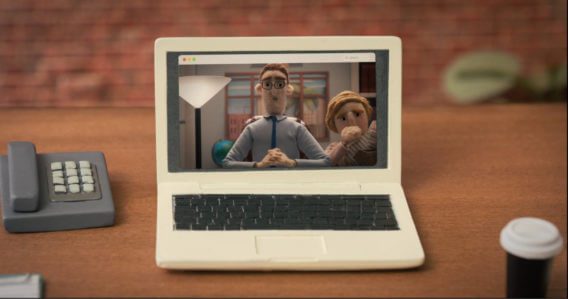 It's a universal story that Mailchimp's audience of entrepreneurs can relate to. They can see themselves in it. This helps to create an emotional connection.
In crafting your narrative, follow the tried and tested guidelines of storytelling, as laid out in Pixar's 22 rules, which say that all great stories are:
Universal
Have a clear structure and purpose
Have an easy to root for underdog
Appeal to our deepest emotions
Challenge our perceptions
Simple and focused
Measuring the impact of brand equity
Brand equity is difficult to measure because it works with the intangible, like feelings and familiarity. There's no metric to measure customers' emotional responses and what impact those subjective emotions have on your business.
You can get a general feel for how your brand is being received by using social listening tools. There are other brand awareness metrics you can measure to build out this picture, including:
Direct traffic. The number of people typing your website URL into the search bar
Overall traffic. The number of people viewing your content and spending time on your website
Social engagement. The number of people liking, commenting, following, reviewing, and sharing your content across social media.
These won't, however, tell you the financial impact these measures are having on your bottom line. For this, look at figures such as:
Average transaction value. The total value of all transactions divided by the number of transactions over a set period (e.g., week, month, year). So, if sales of $200,000 were generated from 10 transactions in a year, the average transaction value would be $20,000.
Customer lifetime value (LTV). The retention value of your customers, which can be calculated by multiplying customer value times the average customer lifespan. (Customer value is the average number of purchases times the average purchase value.)
Customer acquisition cost. Analyze how much it costs to acquire each customer by dividing your total marketing spend by your number of new customers over a given period.
Adoption of loyalty and referral programs. A growing number of sign-ups indicates brand resonance. If numbers are dipping year-on-year (or over a set period), it may be a sign that equity is suffering.
Market share. Calculate your market position to see how you stack up against your direct competitors. This is done by dividing total sales of a product line or industry by sales of your company over the same period.
While these metrics aren't wholly representative of brand equity (pricing, product features, and product quality will all influence sales, for example), positive numbers act as indicators that your brand is hitting the right notes with customers.
Conclusion
Positive brand equity is a protective fortress for your brand. Your products might not always be the cheapest, newest, or trendiest, but if you give people a reason to care, you'll be rewarded with advocacy and loyalty.

To become and stay relevant, listen to your target customer. Find out their desires and pain points. Establish what makes you different and tell stories that create emotional connections.
To learn how to build your brand's equity, check out CXL's Brand Marketing Minidegree.