Humans love shortcuts to decision-making. Brands do that.
More than three-quarters of consumers (76%) say they would buy from a brand they feel connected to over a competitor.
Building that connection with customers requires a clear brand strategy to define why you exist and a solid marketing strategy to communicate that purpose with your customers.
In this article, you'll learn how to design a successful brand marketing campaign that expresses your brand's core values, create content your customers crave, and ensure your entire brand ecosystem is designed to support customer loyalty.
Understanding brand strategy vs. marketing strategy
Your business strategy is the roadmap that details your business goals and the actions you will—and will not—take to reach those goals. It sets your priorities and guides all decision-making across the business.
For example, at global employment platform Indeed, one of their values is "Job seeker first." This means that every job matters, even if they don't make money from it. It also means that they'll seek out and post every job they can find because that's what is best for the job seeker.
Indeed's values drive the business, not the other way around. If it were, they would only seek out the most lucrative positions for the highest commission.
Sticking to their values has helped them attract over 250 million job seekers every month. Employers recognize this too, so many of them make sure to post their jobs with Indeed.
A clearly defined business strategy allows you to set your brand strategy. Your marketing strategy is what amplifies that brand.
Brand strategy: Defining why you exist in the world
Your brand is how the world sees your business. It's your reputation and ultimate differentiating factor. Getting your brand strategy right is critical to gaining and keeping customer attention.
The most important part of brand strategy is to define what your brand stands for: your purpose, core values, and brand positioning. Defining this helps people understand what you do and creates those shortcuts when it comes time to make a decision.
Brand also helps customers understand themselves and gives them a way to self-identify. Customers like to buy from brands that represent their ideal selves. This is called self-congruity, and it helps customers build strong emotional connections to brands that help them reflect the person they wish to be.
You can encourage these connections by shaping your brand purpose and values around your customers' desired personality and lifestyle.
If you have a global brand, this might mean different things in different markets. Your brand might need to shape its strategy to be relevant depending on where you're marketing.
Indeed's German branch was struggling to close sales because they had no awareness in that market. After running a culturally relevant marketing campaign, Indeed rose to number one in traffic and sales in Germany.
Indeed's CMO Paul D'Arcy says their priority is brand awareness and reducing friction:
"The number one thing we're doing is making sure that that product is everywhere and a click away when people are looking for a job or looking to hire." [via The Drum]
Brand focuses on the big picture—the story you tell to your customers to show how you understand them and their pain points. Deciding on this starts with your "why," which we'll cover in a moment.
Brand strategy isn't just for marketers and their campaigns. It supports long-term company growth by helping every department, from sales to product and customer success, align on the company's priorities.
Marketing strategy and marketing plan: Reaching and attracting customers
Your marketing strategy is a function of your brand strategy. Brand sets the long-term direction, and marketing outlines the shorter-term actions (which tactics you will use to communicate key messages with your customers).
Marketing initiatives include campaigns, content, PR, and interactions with your target audience or customer.
Your organization may require multiple marketing plans at once, with each aimed at reaching different personas within your audience or working in service of different products and services.
The brand strategy has some roots. Once you decide your brand strategy, you should stay the course to build brand equity. (However, don't be afraid to pivot when change is needed.)
The marketing strategy is continuously in flux.
You might update your marketing strategy in response to campaign performance, customer needs, external trends and events, budgets, and even competitors' tactics.
Take one of the biggest events that many brands have faced yet, the COVID-19 pandemic. Most brands had to immediately pivot their marketing strategy to stay relevant to their customers.
Their brand values, purpose, and mission remained, but several marketing campaigns were dropped for new ones.
Ads began to feature people in masks, on video calls with family and friends, and staying at home.
Like Yellow's "Robyn's Undies" campaign featuring a new business owner and her husband working out of their home:
Branding and marketing overlap slightly in the visual expression of your brand. Your brand strategy should set your brand's visual identity, and your marketing strategy should incorporate that brand identity into your campaigns.
How business, brand, and marketing strategy work together
Effective integration of these three strategies requires that each informs the others in a top-down fashion: business strategy first, then brand, then marketing.
Brand strategy cannot effectively communicate a brand with a muddled business strategy, the same way a marketing plan is useless without a brand strategy to set its direction.
All three strategies rely on a deep understanding of the customer and a clear vision of the organization's purpose. Build customer research and buyer intelligence into each to ensure your marketing activities speak to what customers actually need.
Use marketing as the vehicle to communicate your brand
Most business buyers (95%) are not currently in the market to buy, according to research from the B2B Institute and Professor John Dawes of the Ehrenberg-Bass Institute.
With such a small cohort of possible buyers at any given time, messages that only aim to move customers closer to purchase fall flat, or worse, overwhelm and annoy potential customers, who are exposed to thousands of ads per day.
Targeting exists to help you reach the buyers who are in-market right now. But those buyers are unlikely to consider your brand if they are unfamiliar with it.
To get their attention, pay attention to the details. Use market research, owned data, industry reports, and market trends to identify what it is that your customers truly value in your brand.
Build your brand from the inside out to ensure it's consistently delivered everywhere your customer comes into contact with your company.
Every touchpoint is an opportunity to build or subtract brand equity from your brand.
Create a touchpoint map to find out where these places are. These outline every interaction a customer might have with your brand along their journey.
Invite team members to brainstorm and document touchpoints with you. Then focus on the touchpoints where your brand needs work to fit that consistent brand image.
Don't overcomplicate things with new touchpoints—strategically add brand value to the ones that need it, instead.
Marketers should focus on becoming and remaining the top-of-mind option for customers when they are ready to buy, rather than wasting energy and resources trying to convince out-of-market buyers.
This requires a shift from marketing designed for short-term gratification to marketing that takes a long-term view. Marketers must adjust their expectations and metrics with expanded brand tracking.
A focus on brand awareness and brand lift, while harder to measure with numbers and revenue, contributes to overall growth by widening your customer base and deepening your relationship with them.
That's not to say we should all abandon performance marketing altogether. Instead, we must challenge performance and brand marketers to work together to drive business growth.
The 3 components of a brand marketing strategy
By setting a strong brand strategy, you've already done the hard work to define your brand's story. That strategy and story serve as the backbone of a successful brand marketing campaign.
Stay relevant with your customer using the right channels and tactics to deliver on the promises outlined in your brand strategy.
In practice, this requires marketers to:
Build and maintain trust with customers by expressing your brand values;
Ensure your brand stays top-of-mind through creative that gets noticed and remembered;
Build brand affinity with your customers through positive brand experiences.
Laying the foundation: Understanding and expressing your brand purpose and values
Successful brand marketing relies on a clearly defined brand purpose and strong brand values to guide your team's decision-making.
Rooting your brand marketing efforts in your purpose and values helps generate long-term affinity and trust by showing your customers what sets you apart and why they should trust you.
Trust drives purchasing decisions. According to Edelman research, 88% of consumers say trust is an important factor when deciding which brands to use.
Winning brands start with a "why." They have a purpose beyond just making money.
That brand purpose or mission statement should not just be an internal north star. It should be clear, pithy, externally oriented, and enduring.
A few examples.
To understand your "why," ask: what sets your brand apart? How would the world be worse off without your brand in it? This is usually something your CEO should contribute to.
Brand values answer your "how." As in, how will we act in service of our purpose? What do we stand for?
Values help make decisions clear. They help guide and shape your brand's standards, beliefs, behaviors, expectations, and motivations.
Your values must be credible and contextualized. Savvy buyers can see right through values that only exist on paper.
Clearly define your values in the context of your organization. How do you live up to your values and ensure they permeate throughout your culture?
Identify and articulate your brand values with these practical steps:
Workshop your values and create a list that everyone in your company can vote on.
Give the winners to a copywriter to make them compelling and align with voice-of-customer. Give them a contextual subheader or short paragraph in the brief to help them get started.
Test the brand values and messaging you come up with. Think of situations your company has been in in the past, or might face, and check that they would actually help you make decisions. If not, keep working on them.
If you already have your brand values, or if you're ready to test them, ask these questions:
Are they guiding, clear, and unique?
Do they correlate with the experience you want to deliver?
Do they capture the essence of your culture and brand? Survey your employee base to find out if your values are authentic.
Do they set you apart from similar companies?
Do they help your employees know how to act?
Do they inspire behaviors that will help you differentiate?
Are they credible, and can they be consistently applied?
Salesforce exemplifies proving its commitment to its brand values by contextualizing them: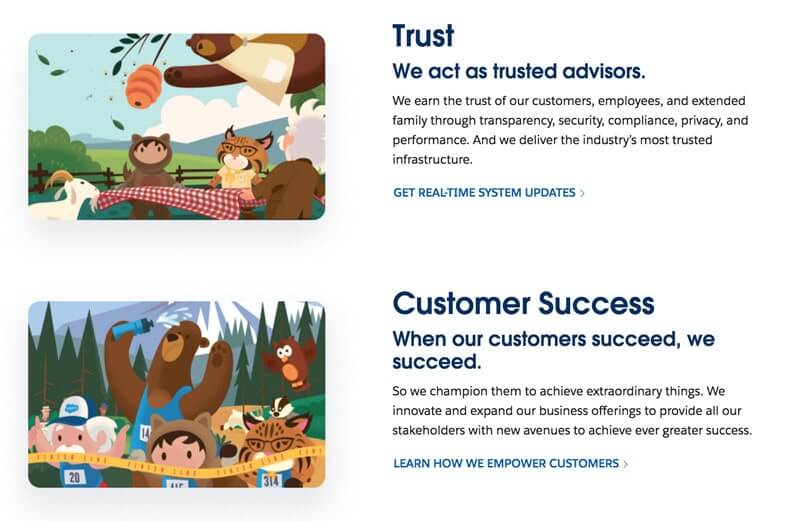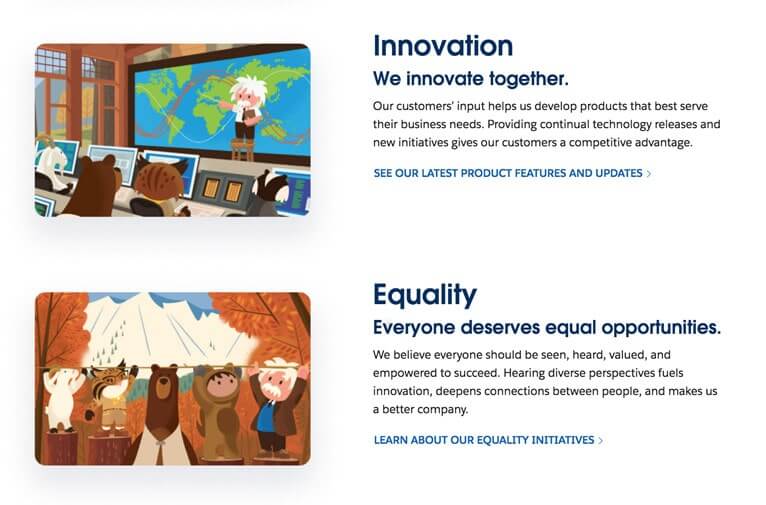 Adding context on how each value shows up in their organization and a link to learn more about how Salesforce delivers on the value. This extra insight reinforces the idea that Salesforce truly builds its values into its culture and ways of working.
Brand purpose and brand values cannot exist solely on a company's website. They should guide all brand marketing activities, from what you say to how you say it.
Brand messaging: Create content that engages your customers and sticks with them
Successful brand marketing campaigns show your customers that you understand them. Rather than action-oriented content designed to sell your product, brand marketing content should be memorable, valuable, or simply entertaining. It's more about building a positive association with your brand than pushing customers to take action.
1. Deliver on a need
Content that teaches, rather than sells, reinforces your brand's authority as an expert. A deep understanding of your customer and their pain points allows you to create content your customers actually care about.
Consider ServiceNow, a software company that aims to "make work, work better for people with modern digital workflows."
Its target customers are likely only purchasing software solutions every few years, but the brand stays relevant by producing thought leadership that is of clear value to business leaders.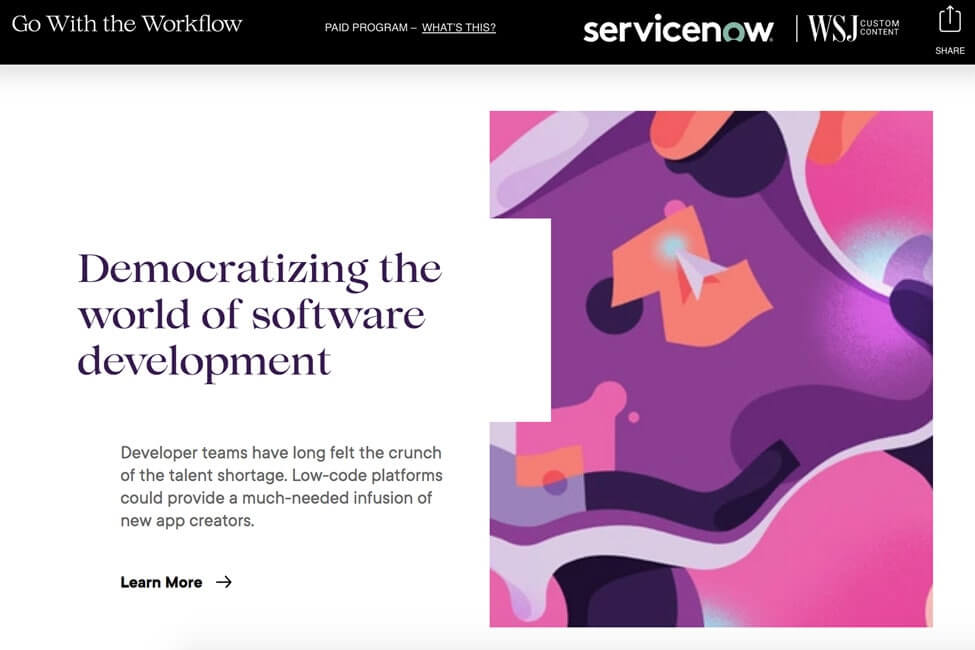 In partnership with the Wall Street Journal, ServiceNow released a series of branded content that covers topics like low-code IT solutions, workflows, and the habits of agile companies.
These articles aren't necessarily designed to push business decision-makers to purchase their products, but they do elevate ServiceNow's authority and expertise.
Partnerships with respected third parties, like publishers, opinion leaders, or other organizations can add an additional degree of credibility to your message as well.
2. Elevate your values
Kantar research shows 68% of consumers expect brands to be clear about their values. Being explicit about what your brand stands for and why they should trust you is now the lowest bar.
Today's consumers are more attracted to brands that make the world a better place than ones that make them better people (63% to 37% respectively, according to Edleman research).
This is largely due to the younger generation entering the market and making more global goal-oriented decisions. Use this to guide your values-based messaging.
Buffer is a company with deep-rooted values. The company lists its values on its website with a note about its purpose:
"We want to build a different type of company that's focused not only on the bottom line, but also the happiness of our customers and team, and our personal growth along the journey."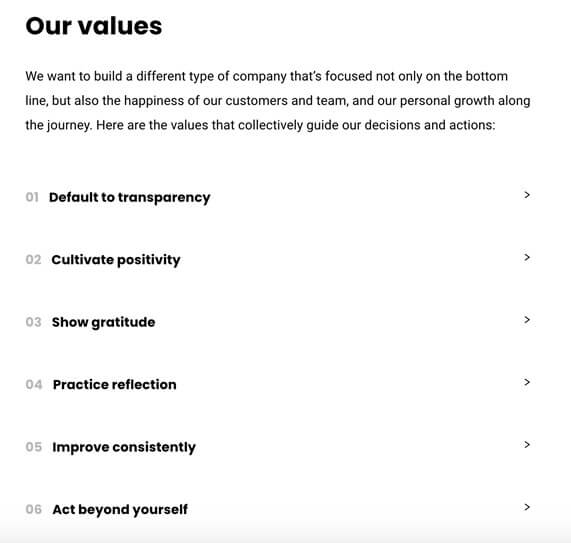 That first value, transparency, is especially important. The company goes a layer deeper into why this value matters and how they live up to that value with clear language on the site: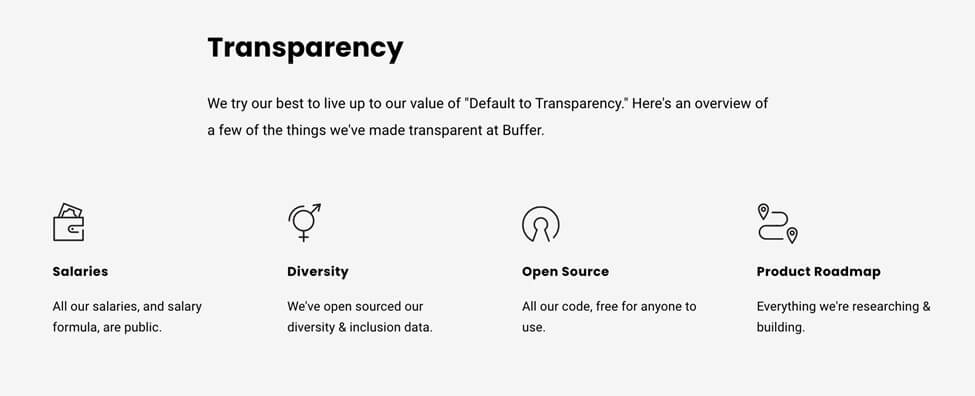 Each element of the transparency value is clickable, allowing site visitors to investigate each element further.
Buffer consistently creates content that speaks to its values, which it posts to social media and its Open blog about remote work culture.

Stories like these two about the company's pay analysis and process give the company a platform to express the ways it lives up to its values like transparency. It also demonstrates leadership from Buffer by being so transparent.
To stay culturally relevant, speed matters. The majority of respondents in Edleman's 2021 Trust Barometer Report expect brands to issue a timely response following major news events.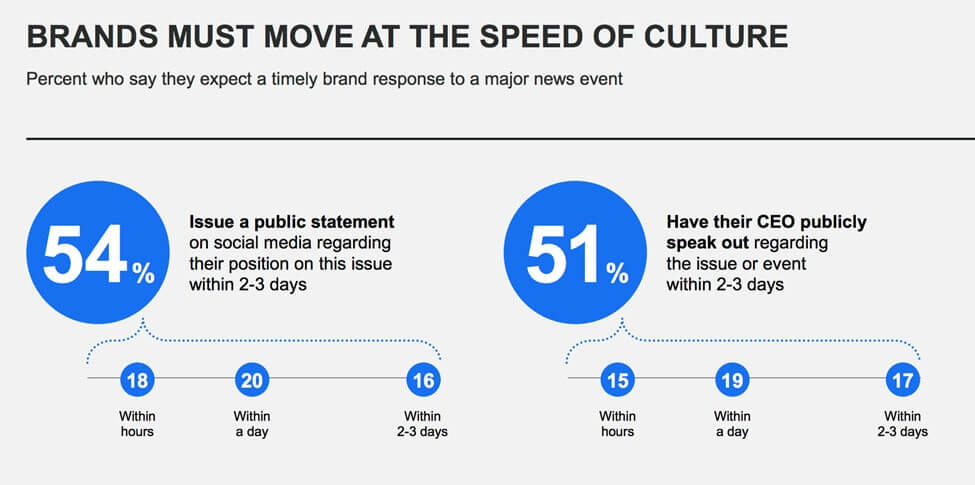 3. Tell a good story that sticks with them
Brands can establish an emotional connection with their customers through storytelling, which builds a narrative using an artful blend of data and emotions.
Storytelling is personal. It creates relationships and provides value to customers, as Carla Piñyero Sublett, IBM's SVP and chief marketing officer says:
"As B2B marketers … our number one responsibility is to create relationships and add value. That's not going to happen by peppering LinkedIn inboxes, chasing with banner ads, or flooding inboxes. We need to create more of that pull than a push by educating and inspiring customers through right storytelling."
Narrative can be an extremely effective tool for brand marketing because it not only holds an audience's attention and cultivates intrigue, but also helps people remember information.
Jennifer Aaker, a professor of marketing at the Stanford Graduate School of Business, says that people remember information when it is weaved into narratives "up to 22 times more than facts alone."
Brand content that leverages storytelling can help reinforce your customer's recall of your brand.
Some brands create storytelling in partnership with publishers, as HBO did when it teamed up with The Atlantic to create a branded content piece about its limited series, Watchmen.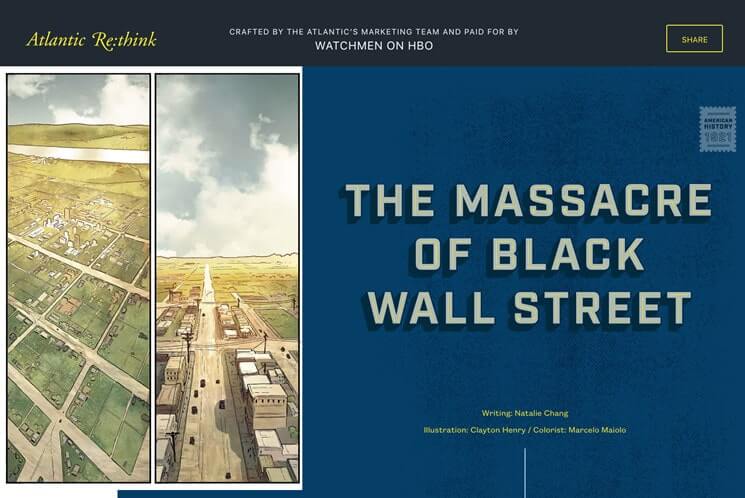 While it is an advertisement for a TV show, the brand and the show are not the central focus of the piece. Instead, it tells a story of the forgotten history of Tulsa, Oklahoma—a history and place that serves as the backdrop and the setting of the show.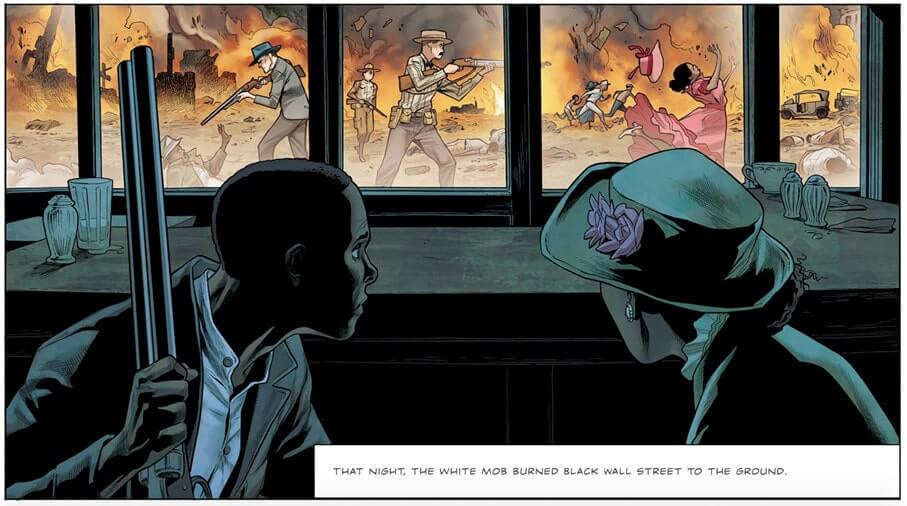 The story unfolds across several panels of content in the style of a graphic novel.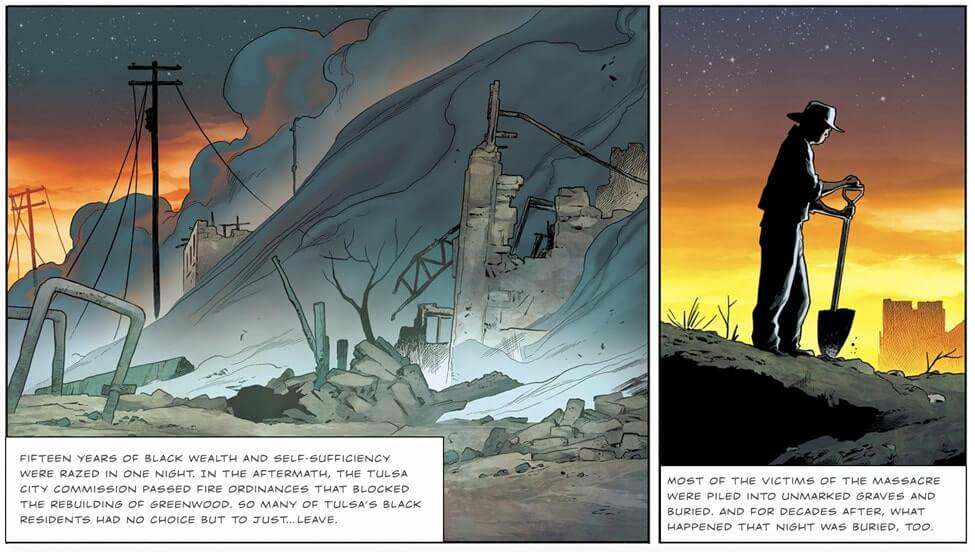 This approach is unexpected from a brand looking to drive engagement with its services. It de-centers the brand in favor of telling a story that audiences can appreciate.
This shift is what makes it so memorable: storytelling that prioritizes the customer over the brand helps build trust and affinity.
Whichever approach you choose, creating content with authenticity and consistency is key. Authenticity is easy when guided by your brand values; consistency ensures you're capturing awareness.
Post regularly on social media, engage with your audience, and keep an eye on how your content is performing to understand where you can optimize current and future content.
Perfect the message, and don't get stuck on the medium. You can easily tailor content to each of your brand platforms.
Developing a brand ecosystem and brand experiences that drive client loyalty
Your brand marketing strategy must encompass your entire customer experience. This determines how much your audience trusts you and how likely they are to be loyal to your brand.
Half of customers say they would switch to a competitor after just one bad experience, according to Zendesk, and that number jumps to 80% when customers have more than one bad experience.
To create a consistent brand experience, you must understand and prioritize all of your brand touchpoints.
Conduct a brand audit to compile all of the ways a customer interacts with your company. Consider any action a customer might take in service of specific goals. Is your platform designed to make that action simple, or is it unnecessarily complicated?
Be an advocate for your customer. All brand marketing activities should have a clear purpose and a clear value. Consider audience research to unearth your blind spots and learn the voice of your customer (how they're talking about your solution).
Simplify the user experience whenever possible by removing friction (e.g., help them get to your solution in as few clicks as possible).
Evaluate each touchpoint to ensure the messaging is true to your brand. Consistency is key; a sudden change to your brand language or even the look and feel of a piece of content can erode trust with a customer.
The goal is for every interaction with your brand to deepen your customers' connection. Understand what your customers want and need—and deliver on it.
Conclusion
As author Stephen King once said, "A product can be quickly outdated, but a successful brand is timeless."
Getting your brand right is essential. And expressing that brand through marketing is what helps your brand stay top-of-mind for your customers, increasing the odds that they'll think of you when they're ready to buy.
To learn more about marketing strategies from top experts, take CXL's Marketing Strategy course.
To build a strategic brand from the inside out, check out CXL's Brand Marketing Minidegree.
Working on something related to this? Post a comment in the CXL community!