Jeff Bezos's private space technology company Blue Origin was founded back in 2000. You'd think that no one could recreate a product so sophisticated and advanced as space rockets, right?
In 2002, Elon Musk created Space X. He was swiftly followed by Richard Branson and Virgin Galactic in 2004.
With enough resources, products can always be copied. It's tough to compete on product alone and you're likely to see diminishing returns.
The solution: build a brand. The moat you create with brand is harder to replicate.
According to Edelman research, when that trust is built, 61% of people will become vocal advocates, 57% of people will purchase more products, and 43% will stay loyal.
In this article, you'll understand how to build a memorable brand that your customers want to buy from. Learn how to identify what your customers want from your brand, how to build momentum with content, and then explore some brands that excel at brand marketing.
Brand is your strongest asset
For most of 2021, CXL didn't have a marketing team. And yet, revenue went up by 45% YoY.
Why? Brand.
Your brand is your strongest, most sustainable long-term asset. It keeps working for you when you've logged off. Your brand is your reputation – that intangible thing that determines whether your customers trust you above the rest.
There have never been more brands competing for attention than there are right now. Studies show that only 5% of B2B buyers are ready to buy. You can't force the other 95% to move into a buying position now; you can only create brand awareness so you're what they think of when they're ready.
If you spam the non-buyers with sales CTAs, you'll only annoy them.
Your brand is how you differentiate, build awareness, and sear your solution into customers' minds so they think of you when that time comes.
Why should customers choose to do business with you? How do you ensure they have a first-class experience?
Build the answers to those questions into your brand strategy. Lean into your strengths, and don't try to appeal to everyone.
CXL, for example, leads on the strength of its course instructors and the depth of its course coverage. Our instructors are the top 1% of practitioners from real, successful companies—not self-labeled gurus.
By demonstrating proven marketing expertise, we can provide a consistent, valuable experience for our audience.
Build a radical, memorable brand strategy
Define your unique value proposition— the primary reason your customers should buy from you. This process helps you zero in on who your customers are, what they need, and what they expect from you. Do this, and you'll know who your brand is for (and who it's not).
Understanding what your customers crave
Your brand is a combination of words and action. Both should reflect what is important to your target market and accentuate your core values.
Kantar research shows 68% of consumers expect brands to be clear about their values. That means being explicit about what your brand stands for and why they should trust you.
Your brand values should permeate through your entire business and marketing strategy, from external interactions (including social media content) to internal culture (more on that in a bit).
Edelman's 2021 brand trust research shows that 86% of people expect brands to take one or more actions beyond their product and business. Actions selected by participants included:
Giving money to good causes;
Addressing societal challenges;
Supporting local communities;
Telling hard truths;
Creating positive change in society;
Addressing political issues;
Displaying representative images;
Supporting culture and the arts;
Making our culture more accepting, and;
Not supporting misinformation.
To understand your customers' needs, expectations, and core values, conduct user research and buyer intelligence on an ongoing basis. This way, you can speak the customer's language and identify what the customers need to make their buying decisions. You'll also be able to relate more to your target customer in your brand marketing efforts.
As your brand and your customers' needs evolve, so must your messaging strategy. Every touchpoint must deliver on those needs and stay consistently true to your brand.
Have a clear purpose
Why does your brand exist? What big problem are you aiming to solve in the world?
These questions will help you attract customers who believe what you believe; they are the people who will become customers and advocates for life.
At a startup, this can be as simple as defining why the founder started the company in the first place. For established companies, a rebranding effort could involve discovering elements like the values your customers live by and what your leadership team believes in.
For example, let's say you're building a new tool for content marketers. It helps them audit existing content portfolios (blog posts, landing pages, etc.) and identify ways they can optimize them for better results.
Sure, a mission or UVP such as "improve the results from your existing content" might suffice. But what if your true mission is to "reduce the amount of boring content on the internet"? This would be a far more compelling position, and one that your own content strategy and brand marketing efforts should follow.
CXL's founder, Peep Laja, has a specific "reason why" his company Wynter exists. Wynter allows marketers to test their messaging with a group of panelists who provide objective and critical feedback.
That's a simple way of communicating the offering. In reality, Wynter exists because Peep saw a better way of doing things: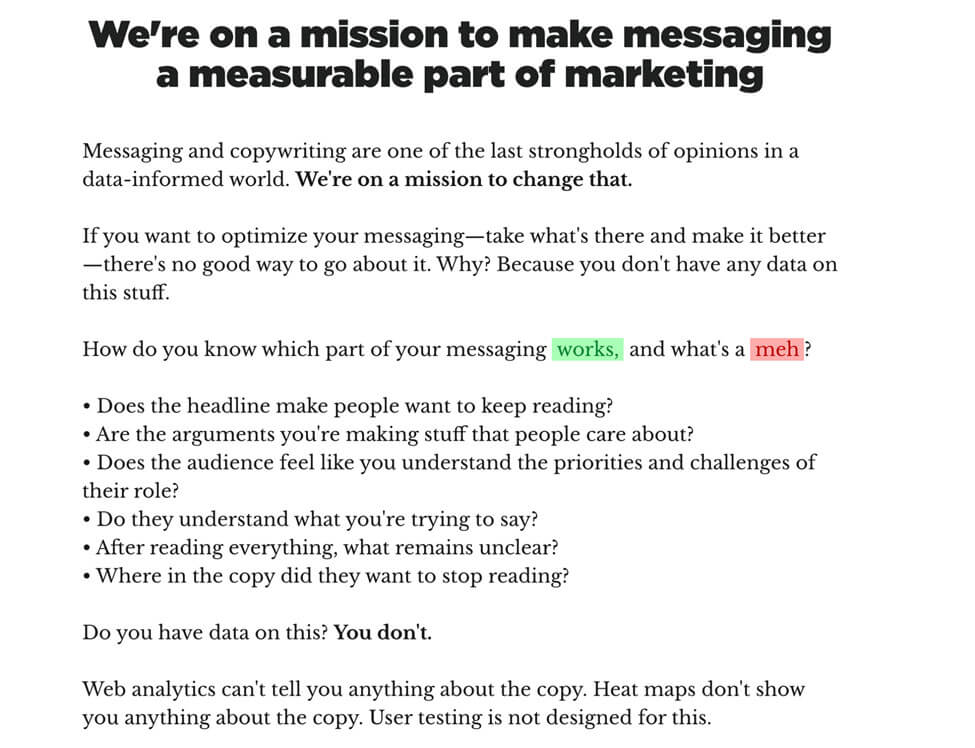 Peep's real mission is to "make messaging a measurable part of marketing." Where marketing teams rely on heatmaps and C-suite opinions, Wynter aims to change how marketers write copy based on the feedback of target audiences.
Let's compare what Wynter does with why they exist.
What: Wynter helps marketers to improve their copy with a panel of engaged B2B professionals.

Why: We're on a mission to make an opinion-driven part of marketing data-driven.
Now try and create blog post ideas around both of the above. There's only so much you can say about B2B panels in a way that nobody else has. But only Wynter can talk about data-driven messaging in a way that frames opinionatedness as the enemy.
Use competitive research to find gaps in the market
While it's best not to obsess over competitors, they do affect how you're perceived in the market.
For example, if you offer an affordable solution in a notoriously expensive software category, you may be perceived as an entry-level platform for startups or small teams with smaller budgets.
Everyone else? They're going after the enterprise. This is fine if you want to compete on price, but it's a weakness if you're building a premium solution.
Use competitive research to uncover what you're positioning yourself against. Are there industry truths that can be challenged? Does your methodology fix inefficiencies in the "way things are done"?
Answer these questions by observing what your competitors are up to.
Positioning: How are competitors perceived in the market? Are they premium or affordable? Do they hold a common belief that you can challenge?

Messaging: What language do they use? Which character are they performing as and how does this come across to customers?

Marketing: Which channels are they active on? Which are they neglecting? Can you capture more brand equity by executing marketing tactics in new or better ways?
Performing an analysis of these three buckets will help you identify gaps in the market. This will help inform your brand mission and the brand marketing approaches that you employ.
Modern brand marketing methods to build an audience
Building a movement with content
For content to resonate and stick, it should deliver on a need. Business storytelling is an art, helping you educate your audience while deepening your connection with them.
It also employs a more chemical component: emotion.
To illustrate, take outerwear brand Vollebak. Here, they built storytelling into their jacket listing.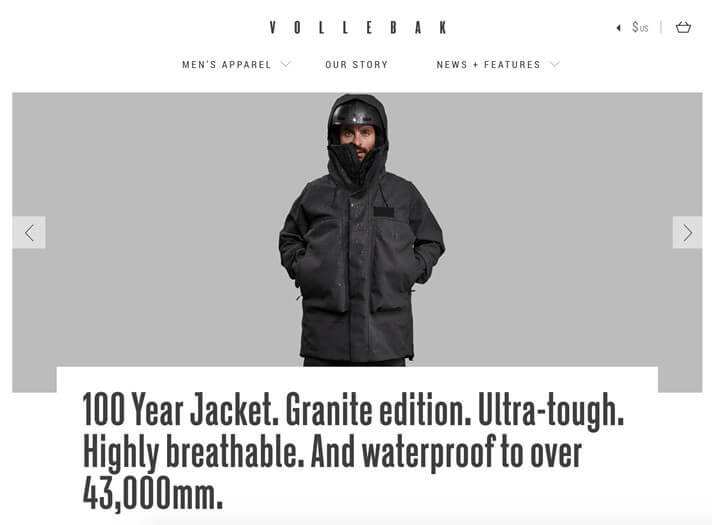 Calling the jacket a "100 Year Jacket" insinuates that it's the only one you'll need. Further down the page, they paint customers a picture, using visceral language to help customers imagine the scenarios this jacket guards them against.
Here's some copy from their product page:
"Water is strong enough to carve rock over time, so it's certainly strong enough to get through most jackets. Downpours that last for days or a heavy bag on your shoulders pressing the water through the fabric, all help water find a way in. That's why the 100 Year Jacket uses a material that was originally built to handle torrential rain while racing a motorbike – where the water hits you at high speed and with high pressure."
Every word of copy is selected to activate customers' emotions and nudge them into consideration.
Here we see the relationship between brand marketing and product marketing. Vollebak are on a mission to build a brand around products that last, and their 100 Year Jacket is proof of that.
But not all content is story-worthy. Some types are utilitarian, while others exist to build your brand's personality (i.e. speaking to something your audience cares about).
This is why user research is so powerful. It helps you understand your customer base as real people, and gives you fuel to create content around their pain points and passion points.
Beverage cooler brand BruMate deviated from its typical Instagram content to post a meme using an image from the wildly popular Netflix series "Squid Game." It received more than twice as much engagement as a typical post.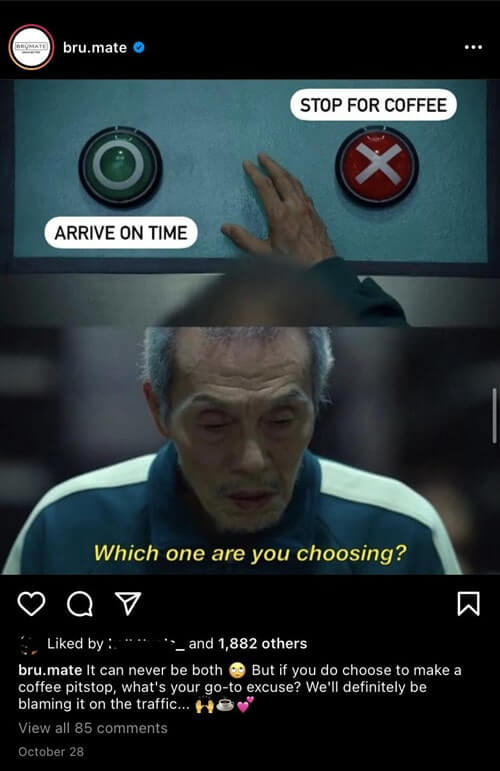 Borrowing references from pop culture can make your brand appear more human and relevant.
If your goal is to create a movement behind your brand, then all your content marketing efforts and brand marketing campaigns should be behind that purpose.
Conduct qualitative research to understand what motivates your customers, and then work to make that a consistent message across your marketing. When it's appropriate to connect emotionally, use it to your advantage with evocative copy and creative.
Infuse your workplace culture with your brand
Focus on creating a culture that makes your employees proud to be stewards of your brand. Build systems and processes that enable your team to create and distribute content seamlessly.
Harnessing employee advocacy helps to build up the authority and awareness of your brand, while also building your employees' personal brands.
Take search-oriented creative agency Rise at Seven. Most of their video content is behind-the-scenes footage of their people in their office environment.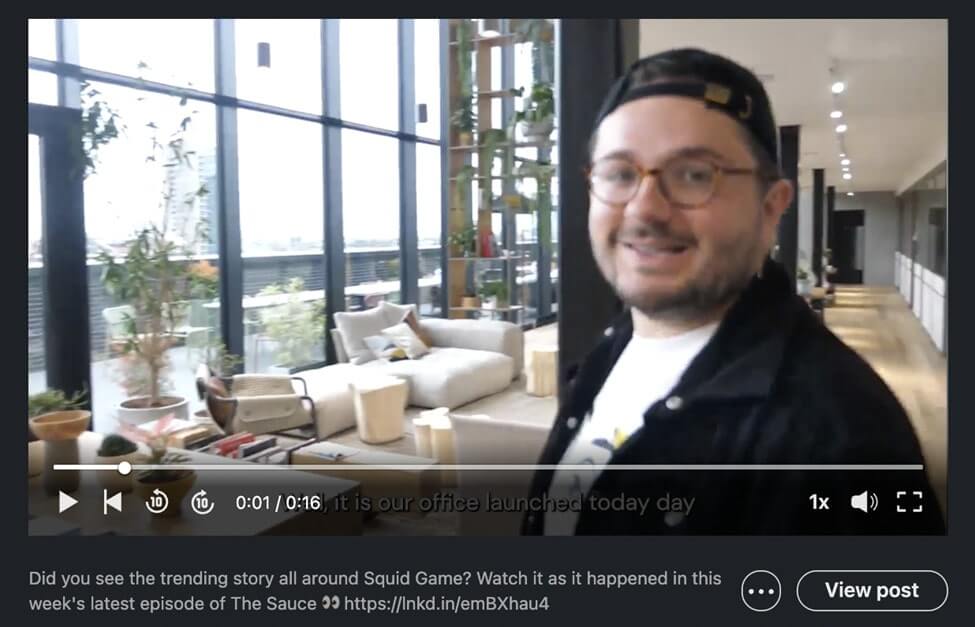 They're a great example of employee advocacy because their content is often shared and retweeted by their colleagues, like their Digital PR Lead.

Companies and their founders should lead the charge in creating customer-centric content that educates their audience while demonstrating their expertise.
Then they can encourage employees to create and share similar, customer-centric content (and build their personal brand in the process).
Help them to do it by your company's standards by setting up employee advocate guidelines.
Include what they should and shouldn't share. For example, tell them if it's OK to share behind-the-scenes footage of your workplace. Let them know if they can spill pre-release product updates, or if you'll let them know on specific occasions when this is allowed.
If your employees are creating their own content, make sure your brand guidelines are referenced. You don't want any overeager staff members inverting your brand colors or mixing up your company tagline.
In terms of the type of content they should share, you can encourage them to use Hootsuite's 20-30-50 rule:
20% Product-level messaging. Share content that promotes the product, such as upcoming launches, updates, new features, etc.
30% Culture-level messaging. Share content exploring what it's like to work at your organization, such as remote working, away days, professional development programs, etc.
50% Market-level messaging. Share interesting content about your industry, such as the latest data, trends, and related influencer content.
Being explicit about the types of content to share is good for two reasons: it stops employees from cluttering their feeds with the same types of posts (which seem unnatural and can annoy their followers), and it keeps your brand consistent across employee social media, too.
Employee advocate programs are powerful, but they should always be optional.
Kelly Wolske, Senior trainer at Zappos, told Hootsuite:
"The messaging should always be 'this is something here for you to participate with, but it's not mandatory.' Employees need to be able to choose and retain their autonomy."
Personal brand and company brand work together
70% of consumers feel more connected to a brand when its CEO is active on social media. Of those consumers, almost two-thirds (65%) say it feels like real people run the business.
Take Elon Musk and his 68.3 million Twitter followers. Compare that to Space X's 18.7 million followers and Tesla's 11.6 million followers.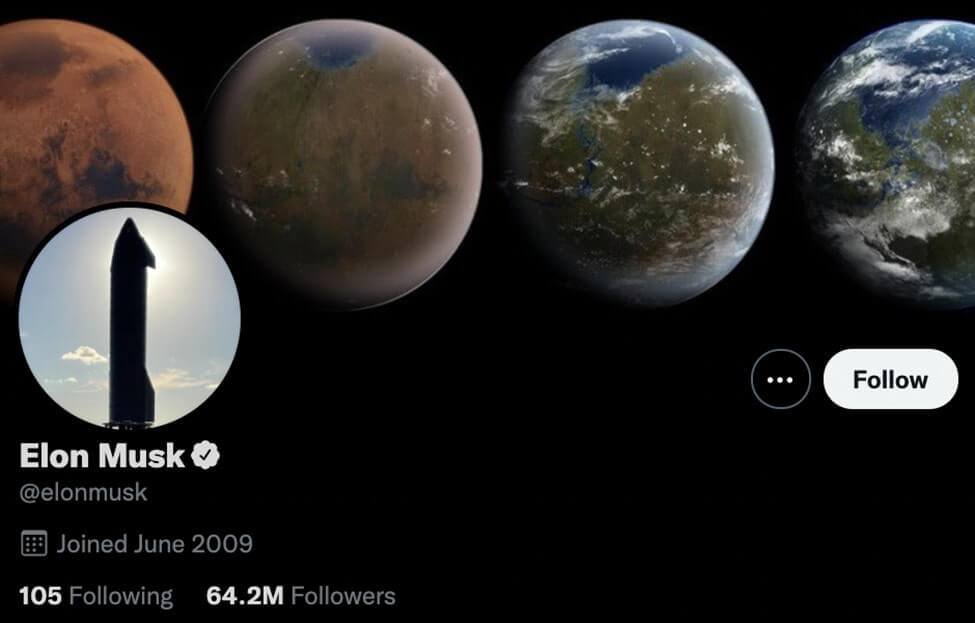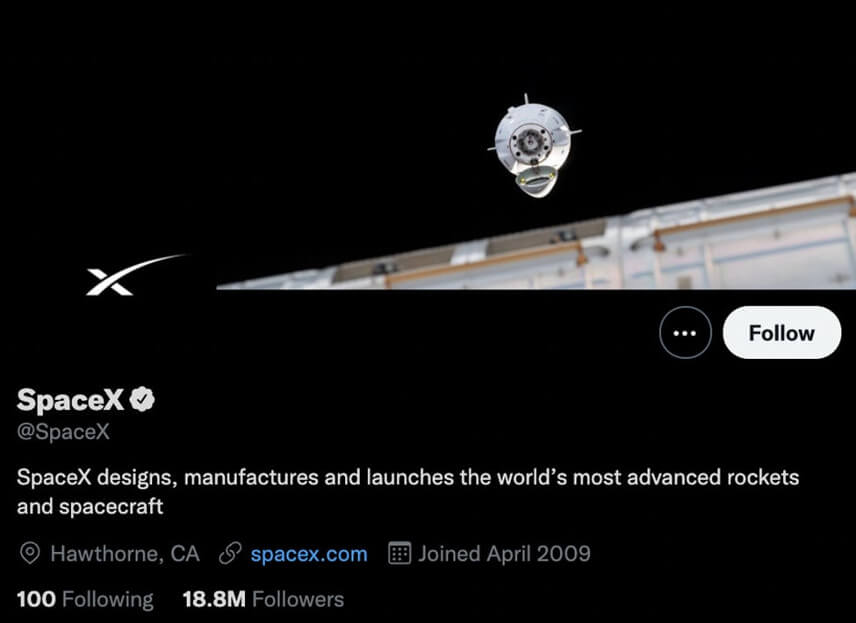 Shouldn't company accounts strive for higher engagement than their leaders' personal accounts? Quite the opposite, in fact. When CEOs leverage personal branding to engage audiences, it effectively compounds brand awareness.
Musk engages on a personal level one day: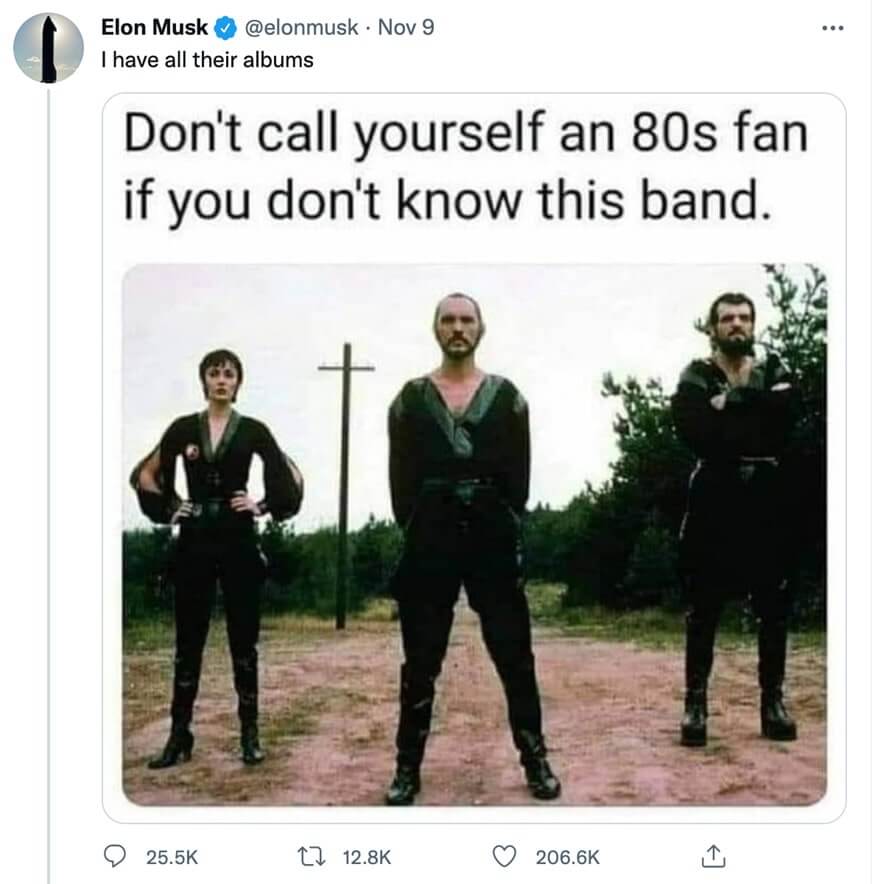 And boosts his brands the next: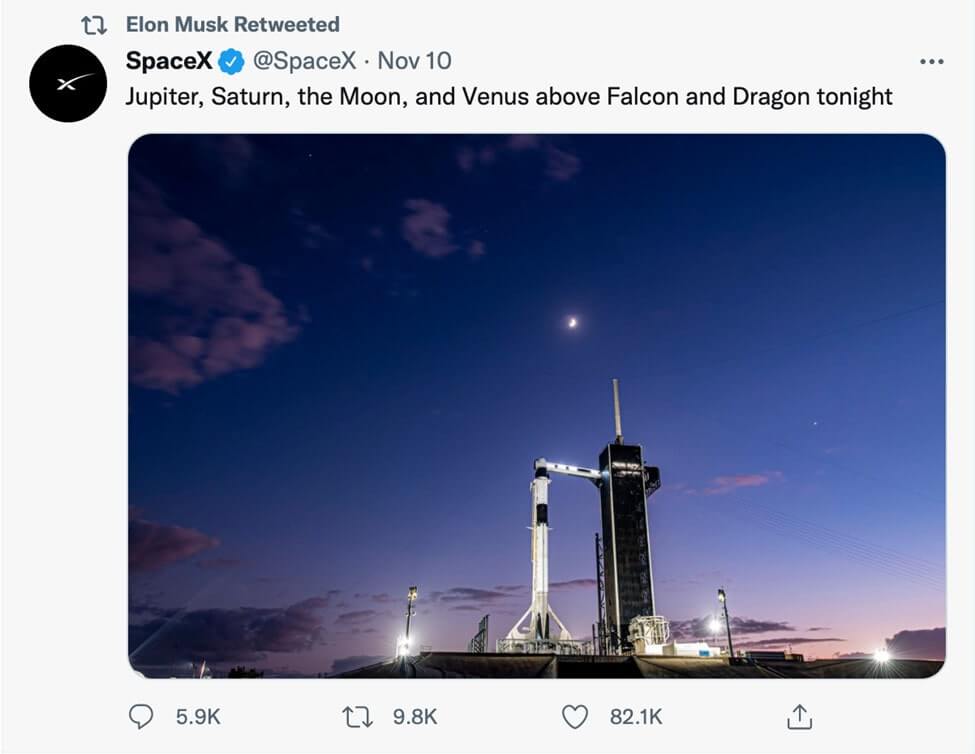 By sharing his personal perspective, he builds authenticity and speaks to shared experiences. When he hypes SpaceX, his followers feel like they're supporting both the company and the man behind it—it's personal, not corporate.
This personal brand rule of thumb applies to LinkedIn also. Dave Gerhardt has 110K followers on LinkedIn, whereas the company he works for, Drift, has 61K followers.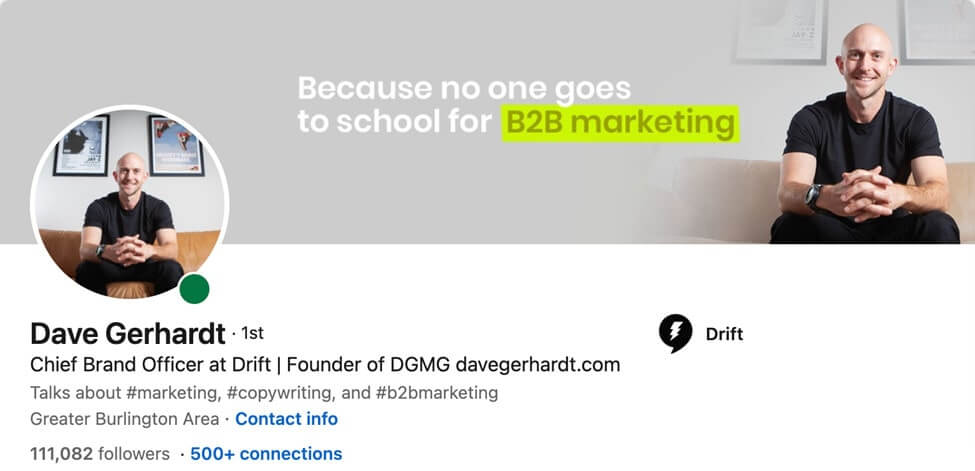 Build your personal brand alongside your business brand by consistently demonstrating your expertise. Create a steady stream of sharing between your personal and business audiences.
Most brands get this wrong because they limit their content to sharing company news and updates. These kinds of posts are boring for your followers and rarely do well.
To stand out in a sea of people spouting their stats and asking customers to attend their webinars, be authentic. Do this by:
Telling personal stories;
Documenting your journey;
Sharing your expert insights;
Being real and honest, and;
Taking a stand.
Peep Laja has built a following of more than 35K on LinkedIn by honestly documenting his journey and sharing his expertise.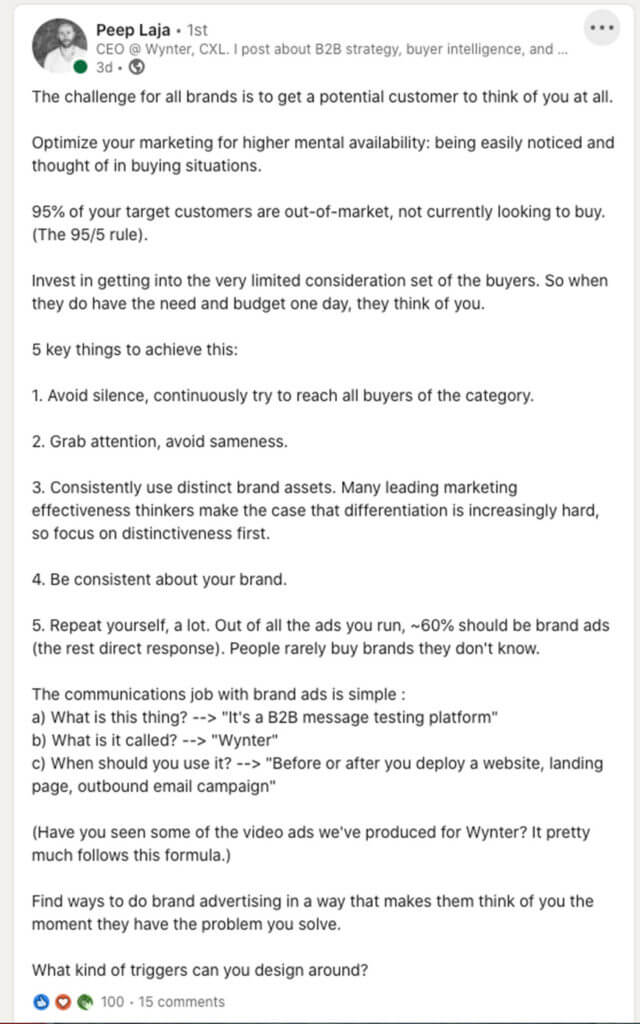 Peep's following is nearly three times CXL's on LinkedIn. Your founders and the leadership team represent your brand offline, so why not do the same thing online?
To grow a brand's social media following, follow the advice above and carefully create content for each platform. Understand why your audience is spending time on that platform.
Chances are you'll discover two needs: sometimes they engage with educational content and sometimes they want to be entertained.
Be sure to address both when you form your strategy. Your brand's tone of voice should be authoritative, so people know they can learn from you, and punctual, so people know your content is relevant right now.
As we mentioned above, find opportunities to propel your top people into the public discord. This creates a foundation of authoritative people working in and advocating for your organization.
Build yourself a brand moat like these 3 brands
A few successful brands differentiate themselves with a brand moat.
A brand moat is a culmination of a deep understanding of the customer, living out brand values, and creating a culture that deepens the connection with the brand.
Let's look at three organizations that have done a great job of standing out in a boring landscape.
Gong
When you think about revenue intelligence platforms, you absolutely expect their content to be full of ignorable charts, graphs, and stats delivered in corporate pseudo-speak that makes your eyes glaze over.
Like this:
Then you have Gong that shares memes like this:
They stand out head and shoulders above the competition because their content is different, making them memorable.
Because of their relatable content, they can boast 106K followers on LinkedIn.
Gong is another brand that embodies employee advocacy. Their LinkedIn video content consists of staff members sharing their expertise, like in this "Create raving fans" video featuring various employees.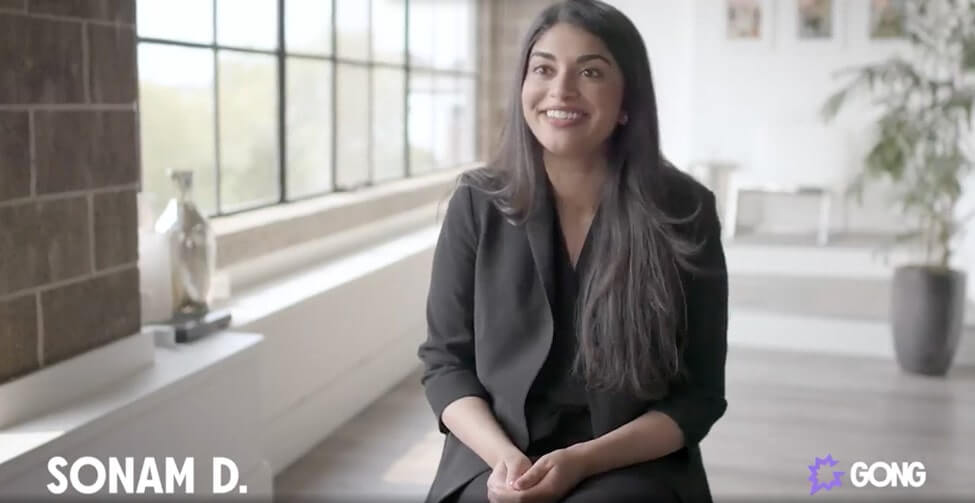 Gong does two things really well with their content. They show original sales intelligence data and they post relatable memes.
Their followers remember them as the funny revenue data company that knows what they're talking about, and then recalls them when they're in a buying position.
The memes in particular attract engagement through reactions, comments, and shares, putting their brand in front of more people.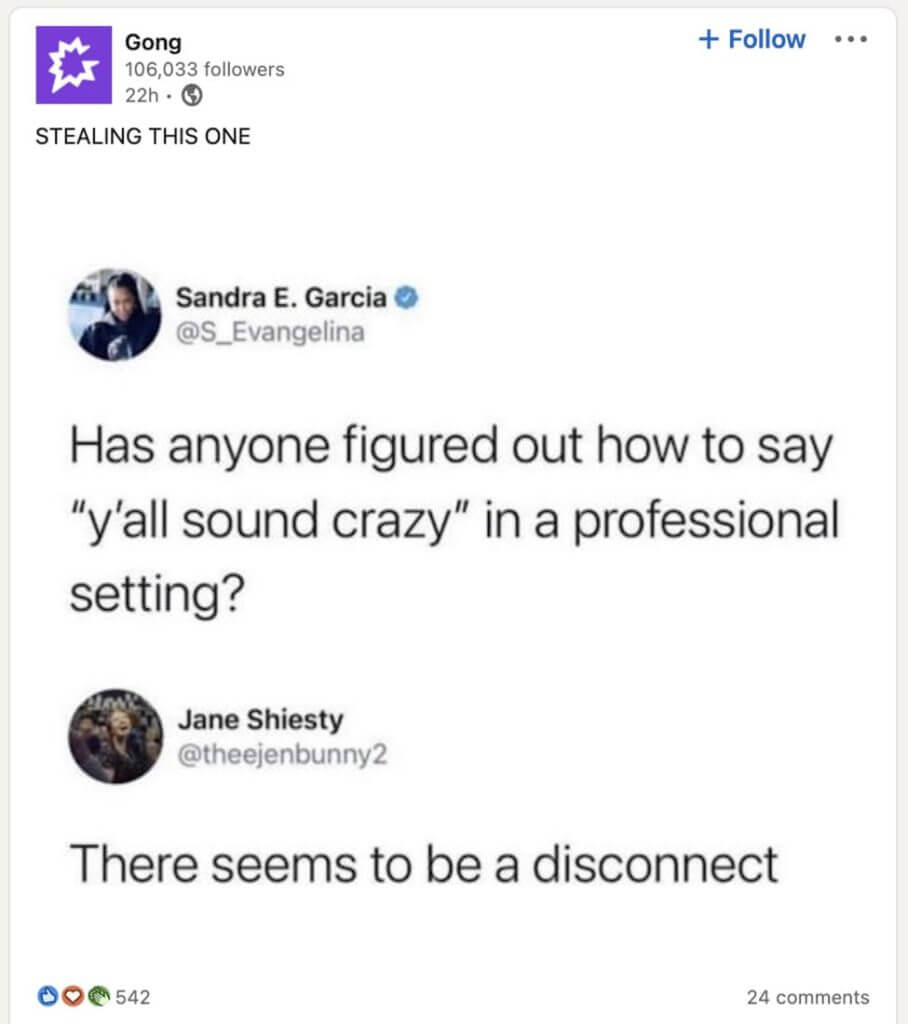 The takeaways from Gong are to stand out in your market with your brand strategy and post content in your social media marketing that your audience wants to share.
This helps to stick your brand in their minds and get your brand in front of more people.
Drift
Drift is a conversational marketing platform with the mission: "to use conversations to make business buying frictionless, more enjoyable, and more human."
They're active on multiple channels, with followers on LinkedIn, Twitter, YouTube, Instagram, Facebook, and several podcasts covering different themes.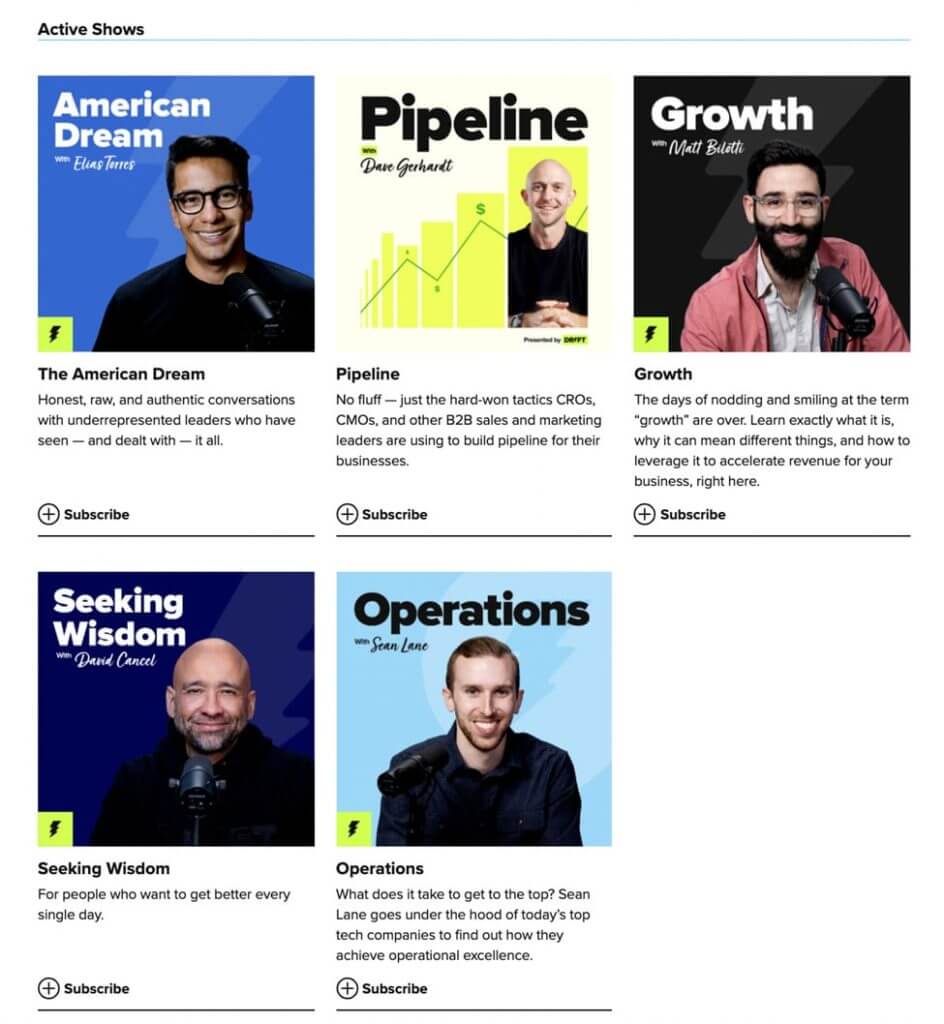 Part of their content strategy is to include members of the team in sharing their expertise and reiterating that Drift is a "great place to work".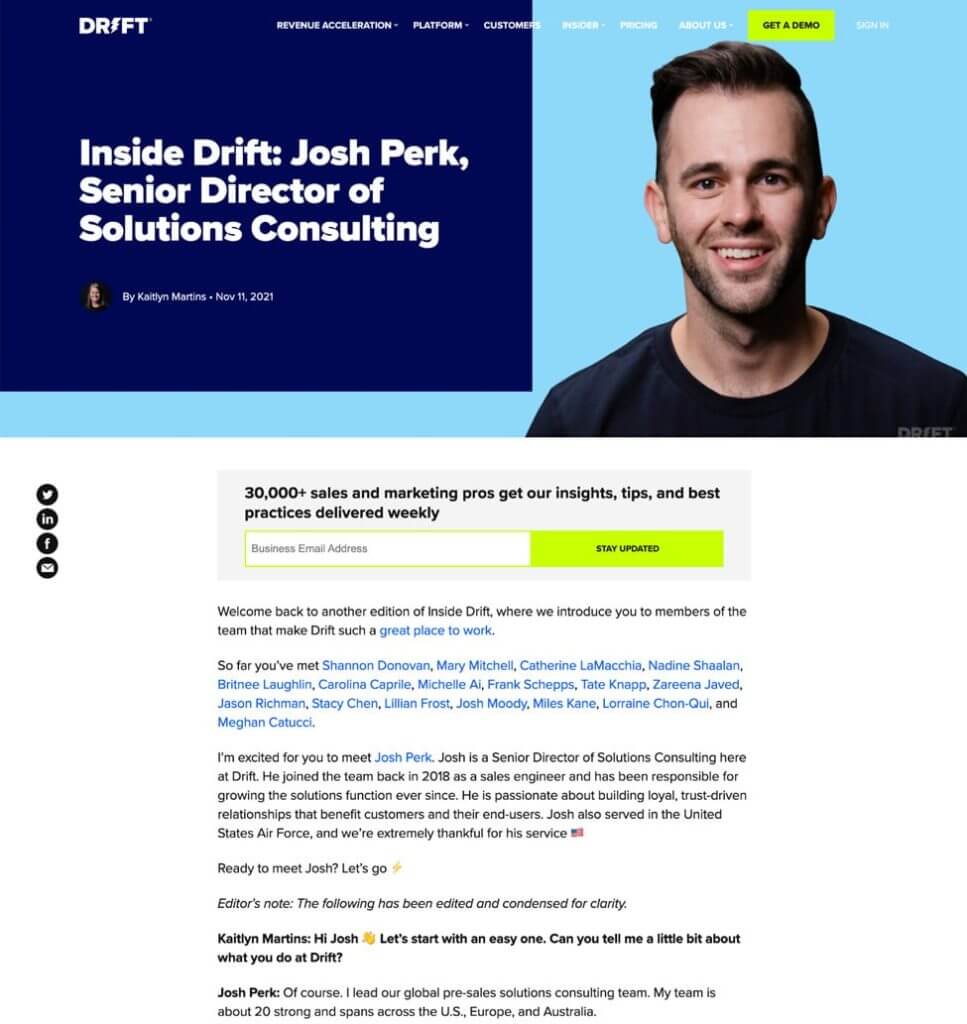 Drift is good at sharing their own expertise but also sharing the expertise of other influencers in the space. They're also great at shouting about their people to, again, develop employee advocates.
They also make a point to take a stand on issues like diversity and leadership. They make this plain and clear on their website.
From their website, it's easy to see that Drift is people-focused. Many of their pages feature people in their hero section.
After checking out their social media, their resources, or their website, potential customers will take away that Drift is a people-centric company full of experts in their field.
Yeti
Here's another great B2C example from consumer goods brand YETI. They launched selling coolers, but now they sell a wide range of items for the outdoors, from clothing to gear.
Since its 2006 foundation, YETI has built over 90K LinkedIn followers and 125.7K Twitter followers.
A quick browse of their social media immediately gives the reader a snapshot of their outdoorsy brand.
YETI tells a consistent story across all channels. It's clear from the outset who they are and who they're here for.
Their brand content focuses on themes like durability, dependability, humility, and nature conservation. They show this by sharing stories in harsh environments (featuring their products, of course) and taking a stand on environmental issues.
They even have a page dedicated to brand ambassadors "living a wild life".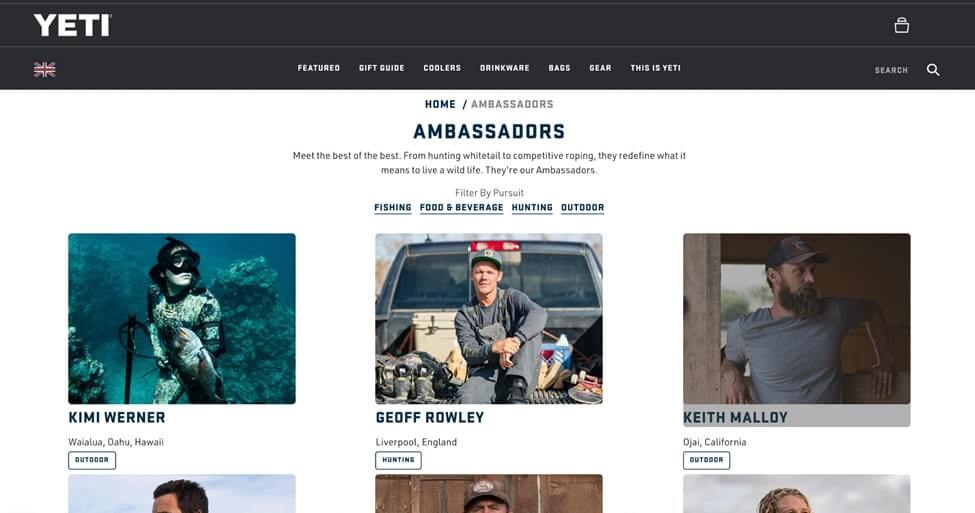 YETI also partners with influencers and other brands, borrowing their audience to boost their brand awareness. From their social media, we can see that they've partnered with brands from soccer clubs to rodeo events to conservation non-profits.
From YETI, we can learn to tell a consistent story across all brand touchpoints. Everything ties back to brand: from their social media, to the influencers and ambassadors they choose.
Conclusion
Brand marketing determines your company's success or failure. When you build trust with customers through your brand, it can work for you around the clock.
For that to happen, your brand needs to be memorable, speak to your customers, and be reflected everywhere (your touchpoints, your people, your workplace culture, etc.).

To become great at brand marketing, check out CXL's Brand Marketing Minidegree. The course is designed to help you create and define a strategic brand identity, so you can build a successful brand.