Expanding your reach and scaling your marketing strategy becomes a lot easier when every employee in your company is a brand ambassador.
Employee advocacy programs turn employees into advocates, shortening sales cycles, boosting growth, and helping your team differentiate from the crowd.
Still, only 17% of businesses have these programs that empower employees to be more than just a part of the team. And it's not easy to get it right.
We're walking you through the process of creating a great employee advocacy program in this post.
What is employee advocacy?
Employee advocacy is the promotion of a company done by its employees and teams, who perform as ambassadors or advocates.
Employees support your brand, product, or service by sharing content, boosting your brand awareness or leveraging their networks and acting as evangelists.
Even though employee advocacy is a marketing strategy, it is not inherently tied to your marketing team, as the promotion will be done by all employees in your company and not only by your marketers.
Employee advocacy programs: creating organic ambassadors in your team
An employee advocacy program is a strategy you put in place to encourage your teams and employees to actively promote your company, brand, products, or services.
By motivating your staff to become brand ambassadors, and giving them the right tools to create employee advocacy content, you expand your reach and build new audiences, while also helping your employees promote their role in your company. It's a win-win situation.
How to create a culture of employee advocacy
Good employee advocacy helps to paint a positive picture of your business and increase reach and brand awareness by:
Tapping into each employee's audience (which helps you get in front of new eyes)
Making your company look like a good place to do business with (happy employees often represent a good workplace culture)
Generating more first clicks by leveraging employee networks to become a more trusted, credible, and familiar source
When your employees share your company content and updates on their own social media accounts, it builds social proof. By tapping into your employees' influence, you're expanding your reach and setting them up as trusted sources for when future customers reach the decision-making stage.
It also helps to set up a company culture that empowers your employees to become brand ambassadors. This in turn allows them to build their own online presence, establish themselves in the field, and promote their involvement in their roles as a form of self-marketing.
Take a look at creative SEO agency Rise at Seven's Twitter feed. Nearly every single one of their posts tags or retweets an employee in some way.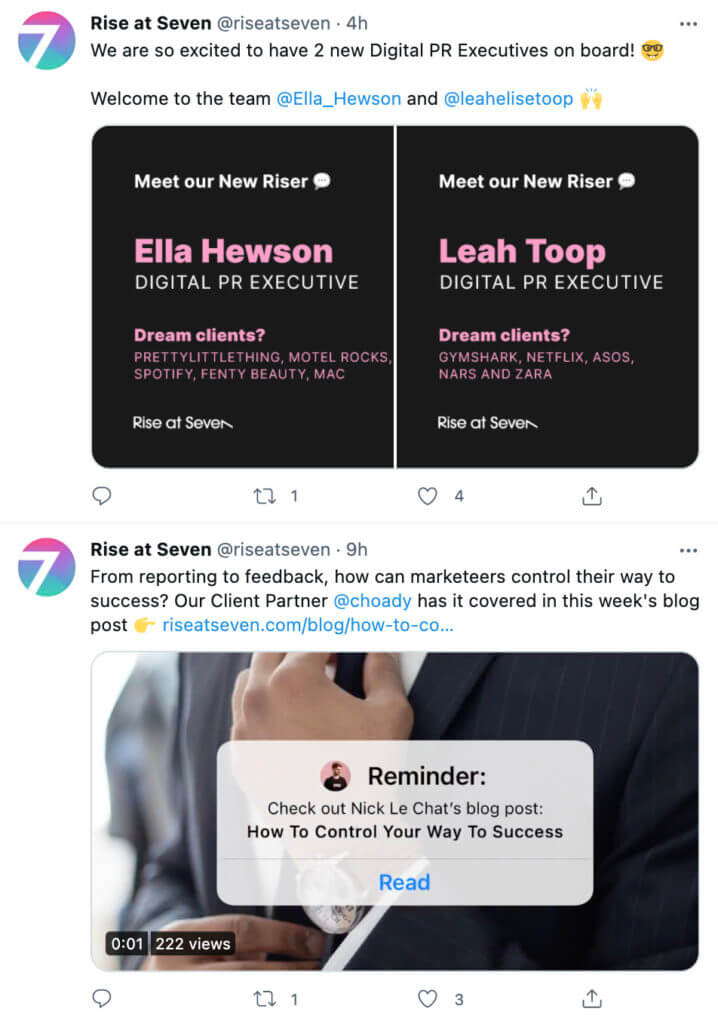 The majority of their employees have their job title and the company's Twitter handle in their Twitter bios.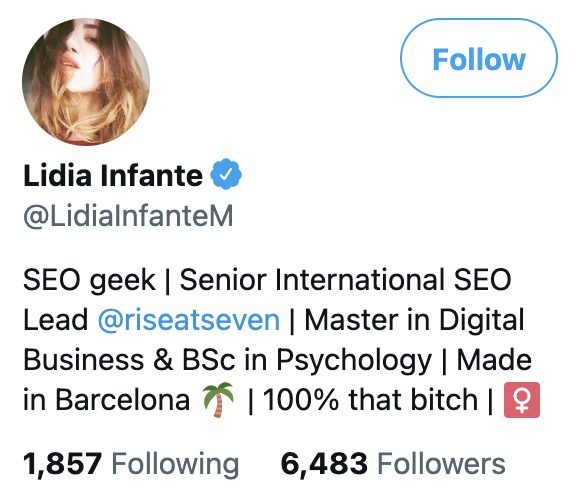 Further, each one actively engages with the brand—whether it's retweeting company posts, sharing job openings or posting company news.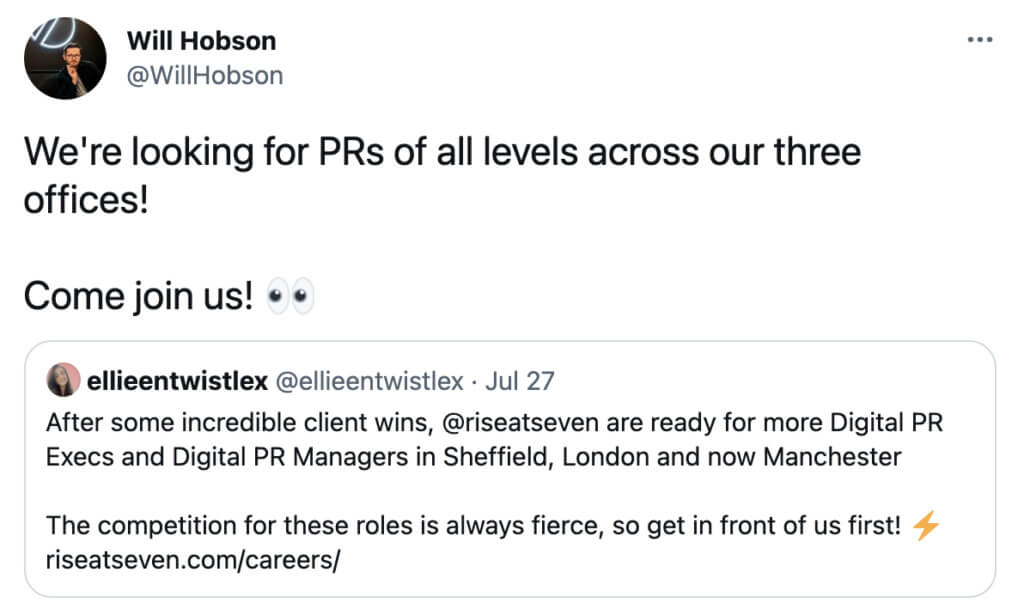 This promotes a positive company culture because employees are empowered to publicly share job achievements, publications, and updates. This helps employees to build their own personal brand separate from simply being a Rise at Seven team member.
This isn't only beneficial to your employees (even though it can be a huge perk). This is also an authentic way to extend your content's reach.
Prospects and leads will be able to scroll through your social feed and see your brand's story being played out in real-time. This comes across as less edited and rawer than brand-facing content.
As such, it adds credibility in the same way that client testimonials make public-facing customer statistics more trustworthy. It's the digital form of "don't just take my word for it".
By imploring your team to share blog posts they've written, webinars they've run, and projects they've worked on, you're getting your brand name out there in a favorable light. You can do this by:
Creating and distributing a social media policy that you distribute to employees as part of their onboarding. This way, employee advocacy is baked into their role from day one and allows you to set appropriate expectations. We'll dive into what this policy can look like in a later section.
Incentivize employees to get involved with rewards, gamification, and recognition programs. We'll also dive deeper into this shortly.
Offering support with building up employees' online presence. This includes how exactly to use social media to promote your brand, the do's and don'ts of what posts can include, preferred channels based on the end-goal (e.g. LinkedIn for B2B clients, Instagram for B2C), etc.
Practicing what you preach. If you want your employees to feel empowered and excited to share on social, you should be sharing yourself, both publicly and through internal comms.
How to build an employee advocacy program
We've put together a six-step process to help you create a successful employee advocacy platform that empowers your team and helps to increase brand awareness and reach.
1. Ensure you have a positive work environment
If you aren't facilitating a positive and engaged company culture, your employees won't be interested in promoting your business for you.
Take the necessary steps to make sure your employees are proud to represent your company.
A few ideas include:
Create an environment that allows employees to do their best work. This may be offering a remote work option or a four day work week, the technology needed to get their jobs done, comfortable and adjustable desk/chair options, or building an asynchronous culture that prioritizes deep work over real-time replies.
Provide positive feedback and reinforcements. Regularly give your employees positive feedback. If they only hear negative criticisms, they're not going to feel good about the work they're doing for you and won't buy-in to advocacy.
Celebrate special occasions. Celebrate your employees and their monumental moments. Be it a work anniversary, buying a home, having a baby, getting married, a birthday, a successful side hustle, or something else.
Hold regular check-ins. Empower employees to come to you to talk about ideas or concerns. Holding a formal check-in every so often, whether quarterly or annually, is a great way to do so. Even an informal check-in via email or Slack can move mountains.
Invest in your employees. Show employees that you genuinely care about their success. Pay them what they're worth. Reward them with gifts. Invest in new learning opportunities like conferences and courses.
Bottom line: show your employees that you know their worth and that you appreciate them every step of the way. Build a positive culture, and you're sure to have employees excited to represent your brand online.
2. Set goals and objectives
The next step is to set specific goals and objectives for your advocacy policy. Leveraging employees as brand advocates can be a great way to improve company culture, but a formal employee advocacy program should plan to meet specific metrics and KPIs.
For example:
Increase social media followers (across all social media channels) by X# in X time frame
Increase in organic reach by X% over X time frame
Generate more website traffic from social networks over X period
Build higher social media engagement over X period
Catalyze word of mouth marketing and referrals (measure by X new referrals in X time frame, as well as quality of referrals)
Be sure to create SMART goals (Specific, Measurable, Achievable, Realistic and anchored within a Time Frame). Give each one a specific numeric goal that you hope to achieve. This is the most effective way to know if you're hitting your KPIs or if you need to adjust your program.
3. Pinpoint leaders and participants
Decide who's going to lead the charge, as well as who should participate as the first group of employee advocates.
Having set leadership to keep your team excited about this program is key. You don't want to launch, watch a group of employees share content consistently for a month or two, then have the enthusiasm die down before reaping any benefits.
The program needs to be consistently nurtured to maximize employee engagement—a set of team leaders can zero in on achieving goals without losing focus.
As for your pilot group of advocates, consider those who are already active on social media. They'll be most likely to adapt to the new marketing strategy quickly, and likely already have a decent following. Testing it out with your company's marketers is another great place to start.
Make sure to explain the benefits of employee advocacy to get this test group jazzed about the project. Benefits include:
Building a strong personal brand. Having an active social media presence can lead to a greater following and larger personal and professional network.
Becoming a thought leader in your industry. Sharing content and starting conversations around your brand or industry will generate attention and help your employees to position themselves as thought leaders.
Incentives and gamification rewards. To keep the advocacy program exciting, consider offering incentives like gift cards or a bonus. Gamifying the process by keeping a leaderboard of employees garnering the most engagement is another way to make advocacy more fun.
The end-goal is to empower interested employees to become true advocates for your brand. Their passion should be self-driven and rely on passion more than incentive-driven rewards.
It should not feel like a forced job, or else it will come across as a forced post. It should look and feel like a natural extension of their personal social presence.
Starting with a small group is a great way to test the waters and see if this is a tactic that will work well for your team.
4. Create social media guidelines for employees
Once you've identified the employees who will lead and test your new advocacy solution, put together social media guidelines and brand messages for them to adhere to.
This is something Starbucks has done for their employee advocates or "partners" (as they like to call them).
The two-page document has a list of do's and don'ts, as well as contact information if the advocate has made a mistake and needs to work with the social media team directly for crisis management.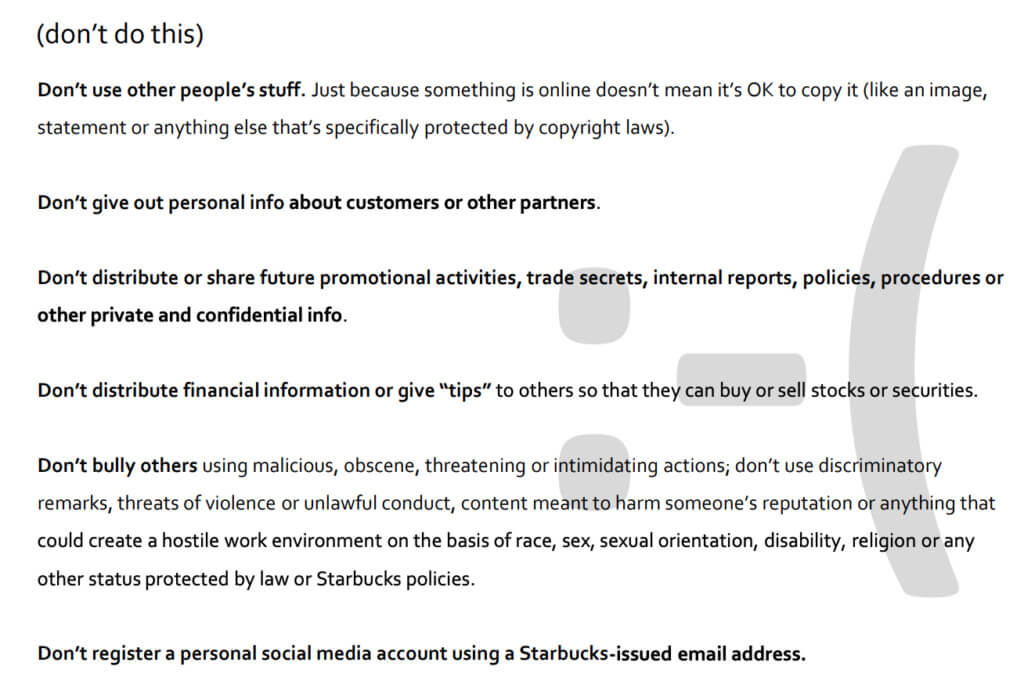 Your social media guidelines can be as long or as short as you want them. It's a good idea to work with your human resources team to make sure you cover all your bases before sending employees off to publicly curate company content.
This document should include information like:
Examples of the types of posts they could create
Tone of voice guidelines
Hashtags to use
Reminders that they're an advocate, not a company spokesperson
Details about your brand's target audience
Do's and don'ts for best representing your brand
Who to contact if something goes wrong (and how to reach them)
5. Put together a library of assets and resources
Compile a library of assets that members can choose from to promote, as well as resources on how to get the most out of this strategy.
You want to set your employees up for success. An internal resource like this sets the tone, provides valuable information, and offers support.
Consider compiling:
Photos and graphics to use as post visuals
Links to the content you'd like to see promoted (although the most natural posts are from people who are also involved in creating said content)
Sample captions or talking points to jumpstart their own posts
Internal communication or online resources explaining more about how to get the most out of employee advocacy
Recent company news and milestones
6. Keep your employee advocacy program going
The last step is to put a system in place to keep your employees sharing regular updates about your brand.
Have your social media marketing team regularly update your asset library with new content and visuals. Consider creating a channel or group in your team's online communication tool to share exciting company updates and talking points.
Talking about a brand on social media shouldn't be reserved only for the C-suite. By empowering employees of all levels to be a part of the company and share related content, you're cultivating a strong company culture and helping increase employee retention along the way.
Employee advocacy examples: evangelism done right
Great structure begets great employee advocacy. You don't want your employee's social media posts to come across as pushy or salesy. Instead, they should read naturally and not like a press release inside of a social media post.
Take this LinkedIn post from the Head of Content at email marketing platform GetResponse.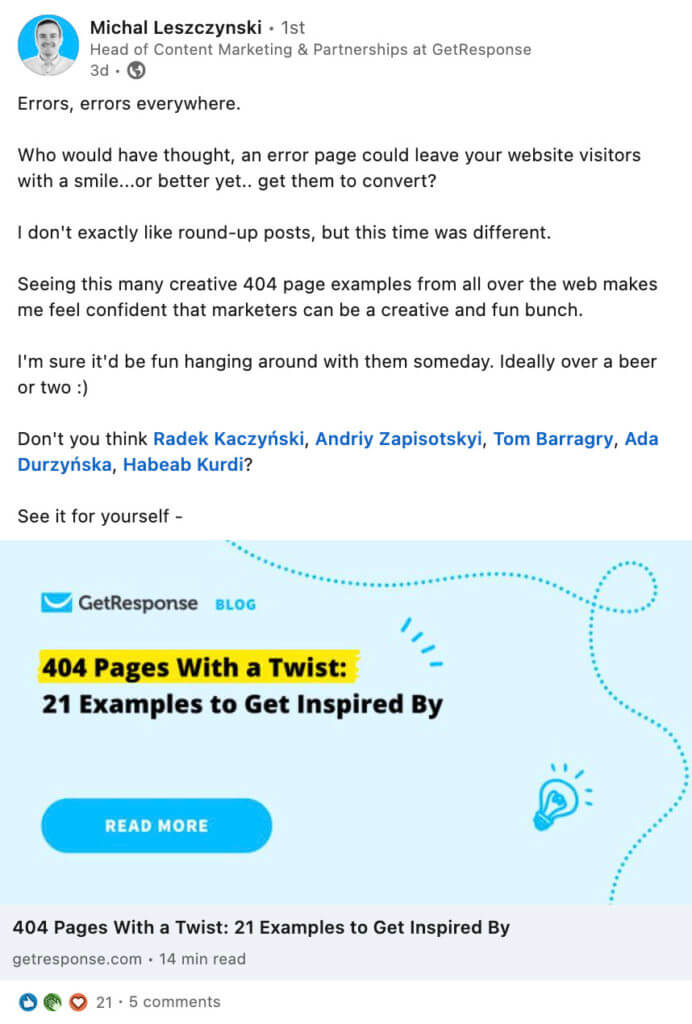 He shared a recent blog post and created an authentic and engaging caption to go along with it, garnering 21 reactions and five comments.
The caption starts with a clever twist on a famous literary phrase, followed by an intriguing question, followed by a personal connection to the subjects. Of course, he tagged his colleagues in the CTA.
In fact, if you look closely, the poster broke some rules. He used ellipses twice in the same sentence. He added an old-school smiley face, and he used an incomplete sentence that doesn't end in a period.
The lesson? Informality works.
Now, look at a post on GetResponse's company page, also sharing a recent blog.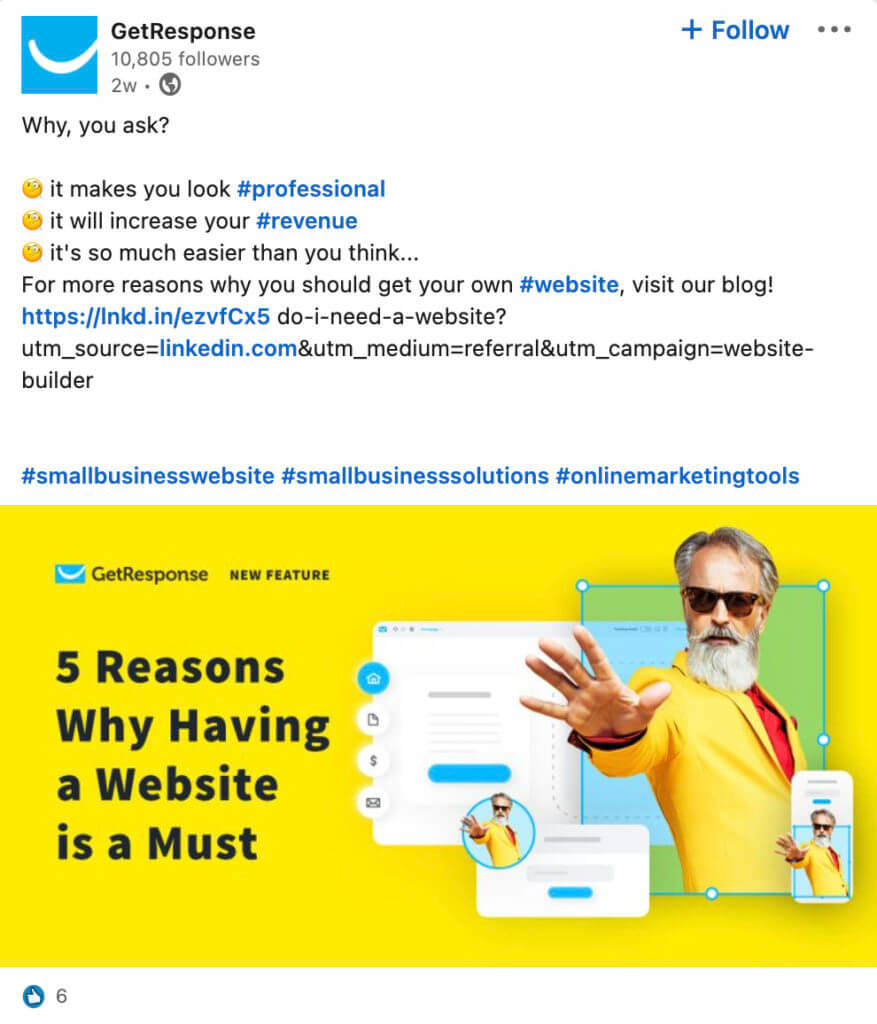 Six likes.
This is one reason that having an employee advocacy program is so beneficial: it amplifies your brand's reach.
Your employees have 10x the social reach than your company has. Utilizing this in your marketing efforts can pay dividends.
Buffer is another great example of employee advocacy at work. They've consistently empowered their employees to take full control over their personal brands—whether promoting Buffer or unrelated side hustles.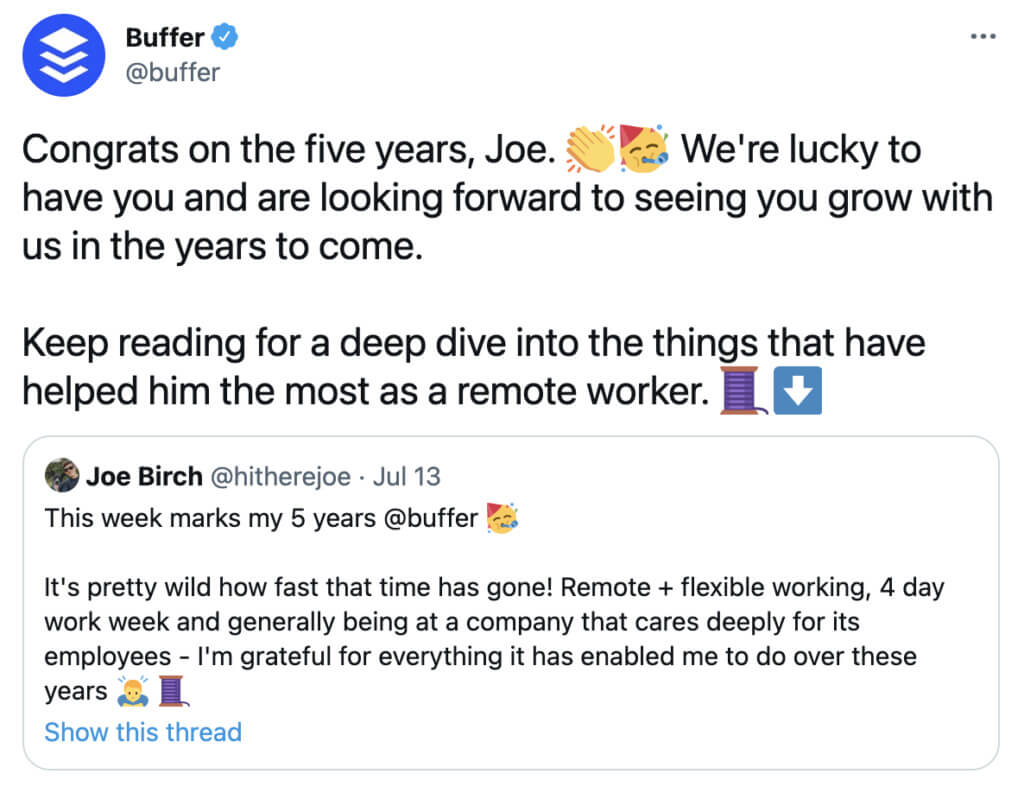 Many of their employees (past and present) have become big names in the digital marketing space due to the representation Buffer gave them.
This is a win-win for both company and employee. As your employees become more well-known in the industry, they amass trust. The more trusted they are, the more trusted your business is.
Buffer's winning post framework here is an engaging, personal comment while retweeting an endearing post from their existing employee. They've also echoed the emojis used in the original post as a further way to connect.
Conclusion
Ready to create your own employee advocacy program? Follow our six-step guide to create and maintain a program that works for you and your team.
While you're at it, help your team become even better at marketing with CXL's team training platform.