Social media isn't a perfect source of market research: It's not a representative sample and, for small businesses, it's simply too small of a sample.
But for large organizations, it's still a critical one. Why? Because it includes your most passionate fans.
It's also a rare source of candid consumer opinion: 80% of social media posts are about ourselves, and those opinions and beliefs—expressed individually and within a community—are not interrupted or biased by participation in a formal study or company-run focus group.

Further, consumers crave communication with brands on social media:

95% of adults between the ages of 18 and 34 are likely to follow a brand through social media channels.
Buyers report spending 20–40% more money on brands that have interacted with them on social media.
71% of consumers who have had a positive experience with a brand on social media are likely to recommend the brand to friends and family.
Not all social media market research comes from active participation. When GE Life Sciences wanted to learn how customers discussed protein purification, they analyzed 500,000 protein-related comments on social media. The data improved content creation, tailored website vocabulary to the voice of the customer, and honed their search strategy.

To conduct similar market research successfully on social media, you need to know:

What social media is good (and bad) at assessing;
Which social platforms are best for research;
How to encourage an informative and engaging conversation.
What is social media good (and bad) at assessing?
Social media is a useful market research tool to:

Get immediate feedback on customers' experiences and beliefs.
Ask consumers about potential product improvements.
Other methods are more useful if you want to:

Get in-depth feedback.
Target a specific audience within or outside your social media following.
A few benefits—and pitfalls—stand out:
You can gather data faster. Almost half of social media users access different platforms on a daily basis:

That means that companies can get fresh insights quickly. One case study revealed that social media was three times as efficient compared to tracking customer feedback via email.

You can save on research costs. Most in-app social media features (e.g. polls, emoji sliders) collect market research data without the costs associated with research panels (with the aforementioned caveat that your audience isn't a representative sample).

But it's not for everyone. If your social accounts don't have hundreds of thousands (if not millions) of followers, don't expect social media to be a viable source of market research.
If you generate 20 responses to a poll, that quantitative feedback is equally likely to mislead you as to guide you in the right direction. You're better off focusing on qualitative methods that will help you develop rich customer personas with a small number of responses.

There is, however, one opportunity for small businesses: social listening on competing brands. If you want to understand the frustrations or desires of your target audience, use passive social media market research techniques, like those detailed below, to get access to some of the same social media research larger competitors enjoy.

Also, beware of the herd mentality. Social media users are prone to impulsive behavior, and people often model others' behavior, which may lead to copying others' actions on social media and reducing data accuracy (especially if, for example, poll results are visible before someone votes).

For those that can take advantage of it, there's a dual benefit to social media market research: You gain data while also building a connection with customers.
When you let customers express their thoughts, you strengthen an emotional bond, and those who are "fully connected" with your company are 52% more valuable:

So what are the primary methods of social media market research?
Market research methods on social media
Three qualitative research approaches fit social media:

Qualitative content analysis (number of likes/comments/shares). The number of Likes can be a vanity metric, but assessing the engagement rate of consumers on social media may suggest the attractiveness of a marketing message or product.
Social listening. Passively gather feedback from your customers or monitor opinions about your brand or competitors.
Polls/questions. Ask questions directly in social media feeds, encouraging users to share thoughts and feelings.
Here are the channels best suited to those approaches.
Which social media channels to use for market research
It makes sense to tailor your social media presence to the platforms where your audience spends time—those with the strongest followings are also your ideal platforms for research.

The State of Social report, not surprisingly, suggests that most brands use Facebook, Twitter, and Instagram:
Below are strategies and tactics to conduct social media market research on each platform.
How to use Facebook for market research
Around 97% of B2B and B2C companies use Facebook, which offers four main ways to conduct qualitative research:

Polls
Contests
Call-to-action posts
Brand mentions
1. Polls
On Facebook, posts that ask questions receive more Likes than any other type of post. It doesn't require much time or effort to create a poll on Facebook, get valuable feedback, and analyze your data.

Not every poll needs to maintain the serious tone of academic research. For example, Starbucks created a poll about order preferences that generated 2,267 likes and 1,660 comments in 24 minutes. (Having a Facebook page with 37 million followers doesn't hurt.)
While the post succeeded in generating engagement—a useful result apart from research—it also offered clues to how their customers perceive themselves and the language that may or may not resonate in a marketing campaign.

Facebook polls are still an option for organizations with smaller followings. The SaaS Growth Hacks group, for example, has just 12,200 members, but a poll on preference for conference call software generated over 100 responses in less than a day:
2. Contests
A chance to win a prize can motivate fans to provide their email addresses, send you user-generated content (e.g. photos, videos, testimonials), or offer valuable feedback about your product.

In partnership with Pinkbike, GoPro ran a "Best Line" contest with a $15,000 prize. Contest participants had to create and edit a video based on their experience, providing hours of compelling footage that both companies could market as authentic experiences with their products.

That same footage also provided insight about who their most fervent supporters were, how they used the equipment, and the most compelling narratives that customers built around the use of the product.

3. Call-to-action posts
In honor of a new product launch, M&M's announced three flavors in a post with a call to action to ask followers to leave their thoughts in the comment section:

Notably, M&M's made a simple poll into an open-ended question: Rather than simply gathering quantitative data, they got thousands of responses that reflected the strength of consumer sentiment and offered new content ideas, like developing a recipe that uses jalapeno M&M's for "monster" cookies or promoting a game of M&M-based roulette:

4. Brand mentions
The most valuable insights may come from those who don't follow your brand. Some 96% of those who discuss brands online do not follow the brands' profile.

As Kristin Smaby explains, customers want to share their stories about brands, even if that conversation is indirect:

When customers share their story, they're not just sharing pain points. They're actually teaching you how to make your product, service, and business better.

One Facebook post that tags a brand can trigger an avalanche of related feedback, something ASOS experienced:
Keeping track of brand mentions—passively gathered feedback—is possible with social media monitoring tools like Mention, Brandwatch, Meltwater, Digimind Social, Brand24, Radarly, and others.
How to use Twitter for market research
With its 280-character limit, Twitter is an efficient source of market research. There are two primary ways to collect qualitative data:

Social listening
Polls
1. Social Listening
Monitoring digital conversations, also known as social listening, is a method of observing customers' behavior to learn about their thoughts regarding a company or product.

Take BellaBrava, a chain of pizza restaurants with a focus on healthy living. When the company wanted to open a new restaurant in Europe, they created a list of keywords that reflected their values (e.g. "plant-based", "spelt flour", "veggie") and monitored people who were talking about pizza and pizzerias on Twitter and other social channels.

With about 450,000 relevant records, BellaBrava drilled down to 10 potential locations with the strongest market in which to open a new restaurant.
2. Polls
Twitter polls are time-limited: They end between 5 minutes and 7 days after being posted, depending on the duration set by the creator.

Once your poll is over, results can be viewed publicly, and the winning choice is shown in bold. All participants receive a common push notification from Twitter. (Companies have no control over the content of those push notifications.)

Thus, Twitter polls have a dual purpose: Creating social media engagement and offering market research. Taco Bell uses simple Twitter polls to monitor fans' preferences:

Another poll asked followers to choose from three options:

However, avid fans didn't limit themselves to these choices, and they started suggesting ideas in the comment section. Taco Bell later tested a variation of a new product based on those Twitter comments:

Among other use cases that Twitter highlights are polls to gather opinions about trending events in real time:

In the case of Drybar, a salon chain, the poll is an opportunity to tap into a moment of heightened interest in hairstyles. For other companies, like a pizza chain, a pre-game poll on topping preferences could help shape the ideal offer.
How to use Instagram for market research
Instagram has over 1 billion users, including company accounts for some 25 million businesses. There are three primary methods to collect market data on Instagram:

Question stickers and polls
Emoji slider
Brand mentions
1. Question stickers
The Instagram Stories feature, with ephemeral content that vanishes within 24 hours, has achieved 500 million daily users. Since this content has a short lifespan, the "FOMO effect" can motivate users to pay attention and take action faster.

In July 2018, Instagram added question stickers—succinct, one-question polls for Stories. Users can not only vote but also see real-time results (admittedly, a risk for biasing feedback, too).

Within its social media mix, Sephora uses Instagram for "quick eye candy," encouraging followers to vote on cosmetic choices and brands by embedding polls within their Instagram Stories: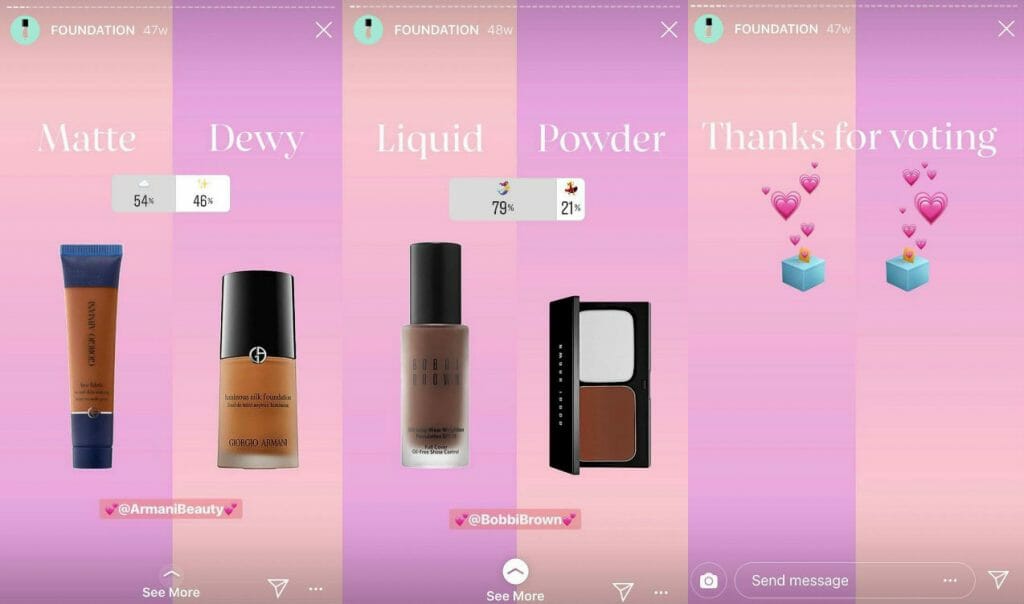 2. Emoji slider
Instagram released the emoji slider in May 2018, adding a layer of emotional context to consumer feedback within the platform. Posts with emojis have a 15% higher interaction rate

ASOS allows followers to rate their products using an emoji slider, giving the company richer feedback than what it might get from binary polls—the sliding scale suggests a relative intensity of opinion.

For brands deploying polls, a swipe up delivers a list of participants and their answers, along with the average answer:

3. Brand mentions
Like all large companies, Whole Foods constantly manages a barrage of satisfied and dissatisfied customers on Instagram—sometimes within the same post. Not surprisingly, unhappy customers hasten to complain about their experience:

As with Facebook and Twitter, comment sections in Instagram are ready sources to mine consumer feedback, even from social media users who don't follow your brand.

If you're not a big brand, influencer campaigns can generate the brand mentions (i.e. source material) for market research. Actively asking for feedback as part of an influencer campaign increase the value of the investment: You get awareness and a trove of consumer feedback.

(While "influencer marketing" may seem blasé, it's not going away: The worldwide Instagram influencer market value is estimated to be $2.38 billion in 2019; Instagram is used in 79% of all influencer campaigns; and 67% of marketers plan to increase their influencer marketing budgets in the next 12 months, particularly on Instagram.)

In 2018, Tommy Hilfiger invited Lewis Hamilton to launch a capsule collection. In partnership with the brand, Lewis worked on product design and published Instagram posts with a relevant hashtag and product tag. Since Lewis has a large, engaged following, his posts create a buzz—and an opportunity for the brand to get customer feedback.

A photo from the designer collection launch in Japan yielded 148,612 likes, but it also broached the idea of a collaboration with Net-a-Porter:

Of course, if you're not one of the world's most well-known fashion labels, you may have trouble securing a collaboration opportunity with one of the world's top Formula 1 drivers.
The rise of "micro-influencer" campaigns—those targeted at local influencers with small but loyal followings—offers more opportunities for emerging brands focused on social media growth.
Conclusion
Even if you've never bothered to look, the most popular social media sites—Facebook, Twitter, Instagram—have data about your customers. While that data is not a representative sample of your total customer base, it is a source of unvarnished opinions from passionate fans.

If you want to get an understanding of their reasons, opinions, and motivations to buy or not buy your product, social media is a rich, public source of market research material.

There are six common methods for gathering qualitative data on social media, many of which are possible on multiple social channels:

Polls (Facebook, Twitter, Instagram)
Contests (Facebook)
Call to action posts (Facebook)
Brand mentions (Facebook, Twitter, Instagram)
Question Stickers (Instagram)
Emoji slider (Instagram)