In 2018, after two short years and $3 million raised in startup funds, recruitment AI company Ansaro shut down due to bad market fit. As it turned out, their AI interview notetaker didn't address a huge pain point.
Muun found a market need but failed to compete with bigger names that provided customers with authoritative content and resources. Muun's more well-known competitors had more features and better pricing.
Both companies suffered from a fatal lack of marketing. One neglected its positioning by failing to target the biggest pain point, and the other failed to build a brand that its customers could trust above the other major players.
To succeed in today's crowded market, you need to harmonize product marketing and brand marketing.
In this article, you'll learn the difference between brand marketing and product marketing, and how to balance both to stand out above the crowd.
Brand vs product marketing: Friends or foe?
Both brand marketing and product marketing are important to a well-built marketing strategy. They rely on each other for success.
Product marketing informs strategic positioning and ensures alignment across the company. It partners with sales to close more revenue, informs product teams to deliver better products, and in some cases, co-owns demand generation activities with marketing teams.
Product marketing is responsible for tasks like:
Developing and executing go-to-market (GTM) strategies;
Researching and understanding target segments;
Analyzing competitor activities;
Developing product value propositions;
Defining messaging strategies;
Ensuring customer success teams and salespeople understand the product features.
Product marketing uncovers where to play and how to win. And then it ensures that all of the organization's efforts match that true north.
Brand marketing provides a strategic approach to building relationships between your brand and your customers. It uses the insights gained in product marketing to work out how to reach them.
The goal of brand marketing is to make your brand the first and most obvious choice when they're looking to buy.
Brand marketing is concerned with objectives such as:
Brand tracking, identity, and recognition;
Understanding and influencing consumer perceptions about the brand.
Brand marketing is about building connections through emotion and experiences, a key driver in consumer decision-making. Peter Noel Murray, Ph.D., reports:
"Functional magnetic resonance imaging (fMRI) shows that when evaluating brands, consumers primarily use emotions (personal feelings and experiences), rather than information (brand attributes, features, and facts)."
When consumers make purchasing decisions, the choice is more driven by how they feel about your brand than what they know about your product.
Take Bellroy, a leather accessories retailer.
Their predominantly male audience has a problem: fitting a full wallet into their back pocket.
Bellroy has designed a range of slimline wallets to solve this challenge. They use product marketing techniques to target and educate their customers.
Using an interactive slider, Bellroy calls out the competition. They demonstrate how much slimmer their wallets are compared to a competitor, tackling both what it does and why it's the superior choice.
Bellroy follows this with a brief animated video that uses storytelling (scientifically linked to emotional responses) to describe common pain points and answer the critical question, "Why do I need it?".
This is where brand marketing makes a play. Product marketing tells Bellroy that discomfort while sitting is a (literal) pain point for their male audience. Brand marketing paints this picture for them through story.
Bellroy understands what captures the attention of their target audience (beyond the relevant challenges) based on their market research. Using this, the brand taps into broader motivations.
They use these insights to launch branding campaigns aimed at influencing brand associations (customer feelings about your brand).
Bellroy has built a consistent identity across social media that evokes feelings of adventure, durability, and uniqueness.
For example, here's their vibe on Instagram:
Here's a video on Twitter featuring their products being packed away onto airplanes and put through trials:
The consistent messaging makes customers associate their products with travel and touches on shared sustainable values. The aim is to be the top-of-mind brand when their jet-setting target customer next needs a wallet.
Bellroy needs product marketing to position their wallets and educate their users about their most relevant benefits. They need brand marketing to elicit positive feelings about their brand and build awareness and loyalty.
Product marketing: Drive brand alignment
Product marketing teams spend most of their time liaising with product teams (88.3% of their time), marketing teams (84.2%), and sales teams (75.9%).
Product marketers own a variety of marketing responsibilities, which can be roughly divided into two broad categories: pre-launch and post-launch.
During product development and before launch, product marketing responsibilities revolve around the GTM strategy, positioning, and developing messaging.
Post-launch, product marketers focus on improving sales enablement and work to drive demand and adoption of the product. Product marketing shows value in its ability to improve usage, lift customer LTVs, and decrease churn.
This is particularly true for complex verticals such as B2B SaaS products, where product marketing's ability to pinpoint users with the most need and educate them on product features and benefits proves useful.
ConvertKit is a prime example of product marketing propelling a brand to $29 million ARR and $80 million LTV.
The marketing platform has a specific and unique selling position: "The only marketing platform built for creators, by creators."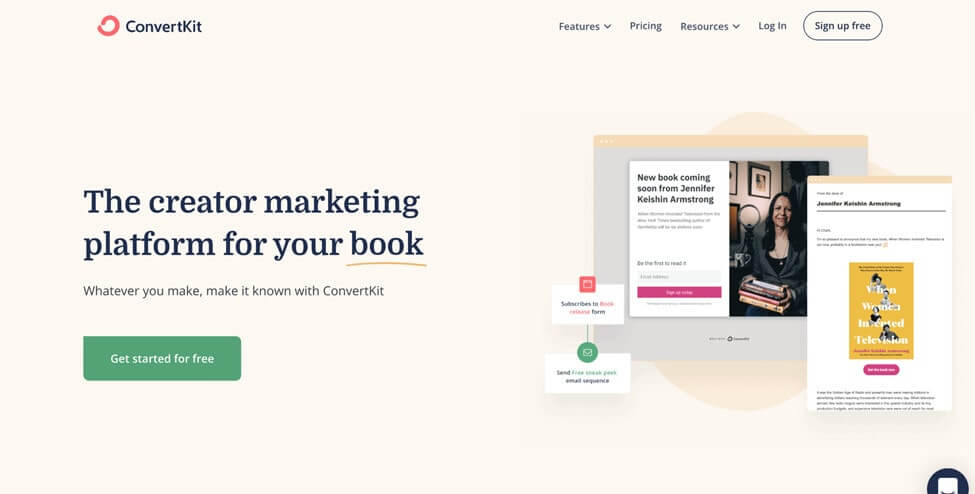 But success didn't happen overnight. Founder Nathan Barry launched in 2013 to help creators sell their books and courses but failed to meet revenue goals and eventually stalled.
After doubling down and investing resources specifically into the email marketing for creators niche, revenue started to build again.
In 2017, the brand invested again in a redesign to distance themselves from incoming competitors. It included visual funnels, automations, and other features inspired by how the platform can best meet the needs of the customer.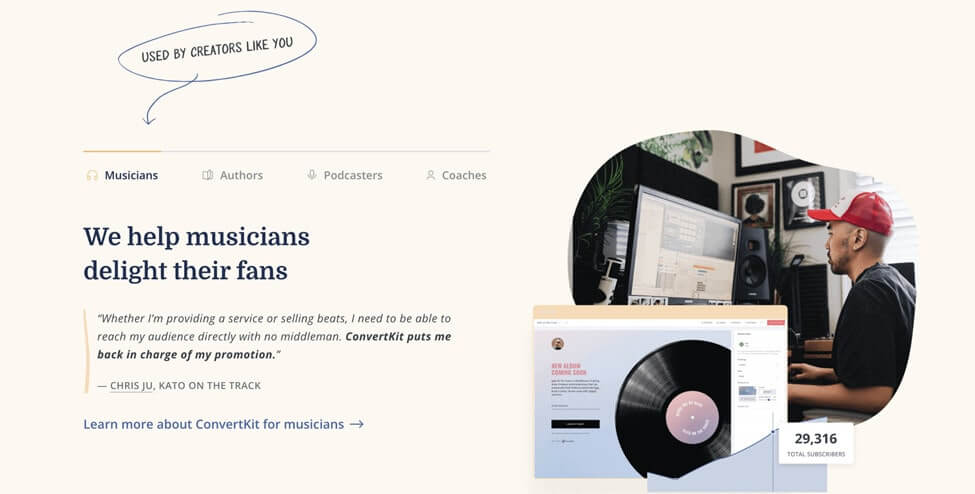 ConvertKit has positioned its messaging to reflect their creator-focused mission and answer three questions:
Why buy anything?
Why buy now?
Why buy from you?
Prelaunch, ConvertKit discovered a niche to occupy and targeted its messaging towards creators. Post-launch, the brand optimized its product and messaging again and finally saw the revenue jumps they had hoped for.
Defining your brand's building blocks with product marketing
Product marketing is responsible for securing the company's positioning, messaging, and value proposition. Once identified, it will ensure these functions are represented in everything the company does.
Market positioning refers to your brand or product's ability to influence buyer perception relative to your competitors.
Positioning is the reason ConvertKit wins with creators, while Drip is favored in the SaaS and ecommerce market.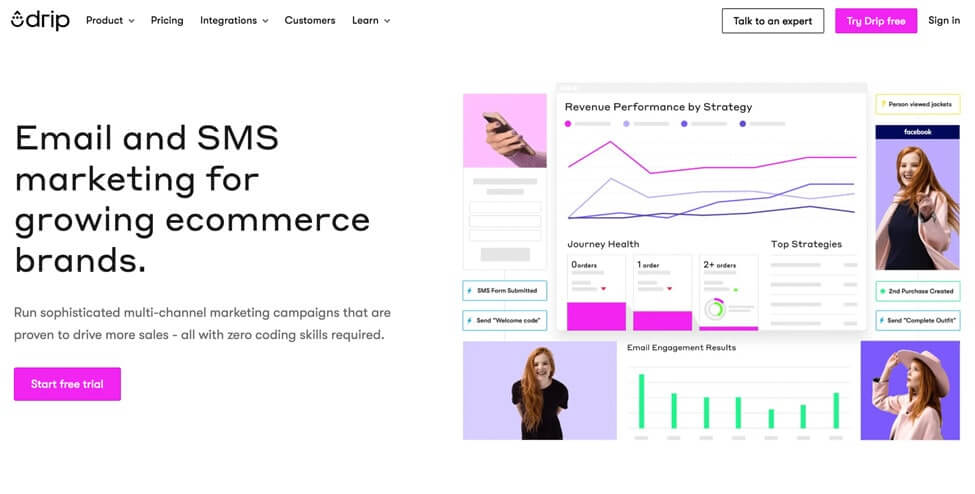 ConvertKit and Drip both technically do the same thing. They're marketing platforms with a heavy focus on email.
But you can see from the value proposition on Drip's homepage that they're targeting ecommerce, while ConvertKit calls out creators.
Messaging is a subset of your positioning. It defines what you want to communicate to your audience and in what form.
ConvertKit's messaging centers around validating business education (because many creators are not businesspeople) and building a creator community.
Drip's messaging focuses on business best practices and support for independent companies.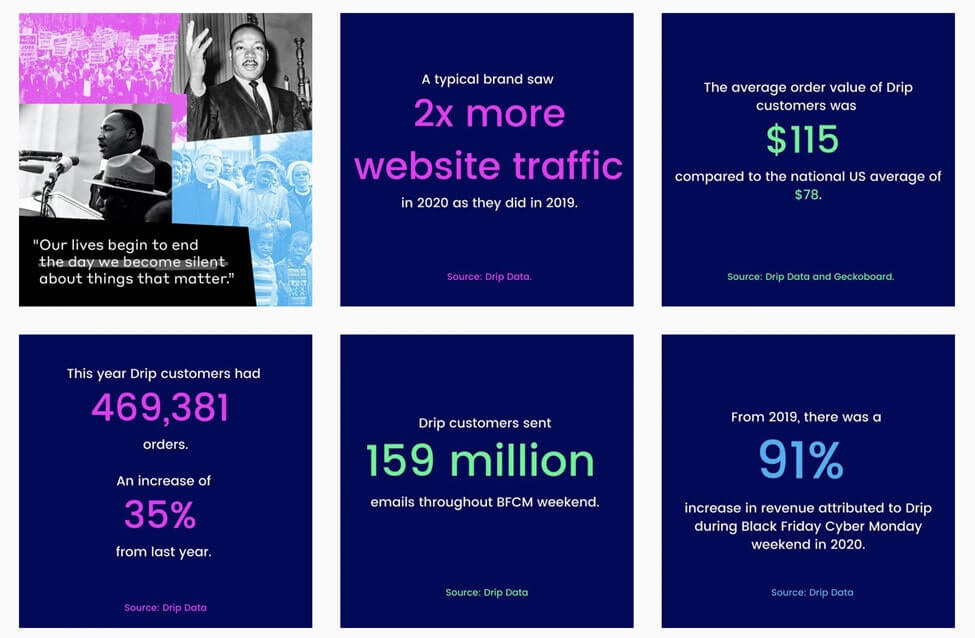 Both companies offer heaps of resources, from blog articles to webinars.
And the value proposition is a crystal-clear, big picture articulation of why buyers should engage with your business rather than a competitor. It's arguably the most important component of your marketing messaging because it will drive your target customers away if it's not on point.
While there is no perfect formula, your value proposition should at least contain these ingredients:
A short sub-headline answering what you offer, who you offer it to, and why it's effective;
The key benefits or features;
A visual showing the product that reinforces the main message.
Let's look at another example in Bubble.io.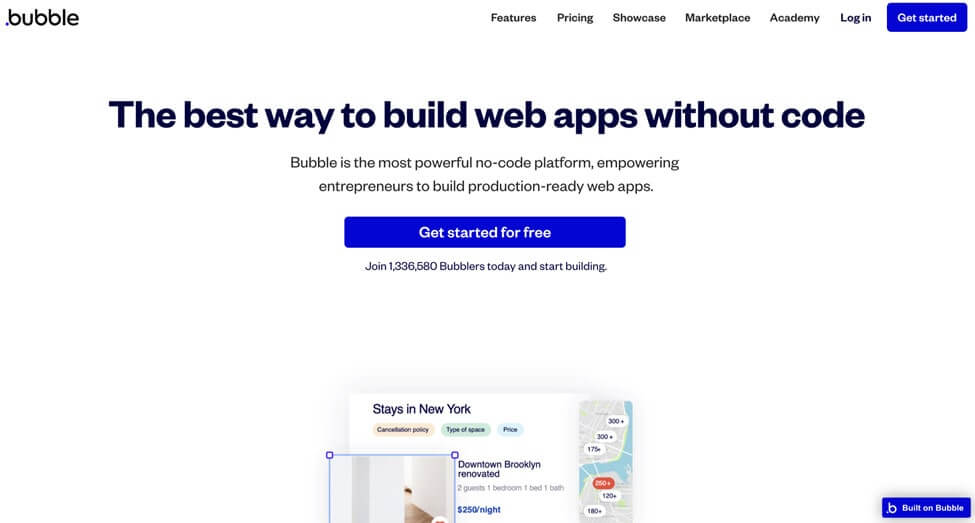 Bubble.io clearly states what they do ("build web apps"), their benefits ("without code"), and who it's for ("entrepreneurs"). It also uses social proof ("join 1,336,580 Bubblers") to build trust and includes an animated visual of the user-friendly experience.
Use product marketing to boost reach and sales
While many organizations are unsure of product marketing's position within the company, the product marketing team's efforts unify the company's strategy.
Product marketers work across the whole organization to continually zero in on the best benefits for customers and build better products in an ever-changing market landscape.
Where you focus product marketing will depend on the goals of the company at any given moment.
When a company is in a growth stage, focus product marketing in your marketing department. Product marketing can partner with marketers to:
Find channels;
Refine messaging; and,
Remove friction to signing up and booking demo calls.
One of the most direct ways product marketers can drive revenue after a product has launched is by partnering with the sales team. Product marketers enable sales teams by demonstrating how to ease friction based on where the customer is in their journey.
Product marketers can help sales teams:
Preempt customer questions;
Present the solution in the best way possible.
G2 Product marketer and Forbes council member Yoni Solomon says selling the product internally is just as important as selling the product to your customers:
"Before we're ready to sell our products to a market full of buyers, we need to first sell them to a room full of our own people. And this room full of people needs to understand the personas, problems and capabilities that are core to our value story to deliver it the right way." [via Forbes]
Brand marketing: Create a community of raving fans
Having a brand strategy used to be a nice thing to have. Now, because of competition and a consumer trust crisis, it's critical.
If product marketing is figuring out what your product can do for your customer and the best way to relay that message, then brand marketing is how you execute it.
For example, Slack has been able to steal market share from big dogs in business communication like Microsoft and Cisco.
Slack puts a lot of effort into their brand (including a 2019 identity redesign that corrected a number of branding sins).
Their content across touchpoints like their website and social media consistently matches their core values.
They show empathy and solidarity by inviting mental health advocate and Olympian Simone Biles to speak at their digital conference.
On LinkedIn, they help their users thrive by helping them set boundaries.
Their values are also consistently echoed on Instagram, where they don't always talk about the product but share stories from their users.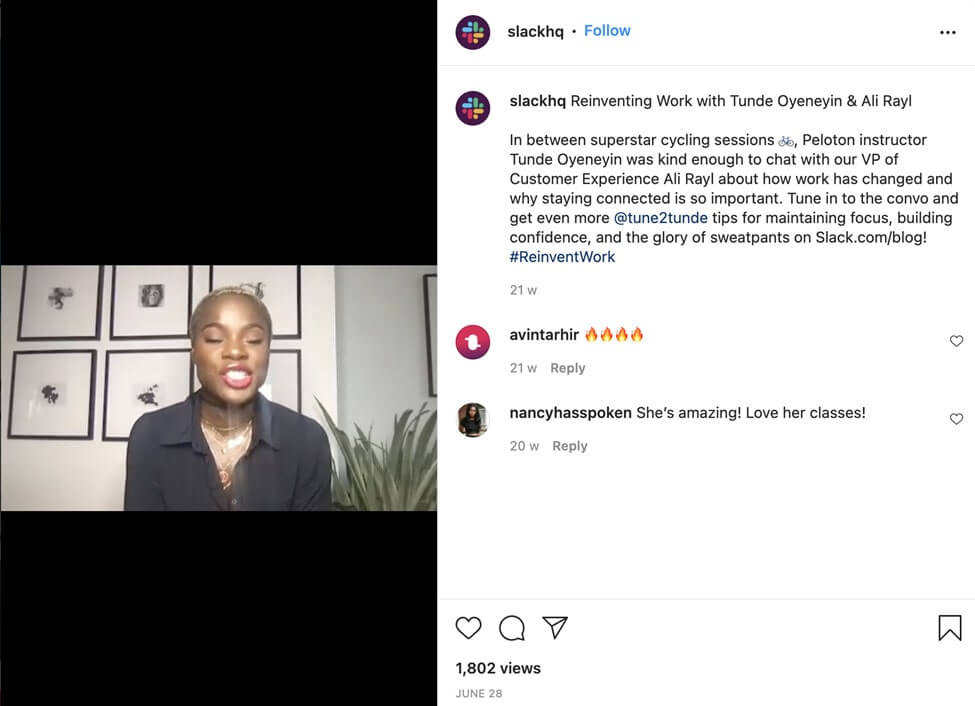 Good branding helps Slack compete with giants. By creating content around their values and putting budget into resources that help their audience, like webinars and content, they've built their reputation in the business communication space.
Slack's experience isn't a phenomenon. Strong brands win across the board. According to Mary Kyriakidi, Demand Generation Director and Brand Guidance leader at Kantar:
"In good times and tough times, strong brands win. In good times, strong brands grow value faster; in tough times, strong brands recover faster."
To build a strong brand, you need customer research. Slack is only able to connect to their audience because they understand how their product can benefit them the most.
With a solid foundation of product marketing, brand marketing can help you win a greater share of the market and even become a category leader.
Use brand marketing strategies to build brand equity
Brand equity is what makes people reach for Tylenol over the pharmaceutical alternative. It's the intangible value consumers place on a recognizable product, and it's the reason they'll opt for a more expensive option.
Brand marketing works to improve brand equity by influencing the audience's perceptions of your brand. It helps consumers build cognitive shortcuts to your brand when there is too much information (or competition).
Research suggests that people buy from brands to construct self-concepts. They form brand associations, and then choose the brand if it supports the image of themselves (and the societal group they want to be in).
It's why sustainable fashion brand Another Tomorrow can charge $590 for a sweater that costs $30 from fast fashion brand The Gap.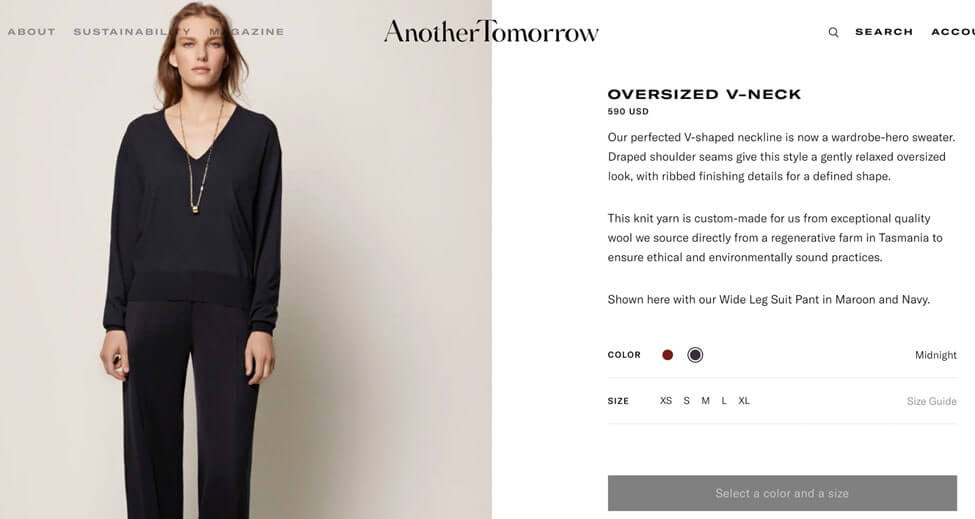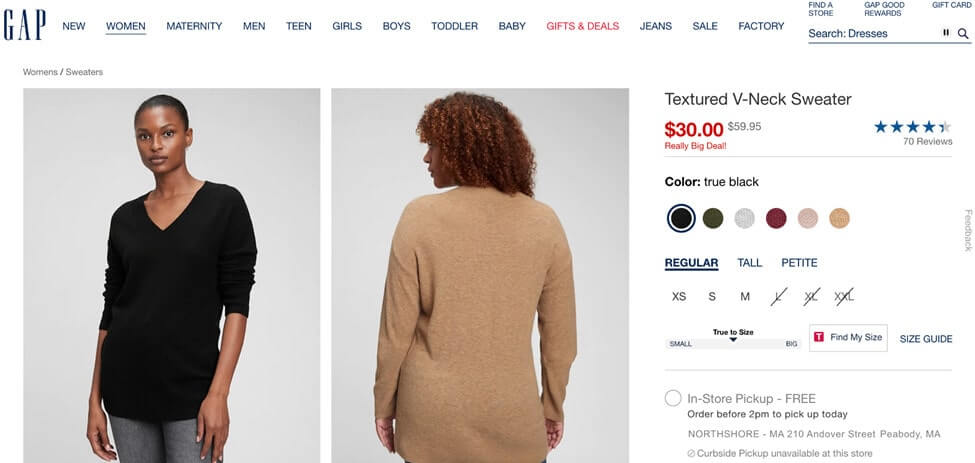 Use brand marketing strategies to build brand equity:
Understand what customers want (i.e. what they want to be). What ingroup are they looking to join or remain a part of?
Have an audience-aligned purpose. Shape your messaging and content to fit their ideal constructs, so they're inclined to absorb and share it.
Shape personal and company brands to fit. Construct content guidelines and any employee advocacy guidelines to stay true to your brand marketing strategy.
Use storytelling to enhance brand marketing
Storytelling is a tactic commonly adopted by brand marketers as a method of resonating with their audience. It allows us to connect directly with brain areas that are associated with experience, feeling, and emotion.
G2's Yoni Solomon believes we need to sell our products internally before we sell them externally to unify the message.
He also believes that with compounding competition (15,000 SaaS companies in the US in 2021), stories will be what drives sales in the coming years:
"We've proven we can come up with new ideas. We've proven that we can build great tools. We've even proven that we can make them all plug into each other and work together.

But it's the story that wins the hearts of buyers by capturing their pain and putting them at the center of their own hero's journey that will make the difference between who wins and who loses."
Insurance company Lemonade does this brilliantly.
Buying insurance is painful for most people. It's complicated, it's demanding, and for many, it's unavoidable. Lemonade identified those pain points and then turned the quotes and claims process on its head.
Lemonade rarely mentions its product on Instagram. Instead, the brand commissions and shares art depicting images related to the types of insurance it sells (cars, homes, pets, etc.).
They also donate unused premiums to customer-chosen nonprofits through their Giveback scheme.
Despite targeting its young user base with content that has little to do with insurance, Lemonade has grown to a base of 1 million users and posted $94 million in revenue in 2020 in six years.
Lemonade sidesteps the pain of buying and claiming insurance and makes it an even more enjoyable experience by offering charitable donations and attractive, scroll-stopping visual content.
Use the following design-thinking process to craft stories for your brand while keeping your customers' pain points and values in mind:
Empathize (What is your audience feeling?);
Define (What is your story mission? Who are your characters? And, what is the plot?);
Ideate (How can you give your story more depth with intersectionality?);
Prototype (Which of my ideas are viable? How will the audience react to this story?);
Test (Did my story meet the success indicators?).
They can be powerful, emotive stories, like Greenpeace's homeless polar bear in London video that formed part of their "Save the Arctic" campaign.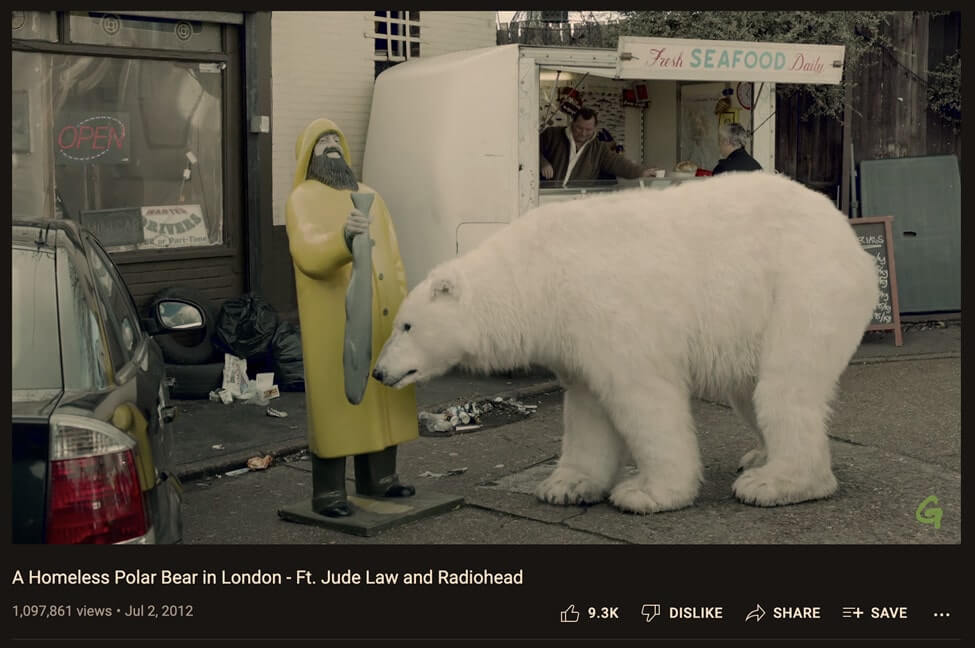 The creators employed a "what if" framework to unsettle viewers and tap into the warning of complacency. By putting the main character (the polar bear) in a modern London setting, it seems as if this future is closer than you think.
The creative team behind this video used intersectionality principles to adapt the polar bear's experience to a story that many city-dwellers are familiar with: homelessness.
Storytelling doesn't always have to be emotional. They can also be relatable stories, like Zendesk's funny Instagram posts about working in customer service (often remotely).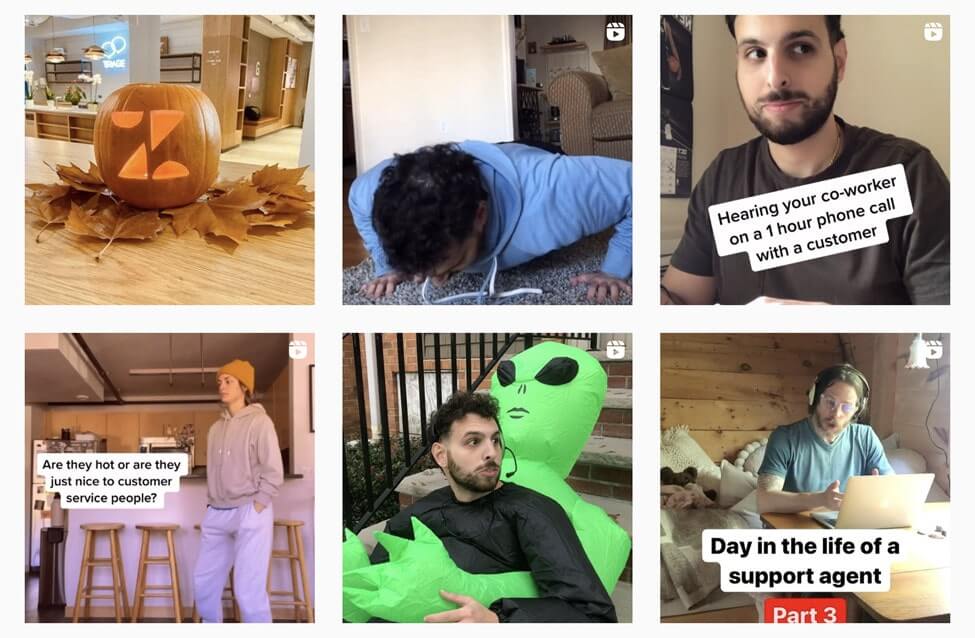 Zendesk are so committed to their storytelling movement that they spun a narrative about a grunge band called "Zendesk Alternative." In a nod to search terms driving customers away from their business, they called out competitors while making potential customers laugh.
They even gave Zendesk Alternative their own website.
Use storytelling to connect with your audience. Whether that's through humor, inspiration, or a tug on the heartstrings will depend on your audience research.
Combine product marketing and brand marketing to build your company's moat
Some people believe product marketing is led by the head and brand marketing is led by the heart. There's elements of truth to this, but there's more overlap than most people realize.
To become and remain competitive, you need both brand marketing and product marketing at each stage of your company's development.
In the early stages:
Use product marketing to execute the GTM strategy. Product marketing will help with activities like market research, competitor analysis, and determining actual product benefits relative to your market.
Use brand marketing for awareness. At this stage you're still building your audience. Introduce people to who you are and what you stand for. Don't be afraid to run campaigns that don't center around the product, and stay fiercely loyal to your brand identity for consistency across touchpoints.
In expansion and growth stages:
Use product marketing research to refine messaging and positioning. Markets have probably changed since you first opened. You might know your target customer better or they might have changed completely (just look at what happened in 2020). Optimize your market segments, sales strategies, and pricing based on your new insights. Understand the barriers to overcome and what problems you can solve for your audience at this stage.
Use brand marketing to focus on emotional connection with customers who already know your brand. Now that you've built a sizable audience, you can begin reinforcing those relationships and encouraging them to share your brand with others. Consider affiliate and influencer marketing.
For mature companies:
Use product marketing to focus even more on optimization, or on responses to market disruption. Mature companies are often working across many channels with various campaigns, and the risk is that they lose touch with their target audience in the process. Product marketing's job at this stage is to keep everything tied back to the customer when things feel like they're moving in several directions.
Use brand marketing to ensure your brand identity is relevant in the current market. Your identity and brand values may be dusty if you've been in business for some time. But, consider what equity you hold before executing a rebrand. Don't give up on your heritage, but focus most of your marketing efforts on embracing the struggles of today.
Conclusion
Though product marketing has been around longer than brand marketing, it's no grandpa. It's still as relevant today as ever. Brand marketing is also critical to building a lasting, memory-building reputation.
To master the strategies, skills, and mindset you need to advance your product, take CXL's Product Marketing Minidegree.
To learn how to create and define a strategic brand identity, so you can build a successful brand, check out CXL's Brand Marketing Minidegree.