Bo Bennett once said, "Affiliate marketing has made businesses millions and ordinary people millionaires."
Of course, affiliate marketing has this mysterious aura about it. Many of the top search results for the term are focused on what it is and whether you can make money from it.
The truth is that it's not all that mysterious. It's nothing more than another marketing channel for you to experiment with, analyze, optimize and grow.
What Is Affiliate Marketing?
Affiliate marketing is "a type of performance-based marketing in which a business rewards one or more affiliates for each visitor or customer brought by the affiliate's own marketing efforts".
Think of affiliates as an extension of your in-house marketing team. Instead of a salary, you pay them for each new lead or sale acquired as a result of their marketing efforts.
Some people confuse affiliate marketing with referral marketing. Referral marketing is "a method of promoting products or services to new customers through referrals, usually word of mouth". So, instead of working with marketers, you're working with existing customers.
Here's how ReferralCandy explains the difference between the two…

Now, I'd argue that perhaps "altruistic" is not the correct word for modern referral marketing as many programs are incentivized with gift cards, additional features, swag, etc. But you do see a clear distinction between the two.
How Does It Work, Exactly?
Let's say you're the VP of Marketing at a travel company. You might then decide to start an affiliate marketing program to help you reach new audiences. You start with two affiliates: Kim and Jim.
Kim and Jim are now spending their days driving targeted traffic to your beach vacation landing page.
There are different ways to structure your affiliate payouts. For example, one affiliate program might pay Kim a commission whenever a visitor she referred leaves their name and number. Another affiliate program might not pay Kim a commission until that visitor makes a purchase.
What Is an Affiliate Network?
If you've read about affiliate marketing before, chances are you've heard of affiliate networks. An affiliate network is where affiliates can go to find reputable offers to promote and where advertisers can go to find lots of affiliates.
MonetizePros explains the benefits of affiliate networks well…
To over-simplify, the network exists to:

Match up merchants and affiliates;
Handle the administrative aspects of an affiliate-merchant relationship;
Protect affiliates.

The "matchmaking" service–offering access to a pool of merchants–is the role of a network that likely comes to mind first. But the administrative workload handled by networks can't be overlooked; they handle all the tracking, reporting, and payment processing that arises.
Affiliate networks take a lot of the administrative and logistics work out of managing an affiliate program. They also give you access to a bigger pool of affiliates. However, affiliate networks will expect a commission from you as well, which cuts into your profit margin.
What Does an Affiliate Marketer Look Like Today?
So, who are these affiliates? Well, according to the 2015 Affiliate Marketing Benchmark Report…
60.97% of affiliates live in the U.S.
Most of them are from California (8.56%), New York (8.16%), Florida (7.40%), Texas (6.16%), Pennsylvania (5.71%) and Illinois (5.71%).
56.47% identify as male and 40.65% identify as female.
35-44 is the most common age bracket for an affiliate to fall in (28.93%), followed by 25-34 (26.43%).
35.71% of affiliates have a 4-year degree (BA, BS). Another 22.50% have a Master's Degree.
Most affiliates are married (53.79%) with kids (60.22%) and work from home (55.48%).
An impressive 23.63% became affiliates in 2014. 2012 was runner-up with just 10.96%, indicating rapid growth in the industry in recent years.
How to Optimize Your Affiliate Marketing Program
When optimizing an affiliate marketing program, you should be focused on two things…
The quality of the traffic your affiliates are sending you.
The conversion rate of your landing page or offer.
As Robert Glazer of Acceleration Partners explains, most affiliate marketing programs aren't even properly managed, let alone optimized regularly…
Here are the basic principles you can use to optimize your affiliate marketing program to generate more profit.
1. Carefully analyze your customer and revenue data.
Before you can run a successful affiliate marketing program, you have to analyze your data carefully. Here are some questions to ask yourself…
Do you know the value of a new customer?
Do you know the value of a repeat customer?
Are you aware of lifetime value?
Are you aware of your profit margin on every type of sale?
Are you aware of your cost per acquisition on other channels?
To properly structure your affiliate payouts, set affiliate guidelines and measure the success of your program / optimization efforts, you need a clear understanding of all of the above.
B2B Affiliate Programs Look a Little Different
According to the benchmark report, most affiliates work in the B2C space (79.45%). Still, they are active in the B2B space as well (20.55%).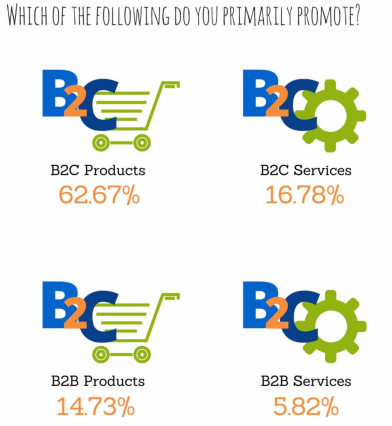 As Steve Root of Xero explains, B2B affiliate marketing programs must structure their affiliate payouts differently…
2. Choose the right affiliates for your company.
Choosing the right affiliates is perhaps the single best indicator of affiliate marketing program success. Since the benchmark report indicates that 58.22% of affiliates only promote 1-10 programs at one time, good affiliates are in high demand.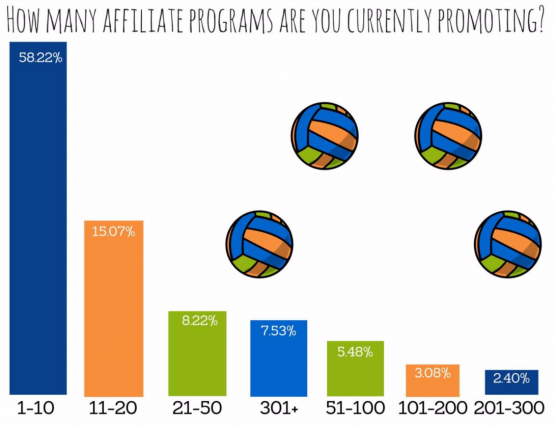 Recruiting affiliates is a time-consuming process if you're dedicated to doing it right. Of course, it's also the task that never ends. You should always be on the look out for qualified affiliates to join your program.
Robert explains it well…
Here are some factors to consider…
Has this affiliate worked in this industry before?
What other offers are they promoting?
Have they worked with this demographic before?
What type of sites do they run?
What methods do they use?
How to Onboard Your Affiliates
After you've recruited, you can move on to the onboarding process. As Teodora Dobjanschi from Avangate explains, familiarizing affiliates with your products and value proposition as quickly as possible is clutch…
So…
Assign every affiliate an affiliate manager right away so that they have a dedicated in-house contact / connection.
Make sure all affiliates really understand your product or service offering.
Make sure all affiliates really understand your value proposition.
Make sure all affiliates really understand your brand and brand voice.
Share user demographics and customer research.
Share top performing traffic sources.
Share top performing channels.
The more information your affiliates have and the more they are able to perform like an in-house member of your marketing team, the better. It means they'll waste less time on methods that just don't work and get right to the good stuff (or untested stuff).
Beware of Affiliate Networks
Aside from the fee / commission, there are other downsides to working with an affiliate network.
One of them is that you have less control over the quality of affiliates running your offer. The other is that turning all of your affiliate marketing program management over to a network blindly, even if you've carefully vetted, can be dangerous…
3. Communicate with your affiliates often.
In the benchmark report, 34.59% of affiliates said their relationship with their affiliate manager is crucial to their business. They typically join, promote and terminate programs because of affiliate managers.
Not only will communicating with your affiliates often benefit them, it will benefit you as well. Here's how…
Affiliates will be better equipped to promote your products or services to the right people.
Affiliates will be more likely to join and less likely to leave if assigned a useful affiliate manager.
Affiliates can share their learnings with you, which can help you guide other affiliates and in-house operations.
Try asking your affiliates…
"How is the campaign performing compared to similar campaigns?"
"What is your volume potential? How can we scale up?"
An affiliate manager and a regular newsletter should do the trick.
How to Activate Latent Affiliates
Teodora suggests reaching out to latent affiliates, in particular, to reactivate them…
She breaks latent affiliates down into three categories…
New affiliates who didn't start promoting or selling after 3 months. Try giving them an increased commission for a limited time or a bonus when they reach their first milestone.
Old affiliates who registered to your program, but have no activity so far. Keep them updated about new offers, products and seasonal campaigns. Or, try simply asking them what they've been up to and why they stopped promoting your offer.
Affiliates that used to sell, but are now inactive. Look at what they used to do for you in terms of promotion and rebuild the relationship based on that. If you haven't already, introduce them to an affiliate manager.
Rewards and Bonus Schedules
Rewards and bonus schedules are not just for latent affiliates, though. If your profit margins allow, limited time only rewards and bonuses can push affiliates to dedicate more time to your offer. For example, if Jim generates $5,000 in revenue this month, you will offer him a $500 spot bonus.
Again, this is where tracking everything and being very aware of your data / margin comes in handy. You won't be able to offer these types of rewards and bonuses without compromising profit if you're unaware.
4. Be aware of the affiliate methods being used and restrict them, if necessary.
Affiliates use a variety of methods to generate traffic. Here are the most popular methods, according to the benchmark report…
SEO – 66.14%

Social Media – 60.16%

Blogging – 57.37%

Email Marketing – 37.85%

PPC – 29.88%
But, of course, the list of methods extends well beyond those five…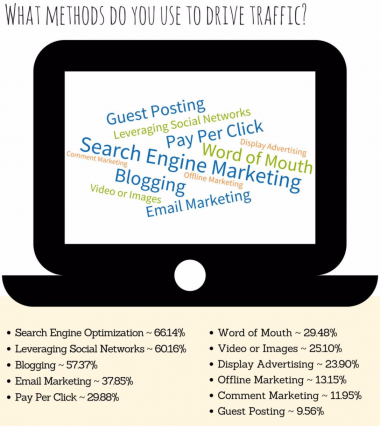 As a result, many affiliate programs have method restrictions. For example, the offer can't be promoted via email or PPC.
Why? Consider your existing efforts. If you're running PPC campaigns, for example it might be counterproductive for your affiliates to run them as well because you risk having them compete with you for rank.
What you do want to do is share with your affiliates which channels are working and which are not. Most affiliate networks, for example, allow you to search for affiliates by their primary promotion method. That might be…
Coupon / Deal
Email Marketing
Loyalty / Rewards
Mobile App
CPA / Sub-Affiliate
Search
Price Comparison
Social Shopping
Software / Tech
Content / Niche
Services / Tools
At least, that's how popular affiliate network CJ breaks it down.


Robert gives a great example…
Watch for Shady Affiliate Practices
Even on affiliate networks, some affiliates are just plain shady. Looking into and monitoring the activity of your affiliates is the solutions, Robert says…
Being aware of these negative behaviors is half the battle. After all, you want to ensure you're paying for quality traffic you wouldn't otherwise be able to attract.
5. Test your landing pages and offers frequently.
If you own your own landing pages and have affiliates simply drive traffic, perfect. That means it's exceptionally easy to A/B test elements of the page, including the offer itself.
If you allow affiliates to use their own landing pages, which is more rare, work with those affiliates. Share your own testing insights. After all, everyone is working towards a common goal.
Like any other marketing channel, affiliate marketing is something that can be optimized, something that should be growing steadily.
For the best results, calculate individual affiliate conversion rates to determine the quality of the traffic each affiliate is producing.
For example, Kim might be complaining about the landing page, saying she has a less than 1% conversion rate. Perhaps you're included to believe her because your overall conversion rate is only 3%. But when you drill down, you see that Jim is getting a 5% conversion rate and Kim is bringing the overall number down.
Don't be too quick to blame the landing page or offer itself.
Provide Collateral
According to the benchmark report, 28.42% of affiliates said that less than 25% of the merchants they work with provide them with custom creatives to help them promote offers better.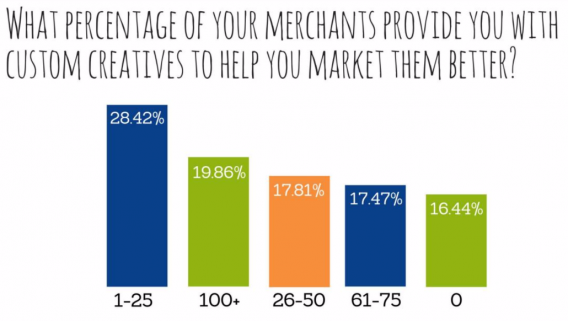 Have an affiliate manager do this during the onboarding flow. What affiliate method do they use? What type of creative would be most relevant for them? Are any customizations required? Would any other types of collateral be helpful?
This doesn't mean you need to indulge every request, especially from affiliates taking advantage of your time. But why not equip affiliates with the best possible creative and collateral? It's in your best interest.
Conclusion
Affiliate marketing is more complex than a simple "Affiliates" page in your site footer. It's a marketing channel of its own that deserves the same attention as any other.
Here's how you can start optimizing your affiliate program…
Focus on optimizing the quality of traffic your affiliates send you and the conversion rate of your landing page / offer.
Carefully analyze your customer and revenue data so you can properly structure payouts, set guidelines, and measure success.
Spend the time to recruit the right affiliates and provide them with everything they need to succeed during the onboarding process.
Communicate with your affiliates via affiliate managers and a regular newsletter to ensure insights are shared and everyone is performing as well as they possibly can be.
Be aware of the methods your affiliates use most often and restrict them based on your brand / existing efforts, if necessary.
Always be testing your landing pages and offers. Also, calculate individual affiliate conversion rates.