Founded in 2015, revenue intelligence startup Gong is now valued at $7.25 billion. They've grown to attract big-name clients like LinkedIn, PayPal, and Shopify, mostly through social media channels rather than organic search.
Gong is an excellent example of a company dedicated to finding the best content marketing fit and delivering insights that resonate in formats that engage.
In this article, you'll learn how to use social media brand marketing to build a well-known brand and grow your business.
Why social media is one of the best approaches to building your brand
People spend an average of 145 minutes on social media every day. And users say that social media has increased their access to information, ease of communication, and freedom of expression.
Sprout Social research shows that 55% of people learn about new brands on social networks, and 68% agree that they enable them to interact with companies.
With potential customers spending so much time engaging and absorbing information on social platforms, it's an obvious place to gain awareness and build positive relationships with your brand.
Social media lets you get close to your target audience and build relationships that put your brand top-of-mind when they need you. It also helps you learn about your audience, gaining qualitative insights that help you understand their unique pain points and how you can solve them.
It's how people are using these channels that makes social critical to brand perception and business growth.
Refine Labs CEO, Chris Walker, summed this up perfectly in an appearance on UserGems' "The First 100 Days" podcast:
"The reality is buyers trust their peers way more than the results they get. They know there are affiliate links. They know there's pay-to-play stuff. They know that the vendor's blog isn't objective. And so, when people are making buying decisions, they make those searches elsewhere. They make those searches in places where their peers are: a Slack community, a Reddit channel, a Facebook group, a direct message, an email, or a Zoom. They talk to somebody that they trust more than the results they get in Google."
These places where people hang out, learn, share content, and form opinions about brands are what's known as "dark social."
When someone shares your YouTube video on Twitter, you can track that metric.
What you can't track as easily are "dark social" shares that increase your brand awareness. Around 77.5% of all shares happen organically (e.g., via a WhatsApp group chat or an email to a colleague) and are amplified by word-of-mouth. Of the remaining shares, 7.5% happen on Facebook and 3.1% on Twitter.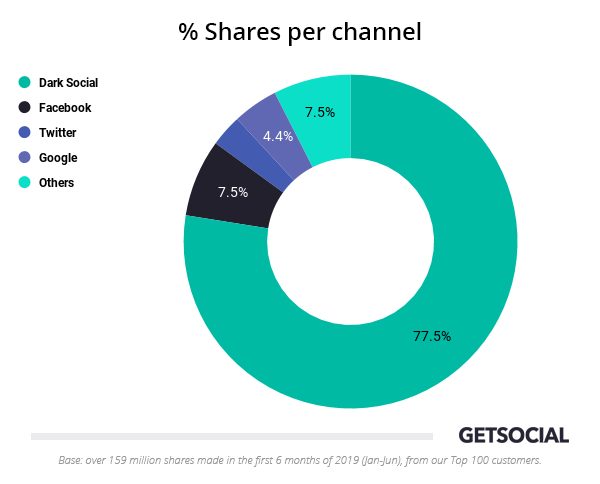 This is the kind of hyper-personalized social sharing you need to build your brand.
In a New York Times study, a research group looked at the psychology of sharing. It found that 73% of people process information more deeply, thoroughly, and thoughtfully when they share it. 85% of people also said that reading other people's responses helped them understand information and events.
"Sharing information helps me do my job. I remember products and information sources better when I share them and am more likely to use them." – Anonymous study participant
When people share your content with like-minded groups on social media, it helps build affiliation and keeps you top-of-mind. These are key ingredients in building a brand people care about.
Develop a social media marketing strategy that nurtures relationships
Your social media marketing strategy should tie back to your brand's goals. This is the value that you're trying to get from your social media marketing efforts.
For example, your goal could be to increase customer satisfaction scores. The strategy you build around this goal would look completely different to a strategy built around driving free trial sign-ups.
Once you know your goal, there are two approaches to take to a social media strategy: meeting demand and generating demand:
Meeting demand tries to discover what's out there already and respond to it to stay relevant to the target market. It's about injecting yourself into the conversation.

Generating demand makes the story more about your brand. It's about trying to create a conversation yourself.
Meeting demand is much easier out of the gate than generating demand. It's also easier to measure. Generating demand is more challenging to get right.
It's less granular and harder to measure (a lot of shares happen through dark social). But it generates greater reward when your brand has created a conversation that puts you front of mind for months to come.
You can blend the two across different social media channels, but you'll more likely want to select one or the other as your primary means of engaging with your audience.
No matter how you choose to approach your content creation, make sure it's something worth sharing. Impressions and likes are not inconsequential, but sharing content improves activity performance and creates a bond with your customers. It does this by building brand equity and aiding recall.
The New York Times study also looked at what drives people to share content. It identified five key motivations that reveal sharing is all about relationships: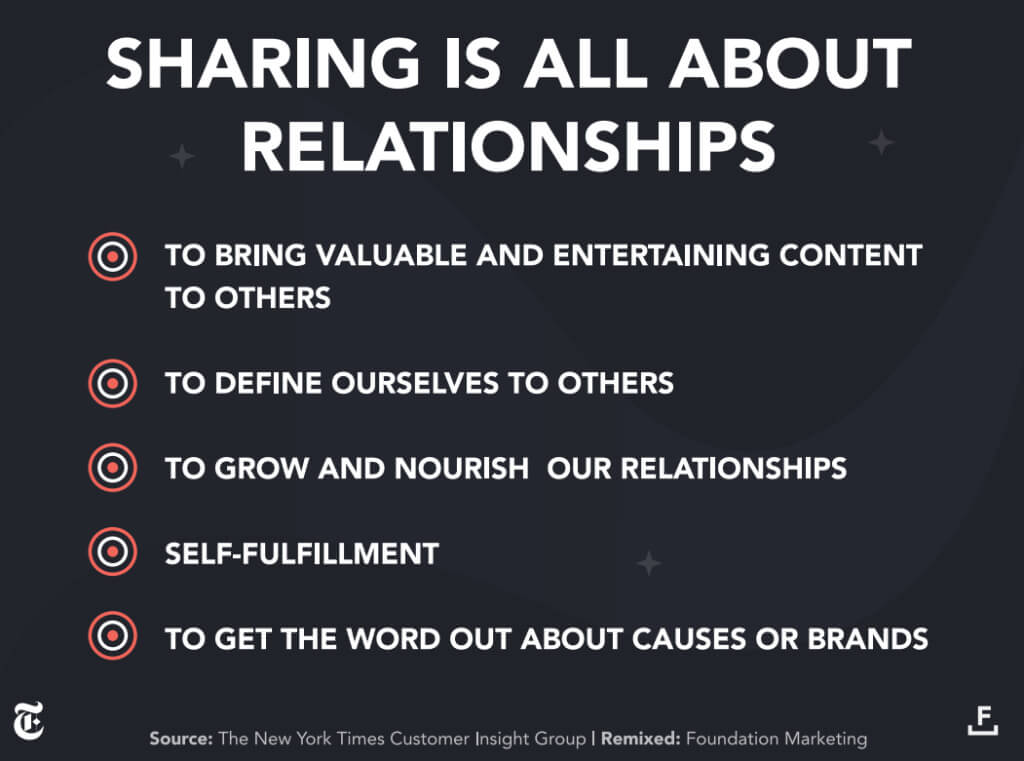 When developing your strategy, think about the kinds of content that will help your customers enrich the lives of others, connect with others like them, and feel valued in their own circles.
1. Choose the right social media platforms
Focus only on social networks that progress your brand marketing goals and objectives. If your audience isn't active on a platform, it makes no sense to spend your marketing budget there.
Embrace trial and error (and testing) to establish whether a platform meets your long-term brand marketing objectives. Use data to validate this.
Look at your audience demographics:
Who are they?
What age are they?
What is their job role?
What are their interests?
What problems are they looking to solve?
Take this information and dig deeper to understand what your audience is saying about your industry and products and where they're discussing them.
Find out where you're most likely to get in front of the right people by:
If you are targeting women between the ages of 30 and 49, Pew Research Center's social demographic data reveals you should look into Facebook: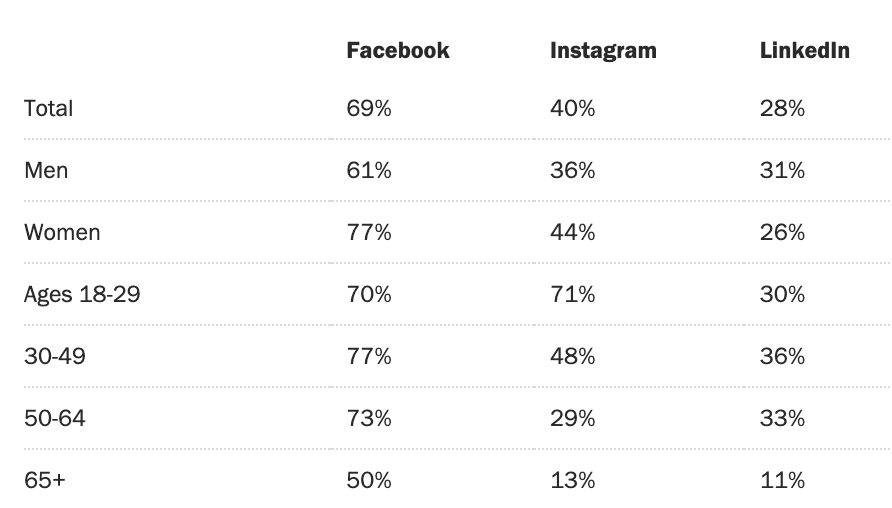 Most brands operate across more than one channel. But the idea is to focus your efforts where your audience is and tie everything back to your objectives.
2. Create brand consistency at every touchpoint
Customers tend to evaluate their options on several channels before buying. Your brand must be consistent across these touchpoints to maintain trust.
But if each social platform has different audiences and intentions, how do you create consistency?
Build a value proposition and a sub-brand for each channel.
By creating a sub-brand for each channel with a sub-voice, you can maintain your brand values and purpose while communicating in the best way for the audience on that platform.
Cross-posting without considering the audience puts your content at risk of not getting seen or shared, which is a waste of resources.
The overall aim with consistency is not to be identical on each platform, but to maintain your brand's purpose and build trust.
In a world where trust in the media is at an all-time low, people are turning to brands to fill the void:
"Businesses build institutional trust on honesty and consistency through transparent messaging and authentically caring about their customers. Because so many other institutions are falling short in these areas, this is where businesses, whether big or small, can pick up the pieces and fill the trust gap." – Pamela N. Danziger [via Forbes]
Brand trust is now one of the biggest considerations people have when making a purchase. It's also a key ingredient for turning customers into advocates.
Earn trust by sticking to your brand's purpose and creating your brand's value proposition for each channel to maintain consistency.
Take Gong's LinkedIn content: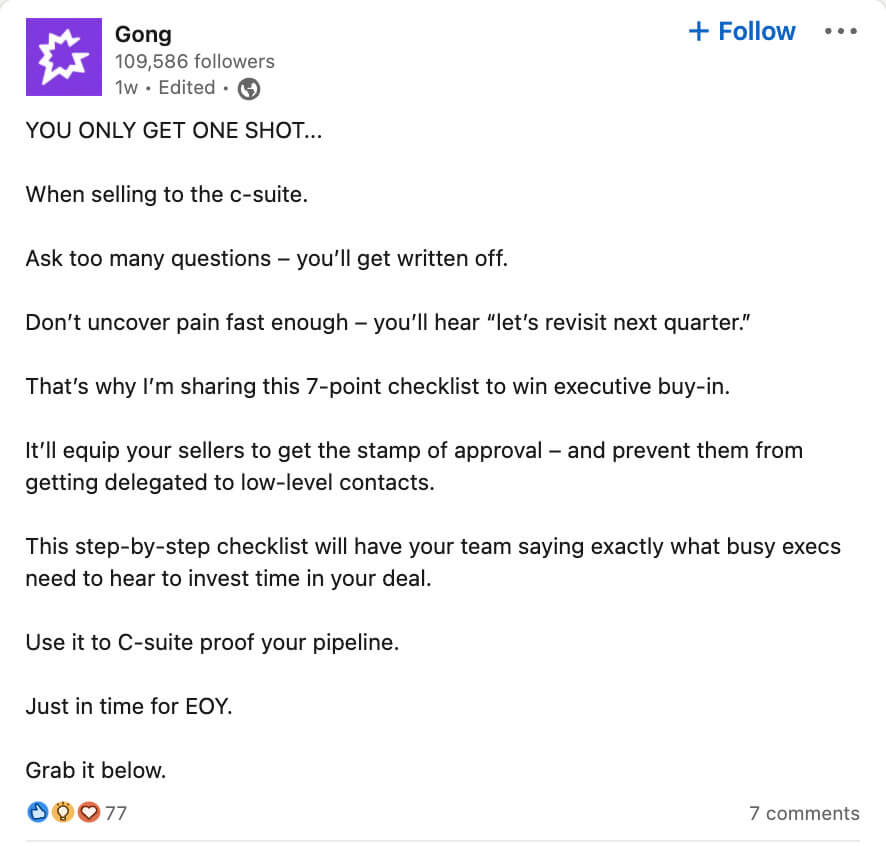 Each social media post, even when it includes a video or infographic, features Gong's brand tone of voice. But the style of written posts is also consistent within the platform.
Moving over to Instagram, their brand is instantly recognizable with their use of all caps and business-building purpose: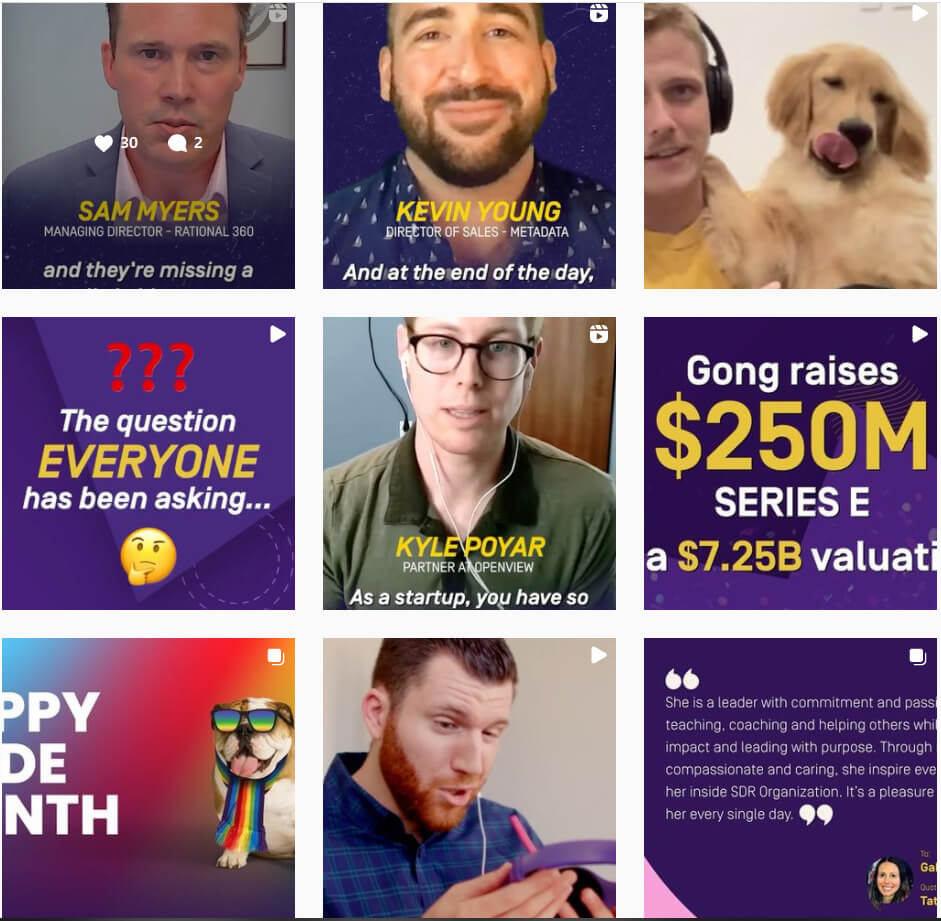 They feature more photography, especially people-based images, on Instagram because that's the best practice on that platform.
On LinkedIn, they share mostly text-based posts and infographics or webinar clips while maintaining their brand message and purpose. In a feed full of brands vying for attention, this familiarity makes customers (and potential customers) stop and take notice.
Build your brand value propositions for each channel with your main brand guidelines in mind (the rules related to your message, positioning, and brand identity).
Find the balance between reaching your audience, meeting their intentions, and maintaining brand consistency. Use this to build your sub-brand framework that every digital marketing campaign must follow.
3. Maintain posting cadence
To stay top-of-mind, extend consistency to how often you share content.
Posting cadence can be a tricky thing to get right. You don't want to overwhelm followers or come across as inauthentic and dilute your brand. You also don't want followers to overlook you or forget about you.
Research from Hootsuite suggests the ideal number of times to post on the major social platforms are as follows:
On Instagram, post between three and seven times per week;
On Facebook, post between one and two times a day;
On Twitter, post between one and five tweets a day;
On LinkedIn, post between one and five times a day.
What works for one brand doesn't always work for another, so these numbers represent where to begin your testing.
Aim for consistency over frequency, and quality over quantity, as Jay Baer reinforces at Convince and Convert:
"The best social media publishing frequency is: when it's worthwhile."
The best practice is to create a social media posting plan and stick to it.
The content Gong posts to its Instagram feed is a mix of sales tips, social proof, themed-based content (e.g., related to a holiday or cause), and light-hearted posts.
It loosely follows the "4-1-1 rule," popularized by Joe Pulizzi at Content Marketing Institute. The rule suggests publishing four educational or entertaining posts for every one soft promotion or hard promotion post.
Valuable content builds your brand. Promotional posts work to capitalize on their success.
A content calendar will keep you organized. It will also give you a bird's-eye view of what you're sending so that content doesn't become repetitive or stale.
When CoSchedule began using a social media calendar to promote posts consistently, it found that clicks to a single piece of content increased by 3150%:
Posting on a regular schedule helps you harness the repetition principle. This works on the basis that if something happens often enough, people will eventually be persuaded.
Repetition creates a pattern, which first grabs attention and then creates the comfort of familiarity.
Monitor results to learn when people are most likely to engage with your posts.
What signifies meaningful engagement is somewhat of a sticking point: headline metrics given by social media platforms are not usually as valuable as they appear.
For example, "views" on Facebook can be very short (three seconds). Videos on the platform also autoplay as users scroll, so don't consider Facebook's view count meaningful.
This is where an external social media analytics platform, like Sprout Social, can help qualify metrics like views, likes, shares, saves, etc.
Your posting schedule shouldn't replace an active social media presence. Building a brand on social media requires your participation. This means joining conversations and responding to feedback.
One of the reasons Lessonly, a corporate training platform by Seismic, has been able to grow its brand on Twitter and LinkedIn is because of team members like Marketing SVP Kyle Lacy posting and engaging with his own followers.
He strengthens audience relationships with every comment he responds to. People who trust Kyle are more likely to trust Lessonly.
Your customers want to hear from and interact with the leaders and employees behind your brand. It helps them feel like there are real people behind the business.
For every post that goes live, set aside time to interact with your audience.
Create social media content that serves your audience
When Facebook first launched in 2004, it was text-only. Since then, more social media platforms have arrived with a multimedia approach.
Video content typically performs best on social media because it keeps users on their platforms for longer, meaning algorithms are likely to favor your content over text-based posts alone.
It's also more engaging. For example, tweets with video attract 10 times more engagement than tweets without video. And video content gets the most engagement on Instagram.
Engaging your audience is easier with paid social, where you're in charge of the context. You control the audience and the placement. This is good for contextually specific content aimed at an audience with prior knowledge of your brand.
But when building a brand organically, you need to think differently.
Wistia's Phil Nottingham notes in his organic social media course:
"We need to understand that people really, generally speaking, don't know much about us when they discover us on social media. And we have to create for that lack of context and embrace it."
Create contextually broad content that offers value regardless of where users view it or if the audience has prior knowledge of your brand.
Fuel this content by responding to industry culture to meet the demands of your audience.
Creative consultancy Long Dash does this often: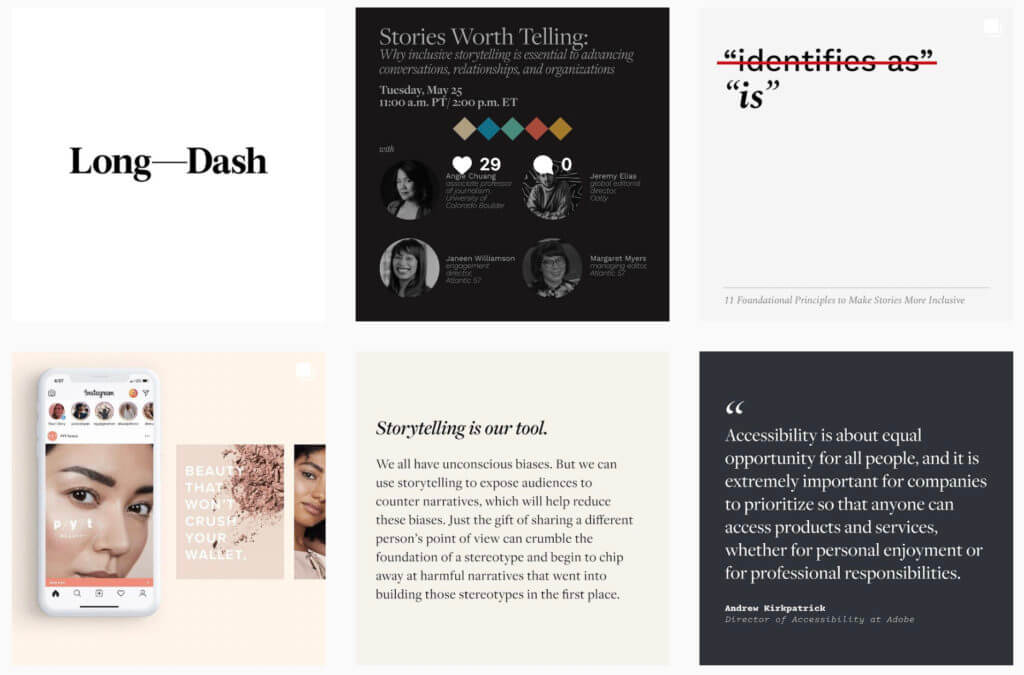 Their posts about bias and inclusive stories are relevant to their target market. They're also valuable and shareable.
People can share this content in their Instagram stories, direct messages, and off-platform to spread knowledge. It's also a way for them to self-identify if they feel Long Dash helps them reflect the person they wish to be.
Look closely at your chosen social platforms and decide if your content meets the needs of your audience and suits the style of the platform.
YouTube users, for example, can watch videos in many ways. Users will often search for a video, or they'll watch one that the algorithm suggests, or one that's embedded on another site, or a video that another user has shared with them on dark social.
Since users discover content through search and social sharing, you'll need to have both an SEO-focused strategy and a social strategy.
Facebook and Twitter users, on the other hand, consume content more passively while scrolling through the platform.
Formats are also widely varied. YouTube is mostly for watching videos. Instagram is exclusively video and static image content. Facebook content is a mix of video, text, and images.

When creating content, think about who will be viewing it.
Where there's a crossover in type of content, repurpose what gets engagement. Chop long-form videos on your YouTube channel into bitesize clips for Instagram.
Turn long-form posts on LinkedIn into a blog post and link to them on your Twitter account.
Experiment with contextually broad content to get more eyes on your brand. Learn what's resonating with your audience and amplify popular content with paid social to extend its reach.
Boost organic posts that are getting traction with some of your paid media budget. This will allow you to generate more awareness and engagement from content you already know resonates with your audience (meaning you're likely to see a lower CPC and CPA).
Use your brand to build a community
Break down the barriers between business and customer by cultivating a community where people can interact without expectation.
80% of companies say that brand community building has helped increase traffic, while 64% say that it has improved decision-making.
To reap the rewards of customer insight and advocacy, learn what your audience wants from your brand and build your community around the results.
As FeverBee founder Richard Millington notes:
"The secret to a thriving community is relevance. Your audience will only visit and participate in your community if it is the most relevant way for them to satisfy their needs and desires at a given moment."
Knowing what is most relevant to your audience will come from your research.
The one-to-one interview is the best way to understand your audience on a deeper level, but it's costly and time-consuming.
Supplement interviews with asynchronous surveys via platforms, like Wynter. Shortlist some pain points and benefits statements, then validate them with real responses from your audience.
Segment your audience based on their responses to identify unique clusters. What needs and interests do people share? What problems do they look to you to solve?
With those segments, choose three to five people to interview. Find out what content they consume, the types of people they want to connect with, and the kind of roles they take on.
Use this information to establish the main goal for your social media community, and develop personas for the kind of people you want to build it for.
Taking the time to strategize will help you create content that encourages your audience to participate.
For example, the founder of social platform Bloc, Joshua Wood, runs a community on influencer platform Tribe to interact and learn from its audience:
"We use the platform for our user base and advertisers to discuss almost everything regarding our software. We also encourage our users to complete surveys that we can use for SEO purposes.

For example, we ask people an array of questions on 'restaurant marketing' and then use the answers and data to write data-driven articles. These are always very easy to get published by journalists and bloggers." [via Natalie Luneva]
CXL uses Facebook Groups to unite marketers, entrepreneurs, and business owners around conversion optimization, analytics, and growth.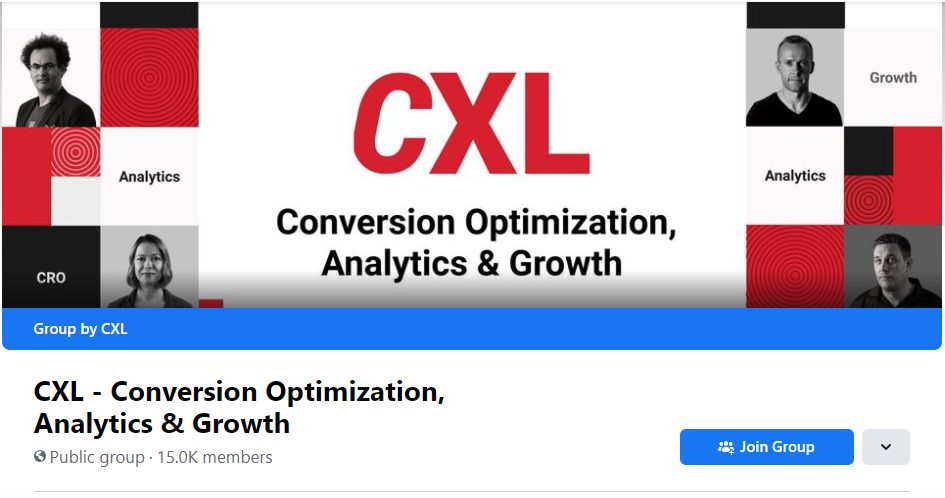 CXL creates trust and reliability by providing a group for people to talk about CRO, analytics, marketing, and growth. CXL team members actively participate and stimulate engagement alongside user-generated content: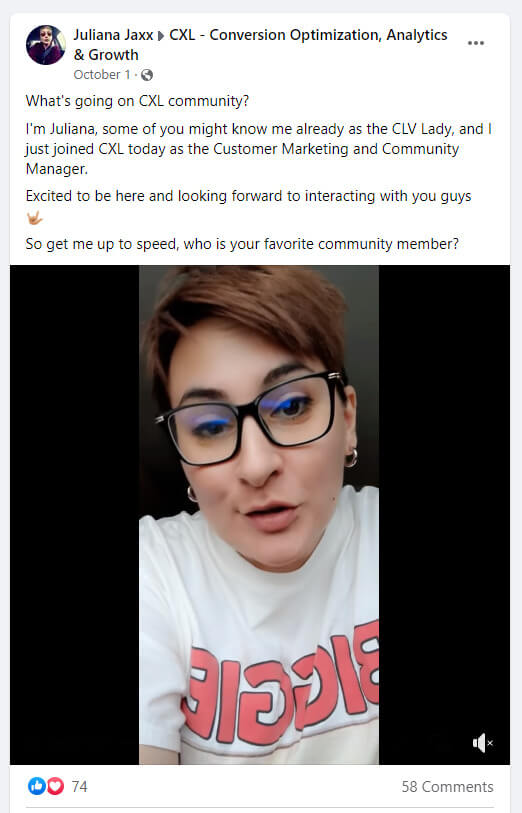 Employees are your earliest brand advocates. 72% of people report feeling a bond with brands when employees share information about the business online.
Their buy-in is as important as that of stakeholders. Encourage your team to engage with your community and spread the word around their own social circles. Let them build their personal brands.
Extend this encouragement to members. 75% of people say they favor companies that offer rewards. They're also more likely to recommend them.
Use community-exclusive offers such as product discounts, member-only resources, and referral incentives to show your appreciation. This will help strengthen relationships and foster loyalty that results in customers choosing you over the competition.
Conclusion
Social media brand building is about relationships. Earn trust and create emotional connections by being consistent with your purpose but tailoring your content to each platform.
Create valuable, engaging content that people feel compelled to share, on the major platforms and on dark social. Build a community around your brand and reward loyalty. Show your authenticity and reliability, and people will repay you with advocacy and loyalty.
Learn how to build a winning brand on social media in CXL's Brand Marketing Minidegree.