As a business, your email list is one of the most valuable assets you have. The bigger your list and more engaged your subscribers, the more money you can make.
One of the biggest challenges of growing your list however, is the fact that the average worker receives 121 emails each day. You have to offer a compelling reason for your customers and prospects to give you their email.
While a simple web form may have been effective in the past, the stakes of entry for email collection are higher than ever before.

If you're serious about growing your list, a bare minimum effort includes using a lead magnet, having a well designed capture form, and a strong call to action. If you're not taking care of the basics, no tactic we cover today will further move the needle.
According to a survey by HubSpot, here are some of the most popular lead capture tools:
In the same survey, they also asked what was the highest performing lead capture method:
When you compare the two charts, you can see that the popularity of the email capture method roughly maps to the overall effectiveness according to the survey results.
Of course, if you run an ecommerce store, you should also obviously be collecting emails when a customer makes a purchase. However, most of your traffic isn't going to buy or sign up right away.
Here are six smart ways to effectively capture email.
#1 Give them an incentive to buy now
Lead magnets are essential, yes. But this isn't the time to get lazy. Don't even bother with a lead magnet if you're just going to add, "Be the first to know" on the form. Putting a little extra effort goes a long way.
Matt Cimino, CEO of Exit Intel, agrees:
Just telling someone to "Join the newsletter" in a pop-up is almost worthless. If you're getting any conversions that way, it must be that they love your content.

For everyone else, you've got to provide a clear value proposition.
Your lead magnet is an opportunity to make a memorable first impression. It makes sense then, to add a little personality or give a potential subscriber something in return.
A large portion of your traffic is going to have no idea who you are or what you offer. If a person has never bought from you, they're unsure whether they can trust you and if you ultimately will provide a great experience.
Offering an instant coupon, is a great way to reduce friction and give them a reason to join your list (i.e. a strong value proposition).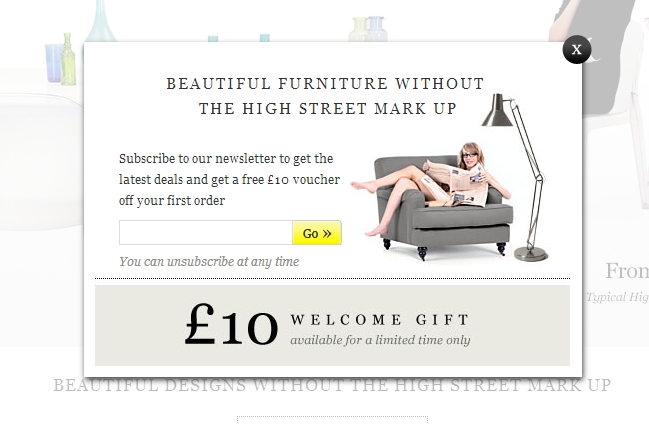 Made.com does a good job with this popup. Yes, even though people say they hate them—they work well. The popup is also not instant—they give you a few seconds to browse, then the popup appears. Very few things disrupt the user experience more than having a popup show the second they reach your site.
#2 Insert hooks into blog posts
"Subscribe to blog posts over email" is an easy one, and you should definitely offer this option.
At CXL, we have a simple button that says "stay updated" that launches a form when clicked.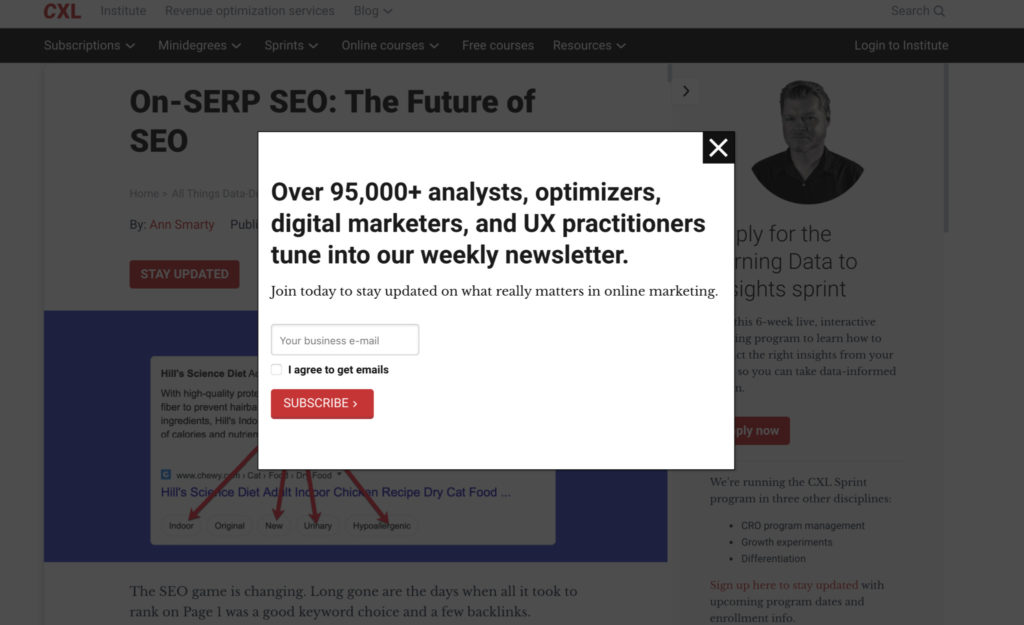 Additionally, if you write an epic blog post (comprehensive, very thorough), offer your audience to get the content another format like pdf in exchange for their email. Here's how I do it:

Yes, it's very simple but it works.
Don't overthink it. The more asks you make, the more emails you'll get.
#3 Create new & free offers on a regular basis
Not all visitors are created equal. Each person who visits your site has different motivations and goals. The more offers you can launch and test the better. Look at Hubspot—they release targeted new whitepapers all the time.
Online marketing expert Amy Porterfield, constantly runs different types of webinars for her audience and gets their emails when they click "sign up now."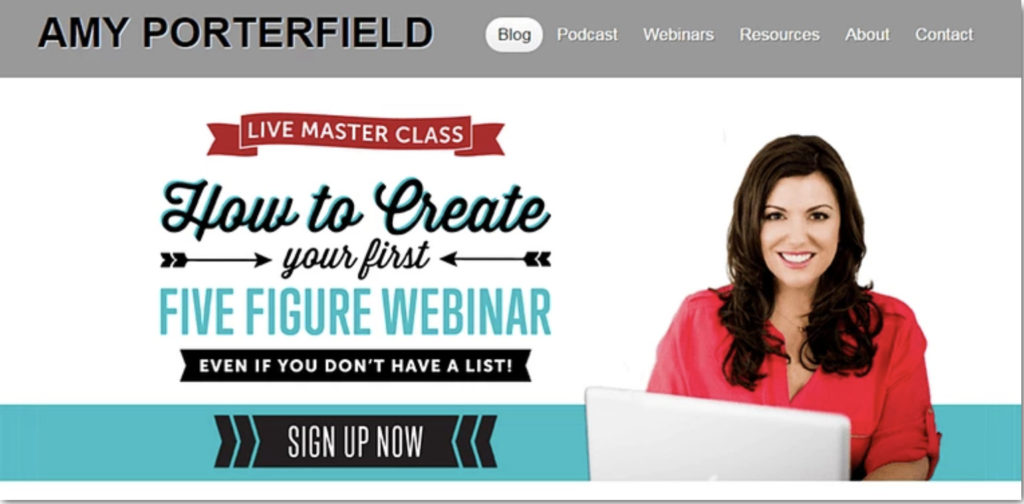 She also uses the classic quiz popup to capture emails when you visit her website.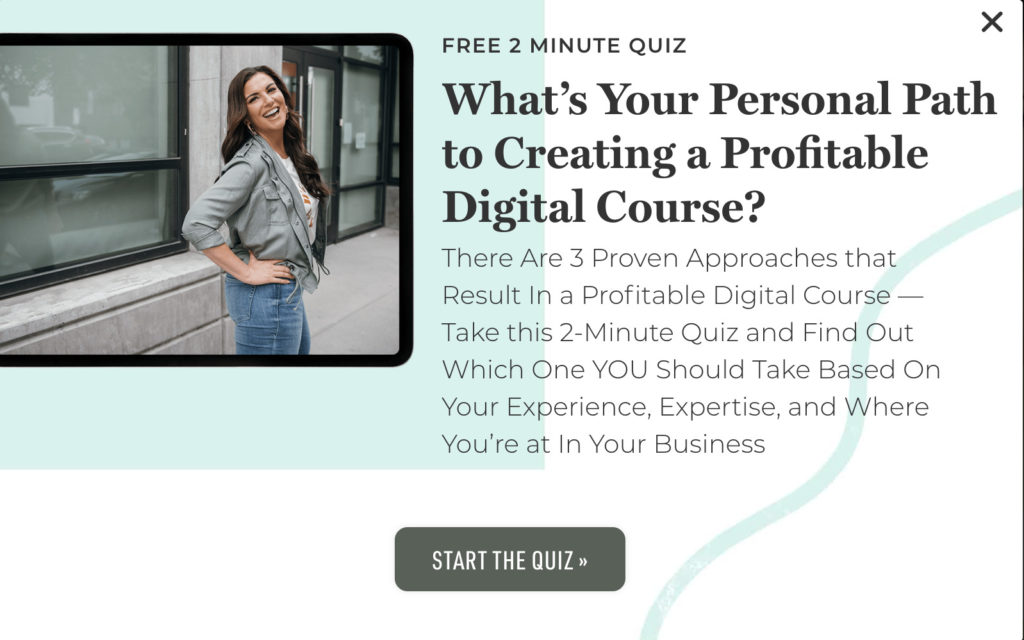 The more offers you put out, the faster you'll find out which type of capture forms are most effective.
#4 Scroll triggered boxes
Scroll trigger boxes are the popup-like box that appears when you scroll down past a certain part of the page. I've yet to see a tactic that works better than this.
The reason it works so well is that:
It's not there and then it appears—and human eyes react to movement, so it gets noticed (as opposed to the static offer you have on your sidebar).

By the time it gets noticed, people have already scrolled down and have likely gotten some value out of the site. So when the box appears, people have already been sold by the content.
#5 Invite them to take a test
I've written about this in detail here before, and it continues to work incredible well. Figure out the burning question your prospects have and help them find an answer through a quiz or a test.

For example, Tony Robbins uses a test to help visitors determine whether or not their business is thriving or surviving.
Business owners are constantly looking for ways to improve, and this test is enticing. In general, people love taking tests—Cosmo has trained us well over the years.
#6 Ask for it while waiting
Hipmunk wasn't just an awesome flight search engine—they were great at capturing emails to. After you entered your desired dates and other flight info, you would get this screen: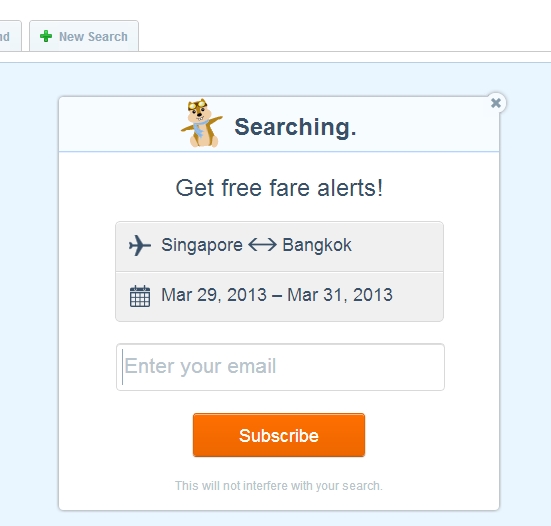 They asked for your email while you do nothing!
While waiting for your results, they've got 100% of your attention, as you're looking forward to seeing the cost of your flight. Hipmunk smartly uses this empty slot to make you a relevant offer.
It works well because it's contextual (offering alerts on great deals while I'm searching for a great deal), and they include a friction-reducing message, "This will not interfere with your search."
Figure out where on your website your audience is faced with the option of doing nothing (e.g. confirmation pages, thank you pages) and plug for an opt-in.
Conclusion
Don't just rely on your plain old static forms for your email efforts. Use a mix of ways to capture visitor emails. Your bank account will thank you.